We use affiliate links. If you buy something through the links on this page, we may earn a commission at no cost to you. Learn more.

Looking to sell that old, worn couch? Or tired of hanging out with the same boring people? Well, WhosHere created by MyRete connects you with new, awesome people right down the road or 100's of miles away in countries like Australia or India.
With a database of over 100,000 people, you'll never grow bored chatting with random people, with diverse backgrounds and finding out about their lives, hobbies or the stuff that they like to do on a lazy Saturday night.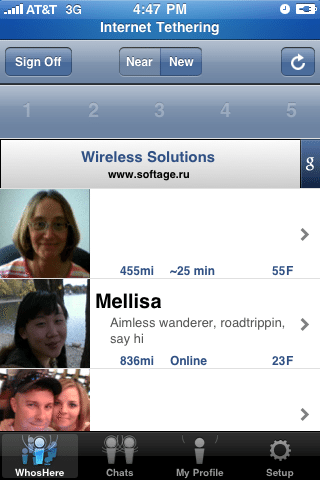 Discretion is advised because pictures can be shared and swapped. Some people might message you suggestive material, but you can report them if you feel uncomfortable or think it's gross. Even though you'll run into a few creepers here and there it's still a great place to put together an impromptu garage sale or find a date. This is a great place to find locals, swap your stuff, or meet up for a meal.
I was even able to sell my bed thanks to this helpful app. I just sent out a message to everyone in the area, and I wound up making a great sale! With the iPhone 3.0 software, copying and pasting can come in real handy when you need to send out a mass message to tons of nearby WhosHere-ians.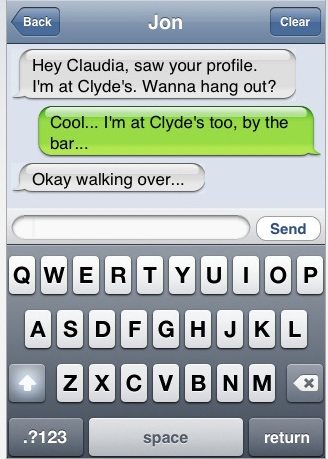 Another plus is that it may appear that you're using your SMS, but don't worry — it's free! Chat as much as you want cause it's not going to cost you a dime to chat with some hunky guy from Australia.
You might want to leave your iPhone on WhosHere all the time, but there are a few downsides. The app will suck the juice right out of your battery, and it has a tendency to freeze up, quit randomly, and can forget to let you know about your updates right away.
WhosHere is a fun, free app to stick on any iPhone and you'll never know who's here…
Product Information
Price:
FREE
Manufacturer:
MyRete
Pros:

Great way to social network, find new people & sell/barter items

Cons:

Drains Battery Life
Beware of Sketchy People
Freezes up & Crashes Easily