We use affiliate links. If you buy something through the links on this page, we may earn a commission at no cost to you. Learn more.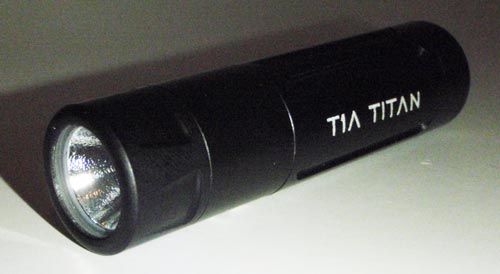 Several years ago Surefire produced a small, (relatively) high output, limited edition LED flashlight made of pure titanium called the Titan. Surefire only made one thousand of these very well made, very expensive, ultra high-end keychain flashlights. Even with a $500 price tag, the Titan sold out rather quickly and continues today to fetch even higher dollar figures on eBay (when you can find them). To fill this apparent demand/void, Surefire has recently started producing the T1A Titan, an aluminum (less costly) sibling to the original Titan.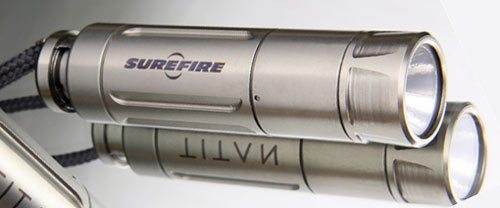 As you can see, the Titan and the T1A Titan are almost identical. I believe the differences are the metal/coloring, lanyard/keychain design, and (slightly) higher light output.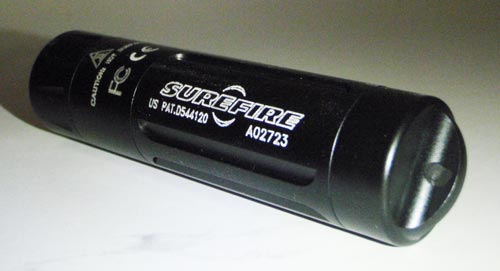 This Titan is constructed of aerospace-grade aluminum, painted with a black Mil-Spec Type III hard anodized coating. It is made of the same high quality materials and precision machining that all the other Surefire products I have tested have (aka its well made and engineered to stand the test of time and rigors of hard use). The T1A has a 3-watt LED with a continuous variability switch that allows nearly infinite levels of brightness, ranging from less than 1 to 70 lumens.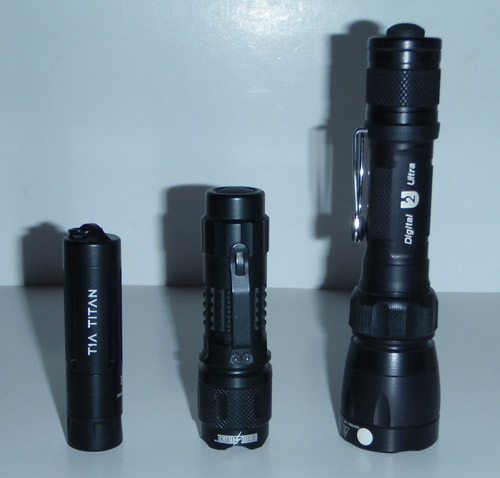 At 70 lumens, the T1A Titan is definitely the brightest flashlight for its size I have ever used. As you can see, the T1A is tiny even compared to the small BriteStrike Tactical Illumination Tool I reviewed several years ago. At barely a third the size/volume, the Titan is almost as bright as the Surefire U2 Ultra set at maximum.
SPECIFICATIONS
Max Output:
High: 70 lumens

Low: 1 lumen

Runtime:
High setting: 1 hours

Low setting: 60 hours

Length:
3.25 inches
Weight:
2.0 ounces with batt.
Battery:
One 123A lithium
FEATURES
Virtually indestructible microprocessor-controlled LED maximizes output and runtime
Bezel switch provides continuous light output from 0 to 70 lumens
Precision micro-textured reflector produces bright central beam with a gradually diminishing surround beam
Corrosion-proof, scratch-resistant aluminum body is hard anodized
Impact-resistant Borofloat window protects LED and maximizes light transmission
Coated split ring ideal for attaching to keys or lanyard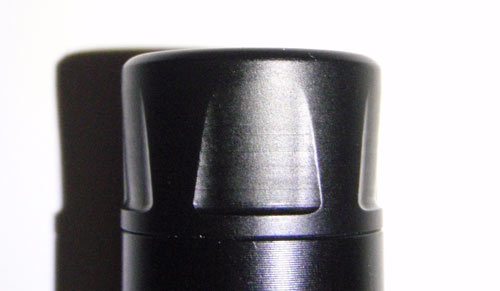 The front bezel rotates clockwise to turn the T1A on. It smoothly continues rotating to increase power output. When the bezel comes to a stop, the flashlight is at maximum output level of 70 lumens. Rotating the bezel counter-clockwise turns the Titan off.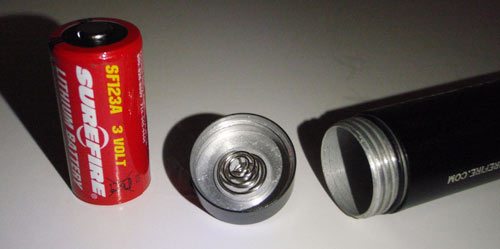 Like all Surefire flashlights, the Titan is weatherproof and sealed with an O-ring. The threads are well machined and fit perfectly together.

Surefire includes a very useful, well made split ring for attaching the Titan to your keyring or lanyard. The split ring is made of the same aerospace-grade aluminum as the Titan and the spring/clip seems to be strong enough to not accidentally release the flashlight from the keyring/lanyard.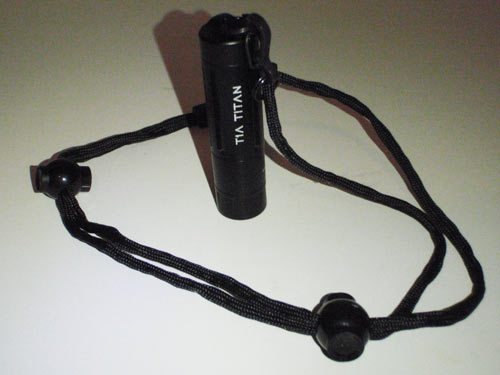 I do not see myself wearing the Titan around my neck very often, if at all. But it is nice that Surefire provide the option.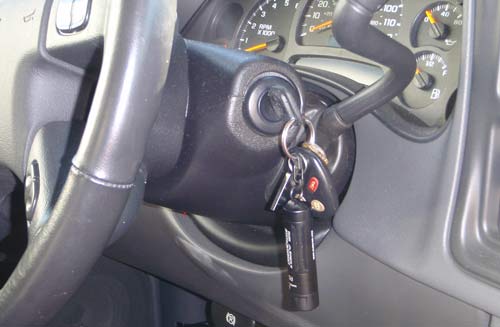 I attach the Titan to my keyring pretty regularly. It is fine for driving on smooth roadways. However, I had the tiny flashlight attached to my keyring on our way to go camping. The rough road caused the flashlight/keychain to swing around too much, smacking into the dash and steering column with a fair amount of force. Also, it makes the keychain pretty heavy and (the weight) might impact/damage the ignition switch of your vehicle over time.
Let's face it, $240 is a lot to spend on any flashlight. During this review I looked at small LED flashlights in various stores (Fry's, Target, Fred Meyers, etc) and searched the internet as well. Those brick and mortar stores had several tiny LED flashlights of low to moderate quality for $25 or less. There were also numerious others on the internet for under $100 that seemed to be well made with quality materials. Although none of these were of identical design, they were close enough for the comparison.  None had the high-end material quality, workmanship, or durability of the Titan. I have said this before regarding several manufactures, including Surefire, a majority of the time you get what you pay for.  However, considering the alternatives and the cost the Titan is a stretch. All that said, if you have the need for a tiny, ultra-bright flashlight (and money is little to no object) you should consider the Surefire T1A Titan.

Product Information
Price:
$239
Manufacturer:
Surefire
Pros:

High quality materials and construction
Can be attached to a keychain or lanyard
Great light output for its size
Extremely durable
Compact size
Lightweight
Weatherproof

Cons: