We use affiliate links. If you buy something through the links on this page, we may earn a commission at no cost to you. Learn more.


"New Media. Original Content. On Demand."
Mediafly is your source for video and audio personalized channels including podcasts and more delivered to virtually any media-enabled device."
I don't really do audiobooks or podcasts- I'm just too visual of a person to focus on that sort of thing for too long. My mind wanders and the next thing I know I am engrossed on something else while the content plays to an empty audience. I tell you this so you understand that when I looked at Mediafly for all of my podcasting needs (at Julie's request), I did so with an attitude of hopeful pessimism- hey, at least it offers video, right?.
Mediafly is basically a site that offers a wide collection of programming that automatically syncs to any device with the program loaded to it. It is offered for iPods and iPhones, Zunes, Zens, Sansas, and even Popcorn Hour and  Chumbys. The programs  remind me a lot of the odd little channels on TiVo- and in fact, some of the content seems the same. You can choose from channels for everything from news and technology to fitness and celeb gossip. They have several dozen 'featured programs' from Car Tech to Fox News to Start Cooking Video. A little something for everyone. I found several programs that looked good, so I went ahead and joined up.
Downloading and setting Mediafly is easy enough, even for a newbie like me. I did think it was a bit odd that I could not seem to just download it from the Blackberry itself, but not a big deal. You choose your device from the site, follow the well-written instructions, and the icon shows up on the Blackberry. Then, you just select your content and go. Other than the 'selecting content' bit, it only took a few minutes. The sheer amount of possible content took a little while to work through going channel by channel. I probably would have been better off searching alphabetically- that would have reduced the duplicate content in the channels. I ended up adding about 50 programs.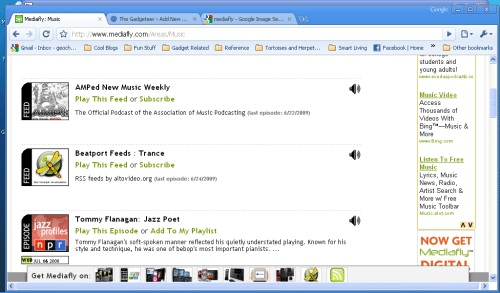 So far, so good. Now, to sit back and luxuriate in all of the content coming my way! I have not perfected the magic of Blackberry screenshots yet, so I apologize for the lack of photos. The Mediafly main screen is just a few large yellow buttons going across the screen- their favorite channels, your favorite pre-selected channels, search, and options.
Selecting my favorites reveals the first glitch- I chose too many channels to really actually use. I know all of you are snickering at me for the newbie mistake, and I deserve it. With each program running a few minutes to a couple hours long, if you just figure an hour a show I have over 2 days material being loaded every day.
Mistake #2 is that most of the content is audio. This should not be a big surprise- audio is easier and cheaper to produce, but I was really hoping for some of that there 'video' stuff I heard tell about. NOW I know that the audio content is marked by the little speaker icons you see in the photo above. If it had video content, there would be a TV icon beside the speaker icon. To make me feel like less of a doofus, I thought the icon was a preview button.
Mistake #3 is that the channels I was looking forward to the most seem to update the least. Figures, doesn't it?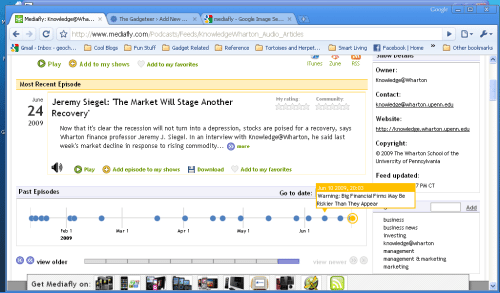 Mediafly offers this cool tool for each program- it has an overview of the program, a summary of the recent episodes, contact info, and a clickable timeline of past showings so you know both what has been offered and how often it is presented. Nice!The little yellow box is an example of the timeline pop-ups.
When an audio program is playing on the Blackberry, you see the program's icon and your choice of the show info or episode ino. You can also look at past episodes. Click on 'Play' in the menu and you are ready to listen your life away! It sometimes takes a while to load content, but the waits are not too bad. I also notice that if you don't do something at the end of a show, it eventually starts the nest program on the list.
Ah, if only you could be here- a moment of oddity just occurred. As I am writing this review, Mediafly asked to update itself, which was OK, then it reset itself, which is also OK. As the Blackberry reset, a message popped up saying it was enabling the Bluetooth headset- which is also OK since I don't have one. However, now the stuff is playing over my HP Mini 1000's speakers! How funny! Apparently I need to tweak the Bluetooth some more.
By the way- if you have some content to offer, Mediafly wants to hear from you.
I am sitting here with Mediafly running on my laptop (fed from my Blackberry), while trying to type and listening to the office radio. I am really not paying much attention to the program- which is what I was afraid of and is entirely my problem, not theirs. I need to tweak my feeds to focus on videos and the programs I really want to listen to. I am convinced that this program will be a keeper.
Product Information
Price:
Free
Manufacturer:
Mediafly
Pros:

Lots of content
Well designed site
Small, easy to use Blackberry app

Cons:

Not all content is created equal, but that is hardly Mediafly's fault!