We use affiliate links. If you buy something through the links on this page, we may earn a commission at no cost to you. Learn more.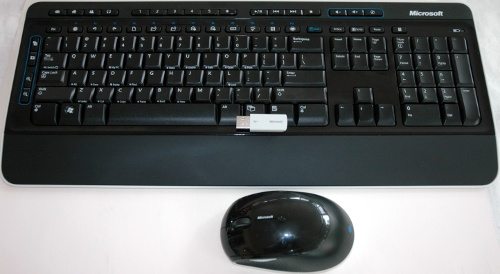 The Microsoft Wireless Desktop 3000 is a bundle of the Wireless Keyboard 3000 V2.0 and the Wireless Mouse 5000. MS3K jokes based on the cumbersome name aside, this is a very nice if somewhat large wireless keyboard and mouse that worked with everything I could find.
The intro photo above shows the contents of the box less the CD, which I somehow managed to lose within minutes. In other words you'll find the keyboard, mouse, USB dongle, 4 AA batteries, and the CD with Windows/Mac drivers. If like me you misplace that CD, the drivers are downloadable from Microsoft's website.
Setup/Install
Setup consists of inserting the batteries and then plugging in the small USB dongle. If you want to customize the keyboard, you'll need to install the drivers (Mac/XP) or some extra software for Linux – I'll come back to that later.
Tour
First let's take a closer look at the keyboard and mouse.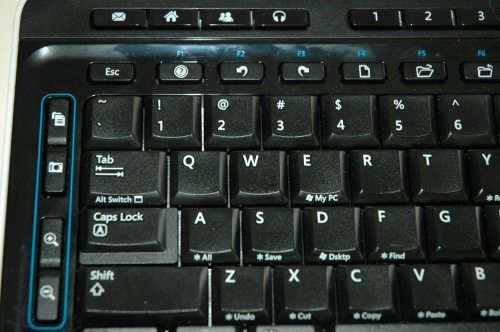 There's a detailed look at the left side of the keyboard. You can that there's a bank of special keys to the left of the standard left edge keys, a bank of "task" keys across the top, and a row of funky dual-purpose function key/menu short keys where you would normally find full sized Fn keys. The keyboard keys themselves are in a standard layout/spacing, with perhaps a tad shorter travel then a normal keyboard. I'm no high-speed typist (shh…. I don't even touch-type in the standard way… I'm one of those four-finger-programmer/touch typists!) but to me the basic keys feel more like a high end "desktop replacement" laptop keyboard. That's not a bad thing, it's just a difference. Also, those extra keys on the left are under my left pinkie (which used to pretty much hug the left edge of the standard keyboard I usually use) so that took a bit getting used to.
The tiny Esc/Fn Chiclet keys really take some getting used to. First off, you need to hit the small blue F Lock key once to lock in the Fn Key behavior, instead of the menu shortcuts.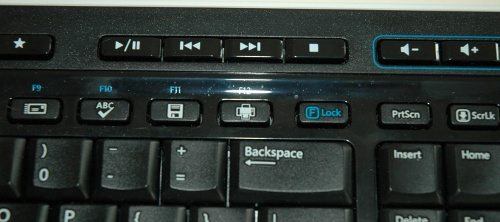 Then you've got to try and SEE the soft blue "F5" (for example) since the Fn keys aren't grouped into sets of four keys as in a typical keyboard.
For comparison here's the keyboard I usually use: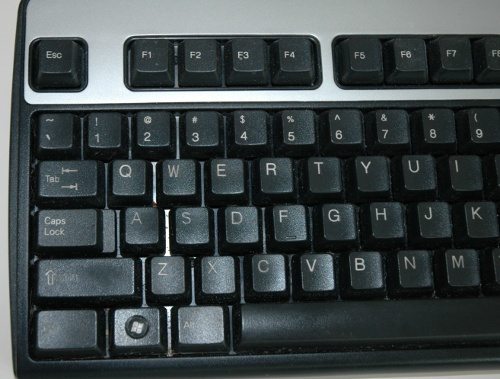 All that said, after an hour or so I was up to more or less my usual speed and error rate. I still need to take a peek to hit F5/refresh. Oh, and those wonderful special purpose keys? They sit there mocking me. Yes, they work, but no, I don't use them. They replace keys that exist in whatever GUI I'm using, and that GUI already provides keyboard shortcuts anyway. All this keyboard is doing is providing a hardware key that generates the typical key-code (ie, Ctrl-C for Copy, etc…) that I would type if I didn't want to move my hands out of typing position.
The keyboard has one feature I thought I would hate but actually like – the built-in wrist rest: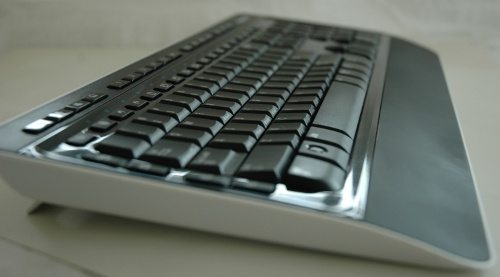 And again, for comparison, a typical 101-key keyboard: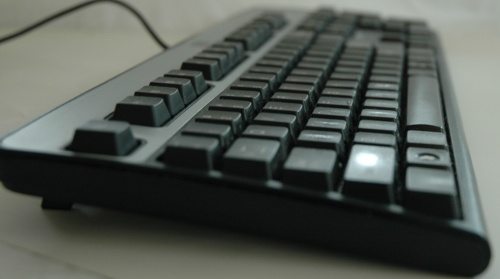 The integrated wrist-rest, subtle curving of the keyboard, and rounding off of the bottom row of keys makes for a very comfortable typing experience.
The keyboard does not have any indicator LEDs for the state of the various lock keys (ie, NumLock, Caps, Scrl…) which makes sense for a battery powered keyboard. It does have one LED, which when lit means your battery is low. If you must have some feedback on the state of your locks, you'll need to use some software to show it on your desktop. I ran without any such software for more then a week without trouble.
Next up, lets take a closer look at the mouse. This is a largeish mouse, with decent heft, and of course no tail. The sides are textured for easy grip, and the top is one large plate that can be clicked left or right for the L/R mouse buttons. The top has a scroll wheel that seems loose – it wobbles a bit. That's because in addition to being a wheel and the middle button when pressed, you can tilt the wheel left or right to fire the 6th and 7th (or 8th and 9th if you count scroll wheel up/down) mouse buttons.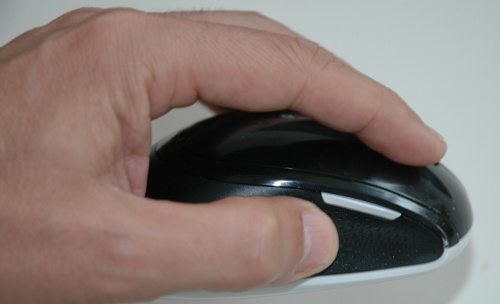 Mapping all those buttons to different functions/actions might require the Microsoft driver. Ubuntu Linux (my home) understands them all and maps the extra buttons as back/forwards for the side buttons, Page down/up for the scroll wheel, and left/right scroll for the wobble buttons on the scroll wheel. This seems to be how Firefox interprets them as well in all the OSes I tried. Maybe my finger is multifunction-challenged, but with all that scrolling and clicking and whatnot, it's hard to remember that you've got two more buttons there as well!
Flipping the mouse over, we see: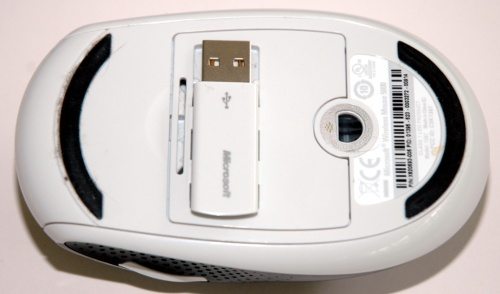 Well, ok, this is what you see if you tuck the USB dongle into the slot in the bottom of the mouse. This depresses the off switch, and makes a transportable package. Makes sense if you just bought the mouse, but maybe less so with the bundled keyboard.
Microsoft touts the blue laser (BlueTrack) used as being able to work on more surfaces then that old-school red laser. Since I used to use one of those old school red guys, I can tell you they both seemed to work on any surface that wasn't glassy or reflective.
Wireless and Battery Performance
This is a standard 2.4 Ghz unlicensed spectrum wireless system. In my home I've got way too many wireless gizmos, and this thing neither bothered my N or G wifi, or 5Ghz phones, nor did they seem to bother it. I've not seen a single error in normal use (range under 5′) nor while testing the "let's control the Mac Mini in the bedroom down the hall" test. The only concern is that Microsoft doesn't specify what, if any, security is used on the wireless link. There is no "partner" button, the various devices just seem to link up to the dongle when everything is powered on. For that reason you might want to consider the security of using this product, especially in if you are in a high density area. The range can be up to 30′ so you might want to take a walk around outside (or down the hall!) and see just how far you're leaking key-presses.
Battery performance has been excellent. I've been using the set as my main keyboard/mouse for two weeks and the keyboard battery meter(shown in the Windows Driver) is essentially still at 100%. I have no idea what the mouse is at, there isn't a battery meter for that anywhere.
Software/Drivers
Microsoft does provide a driver for the unit for Windows and MacOS X, and under Linux these types of keyboards (including most of their special keys) are also well supported with a package or two to allow customization. Without this software the combination should work with any device that supports USB "HID" (human interface) devices, and that's exactly what I saw when I plugged the dongle into my three test devices. Under Ubuntu/Linux, Windows XP, and MacOS X plugging it in yields some activity and then it just works as a keyboard and mouse. Pressing the pre-defined special keys generates some key-presses that are more often then not interpreted the right way.
So, why bother with the software? It will let you change the functions for the special keys, and it will give you the ability to map the five user-macro keys to a string or function. And you'll be able to see the keyboard battery level, at least on Windows.
Windows Software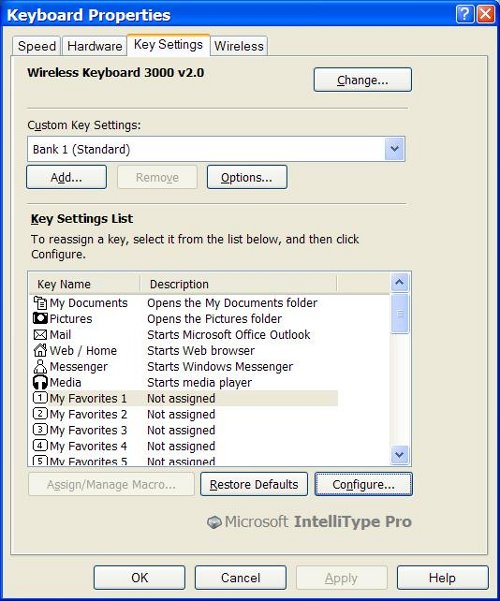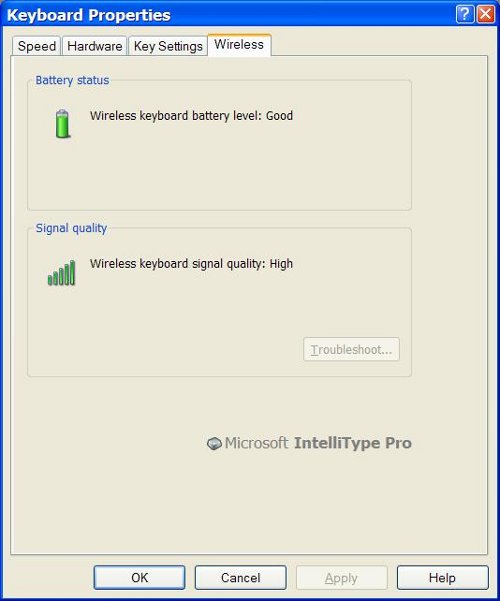 MacOS X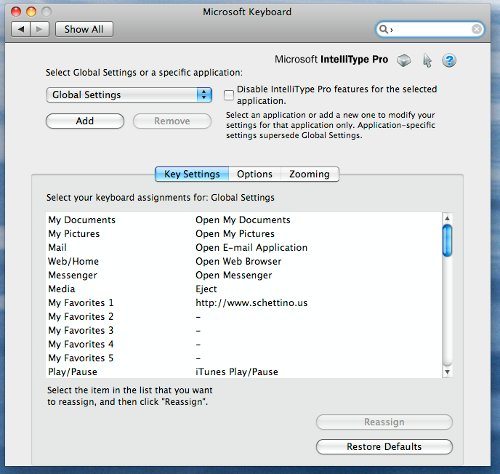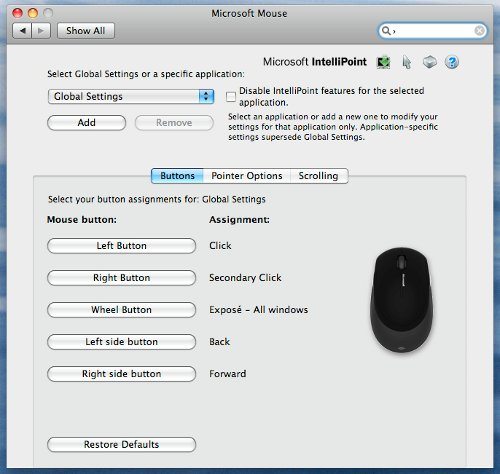 Ubuntu/Linux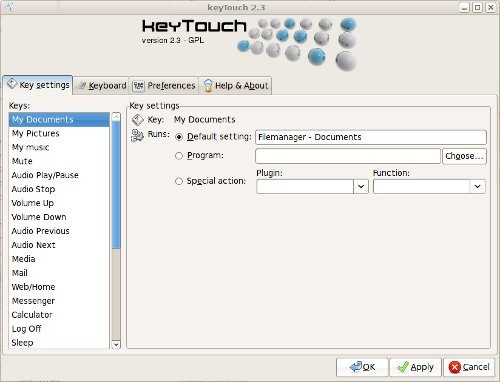 Note: KeyTouch is not Microsoft software, it's just an example of how this keyboard is supported by open source software!
Final Thoughts
I like this keyboard/mouse. I've used some off-brand 2.4 Ghz multimedia keyboard/mice combos (in fact, I have one on my HTPC) and the Wireless Desktop 3000 is a noticeably better designed keyboard & mouse ergonomically speaking. The use of Chiclet keys for the Fn keys is the only complaint I have for the keyboard itself, and the integrated wrist rest makes that easy to over look.
Product Information
| | |
| --- | --- |
| Price: | $69.95 |
| Manufacturer: | Microsoft |
| Requirements: | In my experience, any fairly modern PC running Windows, MacOS, or Linux should be able to see this as a USB Keyboard/Mouse. Windows XP or better or MacOS X or better to run Microsoft's drivers. |
| Pros: | Integrated wrist rest, wireless with 10+foot range, compatible with Win/Mac/Linux, excellent battery life, bazillions of extra keys, 7 button mouse, blue laser works on just about any surface. |
| Cons: | Normal security concerns with 2.4Ghz wireless keyboards & mice, no keyboard LEDs for Num/Cap/ScrLock (typical) big keyboard, small Fn keys. |