We use affiliate links. If you buy something through the links on this page, we may earn a commission at no cost to you. Learn more.

Being an early adopter I could not wait for my Cupcake to be delivered, so with some trepidation I followed the directions on Android Guys and manually downloaded Cupcake to my G1. If you are not sure what Cupcake is, it is an update to the Android OS to version 1.5. Frankly, it adds a lot of features that should have made 1.o. Things like Video recording, bluetooth stereo support (A2DP and AVCRP profiles), and Widget support. To see the full list you can go to the T-Mobile forum. What has been a very pleasant surprise to me is what I'll call the icing on the cupcake, that is, the little UI tweaks you may not even notice right away.
The first little thing I noticed was the bluetooth indicator. If I receive a call, and my headset is paired, the screen indicates it with a blue outline and a bluetooth logo.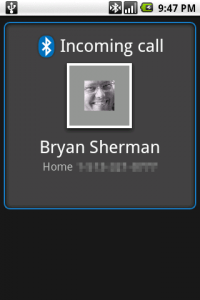 It is definitely subtle, but I like the added benefit of seeing that I need to find that bluetooth headset.
Another change I liked (eventually) was to the Contact screen.  This change was to the Call Log. In the previous version, when you taped on the entry it returned the call to the listed contact at the number they called from, or you tried previously. This is very logical, but obviously some folks did not like it. When I first discovered the change, I was disappointed because now when you tap on the name, it takes you to the contact details screen where you can choose to return to the number listed in the log, send an SMS, or go to the contact details to choose a different number. However, you can still immediately dial back the number by taping on the phone icon on the left side: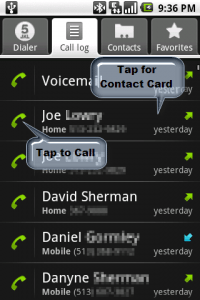 So it is the best of both worlds. Also, you can now see thumbnails of your favorites, if you have them, in the Contact screen.
They also added an on-screen keyboard. Not a big deal for the G1, but kind of important for upcoming handsets without a physical keyboard (like the HTC Magic). The keyboard displays in both portrait: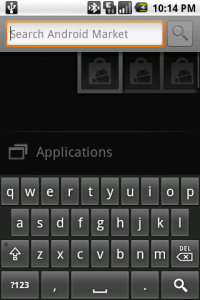 and Landscape modes: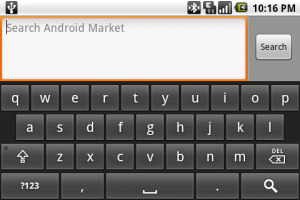 It was surprisingly easy to use.
There are a number of other tweaks like it can auto-rotate the screen with the accelerometer (like the iPhone), and they added transitions between screens. Both these features can be turned off in the settings.
I really like the updates, I even think the Camera is taking better pictures (I used to have to tweak the results more). It is a very nice update to a phone I already like. If you don't want to chance the manual update, you should receive it soon as T-Mobile rolls it out.