We use affiliate links. If you buy something through the links on this page, we may earn a commission at no cost to you. Learn more.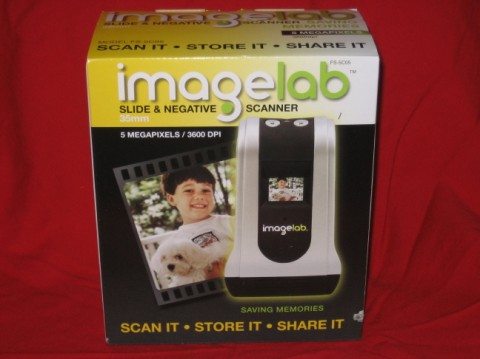 Do you have shoe boxes full of 35mm slides and or negatives that you don't know what to do with?  Would you like to share memories with your kids or grandkids?  Do you want to remember what you looked like 20,30 or 40 years ago?  If so, the ImageLab Slide and Negative Scanner might be for you…
Before we begin, let me set expectations.  If you're a photographer for National Geographic and need to scan your photos for an upcoming edition of the magazine, this device is not for you.  If you're looking for an easy way to archive those hundreds of slide and negatives, then read on.
Specifications:
Image Sensor:  5 Megapixel CMOS sensor
Scan High Resolution: 3600 dpi
Scan Method: Single pass
Computer Interface: USB 1.1
Computer Compatibility: Windows ME/2000/XP/Vista, MAC OSX 10.2 or higher
Dimensions:  7 x 4.15 x 3
Weight:  0.95 lbs
Power Source: AC Power or Battery (3 AAA batteries not included)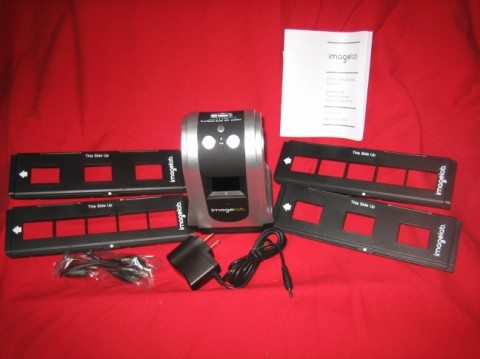 What's in the box:
One FS-C05 scanner
Power adapter
USB cable
2 trays for scanning negatives
2 trays for scanning slides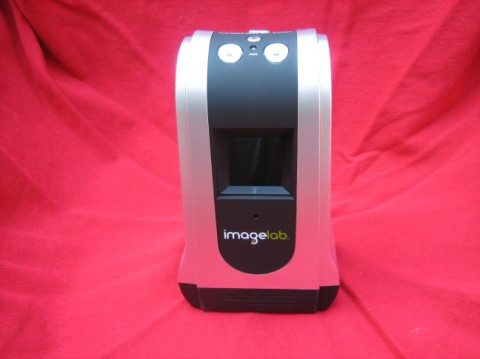 The front of the unit has an LCD display.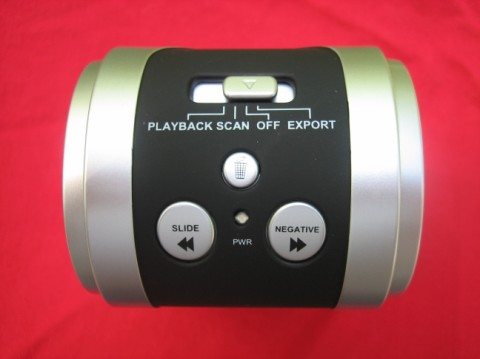 On top you find 3 buttons and a slide switch.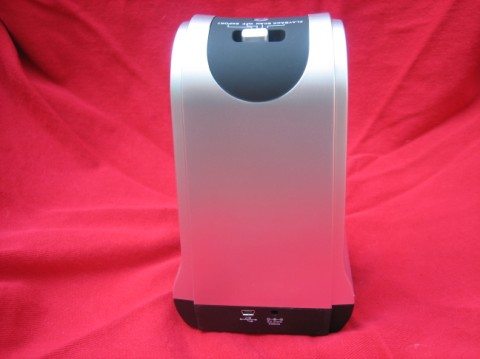 On the back you have connections for the USB cable and AC power.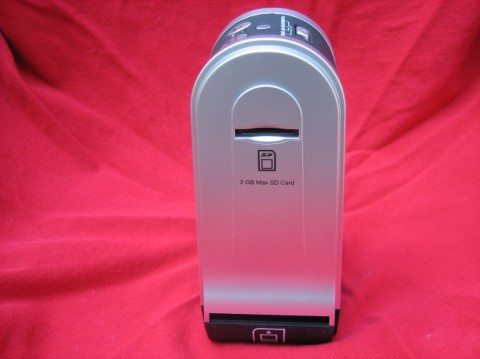 On this side you have the SD card slot.  The other side has nothing of interest.
The scanning process on the ImageLab is very simple.  You have trays that accept either slides or negative strips.  The tray for the 35mm slides worked perfectly, but the negative trays seemed to be a little narrow and my 35mm negatives, from several different years of picture taking, did not fit within the grooves nor over the centering sprockets.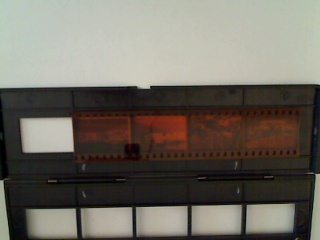 It may be a little hard to see the problem in the photo, but I was able to carefully position the negative so it would align correctly.
After loading up the tray, turn on the unit and slide the tray through the slot and watch in the LCD display for the image.  When the image is centered, press either the slide or negative button and your photo will be scanned and saved in the on board memory or the SD card if you have one inserted.  Push the tray until it "clicks" for the next image and repeat the process.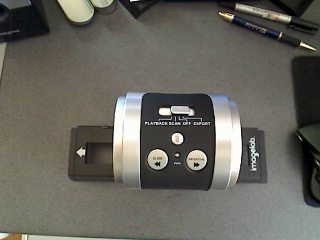 Here's my setup for scanning.  You'll notice that the tray has arrows so you don't insert it the wrong way.  It's pretty much fool proof.
I grabbed several hundred 35mm slides and the same number a negatives and had a scanning marathon.  Here's some things I learned.
Using it on battery power is an asset.  I could scan while doing something else or moving around the house with the scanner.  I wasn't tied to an electrical outlet.
The LCD screen is only good for telling if your slide/negative is inserted correctly.  It's too small to see any features and the review function is essentially useless because of the limited resolution.
If you don't remove the dust from your media, it WILL be apparent on the scan.  I used canned air, but it wasn't enough.  I'll have to look into some other way to clean them.
The scanned images have too much contrast and the colors are over-saturated.  Remember, this device doesn't come with any software and at first I was very discouraged with the results.  Running the images through a photo editor and auto correcting them, made a big difference
The trays are only for cardboard mount 35mm slides.  I have hundreds of glass mounts and large format slides that cannot be scanned by this unit.
The USB cord seemed redundant.  It's used to connect the scanner to a computer to download the images.  The device shows up on the system as a removable drive.  I found it easier to remove the SD card and transfer  my images using a PC card reader.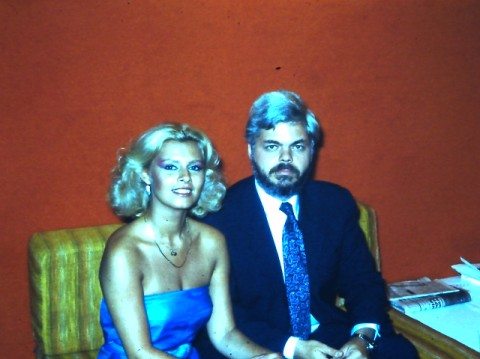 This slide is from 1982.  The contrast is way too high and the colors are off.  You can also see what I mean about dust.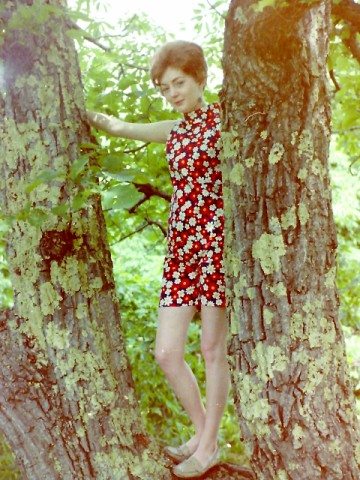 This is a scan of a negative from 1974, before I ran it through the photo editor.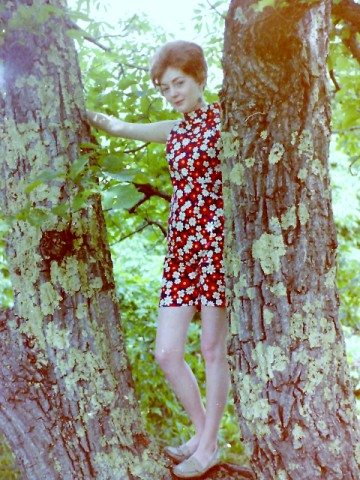 Here it is after and although not great, it is good enough for snapshots and family photo albums.
I've been looking for a way to archive the hundreds of slides I've accumulated over the years.  At one point I thought about sending them off to a scanning service, but found the costs somewhat steep, especially since many of the photos are not worth saving and most scanning services charge whether you want the image or not.  Using the ImageLab scanner allows me to scan all my slides and negatives.  Those that are worth preserving I attempt to fix using my limited skills with photo editing software.  For those really important photos, I can send them off to a professional service and let them remove the dust, scratches and dirt and adjust the colors and contrast.
There are similar devices out there.  Two others I am familiar with require a connection to a computer to operate the device, but they do come with software for image enhancement.  The prices are about the same, so the trade-off is portability versus a software package.  I've decided I like being able to take the Imagelab with me and when I have some free time, I scan some slides.  Later in the day I upload the images to my PC and batch enhance them using Microsoft Digital Image Suite.  I can then view them on my flat screen and keep the interesting ones and toss the rest.  All in all, it's a pretty handy device.
Product Information
Price:
$99
Manufacturer:
ImageLab
Requirements:
Pros:

No PC required
Ease of use

Cons:

No software provided
Cannot adjust image properties