We use affiliate links. If you buy something through the links on this page, we may earn a commission at no cost to you. Learn more.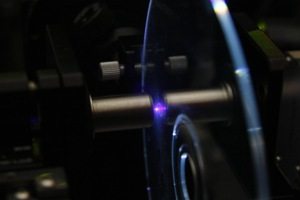 General Electric Research have recently unveiled that they have created Optical Discs with 500Gb's of total storage capacity, the equivalent to approximately 100 DVDs! 
The 'micro-holographic discs' are to be aimed more for industrial users (For backup and storage capabilities) but they haven't disputed the fact that they could also be used by normal home users, as users who store masses amount of data (gamers for instance) will be able to take advantage of these awesome tools!
Micro-holographic discs can store more data than DVDs or Blu-ray discs because they store information on the disc in 'three dimensions', rather than just pits on the surface of the disc.
Just imagine backing up ALL of you're data onto just one (or maybe three of four in my case!!) disc!
GE Research are currently working with a number of hardware manufacturers at the moment, in order to bring these tools to the consumer as quickly as they can.  At the moment, cost hasn't been made public, but I wouldn't imagine them to be cheap, but then again, with this type of capacity I'm not sure users will mind spending that little bit extra!
Look out for these over the coming months!