We use affiliate links. If you buy something through the links on this page, we may earn a commission at no cost to you. Learn more.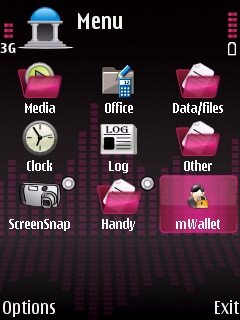 mWallet by Total Wireless Solutions is a very nifty application. You don't have to use every feature that it offers but if you decide you want to, it's definitely a practical step. It only costs $7.50 for an S60 device and $6.50 for a UIQ device.
In its most basic form, this application is great for those with a bad memory or those who keep written record of absolutely everything. The feature that sets this apart from simply putting details in your contacts list or your notes folder is that it is passworded.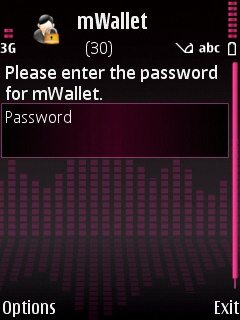 I was previously keeping my bank details in my phone, because it's much easier and less messy than having to dive into my filing cabinet every time I need my personal information.
This application simply offers far more detail, ease of use and security.
As well as keeping my bank details in my phone, I was also keeping a small pocketbook with ALL of the email newsletters I was signed up for and all of the online clubs and memberships I had. Passwords, I'm sure you all know, vary from website to website according to their requirements: length, requires numerals, case sensitive etc so my passwords were also in this pocketbook.
Although these passwords may be for silly things like clubs and memberships (by silly I mean, no one has anything to gain by hacking them), the passwords may also be reused for something that IS important, for example, email addresses and social networking. It's highly risky keeping them written down. Unfortunately, I took this risk to make allowances for my shocking memory.
I never went as far as putting my pin numbers in my phone, however, this resulted in various trips to the bank because I had forgotten my pin numbers for various cards.
With mWallet, all I have to remember and keep safe is one password and everything else is remembered and kept safe for me.
The categories mWallet provides you with are: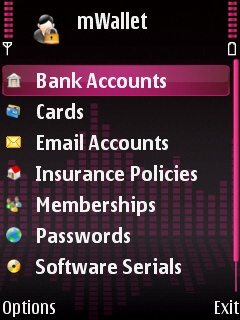 The category "Cards" includes: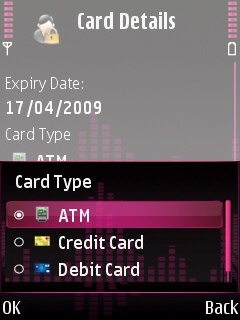 And the category "Passwords" includes: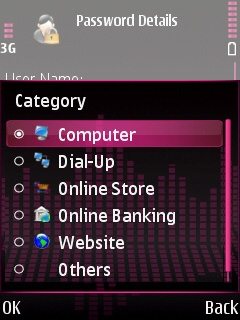 There are many fields under each category giving you options to keep extensive or minimal details. The view within each category is nicely laid out, enabling you to see multiple details at once.
It also has a personal notes category which is similar to the application "Notes" on most Nokia phones. It comes in handy if you want to make a protected note to come back to later. Unfortunately it only takes 512 characters.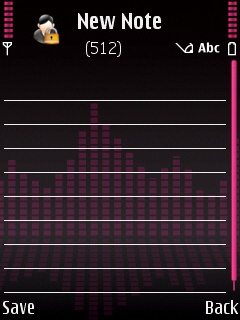 The great thing about it is when viewing anything confidential (ie. PIN numbers, credit card numbers, passwords etc), it masks them by displaying them as asterisks as a further precaution. All you have to do is press options then unmask all and it will display them for as long as you need: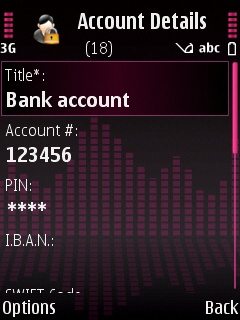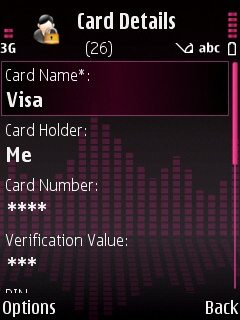 As well as this, if you leave it idle for a long period of time it will reask for you password.
The only fallback I can find for this software is that when you go to view your information, it displays it in the same editing form that you used to enter it. It makes it difficult to view all of the details you need at once. It would have been easier if it only showed the information you entered rather than having to scroll through several blank fields to find the information you're looking for.
I will reiterate how great this application is for those of us with a bad memory. I'm a very organised person with a shocking memory. I even had to reset my password to log in and post this article. (And then I entered the new password into my mWallet so I can't lose it). It's a great product and is going to save me a lot of hassle in future. It's more secure than carrying a notebook around, more convenient than having to go through my filing cabinet and more organised than keeping details in a txt file on my phone/PDA.
Product Information
Price:
$7.50 for an S60 device $6.50 for a UIQ device
Manufacturer:
Total Wireless Solutions
Requirements:

Blackberry: BlackBerry OS 4.0 or higher
Palm OS: IBM's WebSphere Micro Environment
J2ME/S60/UIQ: MIDP 2.0

Pros:

Enables you to carry details in a secure, portable medium

Cons:

Have to view details in editing form