We use affiliate links. If you buy something through the links on this page, we may earn a commission at no cost to you. Learn more.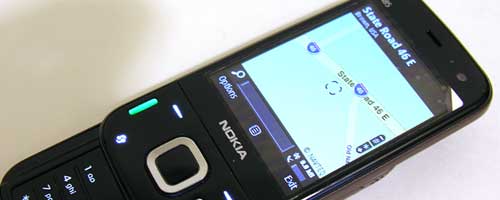 It's been a week since I started using the Nokia N85 and in that time, I've found a lot to like and some things that left me wanting more. This last part of my series on the Nokia N85 will focus on:
Built in applications
Week wrap up
Although the Nokia N85 is called a smartphone, it doesn't quite feel as like one to me. I know it has WiFi, a GPS and a camera. But one of my personal requirements for a smartphone is an easy input mechanism. The N85 does not have a touch screen or a keyboard, so that makes things a bit difficult for entering appointments, addresses, etc.
Let's look at some of the other applications included on this phone…
GPS
The N85 has a built in GPS receiver, that requires a view of the sky to get a fix on the satellites. This phone also includes an application called Maps. Turn by turn voice guided directions requires paying a subscription fee, but you get a 3 month free trial to test it.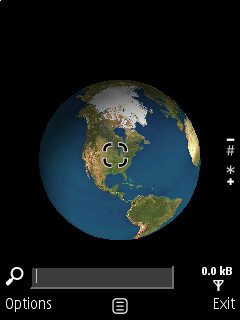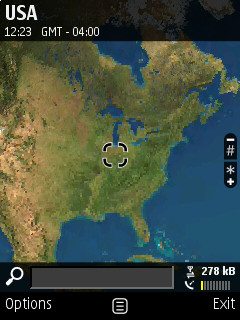 When you start the Maps application, you are presented with a globe that you can roll and zoom. I was using AT&T on Edge and it was a bit slow updating. Then at one point, it got stuck and wouldn't zoom in or out.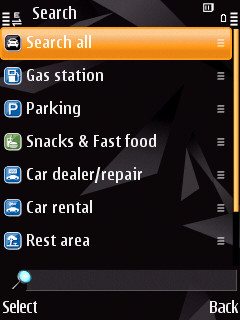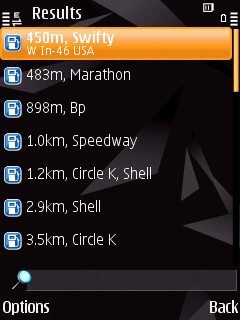 By pressing the Left soft key (Options), you can search on popular destinations like gas stations, rest areas, etc and get driving or walking directions to their location.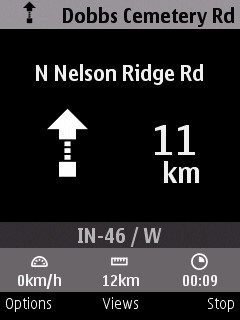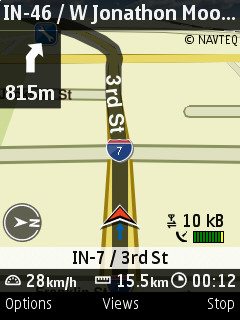 Of course you can also enter your own addresses to navigate to, or navigate to the address for one of your contacts. The turn by turn spoken directions are handy, but street names aren't spoken. The male voice just speaks the direction to turn, not the road name.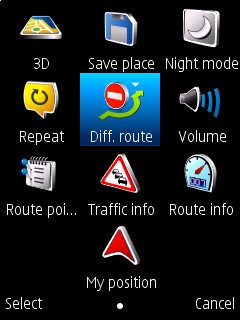 I found the GPS to work really well, but since it can be difficult to see the display in sunlight, it can be hard to see the GPS info on the screen.
Misc. Applications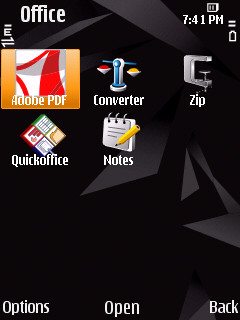 Some of the other included applications are an Adobe PDF viewer, unit converter, Zip compressor, Quickoffice and a notes app.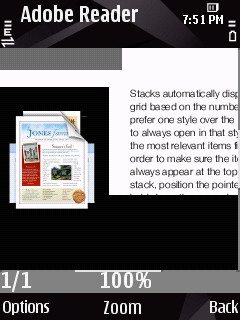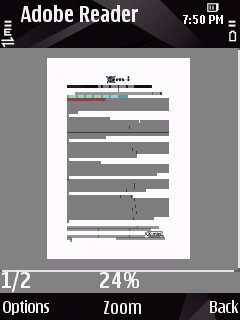 The Adobe Reader application doesn't work very well on the N85. One of the more obvious reasons is that this phone has a small display, so you have to scroll around a lot to see all the document. But the other reason is that it just doesn't work worth a hooey. I tried several simple PDFs and you can see the results in these screen shots… Notice the large blocky Black sections? That's not in the PDF file…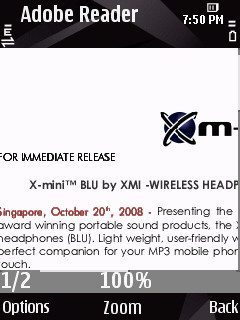 When I was able to get a PDF to load correctly, the resulting image quality was jaggy. Not good.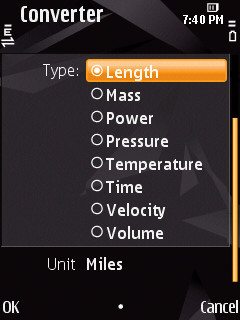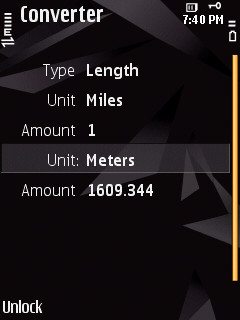 The unit converter isn't anything super special, but little apps like this always come in handy from time to time.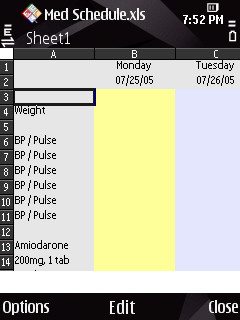 The QuickOffice suite will allow you to load Excel, Word and Powerpoint files for viewing on the N85. If you want edit or create capability, you have to pay for a license…
I didn't have any issues with viewing Excel or Word files, but I didn't have much luck with powerpoint files… Again, a phone with a screen of this size, really does not lend itself well to working with documents.
Wrap Up
As usual, a week of using one phone ends with me ready to try something new. I'm just never happy… what's up with that? 😉 The Nokia N85 does have a lot going for it. I really like the size. It's almost perfect in that respect. The 5MP camera which takes very nice macro shots is a real plus too. I can't fault the GPS or Wifi either for that matter. But when all is said and done, it comes down to the lack of a real keyboard. That tends to be a real deal breaker for me. If I didn't text as much as I do, the keyboard  probably would not matter to me, but I do, so it does. So there you go… Even though the Nokia N85 isn't going to work out for me personally, I still highly recommend it as a great little full featured phone.
Product Information
Price:
$449.00
Manufacturer:
Nokia
Pros:

Great size
3.5mm headphone jack
FM Transmitter
Dedicated small keyboard for music and other apps
5MP camera
WiFi

Cons:

Flat keypad
Spongy camera shutter button
Hard to see display in full sunlight