We use affiliate links. If you buy something through the links on this page, we may earn a commission at no cost to you. Learn more.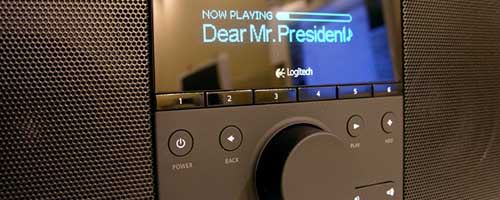 Back when Judie was a fixture here on The Gadgeteer, she and I would occasionally write dually reviews. This was a term we coined that basically consisted of a review where we would chat back and forth about the product in question. Today we're going to revive that fun format, with a review of the Squeezebox Boom Network Music Player from Logitech.
My comments will be in regular Black text, while Judie's will be in Blue italics.
I have a bit of experience with the Squeezebox as I had the opportunity to review the previous two versions of this device. The first one was the SLIMP3 Network MP3 player and the newer one was also named the Squeezebox. This was before Logitech bought the company Slim Devices. The main difference between the new Squeezebox Boom and the older units is that this new one has built in speakers, making it way more convenient.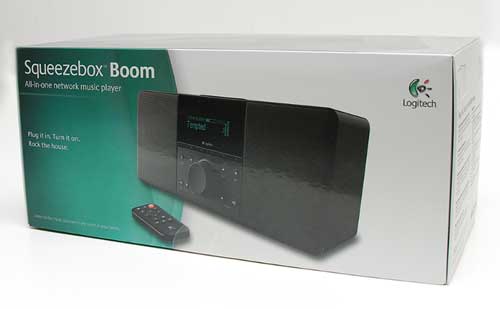 Unlike Julie, I had not used a previous Squeezebox incarnation, and the whole "network music player" genre was slightly foreign to me – unless you count streaming iTunes from one laptop to another over a home network. I guess it's all basically the same principle though, right? Except doing things this way doesn't require you to have two laptops, and it sounds much better; but I digress…
Specifications
¾-inch (1.9 cm) high-definition, soft-dome tweeters and 3-inch (7.6 cm) high-power, long-throw woofers
30-watt digital amplifier and speakers
Bi-amplified design with high performance signal processor, class D amplifiers and digital crossovers
Stereo XL technology widens the sound stage beyond the physical boundaries of the speaker
Plays MP3, AAC, WMA, Ogg, FLAC, Apple lossless, WMA lossless, WAV, and AIFF music files
6-button presets allow one touch access to favorite radio stations and playlists
7-day alarm clock
Infrared remote control
Bright, high-contrast VFD display with ambient light sensor and automatic dimming
Built-in 802.11g wireless with dual internal antennas
10/100Base-T Ethernet port
Line-in via 3.5 mm stereo jack
Headphone/Subwoofer out via 3.5 mm connector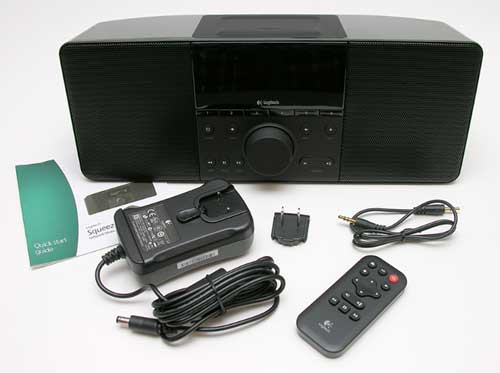 Package Contents
Squeezebox Boom
AC adapter
Remote
Quick Start Guide
3.5mm to 3.5mm patch cable
Don't forget the microfiber drawstring bag; that was a nice touch!
Out of the box, the Squeezebox Boom really lives up to its name. It looks like a typical boom box, with Black mesh stereo speakers on either side of an LCD and panel of buttons.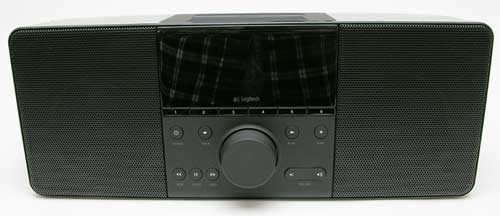 It doesn't have a flashy design, which is just fine in my opinion. This way it blends in well in an office, living room, kitchen or bedroom. No worries about clashing colors huh?
No, none at all. Unless the plaid in the above photograph doesn't go well with someone's decor. Oh wait… 😉
I knew I should have re-shot that picture 😉 Ha!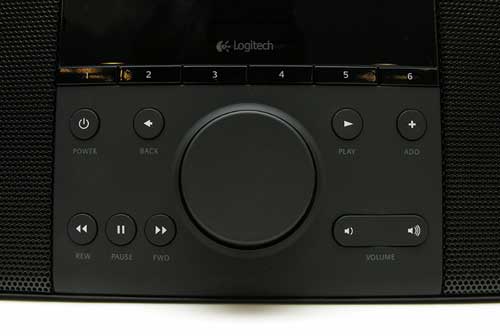 The buttons on the front are pretty self explanatory. Included are all the normal buttons that you would expect on an audio player, such as Power, Volume, Play, Rew, Pause and FWD.
There is also a preset button bar that you can use to save up to six of your favorite Internet Radio channels. The large knob in the center operates as both a volume adjuster and a menu navigation tool.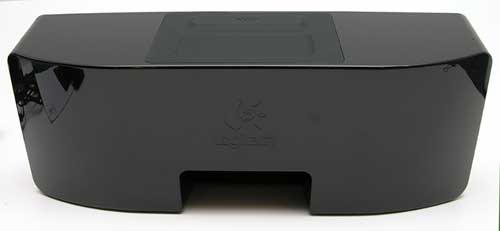 The Squeezbox Boom's case is shiny Black plastic. That means dust and fingerprints. Get out your swiffer!
That's something that all of the digital music player docks I have reviewed lately have in common – they all use loads of shiny black plastic which looks absolutely gorgeous out of the box, but quickly becomes a swirly mess of dust and fingertips – especially in West Texas.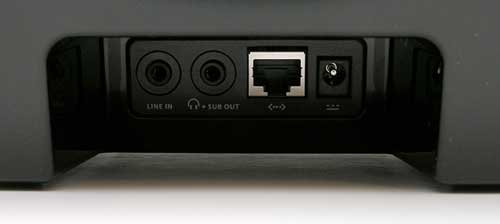 This boom box uses WiFi to connect to your computer or the internet, but if you are so inclined you can hard wire it using the Ethernet jack on the back. There's also a line-in jack, powered sub woofer / headphone hookup and an AC adapter jack.
The inline jack should come in handy when you want to enjoy music from another hard-wired music player through the Squeezebox's speaker system.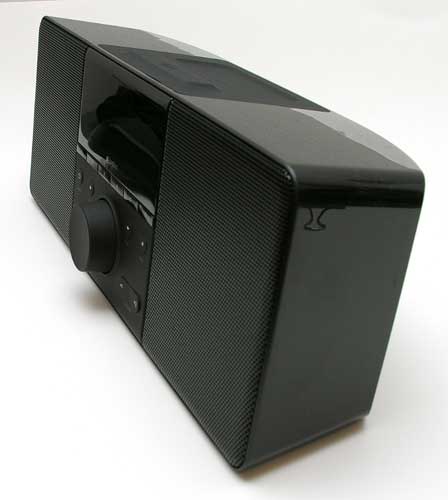 The Squeezebox only has a 13.0 x 3.75 x 5.25 inch footprint, so you shouldn't have problems finding space for it.
No, you'll just want to make sure that you have a stable place to put it; the Squeezebox is surprisingly heavy.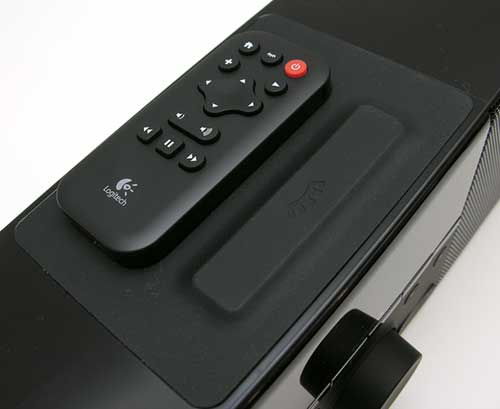 On the top there is a rubber surface with a little indentation for the included IR remote.
The cool thing is that it's magnetic, so it holds the remote in place when you're not using it.
You'll also notice a long bar next to the remote. It's a snooze / sleep bar. Press it quickly to see the time and date. Press and hold it to set the sleep feature. You can have the Squeezebox automatically power down in 15, 30, 45, 60, or 90 minutes.
The remote has a corresponding sleep button, which allows you to manually set the power down in the same increments. It's a nice feature for those who like falling asleep to music.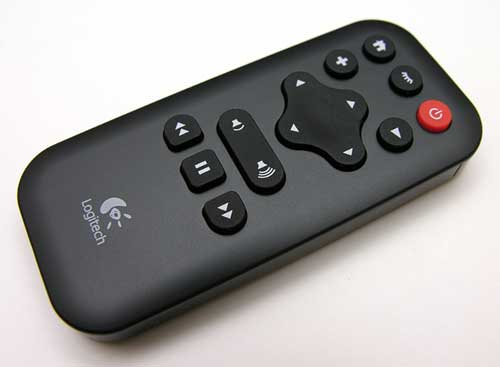 The remote has real buttons, not a cheesy membrane. Yay! It will let you do almost everything that the buttons on the Boom will do.
This is easily the best remote I've found included with any of the systems I've reviewed lately. It's funny how you don't realize how finicky a membrane remote is, until you have a quality remote – with real buttons – in hand.
To begin using the Squeezebox, you have to connect it to your WiFi access point, or plug it in to your network with an Ethernet cable.
Setting up the music player is simply a matter of following a series of onscreen questions, and pressing the center of the large knob. You'll need to make note of your player's PIN number, because it is required during the computer based portion of the setup.
Next you have to decide if you want to use the SqueezeNetwork or the SqueezeCenter as your music source for this networked player.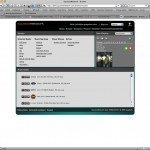 click thumbnail to see full-size image
SqueezeNetwork is a free internet based service provided by Logitech that you sign up for. It will allow you to connect to services such as Pandora, Slacker, Rhapsody, etc.
I was really impressed by the selection of streaming services offered by SqueezeNetwork; they have Last.fm, Live365, MP3Tunes, Pandora, RadioIO, RadioTime, Rhapsody, Sirius and Slacker. Since I already have a Sirius account I had the option of upgrading to their Premium audio offering for an additional $2.99 a month. Of course there were free options, too – such as Slacker; I set up an account with them in no time, and was able to confirm that  just as I suspected – for me at least, internet radio streaming was not really going to be a viable option.
You can also store your music library in an online MP3tunes Music Locker (free 60 day trial) so that you'll have access to your tunes  even when your computer is turned off.
I think that this is a pretty neat service for people who don't necessarily want to leave their laptop on all the time, or who want to use the Squeezebox Boom in a location other than where their main music computer resides.
If you mostly want to use the Squeezebox Boom to listen to internet radio service, then the SqueezeNetwork is probably the way to go.
If you want to listen to your own tunes and not have to pay to keep them stored in the cloud, then you'll want to go with the next option –  SqueezeCenter.
SqueezeCenter will allow you to also listen to internet radio and your own music collection. But, your computer has to be turned on in order for the Squeezebox Boom to have access to these services and your music. It also requires that you install a web based app on your Windows, Mac or Linux machine.
To download, you simply go to www.squeezenetwork.com and follow the sign-up wizard. During the setup you'll need the PIN number from your player that I mentioned earlier.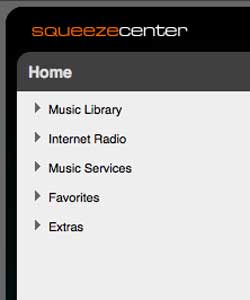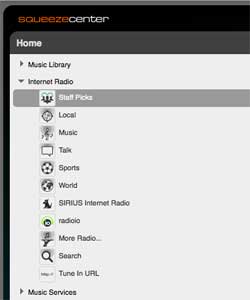 This application runs in your regular web browser. For me, that's Firefox.
As it is for me.
When you first start SqueezeCenter, it will scan your machine for music. It will imports iTunes artwork and scan for user added artwork. Depending on how large your music collection is, this can take awhile…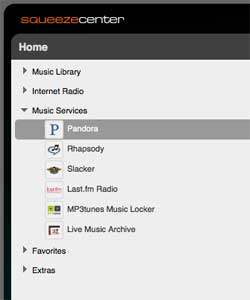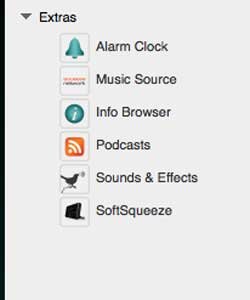 The interface is pretty basic, but it gets the job done.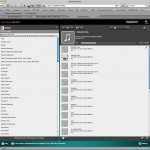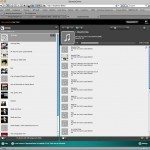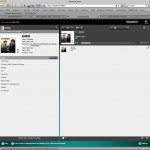 click thumbnail to see full-size image
From within this interface you can do everything from select the music you want to stream to create random song playlists based on genre. The SqueezeCenter will also import and recognize playlists you have setup in iTunes, which was an unexpected and very cool feature.
For this review, I didn't test the SqueezeNetwork option of copying my music collection into the MusicLocker service. So, whenever my computer was turned off, I could only listen to internet radio by connecting to the SqueezeNetwork. Then I would try to look at my music library, it would be empty. Since I was testing both services, this got a little confusing… Most people probably won't run into this problem though.
I didn't copy my music either, mainly because living in the country my internet connection is only one step above dial-up…on a good day.
.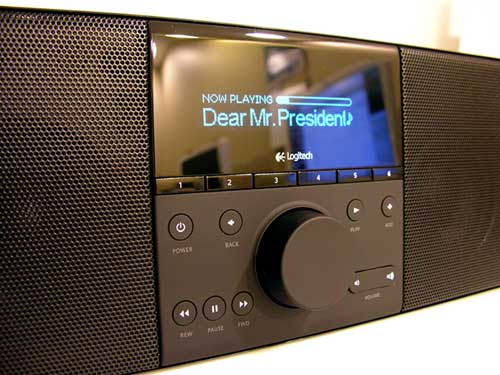 The Squeezebox Boom sounds really good in my opinion. Even without an optional sub woofer, it has some real thump to it. I was honestly really surprised at how good it sounds. What did you think Judie?
I agree that the sound produced is very good. The bass result isn't quite as thumpy as the Kicker iKICK iK500 I reviewed (and am still using), but it is still quite rich and seems to be even deeper than the Altec Lansing inMotion MAX I recently reviewed and liked.

I was really surprised how well it works for streaming internet radio. I've used several internet radio devices in the past and they always seem to have issues with connecting to the stations, or buffering data. I didn't notice any issues like that with the Squeezebox.
That's because you have the world's greatest internet connection, my dear. Oh, how I fondly remember the broadband cable connection I enjoyed (and more or less took for granted) when living in San Angelo, but I wouldn't give up living in BFE to have it again. 😉

I tried a bunch of different stations and only 2 or 3 times in the last couple of weeks has the player paused to buffer data. Granted, I have a decent broadband connection (T1 line). How well did it work with your connection?
I'll admit it – it was a disaster! This is the one of the few times where living in the country has produced a major con. Streaming music from my laptop to the player is absolutely fabulous; streaming over the internet? Not so much. But I can't complain, because I honestly expected that. My main interest in the player was – and is – its ability to stream my music collection from a computer. Bear in mind that there are no desktops in my home – we are all on laptops, so built-in speaker systems are only adequate on a good day. Using this system allows us to have rich stereo sound without hooking up a set of wired speakers; in other words, it is pretty darn awesome!

I tried Squeezebox in several locations around my house. My WiFi router is located in the basement, the Squeezebox works perfect there… but when I took it upstairs on the opposite end of the house, it had some trouble streaming my music and playing internet radio stations. It would sometimes lose connection. I'm not sure I can complain about that since it is going through a floor and a couple walls. I also tried it directly above my office and had no problems.
Our house is not as large as yours, and it is only one story, so there really wasn't anywhere I could go that would be out of the Squeezebox's range. So people considering using one of these might want to take into consideration whether they need it to work across the house, or just through a wall or two, so they can place their router accordingly.
The only real issue that I found when using the Squeezebox to stream music I owned was that it would not play certain albums and songs I had purchased from iTunes. Bear in mind that none of my iTunes music was purchased DRM free, so I didn't know what to expect, but my results were very inconsistent. For instance it would see and play certain albums that I had purchased through iTunes, but it would not see or play others. I thought at first that this limitation was only occurring to albums showing in my purchased list, but lo and behold – one of the CDs Kevin had bought was not only showing in the purchased list, it also played over the network. I honestly have no idea what the deal is, and am puzzled by it.
Update: Reader Daniel Stahl had the answer!
I was unable to get any of my DRM music from iTunes to show up in the music list on the Squeezebox application. So I'm not really sure how it is deciding what it will and will not play. I specifically authorized some music for my iMac (where the SqueezeCenter software is installed) tonight and then did a rescan in the SqueezeCenter application. After it was completed, the music did NOT show up in the music list for the Squeezebox. Color me confused too…
While music is playing, the song title will scroll across the LCD display. When the Squeezebox Boom is not playing music and powered off, it will display the time of day on the LCD. One cool thing about the display that I discovered is that it has an ambient light sensor that can be set to dim the display or even turn it completely off. This is a nice feature for people that want to locate the Boom in their bedroom. Speaking of the bedroom, the Squeezebox Boom can function as a decent alarm clock.
Absolutely correct! The clock operates on network time – in other words, you don't have to set it, and alarms can be set from the home screen. If the network isn't working, instead of streaming music you will get an alarm tone.
I have really enjoyed reviewing this device. I like the Squeezebox Boom a lot! It sounds great, works very well for listening to internet radio stations, is very easy to setup, is wireless and doesn't take up a lot of room on a table or shelf. I'm impressed and will continue to use it.
Even though I can't utilize the streaming internet features of the player, I am definitely impressed by the way the Squeezebox handled my network music stream. As expected, the sound produced blows away the speakers on my computer, and it is a definite improvement when listening to music. Kevin and I usually have our computers set up on the dining room table, and we listen to our combined music stored on his MacBook Pro through its built in speakers. It would be impractical to put a set of speakers on the table with us, so streaming to the Squeezebox Boom located across the room is the perfect solution.
Product Information
Price:
$269.99
Manufacturer:
Logitech
Pros:

Julie:
Great sound
WiFi
Connects with services such as Slacker, Pandora, etc.
Alarm clock features
Easy setup
Judie:
Very solid device that looks good and isn't too large
Produces rich sound with plenty of bass
Easy to set up and operate

Cons:

Julie:
Issues with DRM music
Judie:
Not all iTunes music is seen by the SqueezeNetwork