We use affiliate links. If you buy something through the links on this page, we may earn a commission at no cost to you. Learn more.
Update 03/28/03
Here's a confession: I'm an MP3 junkie! I listen to them through my desktop PC
while I'm surfing or writing reviews and I listen to them through my Tungsten|T
while I'm at work or on the go. The thing is that I've been wishing that I could
listen to my MP3 collection while in my living room, where my actual stereo
system is. Well, now I can, with the Slim
Devices SLIMP3 Network MP3 Player.
Although I set up my own home network and wireless network, I really don't
consider myself a guru on the subject. As a result, I was a tiny bit worried
about what the setup of this device might involve. Once it arrived though, I was
anxious to give it a try as soon as possible. Upon opening the box, I first
unpacked the main unit. The SLIMP3 is a rectangular black plastic box with a
fluorescent display and Lucite face plate on the front. On the back of the
device is an AC adapter connector, Ethernet port and RCA jacks. Also included in
the box were RCA patch cords, an AC adapter, a 10ft CAT5 Ethernet cable, printed
manual and a remote with batteries.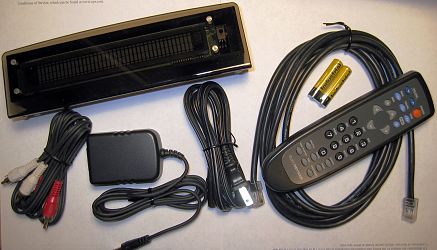 Due to the fact that my stereo and my computer are located in different
rooms and are more than 10 ft apart, I knew my first step in reviewing this device
would be to go buy a longer Ethernet cable. So, I headed to Radio Shack and
plunked down $35 for a 50ft length of flat CAT5 cable. Kinda ouchy, but it's all in
the name of product reviewing right?


My next step was to set aside a couple hours to set things up. Networking has
always been a big pain in the butt for me. It seems like there's always something that
just doesn't work the first time, or takes me awhile to figure out. I was all
set to pull my hair out. I also have a bad habit of not reading manuals, which
could be a reason why it takes me longer to figure things out ;o) Anyway, at 4pm
I spread out the components and by 4:05pm, I had placed the SLIMP3 on top of my
entertainment center, plugged the AC adapter into the outlet, hooked the RCA
patch cables into the back of the player and into a pair of open inputs on the
back of my Denon receiver. As soon as the SLIMP3 was powered on (it has no
physical on/off switch), the bright aqua fluorescent display greeted me with a
Welcome message.
4:12pm, I opened the 50ft Ethernet cable package, plugged one end into my 5
port switch and proceeded to unroll it (by the way, it is still laying across
the room in what looks like an unraveled Slinky) into the living room. At this
point, I decided to remove power from the SLIMP3, plug the other Ethernet end
into the back of the device, and then power it on again. This time, a Searching for DHCP
server message appeared on the display shortly after the Welcome message.
Then a second or so later, a Searching for SLIMP3 server message
appeared. I didn't remember seeing a CD in the box that the unit had shipped in,
so I had to reference the manual… It instructed me to go to the Slim Devices
website and download the server software for my platform. I guess this is a good
time to mention that the SLIMP3 is compatible with Windows, Linux and Mac
computers. I quickly downloaded the 3.4mb Windows application, installed it and
at 4:20pm, I launched it.
The SLIMP3 Server application is really easy to figure out and use. The
only setting that I had to make was to tell it where my music folder was. I was
a little annoyed that I had to either type it in manually, or cut and paste the
path from Windows Explorer. It would be nice to add a simple Browse button for
that field so that people could just navigate to the folder and select it. Once
that was done, it was simple to navigate thru the music files with the web
browser style interface. By 4:27pm, I was streaming MP3 files from my PC into my
living room through my stereo! Very cool and way easier than I ever thought it
was going to be!

Of course, the reason why it was so easy is the fact that my network uses
DHCP. DHCP isn't mandatory though, you can manually configure the IP address for
the SLIMP3 using the handheld remote and following the onscreen prompts. But since I
didn't have to screw with that, I was happy!
Using the PC application, you can browse by Genre, Artist, Album, Music
Folder and Playlist. You can also search for Artist, Album or Song Title. You
can easily create, modify, rename and delete playlists through this software.
You can also control volume level, repeat, and shuffle in the application.
After putting the software through its paces, I went into the living room to
actually listen to the music. At first, I was really disappointed in the sound
quality of the MP3s coming through my stereo. In a word, it was horrible. It
sounded too bassy, and muddy. On some songs, I could even hear clicking and
static. I took a few minutes to adjust the volume on both the receiver and the
SLIMP3 till I was finally able to get the sound quality to be pretty good.
Unfortunately, I was never able to quite get the sound quality to match the
quality when playing the same exact songs on their respective CDs through the same stereo.
Update: I was given the suggestion that I try an input
on the back of my receiver other than the Phono input (which is what I had
used). So, I switched to the VCR inputs and OMIGOD, the sound is a billion times
better! I'm totally happy with it now!
I can overlook the slight degradation in sound quality though because having
the ability to control MP3 playback thru my stereo with a remote control is
great! The display on the SLIMP3 is bright and easy to read. It can be set to a 2
line or 1 line display mode. 1 line allows you to view the display from over 10
feet away. Words that are wider than the display's length scroll across it.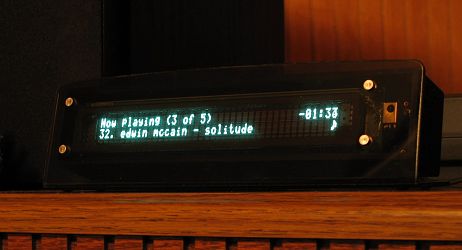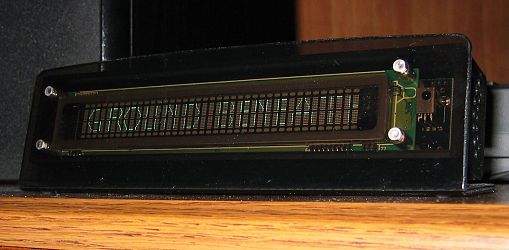 The remote is also easy to use. With it, you can navigate thru your play
lists and search criteria. You can also control the volume level, display
brightness and size modes. When you're finished listening to music, pressing the
power button puts the SLIMP3 in standby mode and changes the display to the
current date and time of your desktop computer.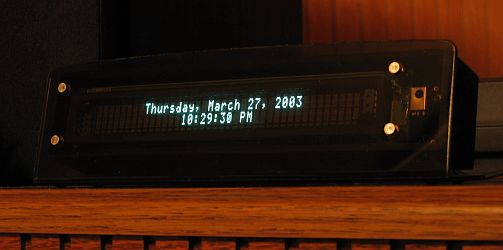 The SLIMP3 is a well made and easy to setup device. It is fun to use and
gives you the opportunity to enjoy your music collection through your stereo,
and not just your computer. Although the sound quality is not as good as when I
do play the MP3's through my PC, I still find the convenience and features of
this device to be compelling. I really wish I didn't have to send it back to
Slim Devices.
Price: $229.00
Pros:
Easy setup
Good interface
Compatible with Windows, Linux and Mac OS machines
Cons:
WMA files not supported
Sound quality could be better Update: Sound is terrific if
you DON'T make the mistake of using the Phono inputs on your receiver like I
did.
Product Information
Price:
229.0
Manufacturer:
Slim Devices
Pros:

Easy setup
Good interface
Compatible with Windows, Linux and Mac OS machines

Cons:

WMA files not supported
Sound quality could be better Update: Sound is terrific if
you DON'T make the mistake of using the Phono inputs on your receiver like I
did.