We use affiliate links. If you buy something through the links on this page, we may earn a commission at no cost to you. Learn more.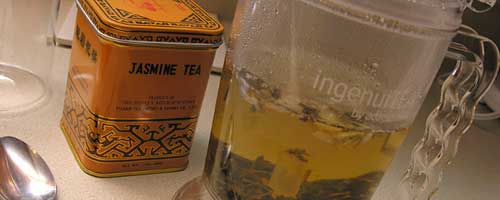 I love a hot cup of tea in the morning to go along with my breakfast. During the work week, I typically drink Stash Tea Premium White tea from individually packaged tea bags. On the weekend I'm more adventurous and like to try different loose teas. I'll either use a French press or a mesh cup infuser to steep the leaves. Recently I reviewed the Teastick, which is a cool idea, but turned out to be a little awkward to use and clean. In a comment to that review, someone suggested that I try the ingenuiTEA teapot from Adagio Teas, Inc. My friends at ThinkGeek sent me one and here are the results of my review.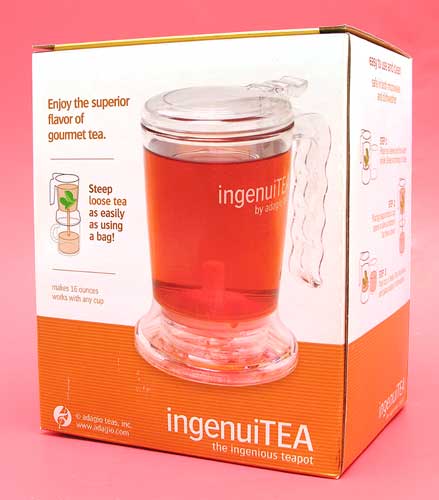 The ingenuiTEA (say it like the word ingenuity) is a small teapot made of food grade plastic that will not shatter or break. It can hold / dispense 16 oz. of liquid and is dishwasher safe.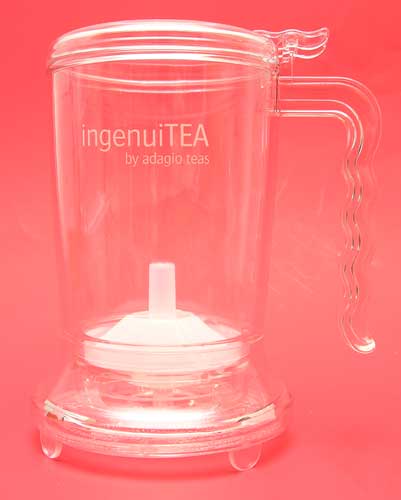 The teapot is a little over 6 inches tall, has a large handle and stand off feet. These feet are important, but I'll get to that in a minute.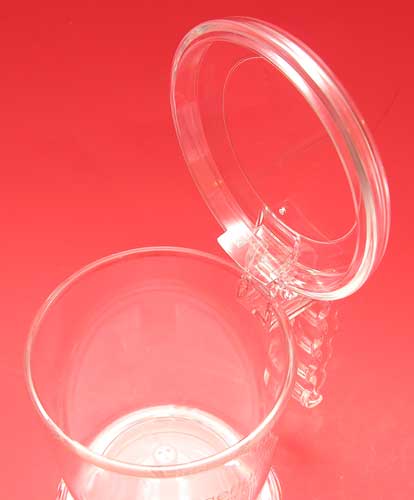 The teapot has a nice lid that you can flip open with your thumb in order to fill the 16 ounce reservoir with water.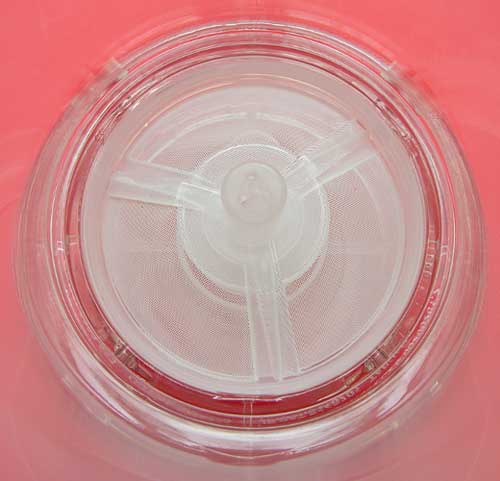 In the bottom of the teapot is a small plastic filter that will keep loose tea leaves from ending up in your cup.  The filter can be easily pulled out and removed for cleaning after you're finished using it for the day.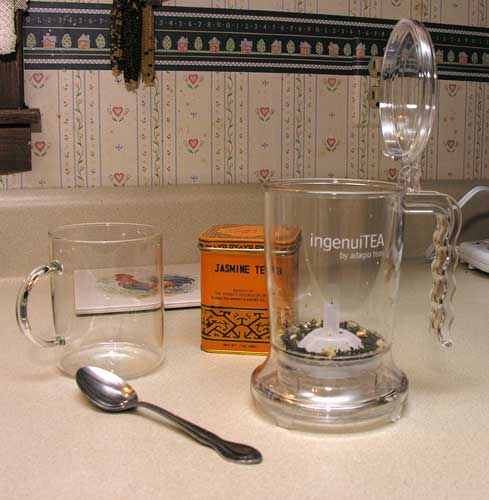 The way the ingenuiTEA works is that you put some loose tea leaves in the pot, then either pour in boiling water or fill with cold water and put the pot in your microwave. You want to make sure that you set the teapot on the included plastic coaster or on a flat surface.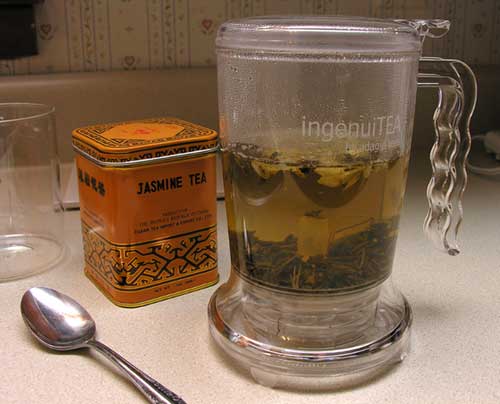 After you have waited the desired length of time for the leaves to steep, you're ready to fix your cup.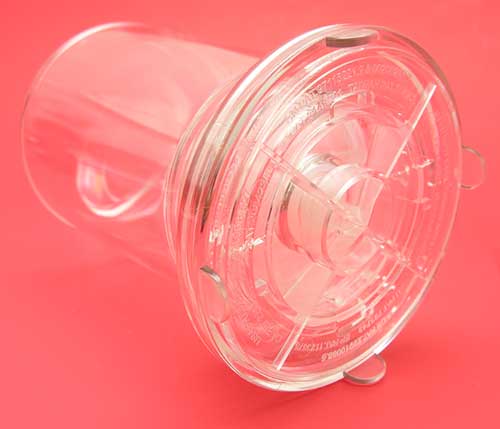 The ingenuiTEA is unique because it has a built in dispensing valve on the base of the pot. It's activated by pressure. When water is in the pot, the valve is closed and won't leak.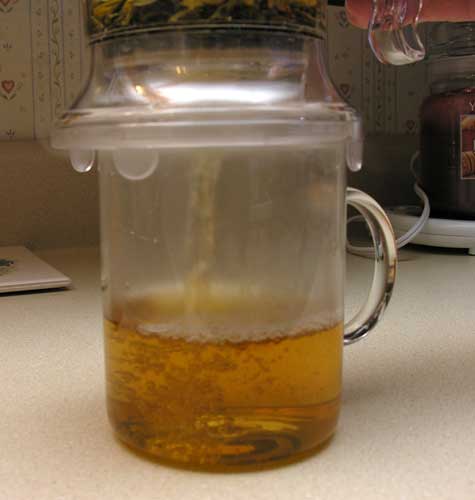 But, when you set the teapot on top of a cup, it will press the valve up, causing it to open and the brewed tea to flow out the bottom of the pot and into your cup. It's a very clever design. Most cups hold less than 16 oz. so you have to pay attention to the tea as it pours out of the teapot. When your cup is filled, just lift the ingenuiTEA to stop the flow.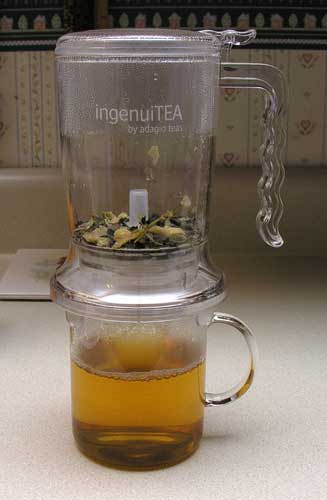 Mmmm, Jasmine tea…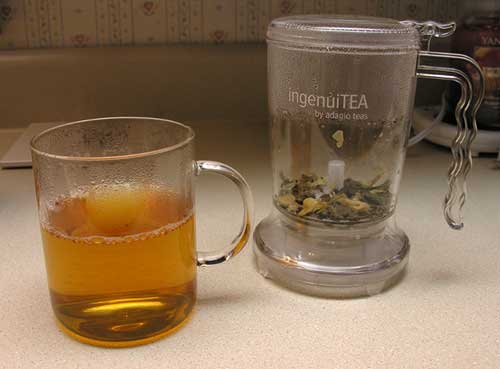 I will say that the ingenuiTEA is a lot easier to use than a French press. It's also easier to clean.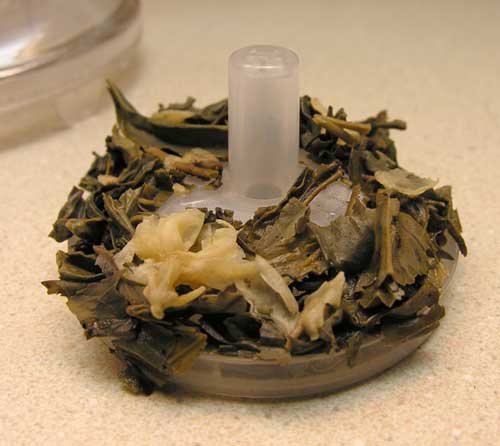 All you have to do is reach in to the teapot and pull out the filter. This might be slightly difficult if you have large hands though… You can then just knock the wet leaves into a trash can and rinse both the filter and pot. Clean up is pretty easy, but in my opinion, it's not really something I'd want to do at work as I would need to take the ingenuiTEA into the restroom to pull out the filter, clean off the leaves, rinse and dry both parts. At home this is much less of a hassle and doesn't feel inconvienent at all, but at work it just feels more awkward. I guess it all depends on where you where too. The ingenuiTEA has replaced my French press and mesh infuser at home for sure. At work, I'll just continue to be lazy and use tea bags 🙂
Product Information
Price:
$18.99
Manufacturer:
Adagio Teas, Inc.
Retailer:
ThinkGeek
Pros:

Easy to use
Can boil water right in the teapot
Easy clean up

Cons: