We use affiliate links. If you buy something through the links on this page, we may earn a commission at no cost to you. Learn more.
Do you use a laptop sleeve to protect your laptop when you carry it around or place it in a larger bag? Have you ever considered that the sleeve that you're using could be holding in heat and slowly damaging your battery? bbp bags have considered this fact and are offering a solution with their new Breathe Sleeve.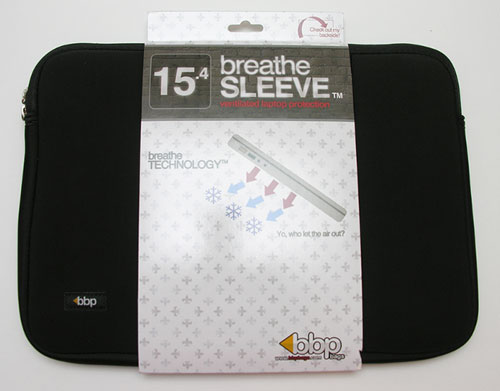 The Breathe Sleeve is available in Black and Pink, as well as 3 sizes.
Exterior Sleeve Dimensions
Small – 12.5″W x 9″H x 1″D
Medium – 14″W x 10″H x 1″D
Large – 16.5″W x 11″H x 1″D
Laptop Capacity
Small – up to 13″W x 9.5″H x 1.5″D (Up to 13″ Mac's and 13.3″ PC's)
Medium – up to 14.2″W x 10.5″H x1.5″D (15″ Mac's and 15.4″ PC's)
Large – – up to 17″W x 11.5″H x 1.5″D (Up to 17″ Mac's, and 17″ PC's)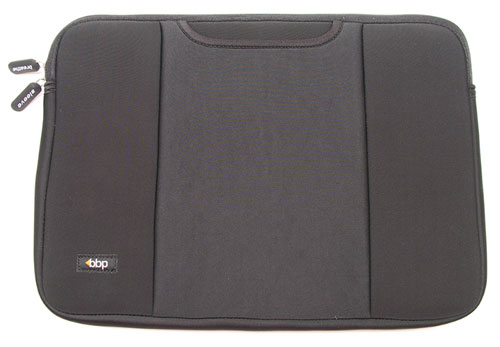 I was sent a Medium sized Black sleeve to review. The Breathe Sleeve is made of stretchy 4mm neoprene. The front has a narrow vertical slot that can hold papers, cables, a mouse, etc.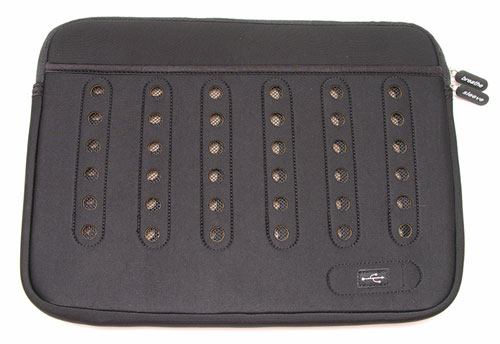 If you look at the back of the sleeve, you'll find a large collection of mesh holes. These holes act as vents to allow heat from the bottom of your laptop to escape.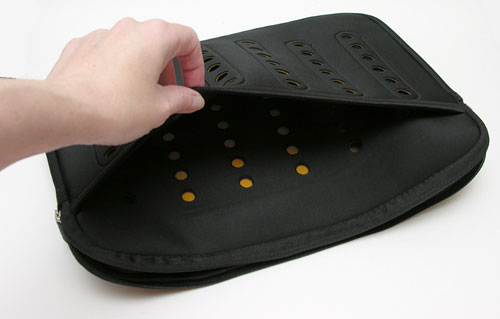 There's a large pocket on the back of the sleeve that is big enough for a regular sized magazine, file folder, etc. Be aware though that if you do store a magazine or fullsized papers in that pocket while the laptop is still warm, it pretty much renders the vents useless… It probably would have been a better idea to put the large pocket on the front side of the sleeve.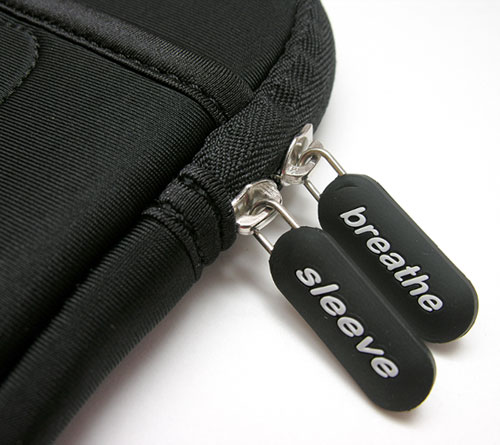 The sleeve has a nylon zipper with dual rubber pulls.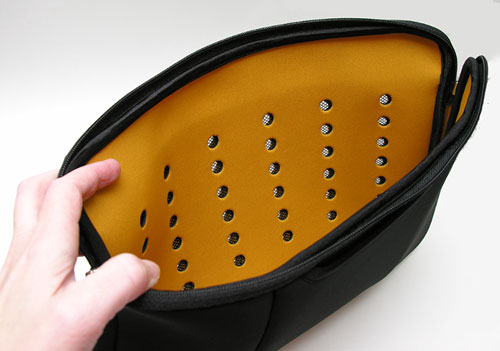 The interior of the Black sleeve is a bright Gold color.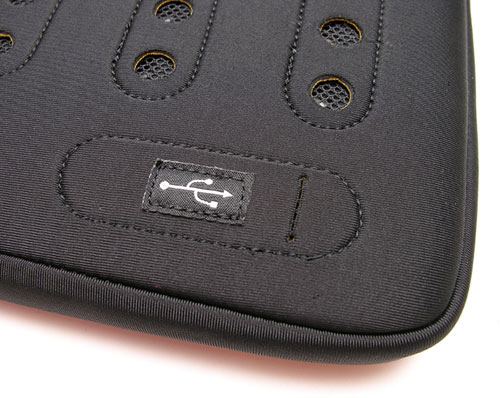 Another feature of this sleeve is a pocket for a USB flash drive.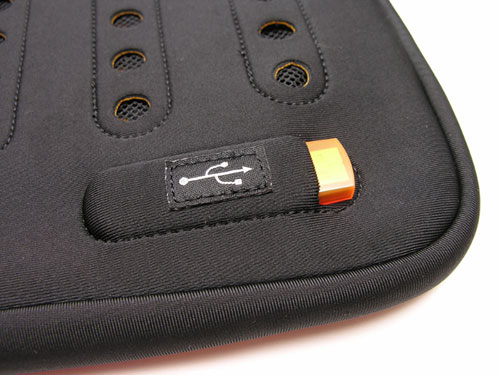 I'm not sure I'd store one of my flash drives in that slot… It seems tight enough to hold it, but without some sort of snap cover, I'd be afraid someone would pull it out when I wasn't looking.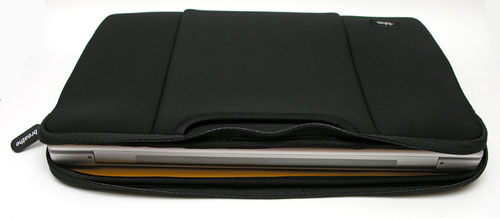 I tested the Breathe Sleeve with my 15″ Macbook Pro and found that the Medium size fit it perfectly. As far as usefulness, I can see that this sleeve would be better than non-vented sleeves. But, it's only going to be helpful if you are using the sleeve as the only protection for your laptop. If you put your laptop in the Breathe Sleeve and then stuff it inside a second bag, I'm not so sure that the vents are going to really accomplish anything. If you tote your laptop around in a zippered sleeve without vents, then consider upgrading to the Breathe Sleeve. But if you use a laptop bag or a sleeve with a laptop bag, then this product won't do much for you.
Product Information
Price:
34.95
Manufacturer:
bbp bags
Pros:

Vent holes allow heat to dissipate from your laptop while it's in the sleeve
Two large pockets

Cons:

Storing a magazine or papers in the big pocket will block the vents