We use affiliate links. If you buy something through the links on this page, we may earn a commission at no cost to you. Learn more.
The Belkin Skype Wi-Fi phone looks like a cellphone, but allows you to connect to Skype via a Wi-Fi network without the need for a computer. It seemed like an interesting concept/piece of tech-equipment to try out. This phone provides a majority of the functionality of the computer based Skype software, allowing you to make and take calls via Skype-to-Skype, SkypeOut, and SkypeIn.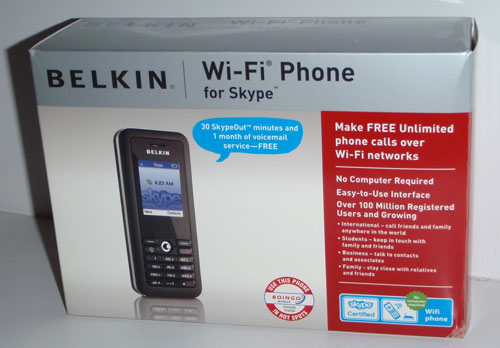 Once I had logged into my wireless network and signed into my Skype account, my contacts list instantly showed up on the phone and I was ready to go.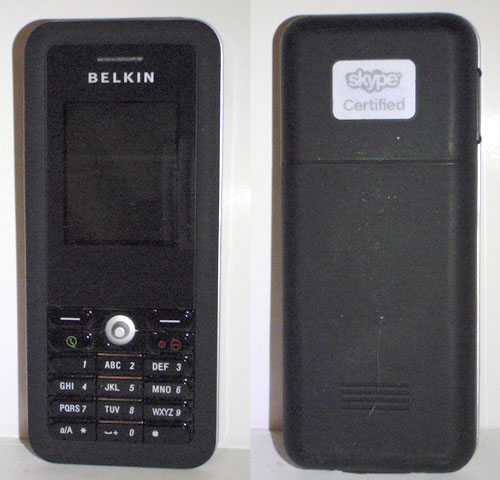 Its shape, size, and number keypad/joystick is very reminiscent of the older Sony Ericsson or Nokia candybar cellphones. The screen is very small by today's standards. The key layout is typical with the ten standard numerical/symbol, */shift, answer/hang-up, and menu buttons (based on which screen input) plus a joystick for navigating through the menus.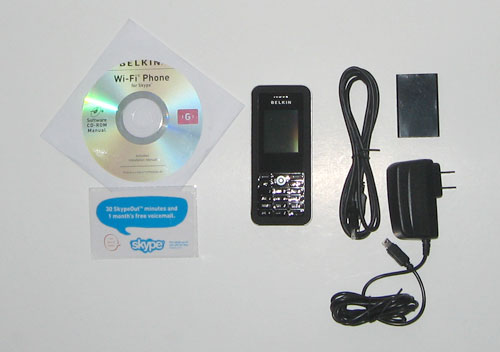 Package Contents
Belkin Skype Wi-Fi phone
Battery
USB cable
Standard USB wall charger
Software & manual CD
A 30 SkypeOut minutes card
Hardware Specifications
| | |
| --- | --- |
| Wi-Fi Standards | 2.4-GHz 802.11b and 802.11g |
| Network Securities | open, WEP, WPA, WPA2 with PSK support |
| Talk time | 3 hours |
| Standby time | 50 hours |
| Connector Type | USB |
| Dimensions (HxWxD in) | 4.6 x 2.1 x 0.8 |
| Weight (oz) | 3.9 |
| Battery | 1,100-mAh, 3.7V lithium-ion (replaceable) |
| Warranty | One year |

As you can see, the phone is primarily black with a silver band going around a majority of the sides and top of the device. The black casing of the phone is a semi-rubbery material the is not slippery, easy to grip, and comfortable to hold. The volume control is a rocker type switch and is on the right side of the phone.

The left side of the phone has no controls.

Nothing on the top either.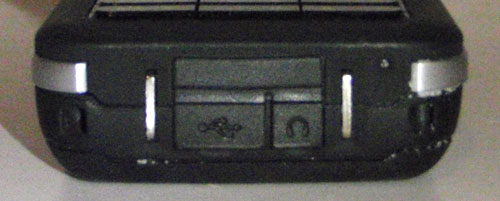 The USB and earphone ports are on the bottom of the phone. Considering the cost of this device, I am surprised that Belkin did not include Bluetooth connectivity to this handset to allow the user the ability to pair their Bluetooth earpieces with the phone.
The device was simple to setup and operate. Logging into both open and password protected Wi-Fi networks was a breeze. Once online, logging into Skype was easy as well. The phone remembers all of the Wi-Fi access points you have logged into previously and your Skype log-in information as well. So, you do not have to manually reconnect and/or re-log-in every time you want to use the phone.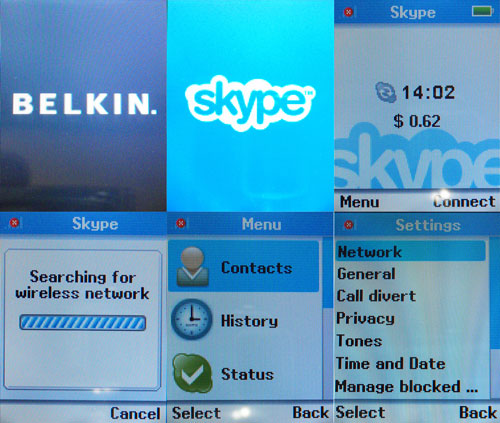 As you can see from the screen shots, the interface, like the phone itself, is relatively simplistic. The screen has a resolution of 128×160 pixels, making the 1.8 inch LCD display far from high definition. The interface does an adequate job of conveying what it is needed, but falls short of what we expect from a modern mobile phone.
Excluding, its simplicity and older look and feel, the phone does have one major drawback. It cannot log into networks that require web based authentication. The phone has no web browser of any kind, making it impossible. You cannot accept any user agreements and do not have the ability to log-in via the web thus making it impossible to operate the device at Starbucks, most hotels, airports, etc. The device appears to be connected (i.e., has 5 bars) but fails to connect. This limitation greatly reduces the locations the phone can be used at.
Call Quality
With all of its shortcomings and lack of high-tech glitz, the call quality is surprisingly good. I tried calling friends and family from a variety of places; home, parents, work, and a coffee shop (that did not require web authentication/agreement to log on). Both the Skype-to-Skype and SkypeOut worked great, both I and those I talked with experienced at least cellphone quality conversation.
In my real job, there are definitely places that I could use a VoIP phone like Belkin's Wi-Fi Skype phone where cellular coverage is poor or nonexistent but there is Wi-Fi access.
Conclusion
I believe there is a place in today's tech market for this type of device. Especially when you consider how many people are trying to get Skype to work on the iPhone, Blackberrys, and other smartphones/web enabled devices. However, if I were Belkin, I would re-engineer (and modernize) their WiFi Skype phone. I would make it thinner, add a touchscreen, web browser, and Bluetooth connectivity. I hate to say it but Belkin needs to create their version of the iPhone/Archos 5/Nokia N800 making it a more robust, multi-purpose device.
Product Information
Price:
179.99
Manufacturer:
Belkin
Pros:

Interesting concept
Can connect to and talk on Skype w/o a computer
Charges via standard USB connection

Cons:

Not possible to connect to networks that require a web based authentication
Not Bluetooth enabled
Small screen
A little large by today's standards