We use affiliate links. If you buy something through the links on this page, we may earn a commission at no cost to you. Learn more.
I've been on the look out for an easy to setup, web accessible video home security system for awhile now. When the folks at Logitech asked if I might be interested in reviewing thier new WiLife Digital Video Security system, I didn't hesitate to say yes. Especially because this system doesn't require you to know anything about networking and can to support up to 6 cameras, located both indoor and outdoors. Let's set it up…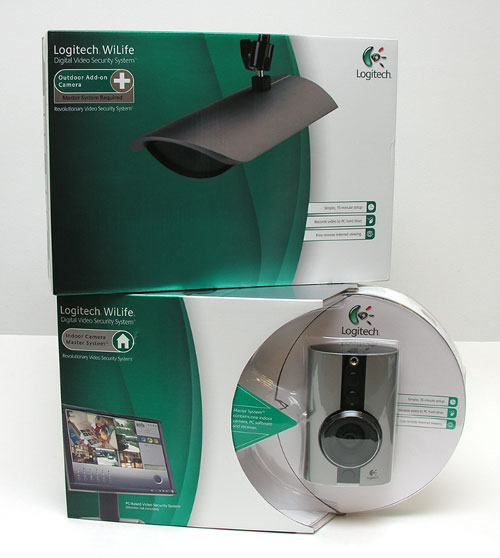 To begin, you have to at least have the Master System (the bottom package in the picture above). From there, you can add up to 5 additional cameras including an outdoor camera (top package in the picture above), more indoor cameras and even spy cameras that are hidden inside a working digital clock. For this review, I was sent one Master System and one add-on Outdoor camera.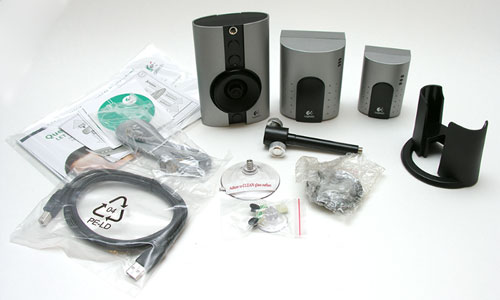 Master System Package Contents
Indoor camera
Receiver
Power supply
PC Software
Window mount
Desktop stand
Wall mount
Window decals
USB cable
10′ camera ethernet cable
Setup guide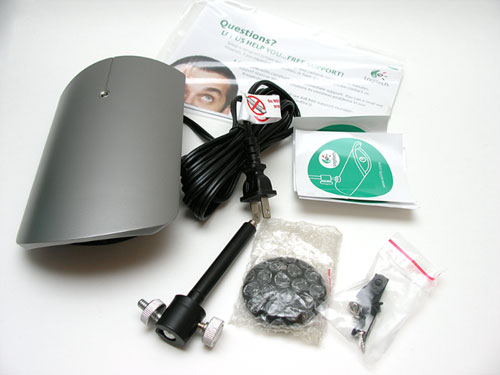 Outdoor Add-on Camera Package Contents
Outdoor camera
Window decals
Multi-use mount
The great thing about the WiLife system is that you don't have to go to the trouble of running cables from each camera to your computer. Instead, this system uses HomePlug technology to transmit video over your existing home wiring to your PC. As long as you have a home or business that is less than 10,000 sq. feet, you should be ok.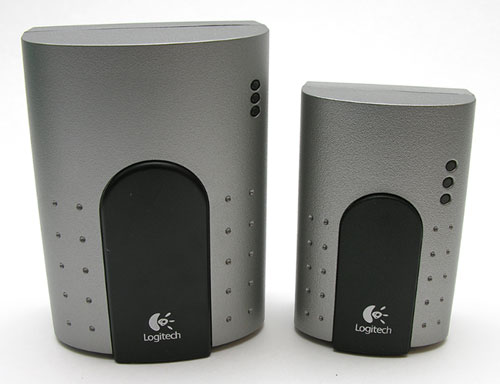 With the master system, you have a power supply with a transmitter / receiver for the camera, and a USB receiver. The power supply is the larger module seen above.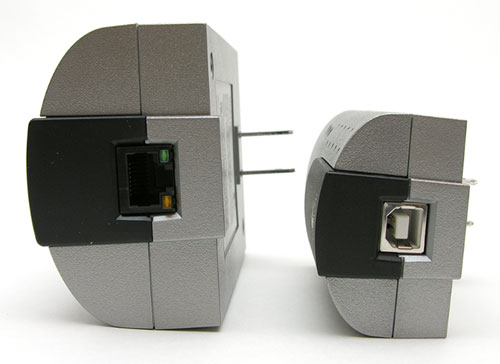 Both of these modules plug directly into a wall jack. On the bottom of the the power supply, you'll find an Ethernet jack and on the bottom of the USB receiver is USB connector.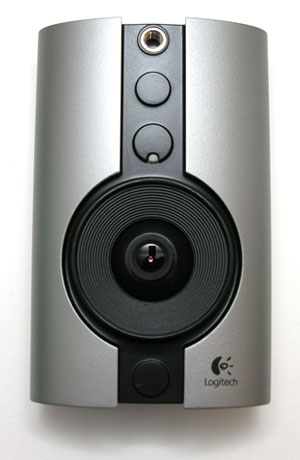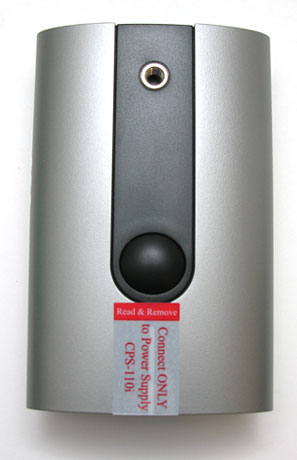 The indoor camera has an adjustable lens that can be manually focused. There are threaded holes on both sides to aid in mounting the camera.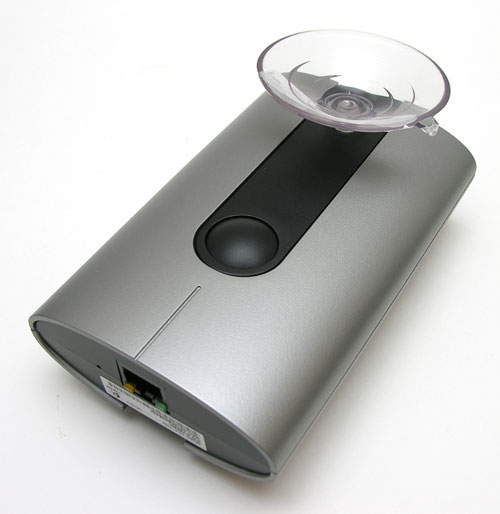 A suction cup can be screwed into the front or back of the camera to allow you to point the camera out a window or to attach the camera to a window to view inside your home.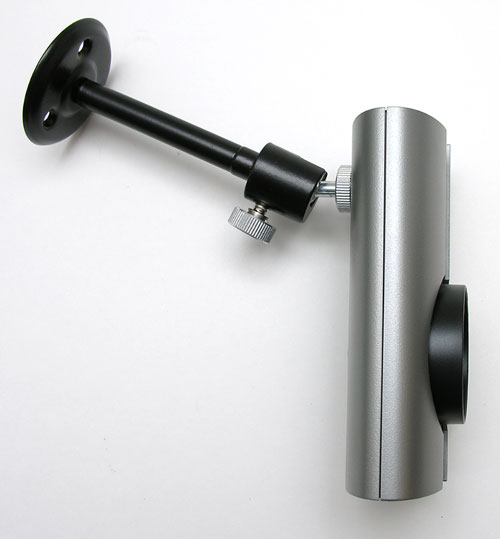 An adjustable metal arm and plate gives you the ability to fasten the camera to a wall or ceiling.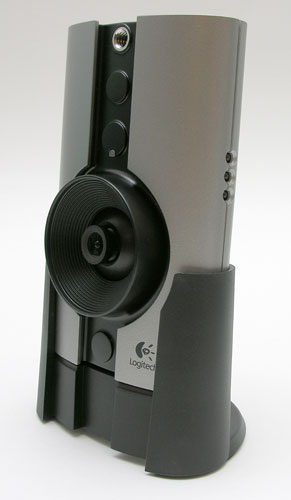 There's even a plastic desk stand included if you just want to set the camera on a shelf or flat surface.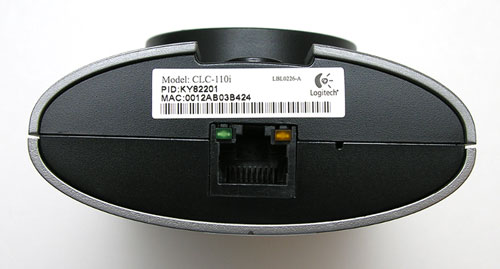 On the base of the indoor camera, you will find an Ethernet jack. Using the included 10 foot Ethernet cable, you connect the camera to the power supply. The USB receiver connects to your Windows PC (unfortunately, the software necessary to control the cameras is not compatible with OS X).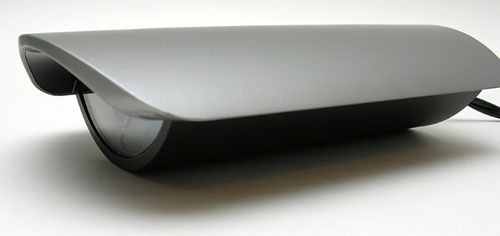 The outdoor camera is weather resistant and also comes with mounting hardware.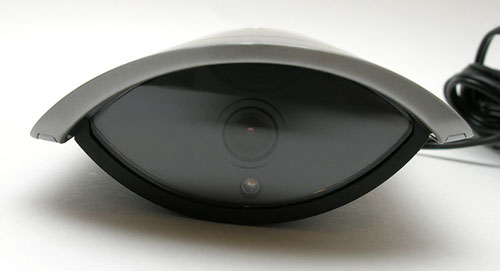 Unlike the indoor camera, you can not adjust the focus of the lens. It doesn't come with a power supply and is not connected via an Ethernet cable. All you do is plug the attached 2 prong 9.5 foot power cord into a wall jack and you're good to go.
Before you connect the cameras to your computer, you have to install the WiLife Command Center software. It will then guide you step by step though all the necessary steps to connect the cameras.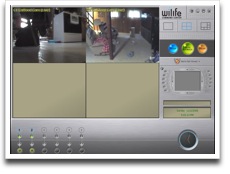 Click thumbnail to see full size image
For the review, I installed the software on my MSI Wind netbook. That's where I encountered my first problem. The software requires that your resolution to be at least 1024 x 720. The max resolution for the MSI Wind is only 1024 x 600. This had me grumbling for a few minutes. Then I found that you can enable 1024 x 768 on the Wind, if you don't mind scrolling. So that's what I ended up doing…
The user interface for the Command Center software is pretty self-explanatory. You can one camera at a time, four cameras at a time or all six. You can easily see the status of each camera at the bottom of the display and can power them on and off individually. There are also large buttons to access settings, playback and the WiLife web page.
Under those three buttons, you'll notice a square with six buttons on one side of it and five on the other side. These buttons will allow you to pan and zoom the camera's image – but only if you pay for the platinum service. :o( More on that in a bit.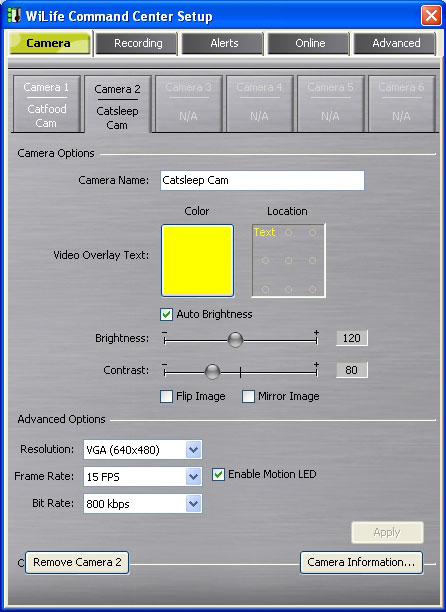 Pressing the Blue Setup button will allow you to name your cameras, change text overlay colors, brightness and contrast. You can also change between VGA (640×480) and QVGA (320×240) resolutions, Frame rate (5, 10, or 15) and bit rate (400, 600 and 800).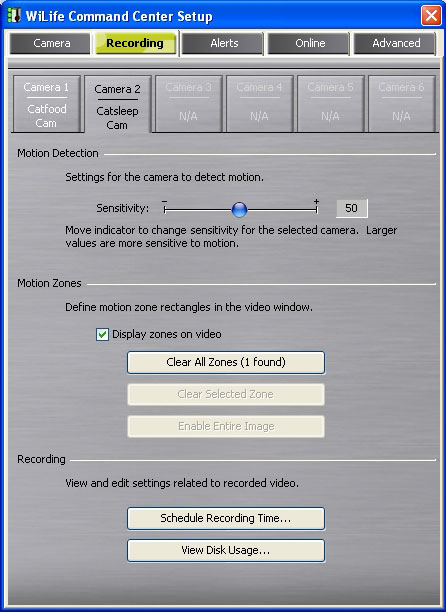 The WiLife Security System isn't just for realtime viewing. It can be setup to automatically detect motion and record video when motion is detected. You can even specify zones in the image to only look at for motion.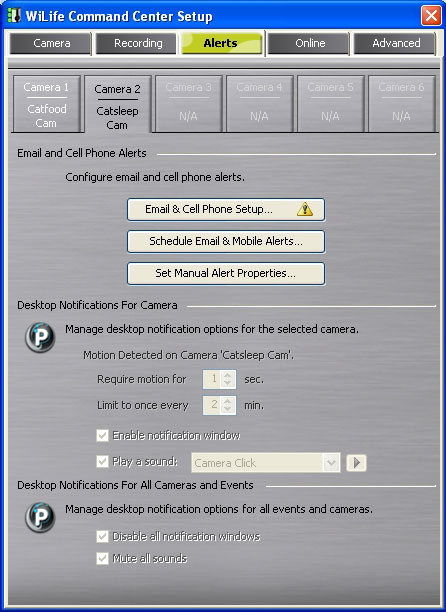 When activity is detected, you can have the Command Center software email you a video or snapshot or send a text message to your phone. The platinum services allow you to see alerts right on the desktop that is running the Command Center software. You would think that this would be the free feature, with email notifications being premium…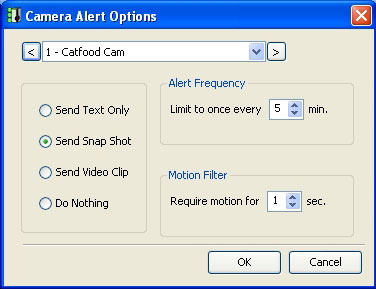 So you won't be bombarded with alerts, you have the ability to set the frequency and how long motion is detected before emails are sent.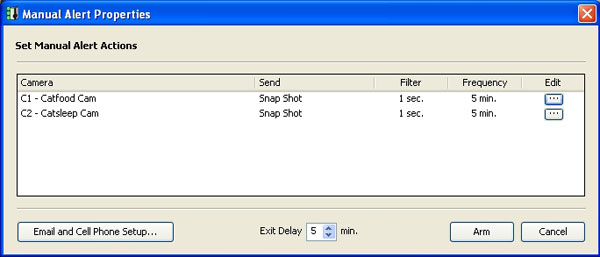 Each camera can have its own individual alert actions.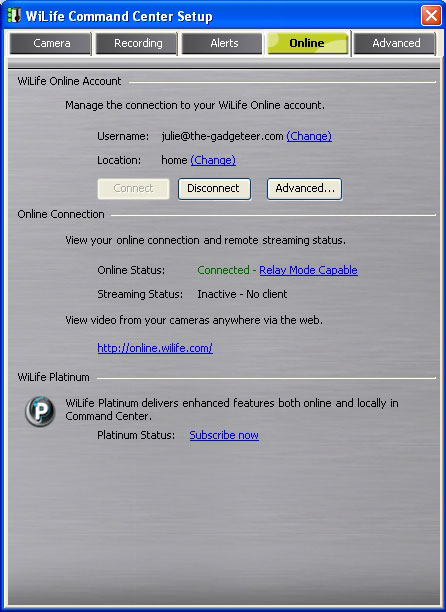 In addition to the email alerts, you can remotely view your cameras though your WiLife online account that will stream live video through your web browser. You can even see if someone is viewing your streaming video.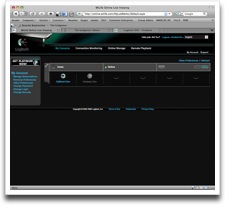 Click thumbnail to see full size image
If you subscribe to the $80/yr platinum service, you can do the same sorts of things online that you can do through the Command Center on your PC. For example, you can view and search through recorded video and get notified when your PC or cameras go offline.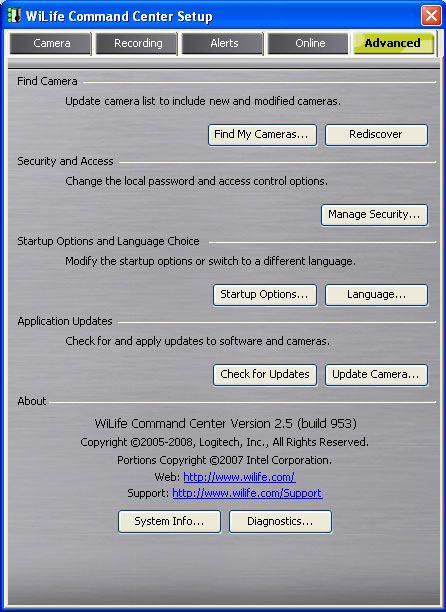 The advanced settings let you find new cameras that you've plugged into your system, change the passwords and check for software updates for the Command Center software, as well as firmware updates for the cameras.
Watching live video through your camera is fun, but being able to go back and check automatically recorded events is really cool. You can get to your recordings by pressing the Orange Go to Playback button on the main screen.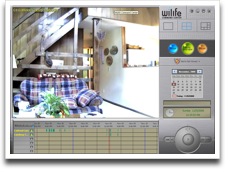 Click thumbnail to see full size image
You can choose days on a calendar and then see a timeline with Blue blocks that signify captured video. When the video is playing, you can see the exact time and date it was captured.
I've been using this system for several days now, and for the most part, I think it's really very cool and easy to use system. The video quality is decent. I didn't expect high-def. However, I did run into a few issues during the review process. The first thing I noticed is that there is sometimes a very noticeable lag in the live video view of the Command Center application. For example, I have the main indoor camera placed upstairs and my computer running the Command Center application in my basement office. Now sometimes, I can walk around upstairs and then come back downstairs and not see the 'live' view of myself walking around until up to 1 minute later. Other times, I will have someone go upstairs and wave and I will get an almost instantaneous view of what they are doing. I'm not sure what is causing the lag because during all my testing, I was only running the Command Center application on my MSI Wind and nothing else.
It's important to note that as you add cameras to the system, you need a computer with enough processor speed, RAM and video memory to handle the extra cameras:
| | | | | | | |
| --- | --- | --- | --- | --- | --- | --- |
| Number of Cameras | 1 | 2 | 3 | 4 | 5 | 6 |
| CPU Speed (GHz) | 1.4 | 1.6 | 2.0 | 2.4 | 2.6 | 3.0 |
| Memory (MB) | 384 | 512 | 512 | 768 | 768 | 1024 |
| Video Card Memory (MB) | 32 | 32 | 64 | 128 | 128 | 128 |
Like I mentioned earlier, I tested this system with my MSI Wind. It seemed to work fine with a 2 camera system as long as I didn't have both cameras point at the same thing or if motion was detected at the same time on both cameras. When this would happen, one camera's live view and recordings would be choppy or would completely drop out, and the other camera would take over.
Another problem that I encountered was with the outdoor camera not being recognized when plugged in to various outlets around my house. First of all, my house is not large. It's 2 stories (3 if you count the bonus room) and is about 1700 sq ft. So, it's well under the 10000 sq ft range that this system is rated for. It seemed like hit and miss as to where the outdoor camera would work. At this point, I think I might have a faulty camera, but am not sure. I didn't have any problems at all with the indoor camera that shipped in the Master System box.
The only other problem that I noticed was with the WiLife webpage. Often when I would try to view my cameras from the web, it would show me the wrong camera view. So, if I clicked camera 1, it would open a window show me the video. But if I would close that window and then go and click camera 2, it would show me camera 1's view again. I would have to open and close windows several times before it would finally show me the correct view. I'm not sure if this is a browser issue, cache issue or an issue with the WiLife website…
The Logitech WiLife Digital Video Security System is extremely easy to setup as it does not require you to route a lot of cables or know anything about networking because it uses your existing home wiring. It can be expanded to as many as six cameras and has software that sends you email text, picture or video alerts when motion has been detected. It can also record the activity and allow you to view it with VCR-like control. The price for the master system and add-on cameras seemed high to me at first, until I started looking at other multi-camera systems with similar DVR features. Some of them can run as high as $3000, compared to around $1450 for a 6 camera WiLife system. The nice thing is that you can start out with just the master system and add on more cameras as needed. If you need a video camera security system for your home or small business, the Logitech WiLife system might be just the right solution for you.
$299.99 Indoor Camera Master System
$229.99 Add-On Indoor Camera
$299.99 Outdoor Camera Master System
$229.99 Add-On Outdoor Camera
$329.99 Spy Camera Master System
$249.99 Add-On Spy Camera
$79.95/yr Platinum Service
Update 7/4/10 – I received an email from one of our readers (thanks Richard!) that explains why the cameras might not work when plugged into a power socket:
Open your main panel box downstairs and take a good look. You will notice there are two rows of circuit breakers. The reason for this is that power comes into your house in two 110 phases with a common ground. Either side is out of phase with the other. …Getting an idea where this is going yet?
When you plug in the master control box it can read any camera that is connected to the same phase( or buss bar) that it is connected to. It cannot find anything on the other side as it only has the ground connection in common so no info can be passed back and forth.Plus as I alluded to above it is out of phase. That is the gist of the problem. Even the stores that sell these units do not know this. I have had to pass this on to a few of them. Logitech help line was of little help at all.
Product Information
Price:
Manufacturer:
Logitech
Requirements:
Pros:

Easy setup
DVR functions
Email alerts

Cons:

Had issues with one camera not being recognized 100% of the time
WiLife website streaming video issues