We use affiliate links. If you buy something through the links on this page, we may earn a commission at no cost to you. Learn more.
Do you save a lot of data to CDs and DVDs? Maybe you like to burn CDs with your own collection of favorite MP3's for your car,
or archive your vacation pictures for safe keeping. Instead of using stick on labels or a sharpie marker to scribble information on the discs,
how would you like to customize your discs and jewel cases with your own graphics? You can do that with special CDs/DVDs and
the DiscPainter from DYMO. I've been a fan of DYMO printing products since my review of their
LabelWriter Twin Turbo stamp and label printer, so
I was very interested to see how well this product would perform. Let's take a look…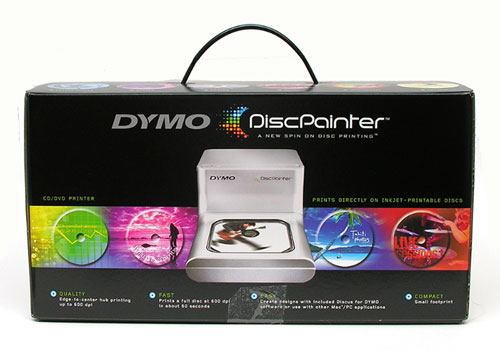 Hardware Specs
600 – 1200 dpi
Printer Weight: 2.65 lbs (1.2 kg)
Printer Dimensions: 4.33″ H x 10.62″ L x 5.71″ W (110 mm x 270 mm x 145 mm)
Connectivity: USB 2.0
Power: 100-240V 50/60 Hz external power adapter
Power Consumption: Approximately 36 watts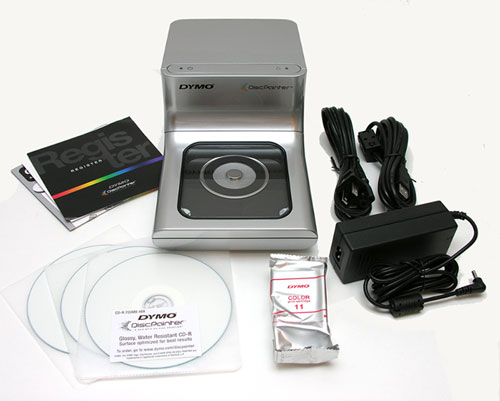 Package Contents
DYMO DiscPainter printer
3 blank inkjet-printable discs
Software CD
Power adapter
Power cable
USB cable
Inkjet cartridge
Quick start guide

First off all, I have to admit that I don't copy / save a lot of data to CDs or DVDs very often. And because of that fact, I've not had any experience with printers of this type. I think I may have used a Lightscribe printer once before, but that's about the extent of it. That said, let's get on with the review…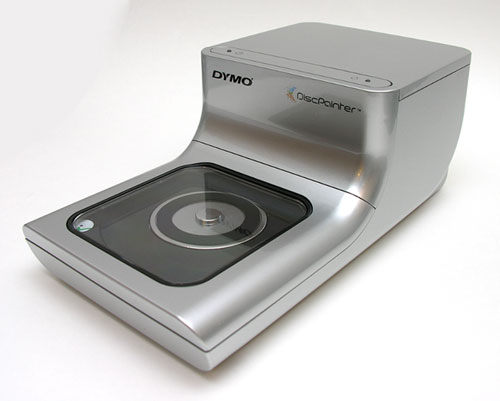 The DiscPainter is definitely a cool looking little printer. It has a unique shape and a small footprint. It's interesting to note that there are no buttons or switches on this device.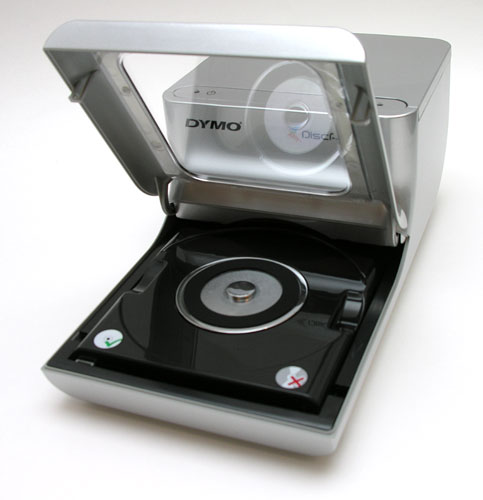 The front lid lifts up to reveal the tray where you place the CDs or DVDs.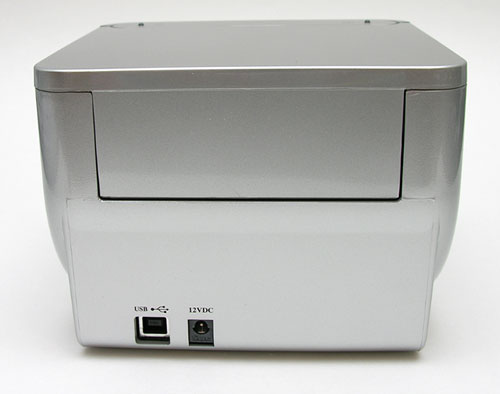 On the back you will find the connectors for the included power and USB cables. No power switch though… hmmmm…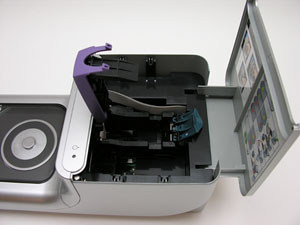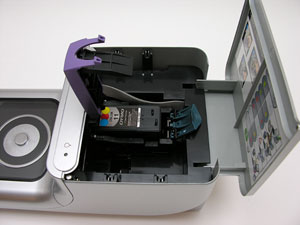 Access to the ink cartridge holder is accomplished by lifting up the back lid. Loading and unloading ink cartridges is similar to the same operation on other ink jet printers. You'll notice though that the DiscPainter only uses one cartridge. Unfortunately, there are not separate reservoirs for color and Black ink. According to the DYMO website, each cartridge should print up to 100 CDs / DVDs. Of course, that number will vary though depending on exactly what you're printing.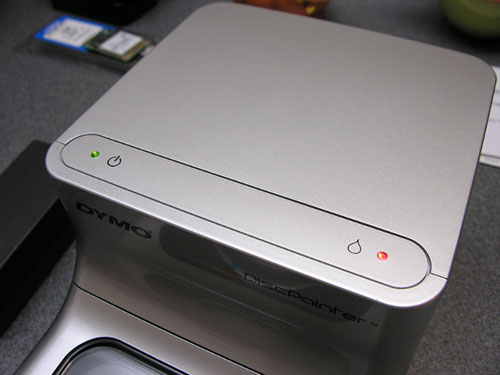 Once you have loaded the included ink cartridge and plugged in the power cord, you'll see two status LEDs on the top surface of the printer. One is for power and one is for ink.
The next step is to install the included Discus software. Thumbs up to DYMO for including applications for both Windows and OSX. :o)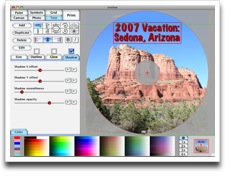 Click thumbnails to see full size image
The software is pretty easy to use. It allows you to import images, paint and add text to the designs that you'll be printing on to the discs.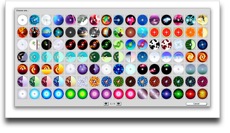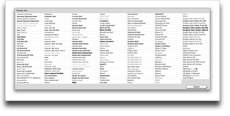 Click thumbnails to see full size image
There are three pages of ready made backgrounds (canvases) that you can choose from for your design. There is also a good selection of fonts.
For my first attempt, I imported an image from one of my vacations. After getting the design just the way I wanted, it was time to print it…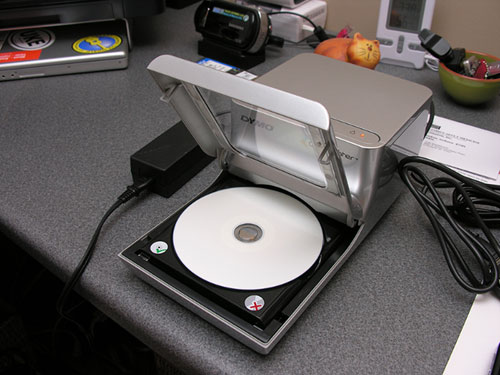 All this involves is opening the see thru lid, placing your CD or DVD in the tray and closing the lid. It's as easy as easy can be. The DiscPainter can print on all inkjet-printable CDs, DVDs (full sized) and mini discs with four print settings: 120 mm hub printable, 120 mm non-hub printable, 80 mm (mini) hub printable, and 80 mm (mini) non hub-printable.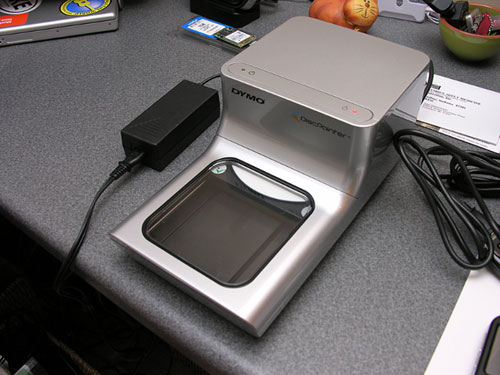 When you press print in the Discus software application on your computer, it will send the design to the printer and then the disc will slide into the back part of the DiscPainter and start spinning.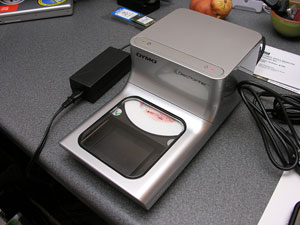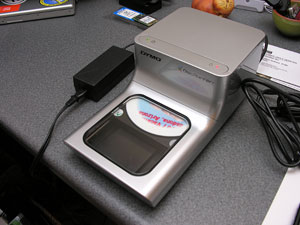 As the disc spins, it will slowly start moving back out of the printer and you'll see the image growing on the surface. The DiscPainter uses RadialPrint technology. The image is printed directly onto the disc as it revolves. It can print at Fast 600 dpi (two nozzle passes), Normal 600 dpi (eight nozzle passes) and Best 1200 dpi (eight nozzle passes). It's a lot of fun just to watch the progress. The operation of printing makes very little noise.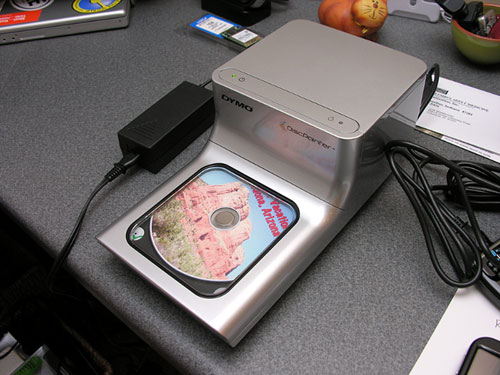 When it finishes (in 30 seconds to 3 minutes depending on your quality settings and actual design), you can lift the lid and remove the disc. I didn't have any problems with the ink smearing. It appeared to be dry almost immediately.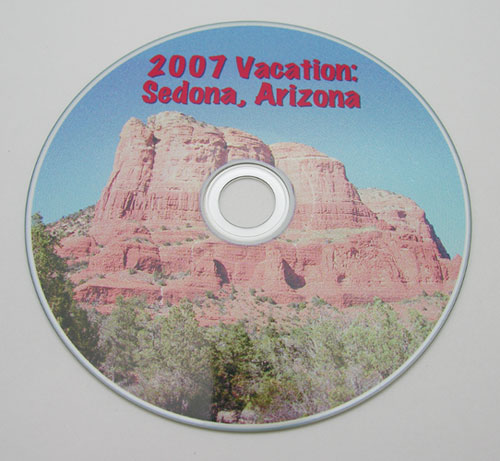 Here's the first CD that I printed using one of the included glossy blank discs. After I printed it, I realized that I had missed checking the print options to make sure I was printing it at the highest quality setting. By default, the printing is set to Matte style discs and normal quality. I made a second copy of that original design and printed it on the Best quality setting and highest Glossy media setting. Comparing the two discs, I found that the one set to the highest quality and glossy setting had a little bit better color, but it also had noticeable banding of the ink.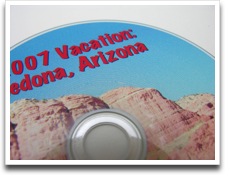 Click thumbnails to see full size image
If you look at the image above, you can easily see the tree ring like banding problem that I just mentioned. This is significantly less noticeable when using the Matte setting.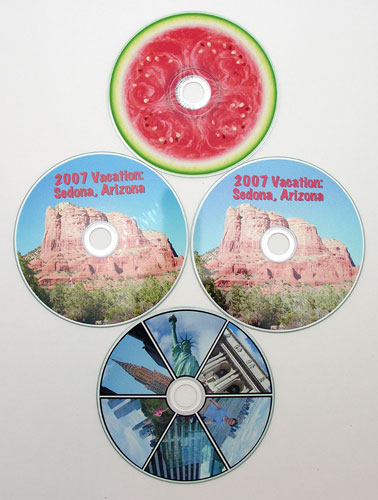 I also created a photo collage CD and printed one of the included canvas designs of a watermelon. The watermelon was printed on a matte CD. I ended up purchasing a pack of 10 Verbatim discs so I would be able to do more tests for the review. Not that it's all that important, but I prefer the feel of the glossy CDs that were included with the printer. They print slick and shiny, instead of matte and somewhat rough.
It comes down to the question of whether the DYMO DiscPainter is a good value for your money. $279 is expensive for a printer that can only do one thing and only do that one thing, one at a time. There's also the matter of the one ink cartridge and the ability to find them at your local office stores. From what I'm reading, you'll most likely have to order them online. But the biggest problem that I have with this product is with the ink banding. I could forgive the price if it printed truly spectacular images. But as is, I would have to say that the print quality is only good. It's not $279 good, when you could buy a printer like the Epson RX595 that we reviewed previously. This printer is more than $100 cheaper than the DiscPainter, prints on CDs without banding and has many other features, making it a much smarter purchase.
I like the DYMO DiscPainter for its size and ease of use, but I think I'll wait till the next version before I recommend it as a good buy. Hopefully we'll see a lower price, at least two ink tanks (color and Black) and no ink banding issues.
Product Information
Price:
279.95
Manufacturer:
DYMO
Requirements:

Windows XP and Vista, Mac OS X v10.3/10.4/10.5 Leopard

Pros:

Very easy to use
Mac OSX software included
Quiet
Fun to watch

Cons:

Just one ink cartridge
Hard to find ink carts at local stores
No power switch
Can only print one disc at a time