We use affiliate links. If you buy something through the links on this page, we may earn a commission at no cost to you. Learn more.
I'm a big fan of webcams. Once I figured out how to broadcast a webcam stream on a webpage,
I started broadcasting from work so that my mom and friends could see me. One idea I had related to this was setting up a little home
surveillance system with my two Logitech QuickCams and my eeePC 701's integrated webcam. I'm mostly just curious to see what my cats do
all day while I'm at work. While setting up such a stream is pretty easy, it requires running a computer 24/7 and can be a little power and
bandwidth hungry.
For those really interested in setting up home surveillance, a networked video camera system can be a better solution. The Security Network
Control IP Camera from Brando is one such device.
Unlike a regular webcam, Brando's camera is designed to be connected directly to a network. It has a fast Ethernet (10/100) NIC built in,
and it supports DHCP and static IP addresses. The general premise of this camera is to hook it up to your home network, and access it by
IP and port (or via a service like dyndns.com) through your browser. You can remotely control the camera's position through the browser
interface. It seems like a pretty good idea. The question is, does it cut the mustard for being a $130 camera? Let's find out…
What's in the box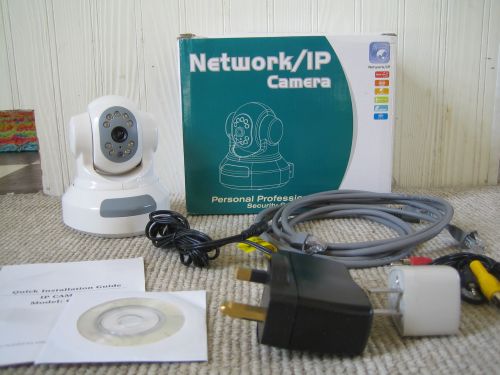 VGA (640×480)b IP Security Camera
Power adapter
Plug adapter for U.S. outlets
3′ ethernet cable
3′ crossover ethernet cable
A/V cable (3.5mm minijack to RCA)
User's guide
Drivers CD
The hardware
The camera itself is surprisingly large. The base holds an SD card reader, an on/off switch, an ethernet port, and a 3.5mm A/V port. This is
part of this camera's feature set. The web browser interface allows setting the camera to use two motion detectors to take still snapshots
whenever motion is detected. These snapshots can be uploaded via three methods – to the FTP server of your choice, to a temporary folder on
your local machine, or to an SD card.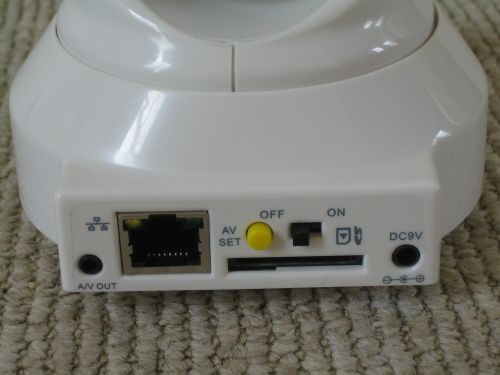 The front of the camera holds – shocker – the lens itself, along with two motion sensors (indicated by dim LEDs that glow when the camera is
on) and a microphone.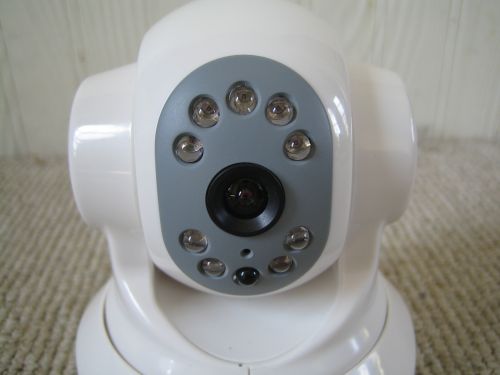 I like the SD card idea – rather than relying on a network connection (which might fail while you're gone),
you can be sure to capture any detected motion directly to the card. The user's guide recommends at least a 2GB card, considering that you
might end up with many pictures (particularly if you leave the motion detector enabled while you're at home, or if you have pets).
The A/V output allows you to connect the camera to a television for a sort of closed-circuit security system. I don't have a TV in my office
(which is where I've put the camera), so this feature isn't particularly useful to me. However, it could be pretty handy if you want to
put the camera in the baby's room and have a reliable connection to it that doesn't rely on a network.
The main method of connectivity is, of course, the ethernet port. This allows you to connect the camera directly to your home network.
The web interface allows you to configure what port to use, so that you can access the camera remotely. The user manual is sparse and doesn't
actually explain why the crossover cable is included. I can only assume that it's to setup a crossover connection directly with a computer,
which would allow you to use the camera without the need of a television or a home network.
The camera's image quality is far from good. However, being a security camera, I don't know that high resolution is absolutely necessary,
but this camera is quite poor. The image sensor is VGA (640×480 or 0.3MP), but it's much lower quality than a regular VGA webcam, as you
can see from this sample image: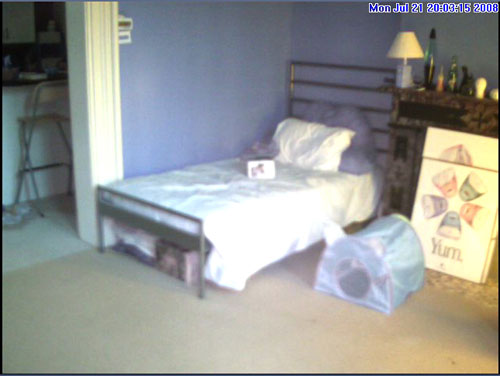 The Software
This camera is entirely controlled through a built in web interface that only works with Microsoft Internet Explorer. I'm not a big fan
of the software. Instead of using Java or Flash to display the video image in the browser window, the interface relies on a cabinet file
that is a bit difficult to install – I ended up having to turn off all the security in IE just to get it to install the file.
The web interface allows you to move the camera around remotely, take still shots with it, enable the motion sensors, and manage the
camera's image and configuration settings. It has built-in support for dyndns addresses, so you can set it to a text address rather than
relying on the IP for remote access.
The web interface is good in theory, but very bad in implementation. It's slow, unstable, and requiring a CAB file (with no digital
certificate, mind you) to use the camera seems pretty unnecessary. Not only that, but I've since discovered that IE 7 in Windows Vista
SP1 crashes whenever I try to use the web interface.
Conclusion
All in all, this camera is a good idea. It's pretty easy to setup, although the instructions were no help (Chinese-to-English never works
very well, it seems). The web interface is pretty crucial to using the camera, and it's just a total flop in my book. For that reason,
I'd personally recommend looking at other products for your home surveillance needs.
Product Information
Price:
129.0
Retailer:
Brando Gadget
Pros:
Cons:

Price
Management interface
Image quality