We use affiliate links. If you buy something through the links on this page, we may earn a commission at no cost to you. Learn more.
Electronic Arts has brought Scrabble, the classic board game to the iPhone and iPod Touch. This word building game has been around since the 1930's and is fun for kids and adults alike. Let's see if see how EA's version translates to the iPhone.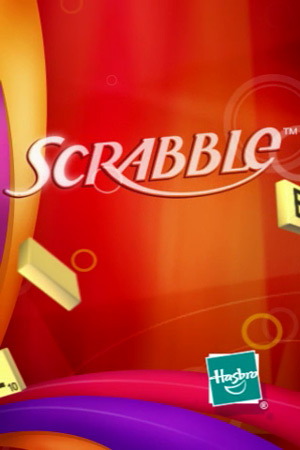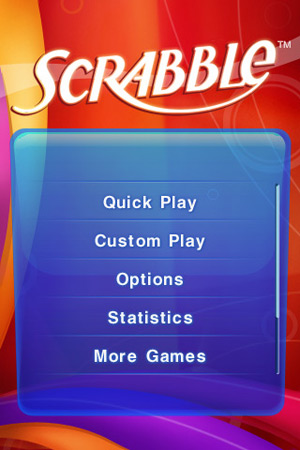 The opening splash screen and animation are nifty to watch for the first couple
of times that you launch this game. But after that, you'll probably become
annoyed at the 20 second wait for it to finish each time. Unfortunately, there
doesn't appear to be a way to speed up the loading of the game. Once it's loaded
though, you're presented with an menu that allows you to pick a Quick Play or
Custom Play game. Quick Play is computer vs. player mode. Custom will let you
choose computer vs. player, solo and pass 'n-play. Pass 'n play let's you play a
1-4 player game where you take a turn, pass the iPhone / touch to the next
player and so on. What this game really needs is a way to play another player
over WiFi.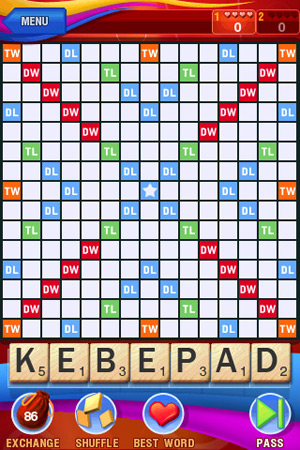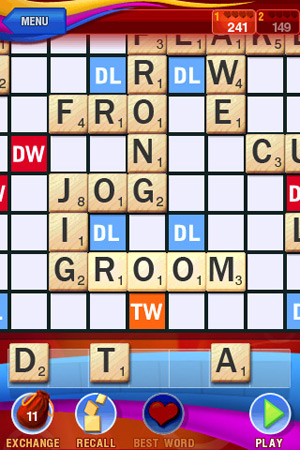 If you're not familiar with Scrabble, it's a game where you have seven letter
tiles that you use to build words on the game board. Certain letters have more
points associated with them and certain game board squares enable higher
scoring. To win a game, you have to create words that earn you a higher score
than your opponent.
To place your tiles on the game board, you hold your finger down on a tile until
it turns dark and then you can drag it up to the desired location on the game
board. The game board zooms in when you're in the placement mode. The only issue
I seemed to have with this method was that my fingertip made it a bit difficult
to see where I was trying to place a tile.
To help you figure out what words that your tiles might be
able to create, you can either press the shuffle button, shake your iPhone /
Touch or use finger to rearrange tiles. You can also swap out a completely new
set of times by tapping the Exchange bag in the lower Left corner. However,
doing so will also cause any word entered for that round to be scored as a zero.
If you're really having a heard time figuring out a word, you
can press the heart button. This will place the best word possible given your
set of times. You can only use this feature four times per game.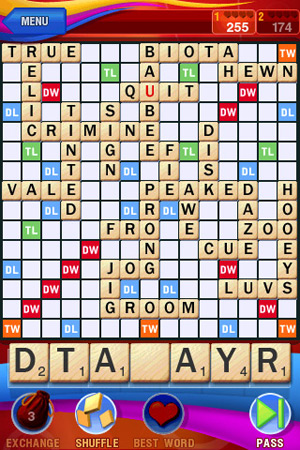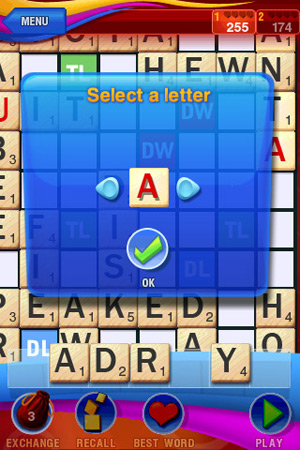 Sometimes you'll receive a blank tile that you can use as any letter you wish.
When you tap that letter, a special window will popup that you can use to select
the desired letter that you want to play.
This game is easy to learn to play and definitely fun for two to four people. I
do wish that it had a built in dictionary so that you could see the definition
of the words that the computer sometimes creates. But as it is, Electronic Arts
has done a very nice version of this game and it's one that I wouldn't hesitate
to purchase if I was a fan of vocabulary building games.
Product Information
Price:
9.99
Manufacturer:
Electronic Arts
Requirements:

iPhone or iPod touch with v2.0 software

Pros:

Nice graphics
Easy to play

Cons:

Dragging tiles can be hard to see
Takes about 20 seconds to start the game everytime you launch it