We use affiliate links. If you buy something through the links on this page, we may earn a commission at no cost to you. Learn more.
We can all agree that gadgets can be fun and exciting, but it's really great when a product can actually help someone work better while also being beneficial to your health. A couple months ago, a close family member was having severe neck and shoulder pain. Her one arm was even going numb. An MRI revealed that she had a ruptured disk in her neck. The solution was a surgical procedure to fuse the C5 and C6 vertebrae together with a titanium plate and several screws.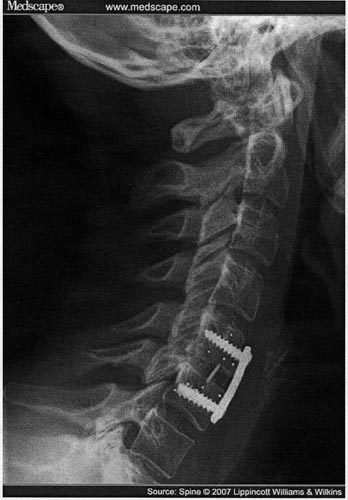 The procedure was very successful, but she was left with some residual pain and stiffness while everything was healing. Her job as an office manager for a financial institution requires lots of hours on the phone. Wedging a phone handset in between her ear and shoulder was going to be out of the question now. I suggested that she needed a wireless headset, and the fine folks at Plantronics were happy to allow her to test their CS55 Wireless Office Headset System with Lifter.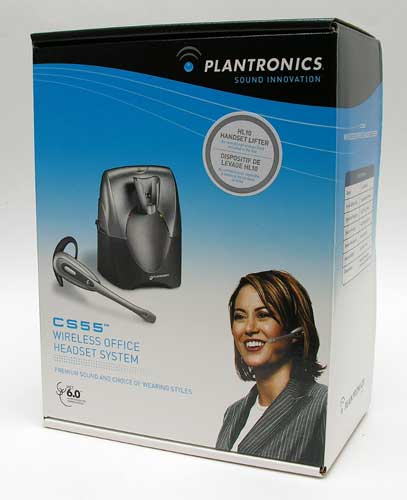 Hardware Specifications
Operating Frequency: DECT 6.0(1.9GHz)
Security/Privacy: 64-bit digital encryption
Range: Up to 300ft
In-Use Battery Life: ~10hrs
Headset weight:
Package Contents
Headset
IntelliStand
Earloops and headband
AC adapter
Quick Start Guide

To say that Jeanne is a little backwards when it comes to gadgets and technology is a slight understatement. Yes, she has an iPod classic, a
digital camera and even a Palm PDA. But she counts on me to set things up for her. This time around I told her that she was on her own. If she
would be able to setup the CS55 wireless headset with her phone on her own, then Plantronics should be proud with the ease of their product.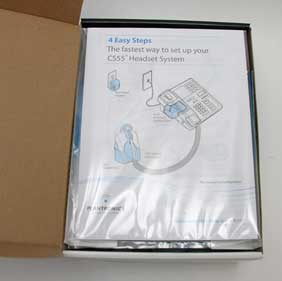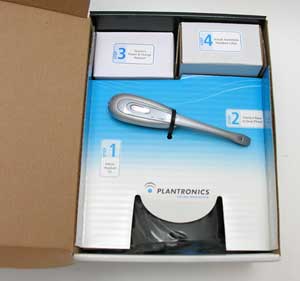 Upon opening the box, you're greeted with a pictorial setup guide that maps to numbered boxes that contain the various parts that make up the CS55
system. Nice touch!

The headset / microphone has one button on the face that controls call start, call answer and call end functions. Then on the back edge of the headset
there is a small spring loaded rocker switch that enables volume adjustments.

On the inside of the headset, there are battery contacts for the charging
cradle. More on that in a bit.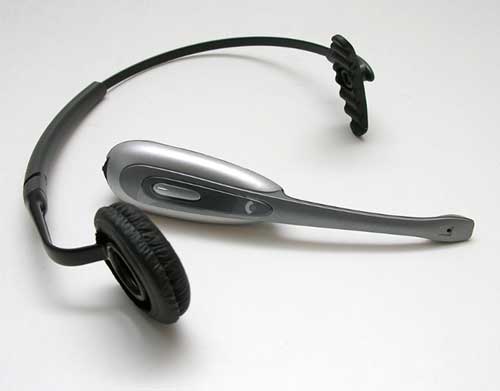 You can choose which way you prefer to wear the headset. Either by ear loop, over the head
band or behind the head band (optional – extra purchase).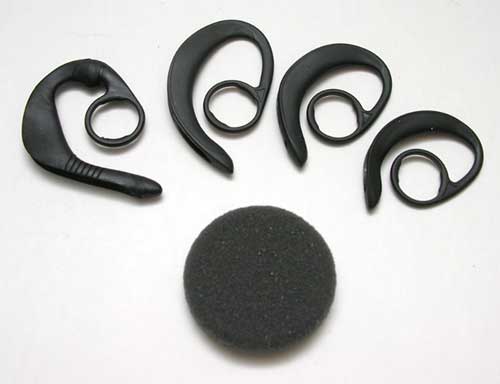 Four different sized rubber ear loops are included, along with the over the head
band and earphone cover.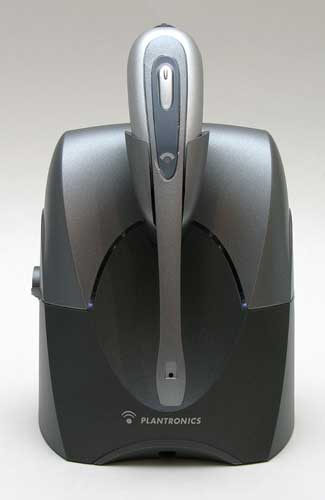 Besides the headset itself, there are two other main components to the CS55
system. The IntelliStand and the lifter. The IntelliStand charges the headset when it's not being worn and also interacts with the lifter module. In the
picture above, it doesn't have an ear loop or head band installed. Don't worry,
the headset fits just fine in the stand with either one installed. While it's
in the cradle, the headset's internal battery is charged.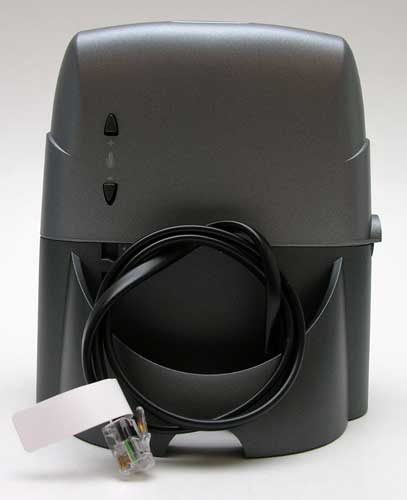 A regular RJ11 phone cable is built into the IntelliStand. You'll also notice small buttons on the back of the stand. They allow you to fine tune your speaking volume. This one is marked for easy identification with a small picture of a mic. Below that switch and not clearly visible in the image above, is a 4 position slider switch that is used to adjust the listening volume. This switch is only marked as 1,2,3,4.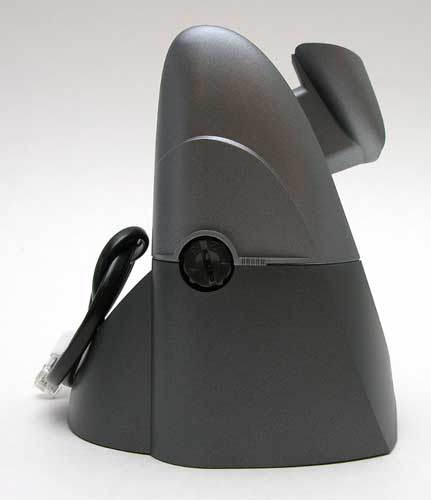 On the left side is the configuration dial. You have to use a coin or flathead screwdriver to adjust this switch. It works in conjunction with with call button on the headset so that when you press it, the phone's handset will lift and you'll hear a dialtone. As you will notice, it's not marked.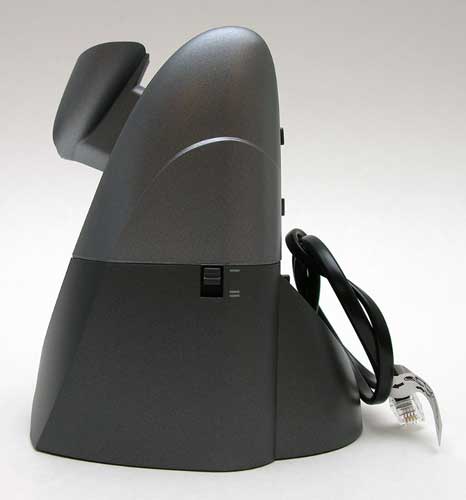 A two position switch on the opposite side sets the IntelliStand activation feature. In the Up position, pressing the call button on the headset will answer, make or end a call. If you set this switch in the Down position, calls are initiated or answered by taking the headset out of the stand. Again, this switch is not not labeled.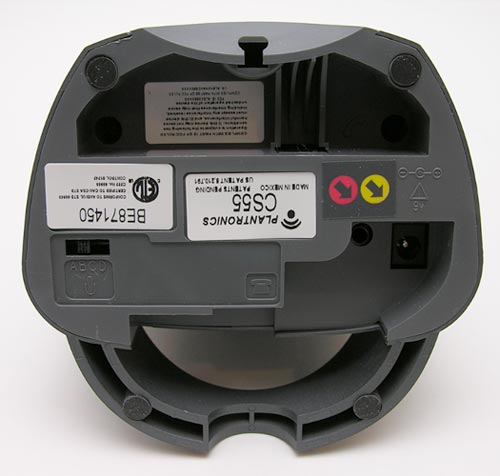 And on the bottom of the stand, there's a 4 position switch for speaking volume adjustment. Nope, it's not marked either. Jeanne had some frustration trying to find a perfect combination of settings for all these switches. Having to lookup their meaning in the user guide each time added to the frustration.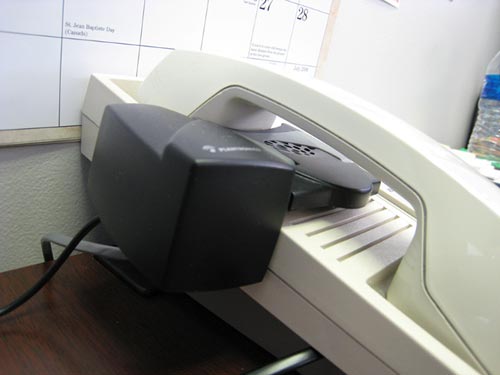 The included lifter module was easy to setup and is really cool. Just press the call button on the headset and the phone's handset will automatically lift up giving you a dialtone so that you can dial a number.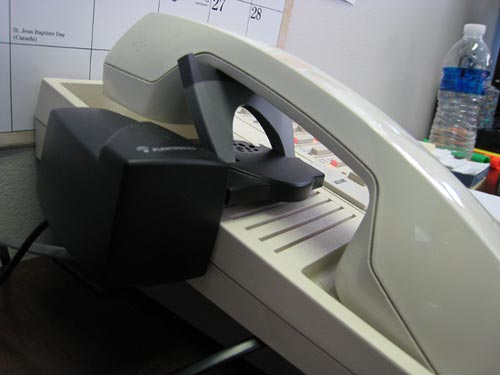 After you're done with the call, press it again and the handset will lower to hang up the phone. Nice!
In use, the headset proved to be very handy for her as she'd never used one before. She quickly got used to being able to type and do other tasks while her hands were free. Having the ability to walk around the whole office while on a call also proved convenient. There was one problem though… no matter what combination of switch settings that she tried, she would hear what she described as an 'echo' while she used the headset. I even went over to her office one afternoon to try to help her figure out the settings. The echo that she referred to was really just hearing her own amplified voice as she talked through the headset. It reminded me of a monitor type feature while recording a podcast. It didn't bother me at all, but Jeanne continued to complain about it, so I contacted Plantronics and explained the problem. They suggested some specific switch settings that we tried without success. They ended up sending a second system which had the same issue. Jeanne says that some days the 'echo' is worse than other days. I think her ears are overly sensitive to noises. Or else she's part bat ;o)
She's been using this headset for about a month now and is more than happy with the audio quality. It's is great on both sides of a conversation. People never complain that they can't hear her, and she doesn't have any problems hearing them. She also remarked that the call button on the headset always answers and always hangs up the phone when she presses it.
Even with the sound echo issue, she loves the CS55 wireless headset. She says that she'll never go back to using the phone the old fashioned way, even when her neck heals and she has complete mobility back. She enjoys the freedom of handsfree talking that the CS55 provides.
Product Information
Price:
379.95
Manufacturer:
Plantronics
Pros:

Easy to setup
Easy to use
hands free convenience

Cons:

Sound echos in headset
Switches are labeled