We use affiliate links. If you buy something through the links on this page, we may earn a commission at no cost to you. Learn more.
Is your car missing an auxiliary input for audio? Yeah, mine too. If you tire of listening to the same tunes on the radio, you have two choices for playing your audio player's tunes through your car speakers. If you have a cassette player in your car stereo, you can use a cassette adapter. These are easy to use and very inexpensive. The only issue with them is the face that the spindles spin while music it is being used, causing extra noise. Yuck. The other alternative is to use an FM transmitter. If you have an iPod or iPhone, the Incharge Auto FM transmitter from XtremeMac is one such solution.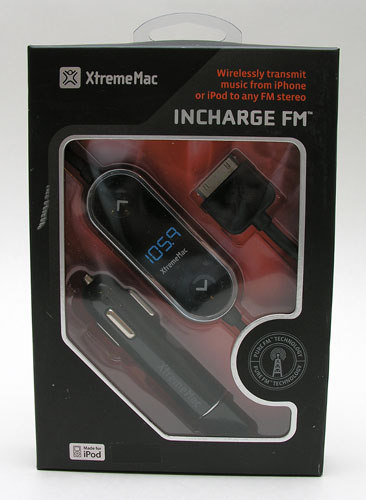 This product looks very similar to their standalone Incharge Auto Charger, which I reviewed last summer. Of course, the obvious difference is the inclusion of an FM transmitter.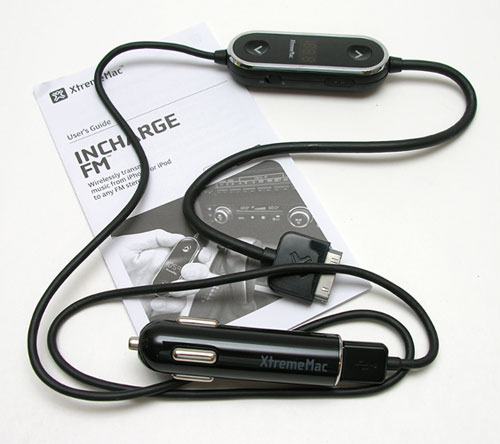 Package Contents
Incharge FM
User's Guide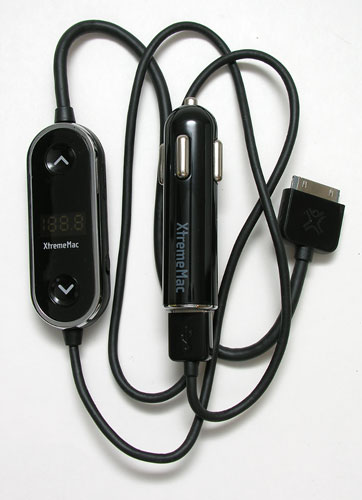 Like the Incharge standalone charger, what you get here is a bullet shaped adapter that plugs into your vehicle's 12V power adapter (cigarette lighter) and a 46″ inch long detachable USB cable that has an iPod universal connector on one end.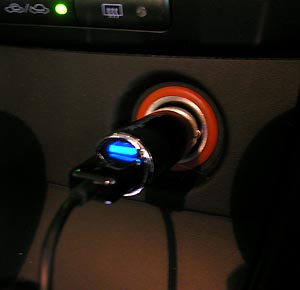 The 12V adapter should be compatible with most vehicles. It fit just fine in my 2006 Mazda 3. When your car is running or the ignition is on, the adapter will glow Blue.
The FM transmitter part of this product is an in-line three inch long controller with a built in LCD display and several function buttons.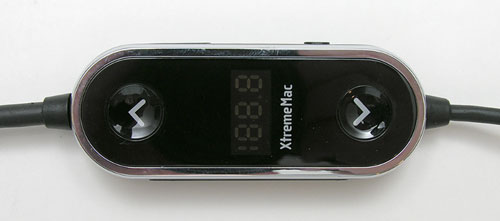 On the face of the controller, there are 2 large tuning buttons that you use to adjust the transmit frequency. In between the buttons is a LCD display that will show the currently tuned frequency.

On one side, you'll find two preset buttons. Pressing these will toggle between two stored frequencies. You can save frequencies by just holding down either button to replace the currently saved frequency. These presets are retained even after you turn off the car or unplug from the power port.

On the opposite side, there is a Mono / Stereo slider switch and a Play / Pause button. According to the user guide, using the Mono mode will ensure a clearer signal and is great for audio book listening. I tried both modes and really was not able to discern any difference.
The Play / Pause button works as you would expect it to. Pressing it will toggle between play and pause mode for your iPod / iPhone. No surprises there :o)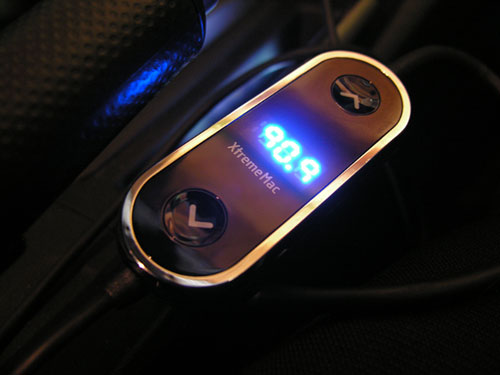 To use the Incharge, you need to first turn the radio on in your vehicle and find a station that is either entirely static, or has very weak voices. Then plug the Incharge into an available 12V socket, connect the docking connector to your iPhone or iPod and press the two tuning buttons to match the frequency that you just found on your radio. The FM transmitter can be set to use frequencies from 87.9 to 108.1. You can then start enjoying music transmitted from your audio device to your radio.
The first issue that I noticed was a bit confusing to me… As soon as I connected the docking connector to my iPhone, it gave me the "This accessory is not made to work with iPhone" message. I found that odd considering the packaging for the Incharge specifically mentioned the iPhone. Regardless, it works fine and I had no problems with it.
The only other issue that I have with this product is that one of the round tuning buttons has no tactile feedback and barely moves when I press it. Although it works, it feels dead. The other button clicks and seems fine.
Audio quality using this FM transmitter seemed to be on par with other transmitters that I've used in the past. It really has a lot to do with the area you are using it in. If there are lots of very strong stations, you'll probably hear a bit of static in the background or station bleed through. Where I tested, I was able to find one frequency that worked quite well and was happy with the audio quality. Using the docking connector instead of the earphone jack makes a significant difference in audio quality and allows you to more easily adjust the volume using your car's volume knob. Other FM transmitters that plug in through the earphone jack, sometimes require that you crank up the volume on the audio device. This one doesn't have that problem.
$69.95 is somewhat pricey, but considering that you're getting both an FM transmitter and a charger for your iPod / iPhone, I suppose it is acceptable. The only improvement I would suggest would be to fix the iPhone compatibility message. Otherwise, it's a thumbs up from me.
Product Information
Price:
69.95
Manufacturer:
XtremeMac
Requirements:

iPhone, iPod touch, iPod classic, iPod nano, iPod with video, iPod, iPod mini

Pros:

Charges iPod / iPhone
Can store two frequencies
Integrated play / pause button

Cons:

Gives an accessory incompatibility error on an iPhone
Pricey