We use affiliate links. If you buy something through the links on this page, we may earn a commission at no cost to you. Learn more.
Since getting my Zune 8GB, it has become a full-time replacement for my old 40GB iPod Photo. As such, I was in need of a case for it.
I have a fairly nice pink leather InCase for my iPod, and I wanted something similar for my Zune. However, seeing as my Zune is such a
pretty red color, I didn't want to completely cover it with something. The search began.
Not surprisingly, there are very few Zune accessories on the market, especially relative to the kind of designer swag you can find
for the iPod line these days. No highfalutin $200 leather cases for me! After searching around for awhile, the situation was starting to
look a little bleak – my personal favorites, Griffin and InCase, had next to nothing available for my poor, underappreciated Zune. Julie
snagged me a case from PDair.com, and seems to be serving my needs nicely.
One of the things I love about my Zune is the size. It's almost identical in dimensions to the first and second generation iPod Nanos, so
it fits pretty much anywhere – I usually end up slipping it into my back pocket when I'm waiting to take the bus to and from work. One of my
top requirements for a case is that it has to be as unobtrusive as possible. I didn't want any bulk from belt clips, flip-top covers, or
anything else. I just wanted to keep my Zune from getting too scuffed up from everyday wear and tear.
PDair's leather case fits my needs perfectly. The case itself is pretty basic – black leather with white contrast stitching on all sides. A
small flap at the bottom snaps closed to hold the Zune in place. The snap isn't too stiff or loose, and the leather flap is flexible and
easy to move. The inside of the case is lined with soft suede, and the back is reinforced to provide a stiff backing for the Zune. The
entire case is fairly rigid – unlike my InCase, which is flexible and has elastic on the sides. The screen is protected with a flexible
piece of clear vinyl. This particular case comes with a removable 360° belt clip.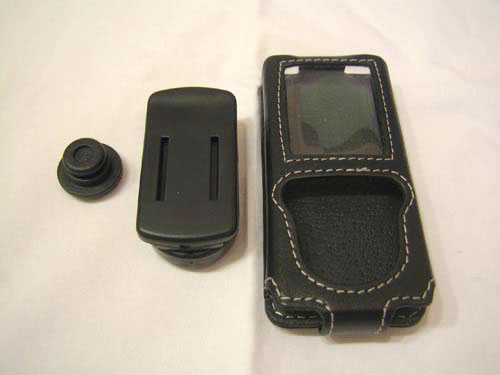 The belt clip adds considerable bulk to the case, and gravity makes the Zune swivel until it's upside-down on your belt. I never use the
clip – in fact, I had to find it just to photograph it for this review. The clip is pretty mid-grade quality, and I would have liked to
see a ratcheting type of swivel mechanism. My cell phone's Verizon-branded case has such a clip, and it's much more useful than a
free-spinning 360° type of belt clip.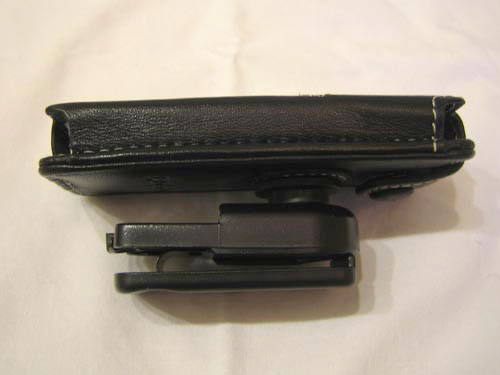 As you can see from the shots below, this case really adds almost no bulk to the Zune. My ex's leather Belkin case for his Sansa e200
adds considerable bulk on all sides to the device – I'm glad that isn't the case with PDair's product.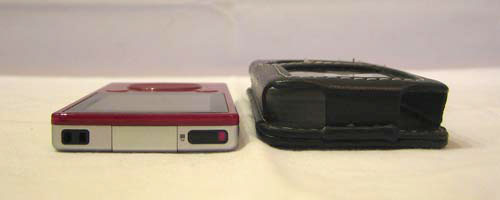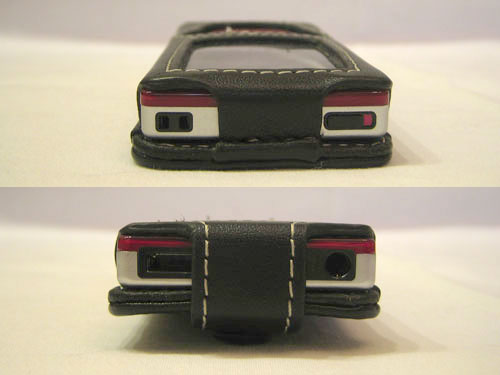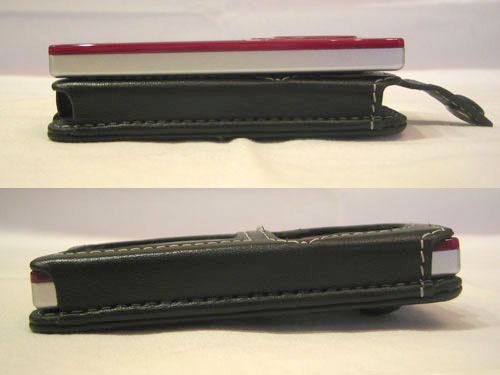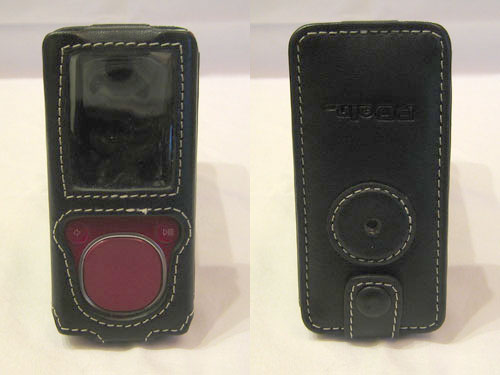 The only annoyance with this case is the flap that keeps the Zune securely inside – the flap has to be opened to attach a Zune cable.
It's a small issue, though, and it certainly isn't a deal-breaker for me. The case is fairly tight around the Zune, but the player is
still easy to remove by just pushing on the top of the Zune. I've been using this case for several months now, and I carry my Zune with
me everywhere. It's held up nicely. A few bits of the stitching have frayed a little, but the leather has stayed in good condition, and
the case itself is still structurally sound. Judging from the few other Zune cases I've seen online for the 4 and 8 GB models, the PDair
case is likely the best of the bunch, at least for now.
Product Information
Price:
25.0
Manufacturer:
PDAir
Requirements:

Zune (4GB or 8GB version)

Pros:

Low-profile; no added bulk
Contrast stitching is a nice touch
Good price

Cons:

Requires opening bottom flap to attach cable
360-degree swivel clip is useless