We use affiliate links. If you buy something through the links on this page, we may earn a commission at no cost to you. Learn more.
What is the worst thing about setting up a stereo speaker system? In my opinion, it's running all the necessary wires. I always said that if I ever build a new house, that it will have speaker wiring pre-installed in all the walls. But for an existing house without this feature, what do you do to get around this issue? You can either buy a wireless speaker system, or you can check out a wireless audio adapter like the one I'm going to tell you about today from Audioengine. The AW1 Premium Wireless Audio Adapter is designed for Audioengine's A5 speaker system (my current favorite speakers), but will work with any other speakers just fine.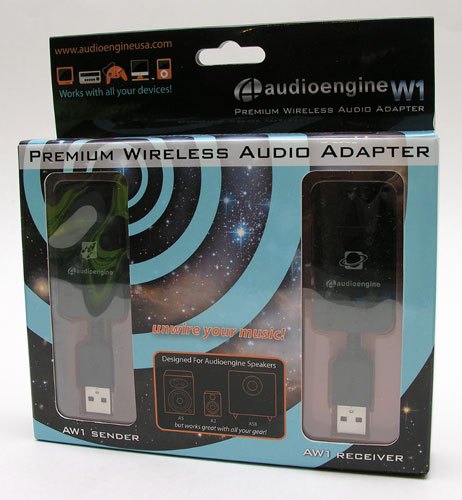 The AW1 uses a wireless protocol that isn't bothered by interference from wireless routers, cordless and mobile phones, microwave ovens, Bluetooth or WiFi devices.
Hardware Specifications
Range: 100ft (30 meters)
Wireless protocol: 802.11

Frequency band: 2.4-2.4835GHz
Latency: Data rate: 340Mbps
SNR: 91dB
Dimensions: 100 x 30 x 10mm (LxWxH)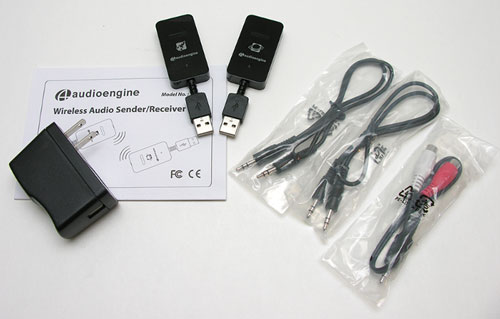 Package Contents
Wireless Audio Sender
Wireless Audio Receiver
USB AC power adapter
RCA adapter "Y" cable
Mini-jack (3.5mm) audio cables (20″)
Setup Guide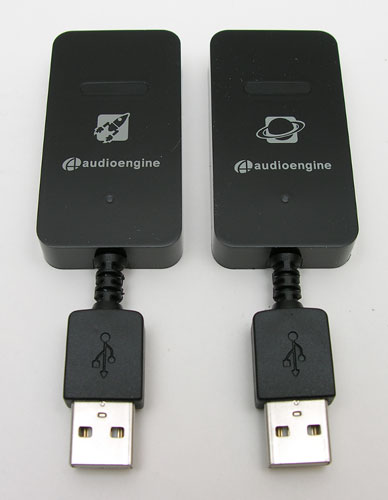 The AW1 system consists of two small modules, a sending unit (with the rocket graphic on it) and a receiving unit (with the planet on it).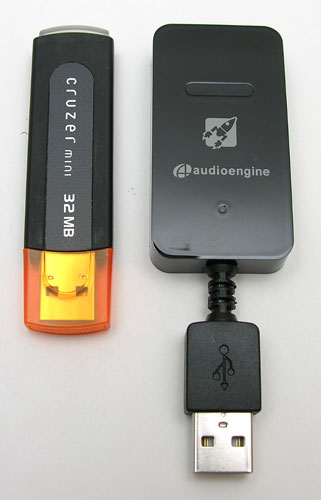 There are other wireless adapters on the market, but I've yet to see any that are as small as the AW1. In the image above, you see the sending unit next to a USB memory stick.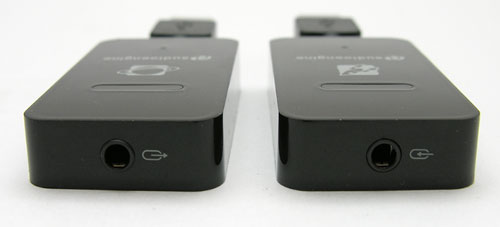 Both modules look alike and are just shy of four inches long by one and a quarter inches wide. Each have a standard USB connector on one end and a 3.5mm stereo jack on the opposite end. On the top surface is a small Blue status LED and an oval pairing button.
The sending and receiving modules come already paired out of the box, so installation is plug and play. That said, you can pair up to 8 receivers to one sender adapter and hop between them.
Hooking them up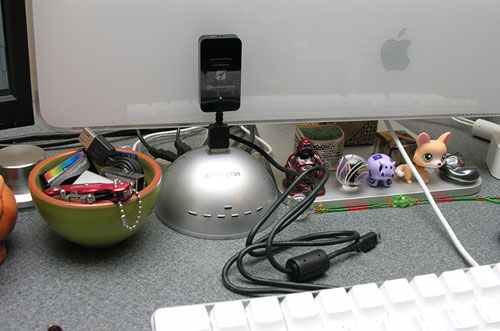 There are a lot of different ways you can use these wireless adapters, but for my first test, I decided to connect the A5's to my iMac. Normally, I just have them set up as a stand alone system that I connect directly to my iPod. But for the test, the first step was to just plug the sending module into a free USB port. As soon as I plugged it in, the status LED on the front began to blink, meaning that it was searching for the receiver unit.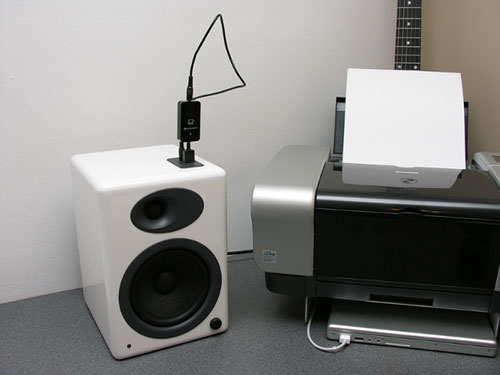 I then plugged the receiving unit into the USB port on the top of the A5 speaker. Then using one of the included 3.5mm cables, I plugged one end into the jack on the receiver module and the other end into the audio in jack on the top of the A5. As soon as I flipped the power switch on the A5's, the status LED on the receiving module blinked once or twice and then glowed steady, designating that both adapters were now paired and ready to go.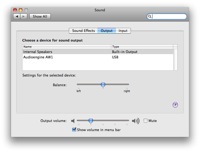 Click thumbnail to see full-size image
On my iMac, I brought up the sound preferences and and set the sound output to now be the Audioengine AW1 instead of the internal speakers. I queued up some music in iTunes and it immediately started playing through the A5 speakers. Audio quality was fantastic.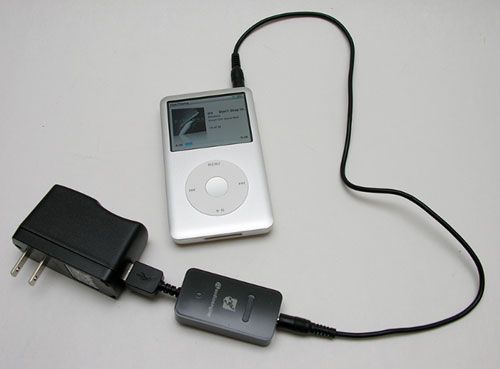 For my next test, I unplugged the sending unit from my iMac and, plugged it into the included AC adapter and then connected the 3.5mm stereo cable to the earphone jack of my iPod classic. I went in another room, plugged the AC adapter into a wall jack, queued up some music and it started playing through the speakers. Wirelessly. Nice!
I took the iPod / AW1 / AC adapter combination to different rooms and levels in my house and had no problems with music dropping out or audio quality suffering. The reported range between modules can be as much as 100 ft (30 m). My house isn't big enough to actually test that range, but the testing I did showed that this wireless system should work well in most medium sized homes.
I also used the included RCA Y cable to connect the sending unit to my TV to send its audio into my computer room to the A5's. Again, no problems and great audio quality!
Conclusion
It's hard to find fault with this product because I really like how easy it is to set up with any existing gear that you already have, and how great the audio quality is while using them. About the only things that would make the AW1 Premium Wireless Audio Adapter an even better value would be a lower price and have additional power options. I'm not sure how much power is required for each adapter, but it would be cool to have the ability to power them with a battery. That way you wouldn't need to be near an AC outlet for them to work. That said, if you have been looking for a way to avoid running speaker wire and are not scared by the price tag of this system, please do check it out. I highly recommend them.
Product Information
Price:
149.0
Manufacturer:
Audioengine
Retailer:
Audioengine
Pros:

Easy to setup
Great audio quality
Small footprint

Cons:

Expensive
Powered by USB or AC adapter, no battery option