We use affiliate links. If you buy something through the links on this page, we may earn a commission at no cost to you. Learn more.
You know what I love about being The Gadgeteer? Those times when one of my friends or co-workers say something like "I sure wish I had a gadget that would allow me to [fill in the blank]." Just the other day, I overheard someone say that they wished they had a quick and dirty way to connect a bare SATA hard drive to their computer to copy files from it. I immediately told them that I had just what they needed, the 2.5″ and 3.5″ SATA HDD dock with USB hub from Brando.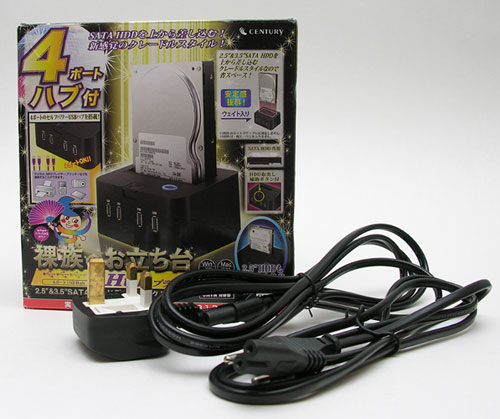 The 2.5″ and 3.5″ SATA HDD dock with USB hub (known from here on as the dock) is actually one of three products that I have, all offering the same functionality. The two other products, also from Brando, are the USB 2.0 to SATA/IDE Adapter with One Touch Backup and the Brando USB 2.0 to SATA/IDE Cable. All three products allow a person to connect an SATA drive to a computer via USB. But this latest product that I'm reviewing today, is significantly easier to use. It's just not quite as portable as the other two…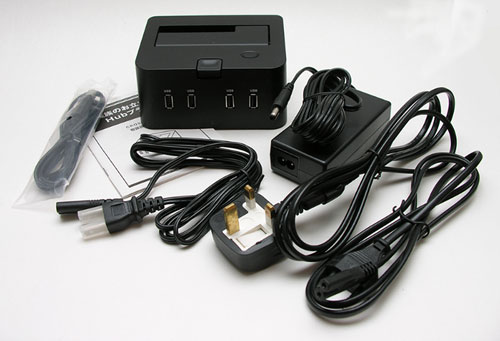 Package Contents
Dock
USB A to B cable
AC adapter
UK, US and Europe power cords
User guide (in Japanese)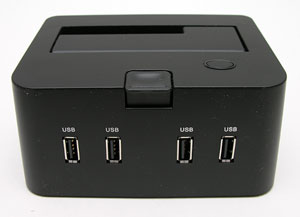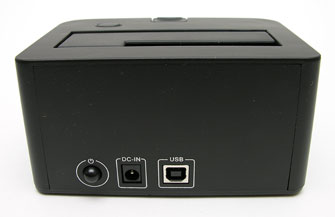 The dock has a 5.125 x 3.5 x 2.5 inch footprint and weighs in at 2 pounds, which allows it to remain stationary on your desk. It's not going to slide around when you're plugging and unplugging drives and USB gadgets.
It's made of Black plastic, with rubber feet on the bottom. On the front face are four USB 2.0 ports and on the back side you will find the power switch, power cord socket and USB A connector.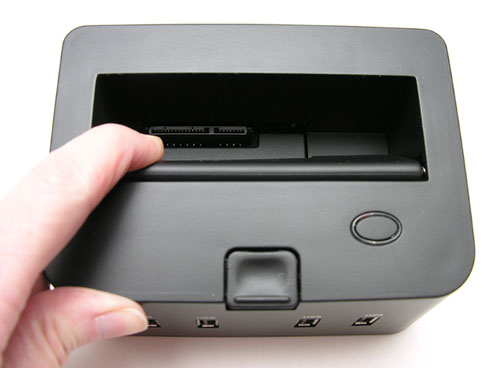 On the top of the dock, there is a spring loaded door that is used to support a 2.5″ drive or it can fold down to accommodate a 3.5″ drive. Either sized SATA drive can be plugged into the dock. Below the drive bay, is an oval status LED and an eject button.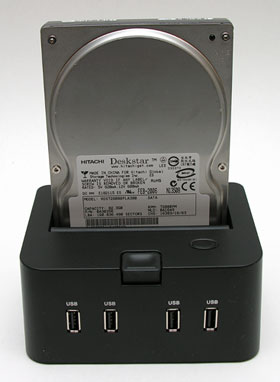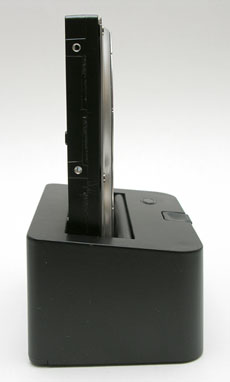 I only had a 3.5″ SATA drive to test with this dock. Plugging it in is easy. You don't have to worry about lining up the connectors as the slot opening is sized perfectly. Ejecting the drive when you want to remove it, is equally effortless.
To use this product, you just connect the included AC adapter, plug it into an outlet, connect the included USB cable to the dock and your computer, insert a 2.5 or 3.5 inch SATA drive in the dock, press the power button and enjoy. Yes, it's that easy and a big reason why I like this solution way better than the other solutions I've reviewed in the past. You gotta love plug and play.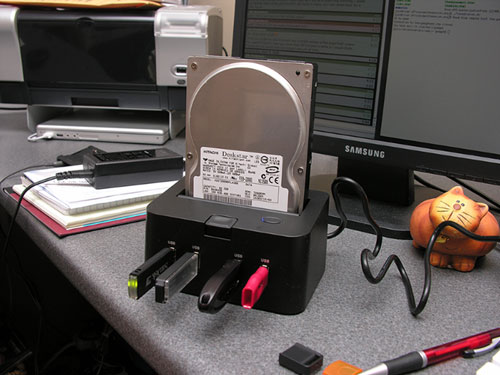 Having an additional four USB ports is pretty handy as well. I tested this dock with my iMac and had no problems at all. I didn't have any issues copying files, playing movies or listening to music directly from the connected hard drive. I also tested the USB hub by plugging in four USB flash drives and was able to copy data, play media, etc. from them as well. Copying files to and from the connected hard drive and a connected USB flash drive worked fine too. The only slight weirdness that I noticed was that when pressing the eject button in the Mac finder to eject the hard drive, the whole finder would vanish.
This dock is a great thing to have tucked away in a drawer for those times when someone has a hard drive that needs cloned or a set of files copied onto it before installing it in a desktop PC. It's even useful to use it all the time as an external drive for your desktop / laptop.
Product Information
Price:
82.0
Manufacturer:
Century Corporation
Retailer:
Brando USB
Requirements:

2.5 or 3.5 SATA Hard drive

Pros:

Easy to use
Weighted base
Plug and play
4 USB ports

Cons: