We use affiliate links. If you buy something through the links on this page, we may earn a commission at no cost to you. Learn more.
One of the great things about PDA's is the ability to carry a huge library of books in electronic form. I must have a couple hundred books on mine, ranging from reference to how-to to light fiction. It is sweet to be able to carry 20-30 pounds worth of paper in a few ounces of electronics!
Many Palm users use this ability to carry one or more versions of the Bible with them- makes those cute, little, nearly impossible to read 'pocket-sized' Bibles obsolete! There are many options for 'e-Bibles', from iPod versions to MP3 spoken versions to e-texts that can be read by most text readers, to dedicated readers with special tools for the job. These last versions are what we will look at here.
'Special tools'? Few general-purpose text readers have the ability to quickly find a single sentence in a large book the way Bible verse-finder tools can. Most of the programs we will look at can find a verse in about three taps, or search for a single word or phrase. Many text readers allow book-marking, and some even allow note-taking, but few do it as well as dedicated Bible readers do- and the ability to highlight or make notes is a key element for serious students in any field. A big difference is that most Bible readers can do some form of split screen to allow you to compare two documents at the same time.
We are going to look at four readers-

– Laridian's MyBible v4.2
– Olive Tree Bible Software's BibleReader v3.69
– GMPSoft's Bible With You v7.32
– palmbibleplus.sourceforge.net's Bible+ v3.3.21
These share many characteristics, such as similar simple installation, similar program sizes (small for readers, and each Bible or document adds bytes), etc. Given that they do an identical job on the same platform, this is not unusual. They also offer similar free content, often including things like the King James, American Standard, World English, and Darby's New Bibles, and Matthew Henry's Commentary. All can use your memory card to one degree or another, at least to store content on.
Laridian's MyBible
Laridian's MyBible For Palm 4 (the actual reader) costs $10, and you need the reader even to read any of the versions they offer for free. This is the big disadvantage of this particular program. On the other hand, they have the cleanest look and interface of the three' which I guess is only fair since they are the only ones charging for their reader!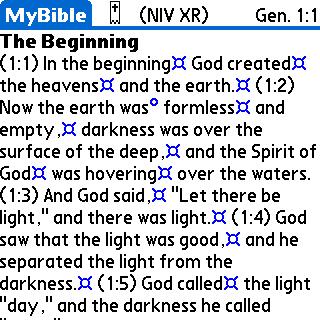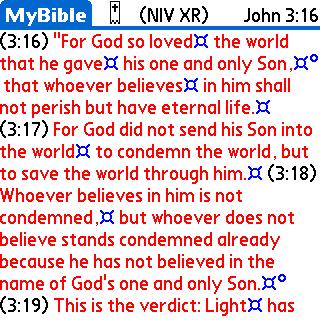 [MyBible- Genesis and John 3:16]
Laridian offers a wide variety of Bibles, study Bibles, research and reference tools, devotionals, and bundles. Prices on most products are about the same as the paper version would be or as other companies charge for their e-products. For example, the New International Version Life Application Study Bible would cost $39.98 in e-format from Laridian and $39.99 or more in hardback from Amazon.com. They also offer many resources designed mainly for pastors and church staff.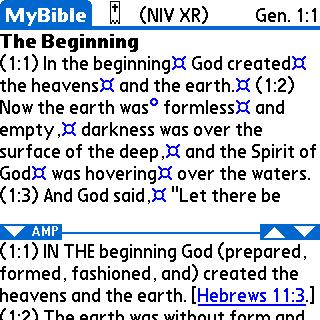 [MyBible- Split Screen- NIV and Amplified]
For an apples-to-apples comparison, here is what you would pay for some common products from each of these sources: MyBible reader- $10, NIV Version- $29.99, Easton's Bible Dictionary- free, Matthew Henry Concise Commentary- free. Total: $39.99. (Note: this does not include bundled offers, and different collections of books would reveal different outcomes.)
MyBible Pros:
– Some unique content
– Clean look

– Strong tools, like split screen
MyBible Cons:
– $10 core program
– Little Spanish or foreign content
Olive Tree Bible Software's BibleReader
Olive Tree Bible Software's BibleReader is free, and in fact is most often downloaded with some other files. It has a default look that I find hard to read- blue letters on a light yellow background. It is easy enough to change in Preferences, but I cannot seem to locate a way to make my choices the default.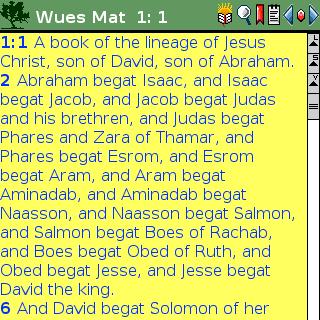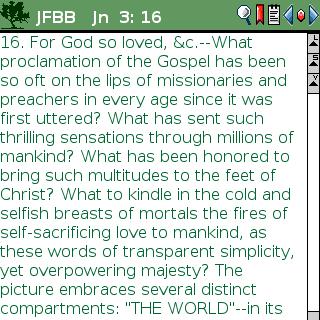 [BibleReader- Matthew 1:1 and John 3:16 (with changed colors)]
Olive Tree offers a large library of Bibles, including several free versions- many in foreign languages including Tagalog and Esperanto. They also offer reference tools, devotionals, and a good selection of e-books. Prices are similar to Laridian and paper versions. Olive Tree also offers the iLumina Mobile– a 'multi-media Bible' for handhelds that offers maps, movies, etc.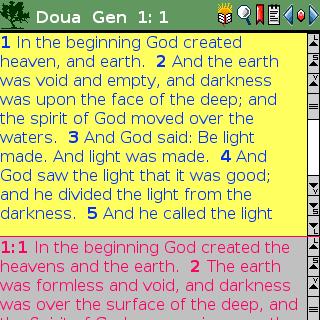 [BibleReader- Split Screen]
To compare: BibleReader core reader is free, NIV Version- $24.95, Easton's Bible Dictionary- $5.00, Matthew Henry Concise Commentary- free. Total: $29.95.
BibleReader Pros:
– Free reader (free reader + free content = free eBibles!)
– Lots of free and low cost content (although much of it is rather old and public domain)
– Large (largest?) downloadable library
– Spanish and foreign content
BibleReader Cons:
– Awkward default look
Both Laridian and Olive Tree keep track of your records and do a good job of offering updates, re-downloading, etc. So far, both have resisted the growing trend for 'download insurance' that so many companies are charging to allow you to re-download things you purchased. Both companies also offer versions for PC, PPC, Blackberry, iPod, and so on.
GMPSoft's Bible With You
GMPSoft's Bible With You seems like a somewhat 'stripped down' reader compared to the previous two- fewer commands on the top bar, fewer options, smaller library. It does not offer a split screen, but does have a nice clean interface. It seems to be sold bundled with Bibles which sort of hides the reader's price, but the King James Bundle costs $8.50 with a comment that the license for the KJV itself is free. Some of the prices seem a bit high, probably because of the way things are bundled.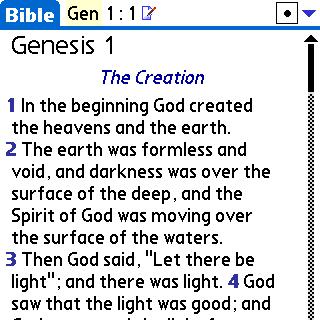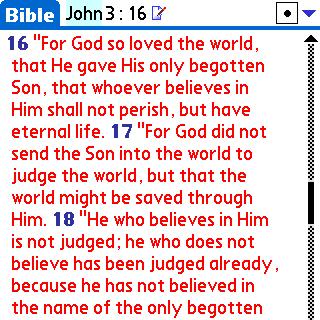 [Bible With You- Genesis and John 3:16]
Bible With You does not seem to offer quite as much scholarly content, or quite as much pastoral materials as some of the other choices do, but it does offer a good selection of Bibles, helps, and eBooks.
To compare: Bible With You and the NIV Version together- $29.90, Easton's Bible Dictionary- $4.00, Matthew Henry Concise Commentary- $10.00. Total: $43.90.
Bible With You Pros:
– Clean, simple look
Bible With You Cons:
– No split screen
PalmBible's Bible+
PalmBible's Bible+ is part of the thankfully large group of quality freeware offered by SourceForge and the Open Source movement. It and all of the content it offers is free. The interface and look is similar to MyBible- and maybe a bit nicer looking.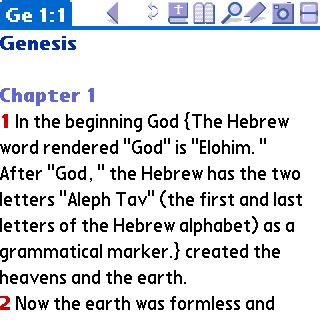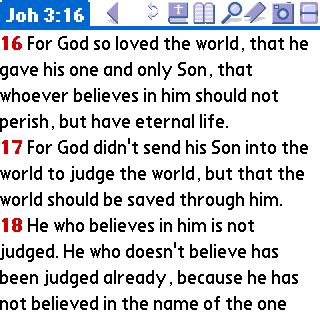 [Bible+- Genesis and John 3:16]
PalmBible does not offer as much free content as Olive Tree does, but it is still an impressive library. The Bible versions available include The Message, God's Living Word, World English, King James, English Standard, and Modern Young's Literal. You should be able to satisfy most of your needs at their site. Like most Open Source sites, PalmBible is not quite as user-friendly as the other two profit-driven sites are, but it is not hard to figure out.
To compare: Bible+ does not offer the NIV Bible, but all versions are free. No Bible dictionaries. Matthew Henry Commentary- free. Total: Free.
Bible+ Pros:
– Clean look
– Intuitive interface
– All free content
Bible+ Cons:
– Does not do split screen as well as some others
– Site not as user-friendly
– Not as large of a library (but it is all free)
Summary
In summary- they are so similar in some many ways, just go with the one that offers the most stuff you are looking for.
– If your Bible use on the Palm is rather casual, or you enjoy playing with Open Source stuff, stick with Bible+ and go on with your life.

– If you want more depth, a bigger library, and/or a multi-media experience- give BibleReader a try.
– Bible With You would be the choice if they offer the selection you are looking for and you don't need all of the features of some of the others.
– MyBible is probably the version to use as a 'gold standard'. I think it offers the best mix of content and interface, and the $10 fee is pretty reasonable, especially considering that most upgrades so far have been free or very cheap.
Product Information
| | |
| --- | --- |
| Price: | |
| Pros: | See each individual review |
| Cons: | See each individual review |