We use affiliate links. If you buy something through the links on this page, we may earn a commission at no cost to you. Learn more.
I have reviewed several very well made LED flashlights from Surefire and Brite-Strike. The WorkStar 440 by Maxxeon falls into the same vein of high quality, LED flashlights but with one significant difference, a 10 inch flexible neck that the LED head is attached to.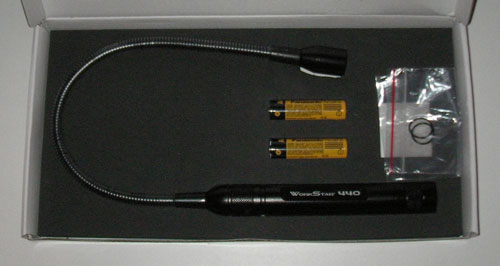 Package Contents
Maxxeon WorkStar 440 Inspection Light
Two AA batteries
Spare O-rings
User manual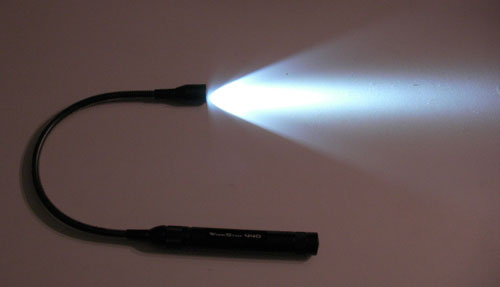 As stated above, the key feature that sets the WorkStar 440 apart from many other LED flashlights is its PVC coated, flexible 10 inch gooseneck with a high powered LED head at the end. The flexible neck enables you to direct the bright light exactly where it is needed, allowing you to illuminate hard-to-reach places that are difficult to access.

The main body and LED head are constructed of high-grade (T6) aluminum, painted with a black Type II hard anodized coating.
Hardware Specifications
| | |
| --- | --- |
| Light Output: | 90 Lumens |
| Run Time: | Approximately 2 hrs of use |
| Reflector | Custom-design with orange peel surface for smooth beam |
| Len | Glass |
| Battery Type: | Two AA |
| Battery Voltage: | 0.8V to 3.2V |
| Aluminum Body & Head | T6 Aluminum with Black Type II Anodizing |
| Head Diameter: | 11/16 inch |
| Body Diameter: | 13/16 inch |
| Overall Length: | 18 inches |
| Neck Length: | 10 inches |
| Weight: | 6.5 ounces |
| Waterproof: | No, but all threaded joints have rubber O-ring seals |
| Warranty: | One year limited |
The WorkStar 440 has a electronic current control that maximizes efficiency and allows it to runs for approximately 2 hours on two alkaline AA batteries. I tested it with two fully charged 2300 mAh rechargeable batteries (not included) and left the light on continuously. The 440 remained very bright for 4-5 hours becoming gradually dimmer, finally extinguishing after 8 hours. A very respectable run time on a single charge.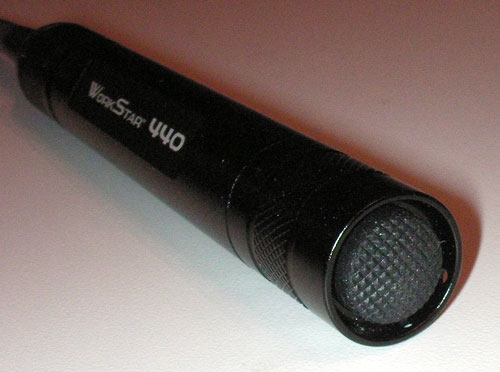 The tailcap switch allows for easy one-handed operation with your thumb. The Maxxeon website specifically says the WorkStar 440 is not waterproof but the end cap is sealed with an O-ring and appears to be water resistant.
The Maxxeon WorkStar 440 Flexible LED Inspection Light is engineered to illuminate hard-to-reach places on many types of equipment and vehicles. Designed for IT technicians, automotive/aircraft/boating mechanics, emergency response personnel, campers/boaters, handipersons, etc. The WorkStar 440 is a well made/engineered tool for those individuals in need of this type of specialized light.