We use affiliate links. If you buy something through the links on this page, we may earn a commission at no cost to you. Learn more.
I am always looking for a better apparatus to carry my laptop and miscellaneous supplies. When looking at a new one, I have some simple criteria: 1) comfort, 2) appearance (style) 3) durability and 4) functionality (how well does it hold my stuff). That in mind, I jumped at the opportunity to try out a few of SLAPPA's products from their new Ballistix's line.
Specifically this review covers the following products:
Ballistix AURA Black Laptop Shoulder Bag
Ballistix AURA Silver/Orange Laptop Sleeve (15.4″ version)
Ballistix P-TAC Black Laptop Shoulder Sleeve (17″ version)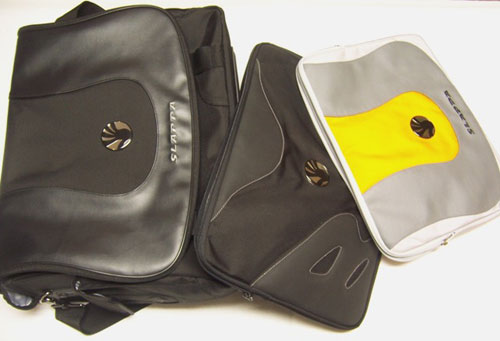 Specifications/Features:
Ballistix AURA Black Laptop Shoulder Bag
Water and tear resistant 1680-D ballistic nylon with rubberized polyurethane (PU) accents
Quilted inner Twill Nylon lining with super-cush, water-resistant laptop padding
Laptop compartment fits both 15.4″ and 17″ notebooks
Special compartments for storing laptop accessories
Mirror plated alloy clasps and adjustable shoulder strap
Available in black or silver/orange
9 storage compartments
Keychain clip
1500 cubic inches of storage space
Epoxy domed logo
Adjustable shoulder strap with alloy clips featuring mirror plating
Dimensions: 18″(w) x 15.35″(h) x 6.3″(d), Weight: 4.26 lbs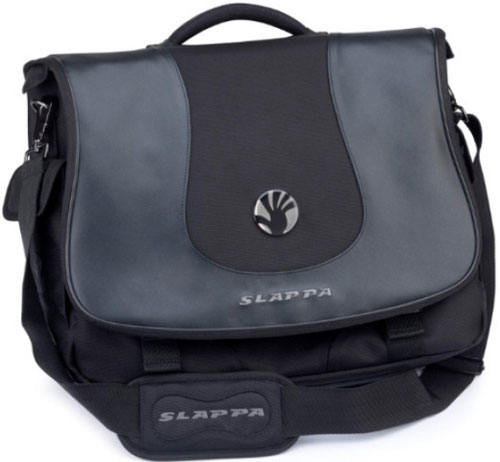 Ballistix AURA and P-TAC Laptop Shoulder Sleeve(s)
Available in black (both) or silver/orange (AURA)
Water and tear resistant 1680-D ballistic nylon with rubberized polyurethane (PU) silver accents
Quilted inner Twill Nylon lining with super-cush laptop padding
Available in 15.4″ and 17″ versions
Rear compartment for papers and/or cards
Molded alloy zippers
Metal clasps for shoulder strap attachment
Dimensions: 16.14″(w) x 12.59″(h) x 0.78″(d), Weight 1.188 lb – 15.4″ version
17.71″(w) x 13.38″(h) x 0.98″(d), Weight 1.276 lb – 17″ version
Ballistix AURA sleeve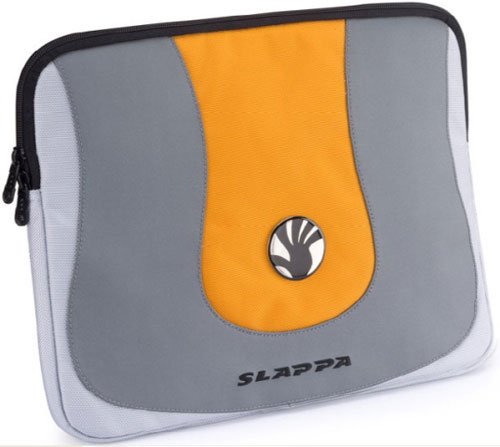 Ballistix P-TAC sleeve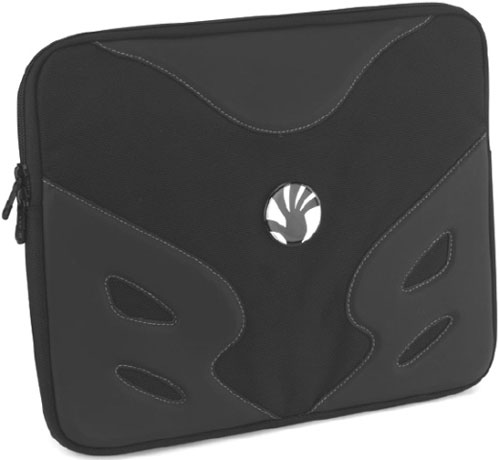 Laptop Used In Review:
DELL Latitude D620
Upon first taking the products out of the box, I was immediately impressed with the look and feel of the bag and the two sleeves.
The majority of the outside of all three are covered by a ballistic nylon material that is water and tear resistant. Ballistics nylon is a material that was originally created and used in flak jackets to protect servicemen in World War II. Needless to say, this material screams tough and durable, which is exactly what I want.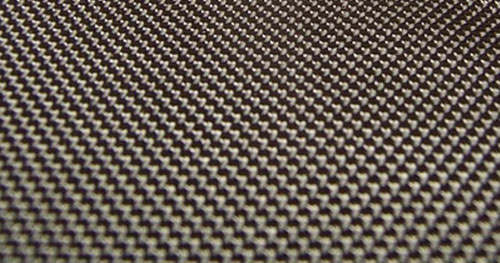 The rugged ballistic nylon is beautifully contrasted by the smooth rubberized polyurethane exterior ascents. The ascents are utilized on the front-face of the products and, along with the black and sliver epoxy circular-domed logo, serve as a great eye-catcher.
The inside of the bag and sleeves reveal another contrast to the tough exterior. The interior is lined with soft, silk-like, Twill Nylon material. This silver material is quilted in 1″ x 1″ squares that feel like small bumps of protection when rubbing your hand over top.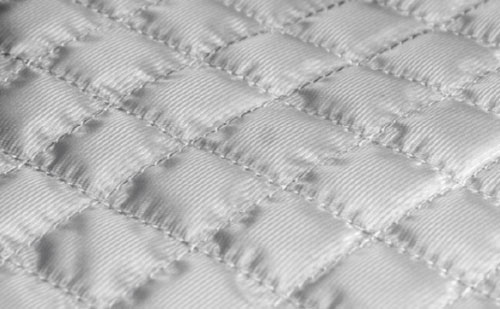 The water repellent Twill Nylon textile covers the laptop padding, which I thought felt insufficient, especially in the bag, for protection purposes. That said, at the end of my month-long use, I did an experiment placing 5 eggs at the bottom of the laptop bag and 6 rolls of quarters in the exterior pockets to serve as added weight. I then dropped it 5 times from about waist-high (let's say 4') without breaking a single egg. Maybe that padding is deceptive in terms of how it feels and what protection it actually delivers.
Molded alloy is used throughout on the zippers, shoulder strap attachment rings and clips. The zippers are nicely sized for ease in use.
The Ballistix Aura and P-TAC laptop shoulder sleeves are great utility carriers for when you want to travel light but still need some protection. I like the fact that the slim cases are padded and made from water repellent material, plus they have the alloy rings to be utilized with the optional shoulder strap.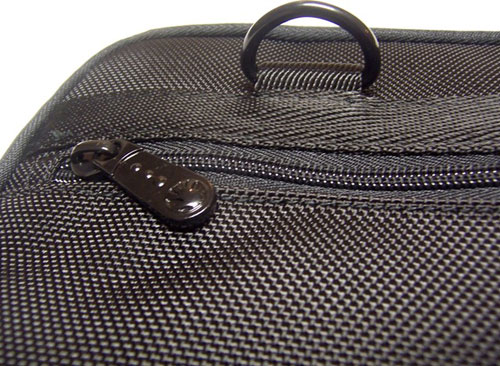 The rear compartment is a nice extra for holding papers and cords too.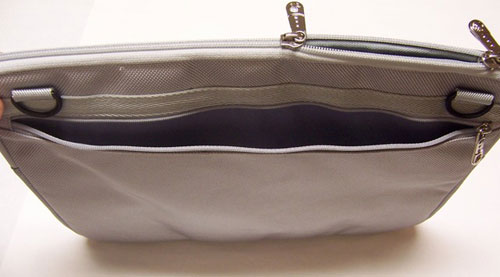 The sleeves work great inside the Ballistix AURA laptop shoulder bag too, adding an extra level of protection. Here you can see them both in the bag.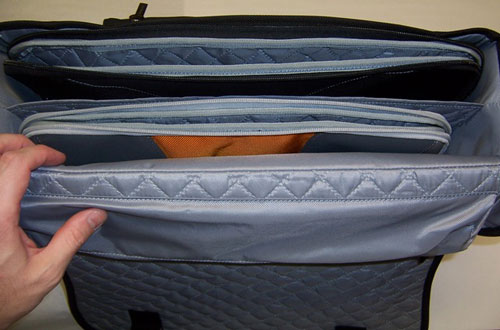 I used the Aura sleeve on an overnight business trip to Boston. The sleeve worked great. I was able to easily slide it into my small piece of luggage without concerns about protection and the TSA security allowed me to just keep my laptop in the sleeve during scanning.
My only complaint would be that the shoulder strap is not included. You can purchase it for an additional $12.99 or if you happened to buy the laptop bag, you can use that strap.
Here you can see the silver/orange 15.4″ sleeve laying on the black 17″ laptop sleeve.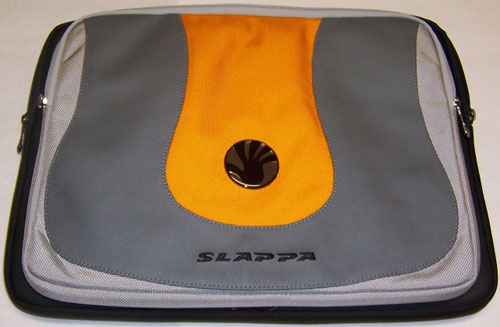 The Ballistix AURA black laptop shoulder bag is large (Dimensions: 18″ w x 15.35″ h x 6.3″ d, Weight: 4.26 lbs) with a front-flap design attached via two mirror plated alloy clasps. The mirror plating adds an extra bit of bling-bling when revealed.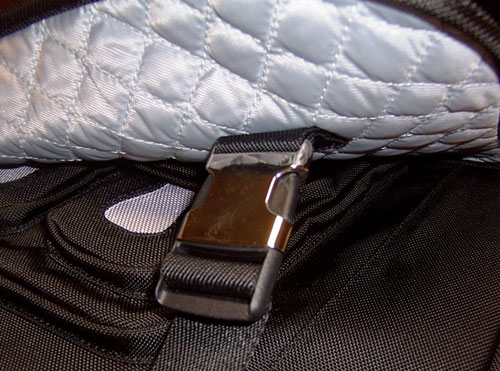 The back of the bag has two zippers, one positioned towards the top, the other at the bottom. The dual zipper allows you to stack the bag on top of a wheeled carrier and pass through its extended handle. You can also just use top zipper and is serves as an extra rear compartment for papers.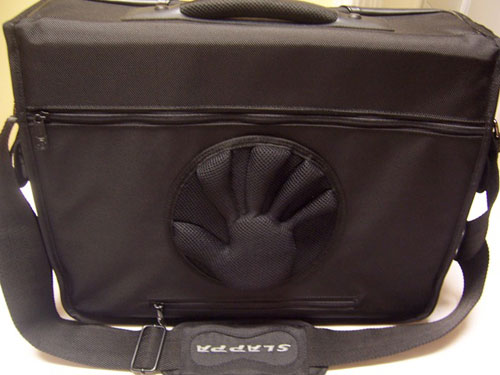 A SLAPPA logo, raised with padding, resides in the middle of the bag's back. While I first reduced this to simple self-promotion, I came to find this useful. That padding is thick, about ½", and the logo is large in size, 7″ at the longest point. It is positioned almost perfectly to provide cushion on your hip and/or back.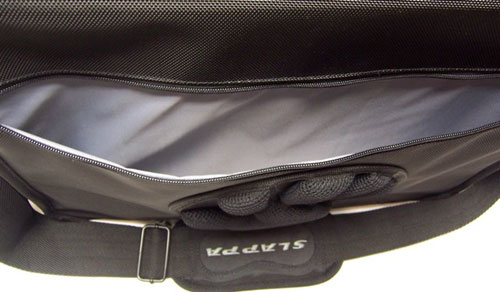 The handle is located at the top of the bag and is nice, thick and padded for added comfort when wrapping your hand around it. Unfortunately this handle was the source of my biggest complaint. The handle tightly retracts, when not being utilize, to lay flat against the top.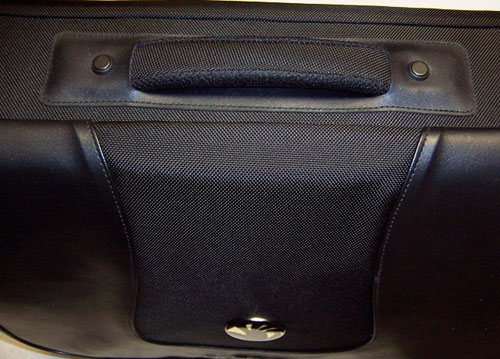 The problem I experienced with this was each time I went to use the handle, the tension was so tight that the back of my fingers became irritated. Normally, I criticize the feel of the handle in the palm of my hand but I found this uncomfortable on the opposite side. I was hoping the tautness would lessen with use but I was unable to detect any decrease.
The bag's bottom has two rubberized stabilizer strips that run parallel almost the entire length of the bag. The strips did a moderate job of keeping the bag upright.

Each side has a large, expandable flap pocket sealed via Velcro. These pockets are large enough to hold my bulky DELL AC power adapter and even a 16 oz. bottle of water, without closing the flap, of course.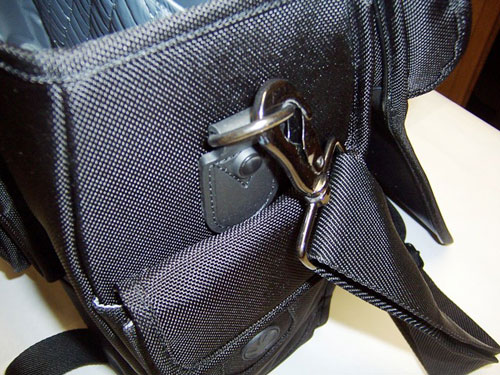 Peeling back the bag's large main flap, exposes the front-face where you will find two small Velcro flap pockets and a fairly large zipper pouch. The small flap pockets were nicely sized for my iPod, presentation remote and business cards, while the pouch is large enough to hold a paperback book without having any difficulty closing. Three pen/pencil holders and an attached keychain clip are located inside the pouch too.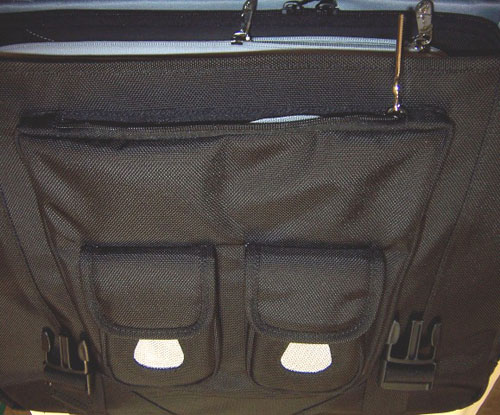 The two main compartments are huge. I could easily fit a couple of pads of paper, a 2-1/2″ three-ring binder and my laptop inside them and it seems like I still had room. This is the first bag that I have used that would accommodate my computer and the large three-ring binders I tend to carry.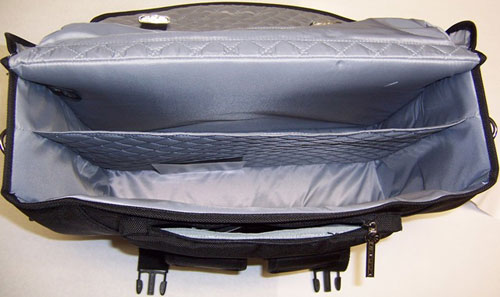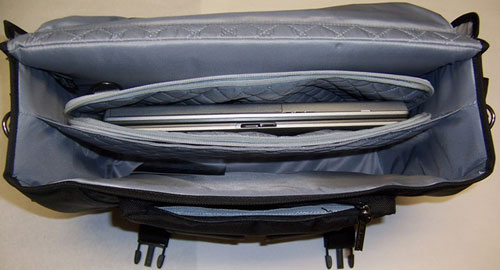 Lastly, on the interior side of the big flap cover, the engineers of SLAPPA added a long zipper compartment that runs the entire length of the flap. Not a usual place where you will find storage but I found this was a great place for my USB and network cables and accessories.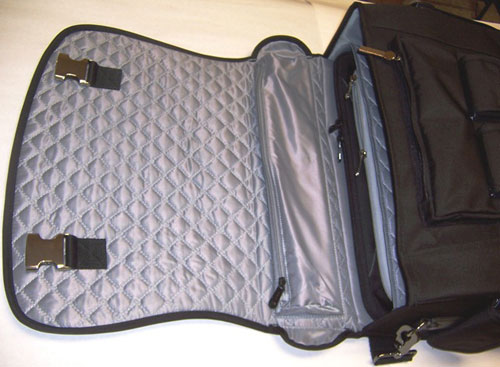 In conclusion, the durability of the exterior material paired with the silky soft, quilted interior textile and padding greatly protects your computer and other necessities.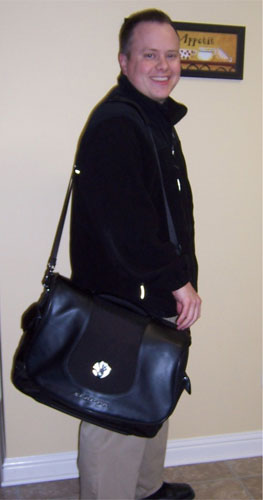 The 1500 cubic inches of storage space found in the Ballistix AURA laptop shoulder bag impressively allows you to carry more then just your laptop, a lot more.
Unfortunately, I wish the shoulder strap was included with the sleeves and the retractable handle on the bag was a pain, literally.
Overall, I was very impressed with these samples from SLAPPA's new Ballistix's product line. I think they have created some great carriers for folks who like to carry a little or a lot. I highly recommend checking out these and SLAPPA's other fine products, specifically the Ballistix P-TAC laptop bag is a sharp looking case with some additional compartments, if the AURA bag does not meet your needs.
Prices:
Ballistix AURA Black Laptop Shoulder Bag $149.99
Ballistix AURA Silver/Orange Laptop Sleeve (15.4″ version) $39.99
Ballistix P-TAC Black Laptop Shoulder Sleeve (17″ version) $39.99
Product Information
Price:
Manufacturer:
SLAPPA
Retailer:
SLAPPA
Pros:

Durable exterior material (ballistic nylon)
Soft, quilted interior material (twill nylon)
Stylish exterior, nicely contrasted between the ballistic nylon and the rubberized polyurethane
Tons of storage space in the laptop bag

Cons:

Shoulder strap is not included for the laptop sleeves
Tension from retractable handle causes discomfort on back-side of hand