In today's world, it seems that we are all trying to do three things at once, all while talking on our cell phones. I know that multi-tasking is part of my daily life, even though at times I wish it was not. Juggling multiple tasks at once is fine, except when one of those tasks is potential deadly if you are not paying attention, for example, driving a vehicle.
Some states, like California have even adopted laws against using a cell phone without a handsfree device. The Mvox Duo is an apparatus that allows users to communicate without holding their phones. Look ma', no hands.
Mvox markets the Duo as the "world's 1st all-in-one wearable smart communicator with one-touch voice dialing". It is a Bluetooth headset, a Voice over IP headset, a handsfree car kit and a speakerphone rolled into one.
Let's see what the Mvox Duo has to offer.
Features / Specifications:
Dual-usage, integrated speakerphone and headset
Speaker peak volume 104 dBA
Headset peak volume 90 dBA
Dual DSP processors
Advanced echo and noise canceller
One touch voice dialing
Speaker independent voice recognition and speaker adaptation
Dual microphones (SAM) with 3D voice pick up beam
Dual connectivity: USB Audio 1.1 and Bluetooth V1.2 (capable of Bluetooth V2.0)
Bluetooth operating range: up to 30ft/10m
Rechargeable lithium ion battery
Continuous talk time in headset mode estimate: 7 hours
Continuous talk time in speakerphone mode estimate: 3 hours
Standby time estimate: 150 hours
Dimensions: 3.0 x 1.1 x 1.2 inches (7.6 x 2.8 x 3.0 cm)
Weight: 0.9 ounces (25.5 grams) including battery
Minimum OS requirement Microsoft XP or Microsoft 2000
Caller ID announcement
VoIP capable via Bluetooth or USB connections
Built-in phone book manager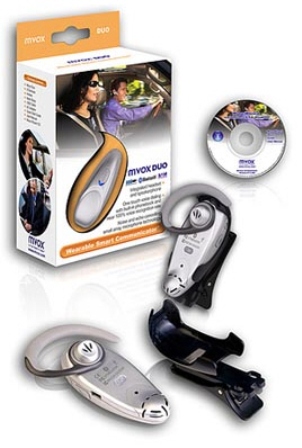 In the Box:
Mvox Duo
Holster
Earloop
USB cable
AC adapter
Mvox wizard software CD
Phone Used in the Review:
LG VX8600
Upon receiving the headset, my first impression was that of disappointment. Mvox Duo's packaging prominently displays the unit through a clear screen on the box and it was through this that I immediately noticed the unit's size.
The Duo looks fatter, for lack of better word, then the majority of Bluetooth headsets I have seen. The unit's dimensions are 3.0(w) x 1.1(h) x 1.2(d) inches and it tips the scale at just under an ounce, 0.9 to be exact, so it definitely noticeable.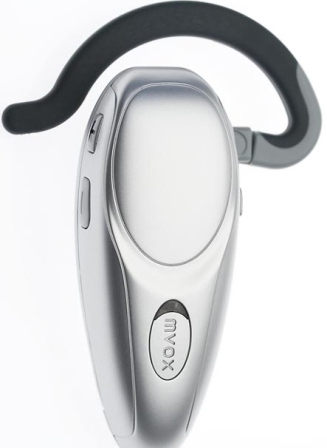 In comparison, check out the Apple iPhone Bluetooth headset review that Dave Rees recently posted. The Apple headset appears sleek and stylish, while the Duo portrays the opposite impression.
That said, I do like the color of the Duo's plastic shell. It gives off that durable appearance, like it is made from steel.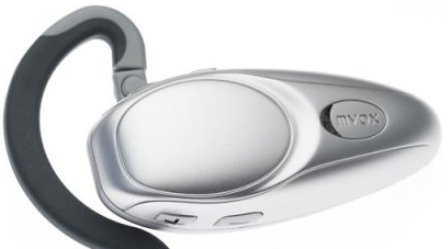 The front face of the Duo (the side people will see, when on your ear), has some stylish lines, differing molded heights (it is not flat) and Mvox logo. A status LED is next to logo. The LED blinks blue when the device's powered is on.
The left-side (will be pointed to at the floor, when on your ear) is where you will find the Volume Up and Down buttons.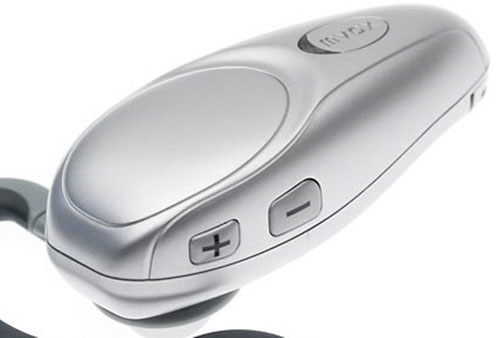 The right-side (will be pointed up, when on your ear) has the Power/Mute and Headset Talk button, plus the USB port.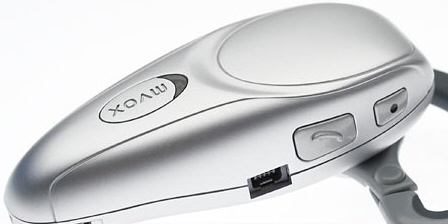 The USB port is utilized to charge the device and connect to your PC. I like the fact that Mxov provides two charging options, via the AC Adapter or USB cable.
On the back face (against your face, when on your ear) has the speaker, Speakerphone Button/Red LED and the Small Array Microphone (SAM).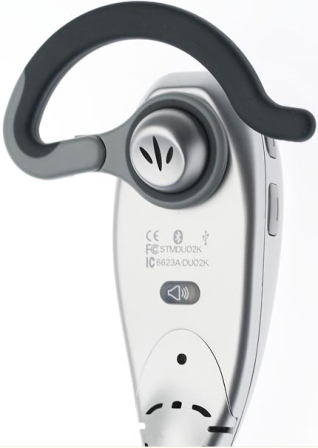 Completing my initial inspection, I charged the device, loaded the software, slid the ear loop over the speaker mold and was ready to start using it. One thing to note, you will not find a paper user manual in the box. Mvox, instead, includes an electronic copy on the software CD.
Pairing the device with my LG VX8600 was simple. Press the Duo's Volume Down button until the blue LED turns solid blue, indicating the Duo is in the ready state, put your mobile phone in pairing mode and in no time, your phone should recognize the Mvox Duo and the Duo's LED should turn off.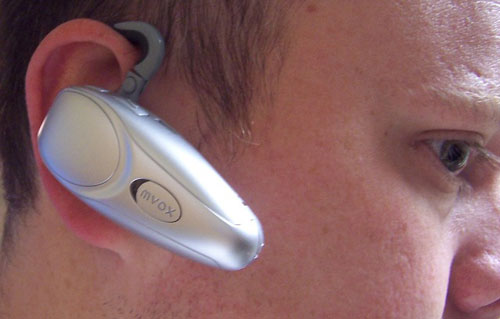 The Duo felt awkward when place on my ear. I attributed this to its bulky size. I found the device uncomfortable to wear for more then 20 minutes.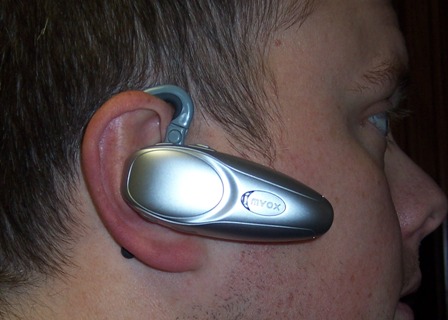 To put these pictures into perspective, my head is not small. I have a huge melon and the device just felt too big. My wife said it looked "too big and dorky". Not the ideal words of encouragement.
The Duo's performance in headset mode was good. I was able to clearly hear through the speaker and, equally important, people were able to hear me. No one that I spoke to reported any distortion in my voice when using the device.
After testing the headset mode, I loaded the device into the holster (clip), which immediately activates the speakerphone option. I clipped the holster to my seatbelt and made some phone calls.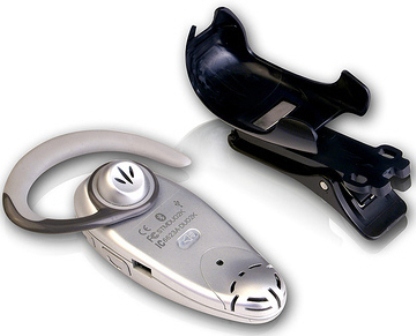 The Duo clearly outperformed any built-in speakerphone from a mobile that I have ever owned. The sound quality was great; people were able to clearly understand me and vice-versa.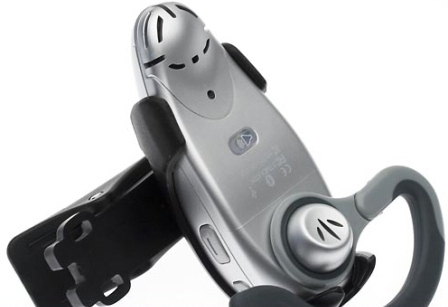 The ability to clip the device close to my head made it easier to use the speakerphone functionality without have to hold my phone up, yelling or straining to hear over noise. I definitely think the holster mechanism and speakerphone functionality are the highlight of the Mvox Duo.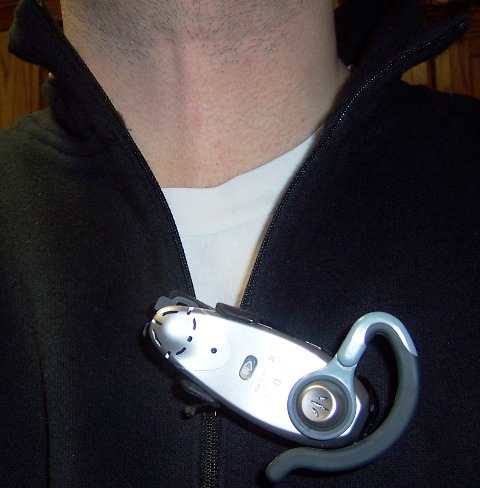 The clip itself is very pliable and can be fastened almost anywhere, to anything, you wish. The most common places I attached the clip was my car's sun visor, shirt pocket and seat belt. Once the Duo is attached to the clip, it can be rotated 360 degrees to reach an appropriate position. When sitting in the clip, the headset is flipped onto its back.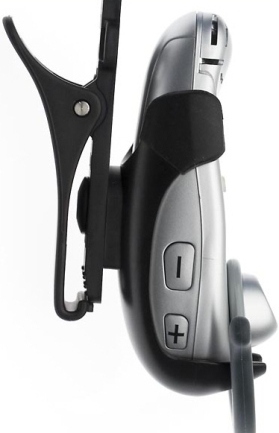 The device also has functionality that allows it to be used in a voice over IP capability via Bluetooth or directly connected to your PC via USB. This means that you could utilize the Duo as a speakerphone or headset for VoIP applications, including AOL, Avaya, Skype, Yahoo, Gizmo Project, and Google Gtalk.
The Duo also has a built-in phone book capability. Meaning you can enter names and phone numbers in the software on your PC then sync the data to your Duo, then you can issue the device voice commands to dial a number.
To be honest, I would probably not use this function. The one-touch dialing is really the only advantage of the phone book and it is just another place to maintain data. I currently maintain such data in too many places already, why would I want to add another?

The one-touch dialing feature worked great. My commands were easily recognized by the device and, unlike other voice command tools, I rarely had to repeat my commands and it was accurate the vast majority of the time.
Besides the phone book capability, the PC installed software also has some nice diagnostic tools to assist you, if the Duo is not playing nicely.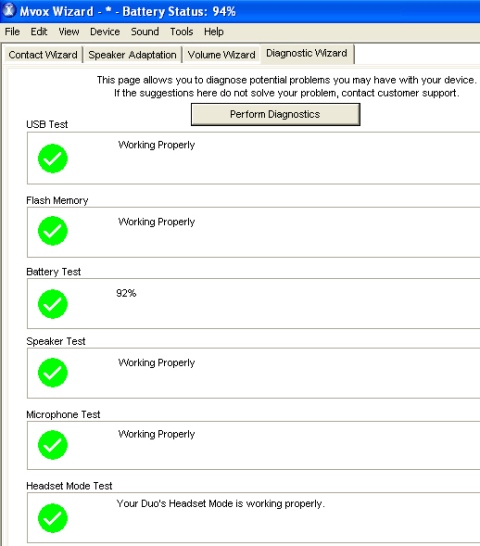 Lastly, I think the cost of the Duo is rather high. For me to justify spending $250, I have to be in love with the item and I would categorize my feelings as more of a like than love.
All in all, I definitely think the Mvox Duo would be great for those road warrior types of people like my brother, who is in sales. Even though I was disappointed in the size of the Duo, the multiple functions it possesses, especially the speakerphone, one-touch dialing and diagnostic tools, could make it a useful device to some. I just do not think I would be one of those people.
Some of our links in posts like this one are affiliate links, which means that we may receive a small commission on purchases at no cost to you.
Product Information
Price:
249.99
Manufacturer:
Mvox Technologies Inc.
Retailer:
Mvox Technologies Inc.
Pros:

Ability to charge via AC adapter & USB connection
Holster mechanism
Great performance from the speakerphone
VoIP capability
One-touch dialing through voice commands.
PC installed diagnostic tools

Cons:

Size; bigger then most Bluetooth headsets
Not comfortable when worn as a headset
Expensive