We use affiliate links. If you buy something through the links on this page, we may earn a commission at no cost to you. Learn more.
We've reviewed a couple Spire backpacks here on The Gadgeteer, the last one being their Torq backpack. Their latest offering is a courier laptop bag (messenger bag) that comes in three sizes: Viro (for laptops up to 14.1″), Endo (for laptops up to 15.4″) and the Mojo (for laptops up to 17″). Available in Cosmic Green, Midnight Blue and Stealth Black, I was sent the medium sized Endo bag in Midnight Blue.
Endo Features / Specifications
Laptop Compartment: 14.5″ x 10.5″ x 1.5″
External Dims: 16.0″ x 12.0″ x 5.0″
Capacity: 960 Cubic Inches
Weight: 2.2 Lbs
External Fabric: 1680 Denier Ballistic Nylon
External Pockets: 6
Internal Pockets: 4 (+ 2 Pen Pockets)
Padded Handle: Yes
Padded Shoulder Strap: Yes
Removable Waist Strap: Yes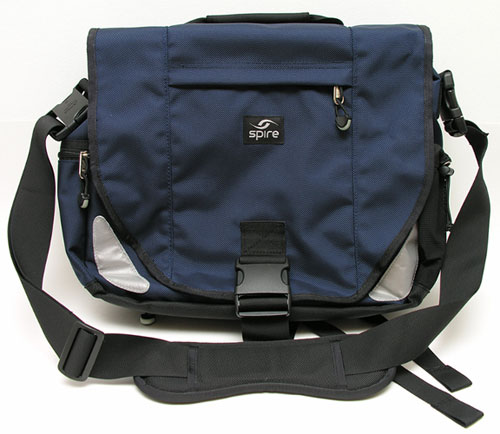 The style of this bag is more laptop bag than classic messenger / courier bag style. It's not too flashy and not too drab, which makes it just about right for any setting, be it school or office. Let's take a tour of the features…
Made with a rugged 1680D Ballistic nylon exterior, the main flap is held closed with a large plastic pinch buckle. The flap has a vertical zippered pocket that you can use to store items that you need quick access to while carrying the bag. The Endo does have one of my must-have features for any favorite gear bag: a grab handle on top! Yay!
On the bottom front "hips", you'll notice a reflective patches sewn onto the ballistic nylon exterior. This is a safety feature to allow you to be more visible in low light.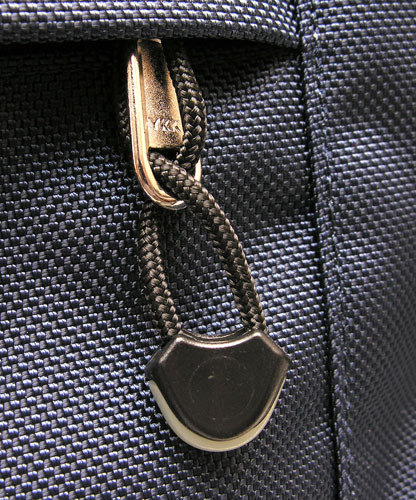 Even the zipper pulls are glow in the dark. Bike couriers will probably appreciate these safety features most.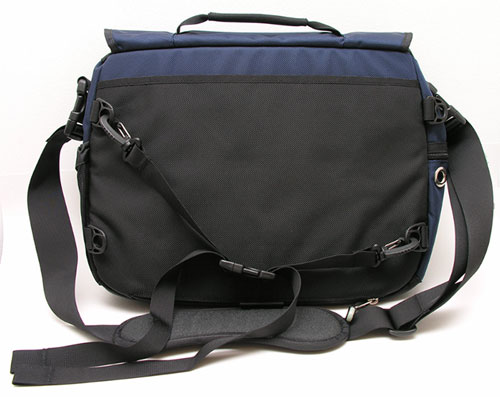 If we flip the bag around, you'll see that there is a large flat pocket that is large enough to hold magazines, file folders etc. This pocket also doubles as a past through for a rolling luggage handle. There's a zipper sewn into the bottom seam, that opens up the bottom of the pocket. Of course, if you unzip this zipper, anything stored in that pocket will slip out.
There is also a removable waist strap that can be attached to the four plastic attachment points.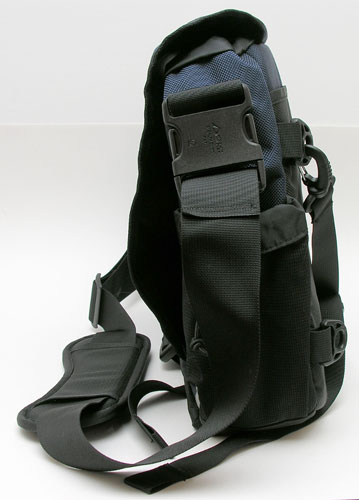 A side view of this bag points out what I meant about this bag having more of a laptop bag style instead of a messenger bag style. Messenger bags tend to be wedge shaped, with a flat bottom. The Spire Endo is more upright. This causes it to have some problems with toppling over. This is especially true when you are actually carrying a laptop in it.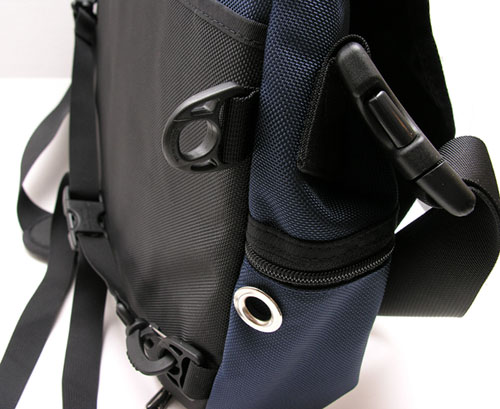 The adjustable shoulder strap attaches to the bag with two large plastic squeeze buckles. You'll also notice that each side of the bag has a compartment. On the left side, there is a zippered pocket with a pass-through headphone grommet. Just stick your MP3 player in there, route your headphone cable through the opening and you'll be able to walk along and enjoy your tunes.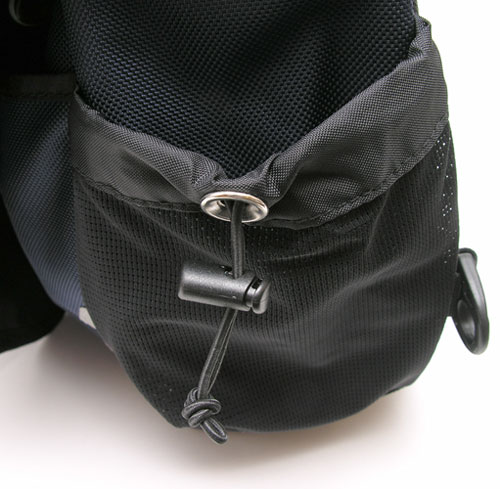 A mesh water bottle pocket is located on the opposite side. It even has a cinch top so that your bottle or other items won't slip out.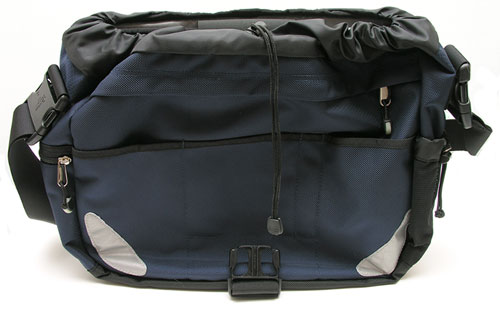 Unbuckling the main flap will reveal three open topped pockets along with two pen / pencil slots.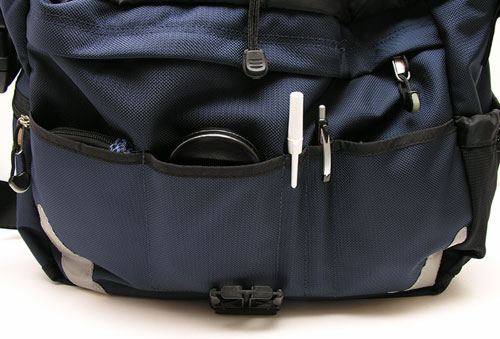 These pockets are perfect for small items such as wallets, sunglass cases, mobile phones, etc. You'll notice another zipper pull above the pockets…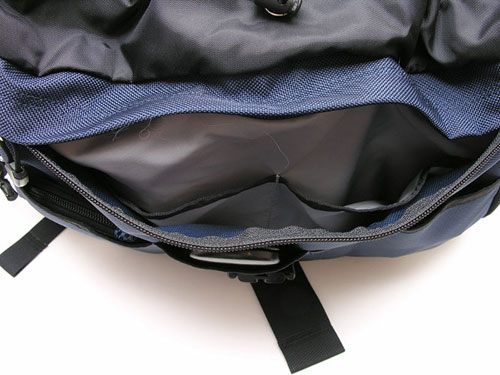 Unzipping it reveals another storage area, that has two large open topped pockets along with space in front of the pockets, that can hold items.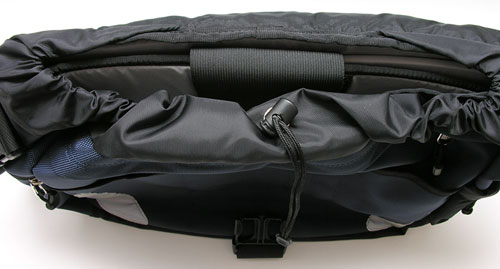 The main compartment for this bag has a unique cinch top. This is great for bike messengers as it will keep the rain and weather off your laptop and other contents.
Uncinch the top to gain access to the main compartment, which is lined with a light gray material. The color makes it easy to see the contents at the bottom of the bag. I have come to appreciate bags that have a vinyl interior because it makes it easy to clean them when needed. The interior material for this Spire bag is a thin nylon that probably would not be easy to clean.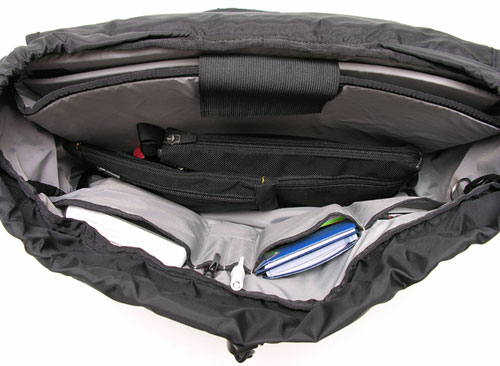 Inside you will find three open topped pockets, two pen / pencil slots and a removable key fob. Hey, does anyone out there ever use the key fobs in their gear bags? I never have. I always keep my keys in my jacket pocket or an exterior pocket of the bag.
The remaining interior of the bag is pretty spacious. I just have two Waterfield gear pouches in mine at the moment, and you can see that there is a lot more room available.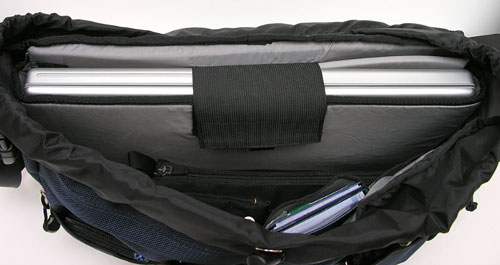 The laptop compartment is located on the back wall of the bag. It has a large Velcro tab at the top that keeps your laptop safe and secure. This pocket is very nicely padded with their TripleShock padding system.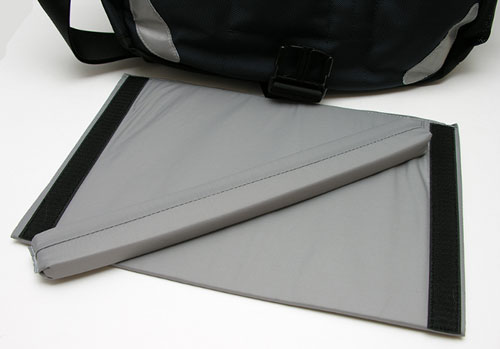 The front, back and bottom of the laptop pocket are padded, but even more protection has been added in the form of two removable mats. One of the mats is the size of the back wall of the bag and attaches via Velcro. The other padding goes in the bottom of the pocket to help protect your laptop from a potential drop. With all this padding, I wasn't worried about my 15″ Macbook Pro at all while carrying it in this bag.
I give the workmanship and storage capacity of this bag both top marks. No complaints at all in that regard. The only thing that keeps me from loving this bag is the fact that it doesn't want to stay upright on a desk or the floor. It tends to lean forward, or even topple over. If the base was a couple of inches wider, I think this problem would vanish… If you're not bothered by the fact that this bag tends to fall over, the Spire Viro, Endo and Mojo are nice gear bags that can accommodate a laptop, and have ample storage.
Price:
Viro $80.00
Endo $90.00
Mojo $100.00