We use affiliate links. If you buy something through the links on this page, we may earn a commission at no cost to you. Learn more.
Every geek has their own personal arsenal of tools. For me they happen to be my 24″ iMac that I sit in front of every night pounding out reviews, a smartphone, iPod and last but not least, a can of Diet Coke. Yes, Diet Coke is a very important tool in my role as The Gadgeteer. Without it, I might not be able to type into the
quiet  hours of the night. There isn't anything better than a nice cold can of DC to keep you wide eyed and perky. Unfortunately it doesn't stay cold very long when it sits on
a coaster on your desk. What about a can cozy? Ummm, no ;o) Lucky for me,
Brando sent me an interesting "tool chest" for my Diet Coke. It's the Dream Cheeky USB Fridge.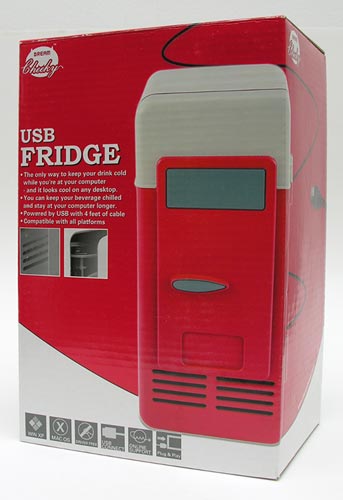 USB devices can do almost anything these days, and this one just happens to be a mini
refrigerator that is powered completely from a USB connection to your PC or Mac. It's funny, the instructions also mention that you need 32MB of system RAM and 100 MB of available hard drive space to use this product. I had to chuckle when I read that… In reality, all you need is an open USB port and you're all set.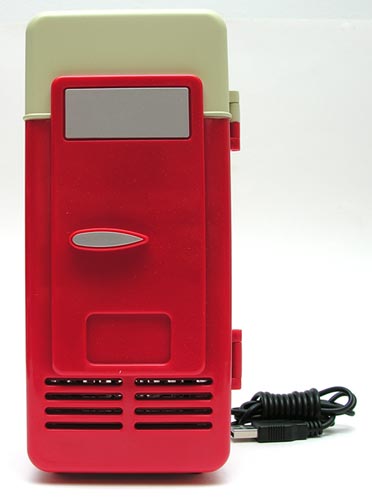 This USB Fridge is made of plastic and to me it looks like an old style fridge from the 50's era.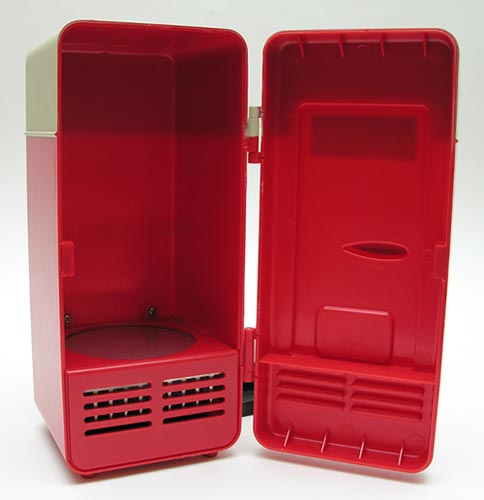 The door to the fridge is hinged and is held closed by a magnet. It's not pictured here, but when the fridge is plugged into a USB port and you open the door, a small Blue LED in the upper back left corner will turn on.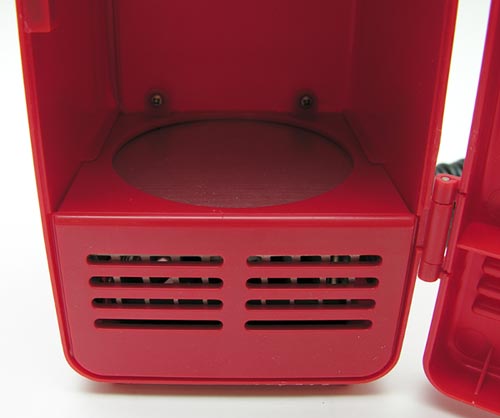 Never miss one of our posts again. Sent MON, WED, and FRI with the latest gadget reviews and news!
The base of the fridge where your can of pop (or soda if that's what you call it in your area) is made of metal. Actually, it appears to be a large
heat sink. Or in this instance, a cold sink :o)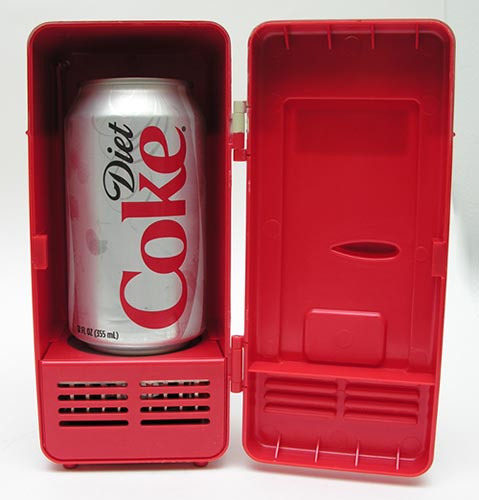 As you can see from the picture above, this fridge is just large enough to hold one regular 12oz can of pop. I do wish it were just a little wider as the narrowness of the compartment makes it somewhat difficult to remove the can when you want to take a sip.
I guess the question on most people's minds at this point in the review is "Does the Dream Cheeky USB Fridge really keep your drink cold?" That's a question I wanted to find the answer to as well, so I stopped at my local Radio Shack on my lunch hour and purchased a infrared thermometer to help me find out.
First I plugged the fridge into an open USB port on my iMac, then I grabbed 2 cans of Diet Coke out of my
refrigerator. I opened both cans, took a requisite swig from each and used the IR thermometer to record starting temps. Then I set one can inside the USB fridge and shut the door, leaving the other can next to it on my desk. Every 15 minutes for one hour, I recorded the temperatures of both cans. Then I waited
one full hour and recorded the temps again. Here are the results…
| | | |
| --- | --- | --- |
|   | Open can on desk | Open can in USB fridge |
| Start | 37.5 F | 36.5 F |
| after 15 minutes | 46.5 F | 43.5 F |
| after 30 minutes | 52.5 F | 47.5 F |
| after 45 minutes | 54.5 F | 50.5 F |
| after 1 hour | 57.5 F | 52.5 F |
| after 2 hours | 65.5 F | 58.5 F |
During the 2 hours of testing, the largest variation in temperatures between
the test can (in the USB fridge) and the control can (on the desk) was only 7
degrees. Was that an noticeable difference? I really only noticed at the 2hr
mark.
The Dream Cheeky USB Fridge does cool a little bit and I can see it being
somewhat useful if you just opened a new can of pop and have to leave your desk
for an hour or so. The USB Fridge will keep it colder than if you just left it
sitting open on your desk while you were away. This product is also good for
getting some attention from your cube mates as it is cute and conversation
worthy. But, like most wacky USB products on the market these days, this one is
more novelty than utility.
Product Information
Price:
33.0
Manufacturer:
Dream Cheeky
Retailer:
Brando USB
Pros:
Cons:

Only cools about 7 degrees F
Only holds one 12oz can