We use affiliate links. If you buy something through the links on this page, we may earn a commission at no cost to you. Learn more.
For over a year now, I've been in love with the Audioengine 5 Speaker System. I have them sitting next to me on the custom U shaped desk in my basement office. I use them with my various iPods, and the sound that they provide is just wonderful. When the people at Sierra Sound contacted me to ask if I would be interested in reviewing their iN Studio 5.0 Smart Speakers, I was happy to oblige as I was anxious to see how they compared to my faves.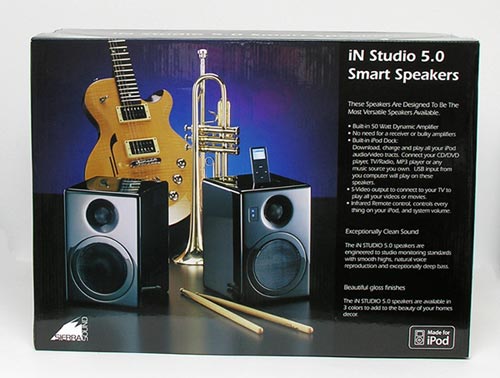 About a week later, a big heavy box holding the new speakers arrived on my doorstep. The box shows the speakers in Black, but I was sent their White model. For those of you with a flare for the dramatic, the iN Studio 5.0's are also available in Ferrari Red.
Hardware Specifications
Built-in 50 Watt Dynamic Bi-Amp
1″ Magnetically shielded natural silk tweeter
5″ Magnetically shielded paper cone
Tuned Port for vibrant bass response
Auto On/Off, powers up with signal, off without signal
Dock your iPod, Sync, Charge
RCA input
Mini Jack input
S-video output
Infrared remote control
Auxiliary power input
Headphone output
High gloss finish
Frequency Response 50 hz-22kHz
Input Impedance 10k ohms Unbalanced
Solid 5/8″ MDF construction
Dimensions: 7 1/4″ Wide x 8″ Deep x 10 3/4″ High
Weight Right Speaker 9 lbs, 10oz, Left 12 lbs, 5 oz.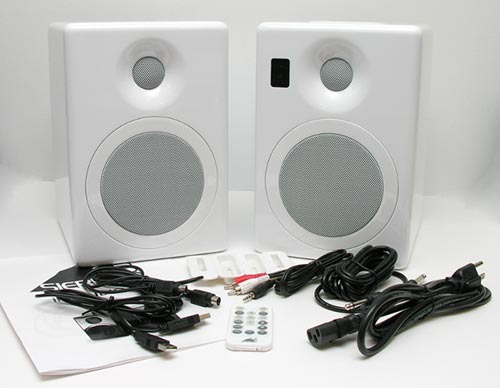 Package Contents
iN Studio 5.0 speakers (Left and Right)
1 1/8″ stereo mini jack-to-RCA audio "Y" cable
3 meter 1/4″ TS to 1/4″ TS speaker cable
1.5 meter S-Video cable
1.2 meter USB cable
AC power cable
Universal dock adapters (4pc)
Remote control
Foam stick on feed for speakers
Owner's manual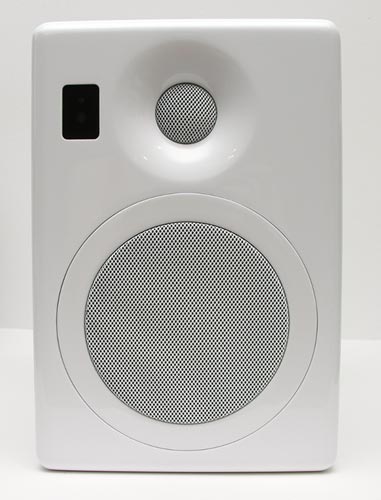 I was immediately impressed by the quality of this speaker system from the moment that I unpacked them. They are solid and quite heavy. I asked for their White model, and really like their clean simple design. The tweeters and woofers are protected by matching painted metal grills, to give them a consistent look. Only the Left speaker has a small Black square next to the tweeter that hides a Blue power LED and IR receiver for the included remote control.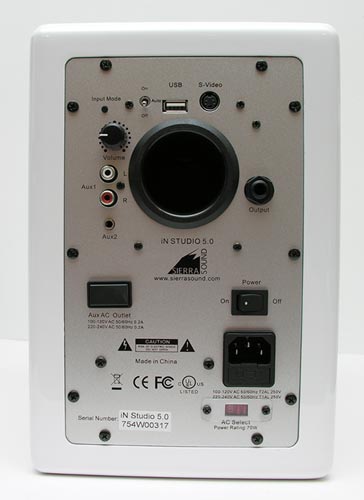 All of the main connections are located on the Left speaker. Let's check out the back panel first, from top to bottom. In the upper Left corner, there is a small momentary push switch that let's you manually toggle through inputs (iPod, Aux1, and Aux2). Next to the input switch there is an up/down flip auto power switch. This switch will allow you to set the main power switch to the On position, but the system will power down when no signal is received after 15 minutes and will power up automatically when a signal is received. This is a nice feature because you can just flip the switch on the back and not need to grope blinding when you need to turn them off. Next in line is a USB connector that you can connect to your computer to sync your iPod. An S-Video connector is located next to the USB connector. Using the included the S-Video cable, you can connect the iN Studio 5.0's to your TV to view your iPod Video movie and video files. Nice added feature!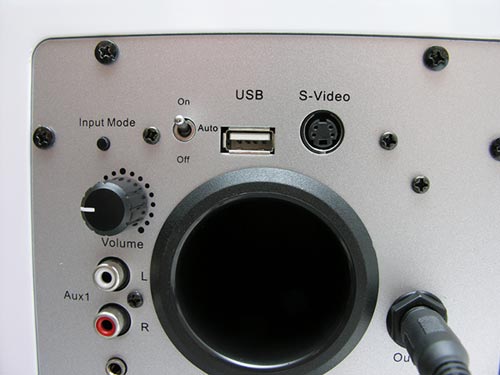 Ok, we're not done, there's more… There's the master volume knob. Like the power switch, set the volume to your preferred max level and then use the IR remote to adjust it from then on. Below the volume knob is the Aux1 RCA input that can be used to connect CD/DVD players, MP3 players, etc. The Aux2 input is directly below Aux1. It's a 3.5mm jack. In the middle is the tuned vented port that improves low frequencies under 50 Hz. It works great because this system has excellent bass response. You can also see the output jack to the Right of the vented port. This is where you connect the Right speaker using the included 1/4″ cable.
Besides the main power switch and power input, there's Aux AC Outlet that you can use for an Airport Express.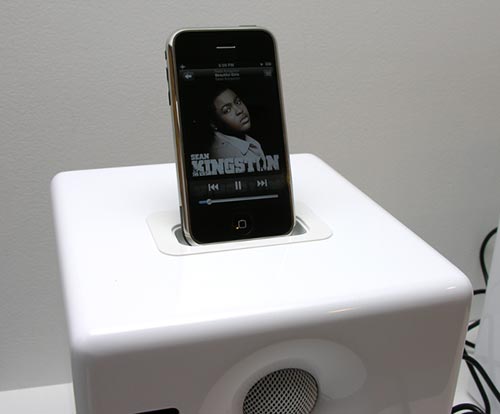 On the top of the Left speaker, there's a built-in universal iPod dock. Four plastic adapters are included to help customize the dock for different sized iPods. iPhone owners will be happy to know that the iN Studio 5.0's work fine for listening to music. You can't use the video features though…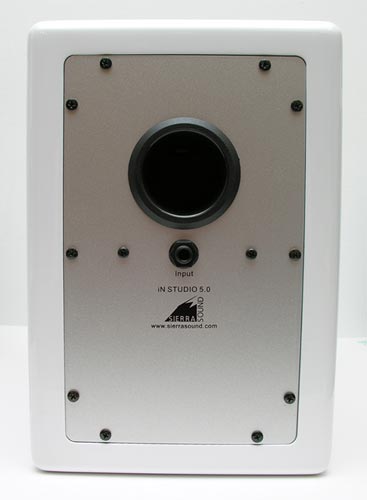 The back of the Right speaker is much simpler than the Left. All you will find is the sub-woofer and the 1/4″ input jack. You may be wondering about that 1/4″ jack / cable. I know I was… The Audioengine 5 speakers and most other speakers I've setup in the past, use regular old speaker wire. You know, the kind that you have to split apart, strip and twist… This one cable solution used to setup the iN Studio 5.0's is easier and more elegant. But I can think of two issues…
The first issue is that the cable plugs in at a right angle, and due to the design it will not allow you to slide the speaker flush with a wall. Of course being able to do that, would not be optimal for sound quality. I believe they (they = gurus of sound) say that you should not place a sub woofer directly against a wall. You need some space for the sound to bounce. Please correct me if I'm sadly mistaken… As is, the closest that you can get these speakers to a wall is approximately 3 inches.
A second issue that I can think of with the 1/4″ cable is that the cable included is only a little over 9.5 ft (3 meters). A longer cable might be more expensive and difficult to find when compared to standard stereo speaker cable. The included cable is also pretty thick, so I was unable to hide it in the crack between my desk top counter and the wall.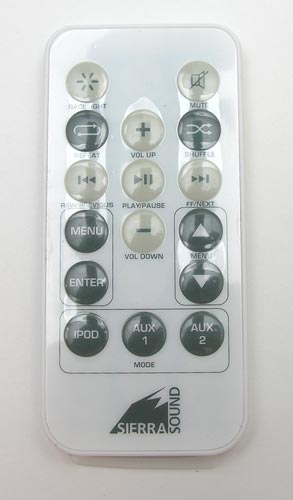 Using the included IR remote, it is easy to control the iPod in the dock. It can adjust the volume, move forwards and backwards through tracks. You can even use it to turn the iPod's backlight on and navigate through menus. Nice. The only thing I wish was that this remote was a little nicer. I'm not a fan of membrane style remotes. Sometimes it would take multiple button presses to register an action.
I should also mention that while the iPod / iPhone is docked, its batteries are charged.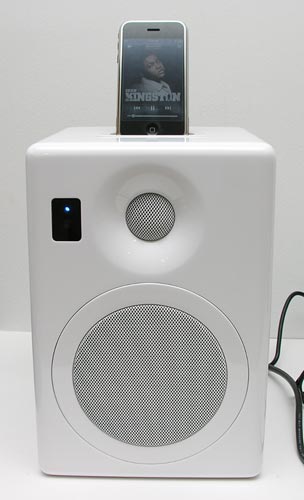 Now, let's talk about actually using these speakers. I was told that it can take several hours before they "warm up", so I was not expecting to be impressed the first time I plugged my iPod into the dock and queued up a song. I was pleasantly surprised though! Right out of the box, these speakers sounded as good as my Audioengine 5 favorites. Ok, this is the point in the review where I have to give my standard "I'm not an audiophile, I just love music and think I have a decent ear for detail" spiel.
I setup the iN Studio 5.0's in the same location as my Audioengine 5's, connected an iPod to each set, queued up the same songs and listened to one and then the other over and over and over, trying to hear subtle differences between the two speaker systems. Just let me say that I'm now officially sick of Sean Kingston's Beautiful Girls, Plain White T's Hey There Delilah, and Jeff Buckley's Hallelujah.
The iN Studio 5.0 speakers sound very very good. They are crisper than the Audioengine 5's, which have a slightly warmer tone. The iN Studio 5.0's also sound better when you crank the volume all the way to max. I never listen to my music that loud, but it's nice to know if I wanted to, I could. The sub woofer sure does move a lot of air when you push the volume too ;o) There really isn't anything about these speakers sound-wise that I do not like. I guess my only complaint is that 1/4″ cable that is used to connect the Left speaker to the Right speaker.
You might be wondering if these new speakers have booted the Audioengine 5.0's off my favorites list. While they sound great and have a few features that the Audioengine's lack, the later still remains as my favorite speakers. Why? Because I prefer their slightly warmer sound. Yes, I allowed the iN Studio's to warm up over several days of use. Don't get me wrong, the iN Studio's do sound great. But for me, I like the Audioengine's just a little better. But hey, that's just for my office… I'm going to put the iN Studio's in another room. So maybe they can be 2nd on my list of faves. ;o)
$400 is a lot of money to pay for an iPod speaker system, but if money is not an issue for you, I can highly recommend the Sierra Sound iN Studio 5.0 Smart Speakers. The built in iPod dock, extra 2 AUX inputs, IR remote and wonderful sound will make any music lover very happy.
Product Information
Price:
399.0
Manufacturer:
Sierra Sound
Retailer:
Sierra Sound
Requirements:

Compatible with iPods with the universal dock connector including the iPhone

Pros:

Great sound
Built-in iPod dock
Auto power on/ off feature
Additional 2 AUX inputs

Cons:

Unusual 1/4" cable is used to connect Left and Right speakers
Pricey