We use affiliate links. If you buy something through the links on this page, we may earn a commission at no cost to you. Learn more.
Do you still write your weekly grocery shopping and errands lists on scraps of paper, only to lose them before it's actually grocery day? Or maybe you keep your lists on a PDA or Smartphone, which requires time for formatting and sorting? If you would like an easier solution than those two methods, I have something really cool to show you today. It's the SmartShopper Grocery List Organizer from SmartShopper Electronics, Inc.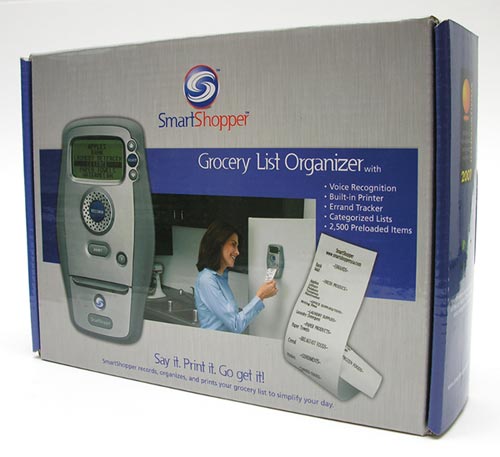 The SmartShopper is an all-in-one battery powered device that records your items, sorts them and then prints a paper list that you take with you to the store.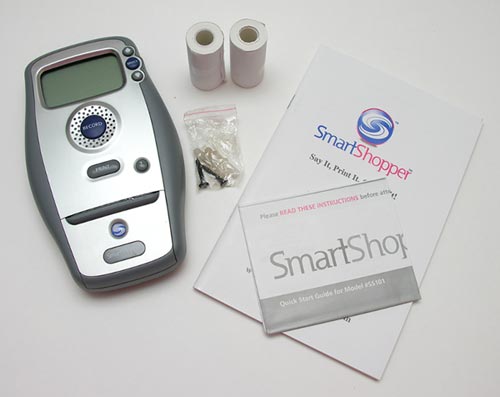 Package Contents
SmartShopper unit
2 rolls of extra paper
Wall mounting hardware
Quick start guide
Grocery item master list book
You have everything you need to start using this device except for 4 AA batteries that are needed to power it.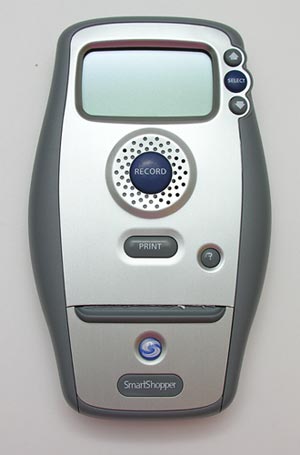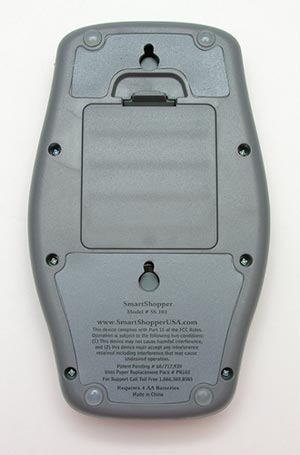 The SmartShopper device is 7.5 x 4.0 x 1.25 inches and is made of plastic with a brushed aluminum front. On the face of the unit, there is a mono backlit LCD, 6 buttons and a printer. On the back there are mounting holes if you want to mount the SmartShopper on the wall and hidden magnets if you would rather stick it right to your refrigerator. The battery compartment is also located on the back of the device.
Never miss one of our posts again. Sent MON, WED, and FRI with the latest gadget reviews and news!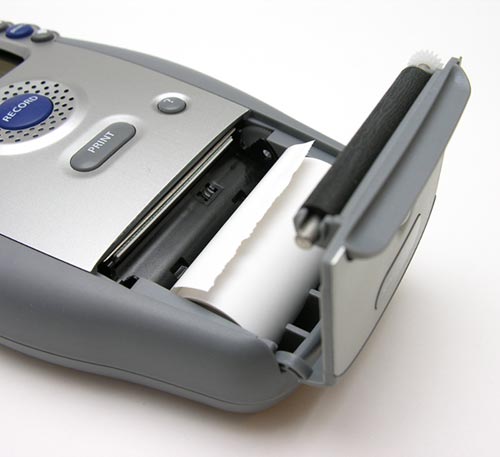 A thermal printer (no ink needed – yay!) is built into the device and is easily accessed by opening the hinged door on the front of the unit. One of three included rolls of thermal paper is housed there. Removing and installing rolls is very easy. Replacement paper rolls are available through the SmartShopper site for $7.99 (for 3 rolls).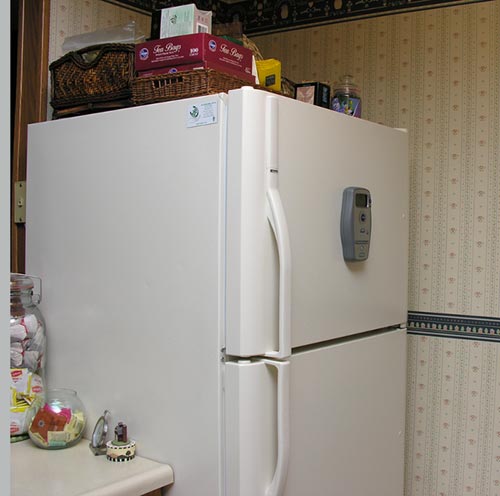 To use the device, you first mount it either on your refrigerator or wall.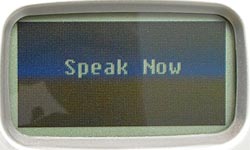 Then you press the big Blue Record button in the center of the device. A beep will sound and then the screen will show the words "Speak Now". At this point, you say the name of an item or errand that you want to add to your list. That's right, you don't have to train the SmartShopper to recognize your voice. It uses Nuance's Vocon 3200 voice recognition engine.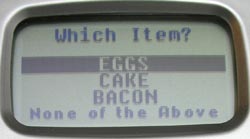 For example, if you want to add 'eggs' to your list, just say the word eggs. The device will beep again and you'll be shown a list of words that hopefully contain the one you just said. If the word is in the list, you use the up and down arrow buttons to highlight the word and then the select button to select it. That's it. Now that item is on your list.
The SmartShopper's internal database has approximately 2500 items stored in it. Luckily, the master list is included in booklet form, sorted both by category and alphabetically.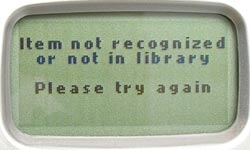 If your item isn't in the database, you can add it by going into the library management settings screen.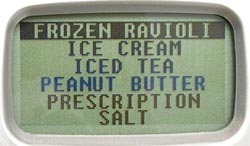 As you add items to the list, you will see them on the display. Even when the SmartShopper automatically powers off after 30 seconds, the list till remain on the screen sorted in alphabetic order.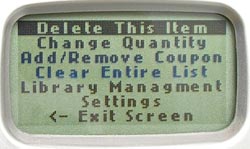 You can scroll through the list with the up and down buttons. Pressing the select button on an entry will give you various options such as changing the quantity, deleting it from the list or even marking the entry as having a coupon available for it.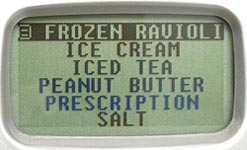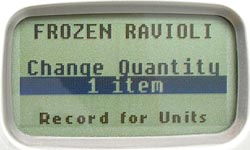 If you mark an item as having a coupon, a small icon will appear next to that item in the list. Very handy for those of us with crummy memories ;o)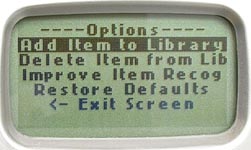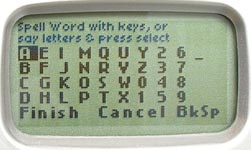 Selecting the library management option gives you the ability to remove items, improve item recognition and add new items. To add a new item, you first have to type in a name for it. Then you record the word and chose the category that it belongs too.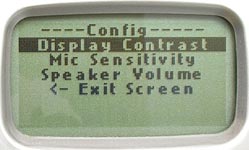 Using the SmartShopper is easy and intuitive. Anyone (including kids) can figure out how to use it without looking at a manual.
The only thing that you will probably look at once in awhile is the master list booklet. It is very helpful if you have problems finding the word for what you want to add to your list. For example, I wanted to add a mop to my list. After trying to add it without success, I then tried the words floor mop and viola, there it was.
Like I mentioned above, the SmartShopper has almost 2500 items in its database. They are not all just grocery items either. There are many errand items such as: Dentist, Pay Bills, FedEx, Gas Station etc. The grocery items are as simple as grapes, to as detailed as Granny Smith apples.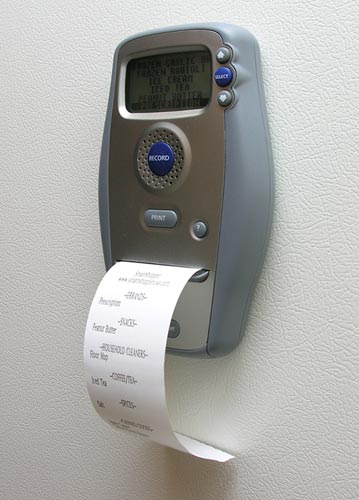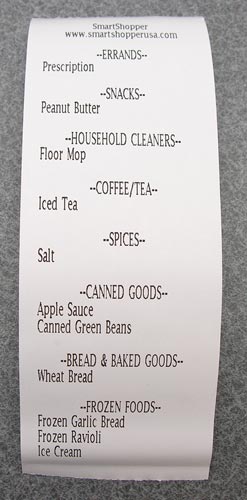 When you're ready to go to the store, just press the Print button on the front of the device and out will come your categorized, alphabetic list. Tear it off and out the door you go. I love how the list is sorted by category. This really helps you save time when you get to the store because you won't need to scan up and down your list constantly as you wander the aisles. Everything you need from each area will be grouped together. You can print the list as many times as you like. Printing it does not clear it. You have to clear it manually. Even pulling out the batteries did not clear the list. Granted, I didn't leave them out very long, so your mileage may vary…
$150 might be a lot of money to pay for device that does the same thing as a pad of paper and a pen, but the SmartShopper is a more convenient in my opinion. You don't have to worry about sloppy hand written lists, the lists get sorted automatically, and it's just plain fun to use.
Product Information
Price:
149.99
Manufacturer:
SmartShopper
Retailer:
SmartShopper
Pros:

Easy to use
Voice recognition
No ink to change
Database has 2500 items
Automatically categorizes list

Cons: