We use affiliate links. If you buy something through the links on this page, we may earn a commission at no cost to you. Learn more.
You can't turn on the television, open a magazine or read a newspaper these days without hearing stories about global warming and hearing terms like carbon neutral and green power. Whether or not you subscribe to the belief that we humans are accelerating our damage to this planet, I think we can all agree that the more power we use, the more we have to pay. Unless you live off the grid (another term we often hear…), you most likely have to pay a monthly bill to your electric company. If you would like to lower your electric bills and maybe even help save the planet a little bit, I have a product that can help you do just that.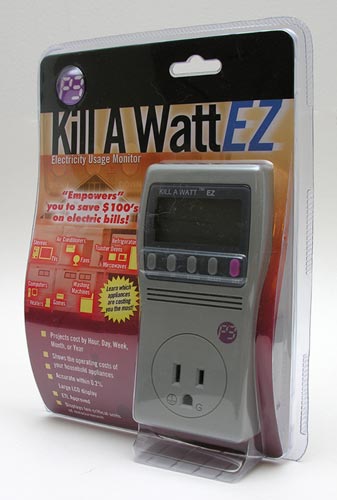 What Is It?
Convenient Gadgets was nice enough to send me the Kill-A-Watt EZ (P4460) from P3 International is an electricity usage monitor that you plug into a 3 prong grounded wall outlet in your house. The appliance or device that you want to monitor then plugs into the outlet built into the Kill-A-Watt. A mono LCD on the face of the Kill-A-Watt reports power and cost info.
Why You Want It
Having the ability to see how different appliances and devices will effect your monthly electric bill is a great asset. Most of us probably already have an electricity 'monitor' on the exterior of your house. It's called an electric meter.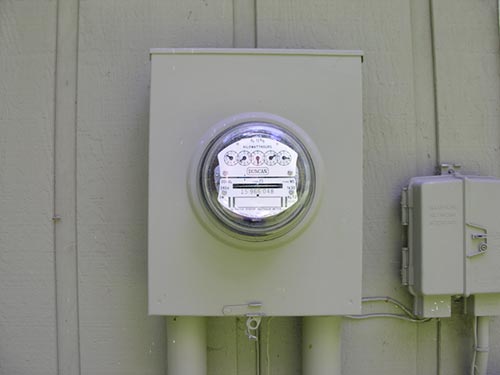 Here's what mine looks like. It's a largish metal box that has a glass dome covering a panel of dials and a spinning disk.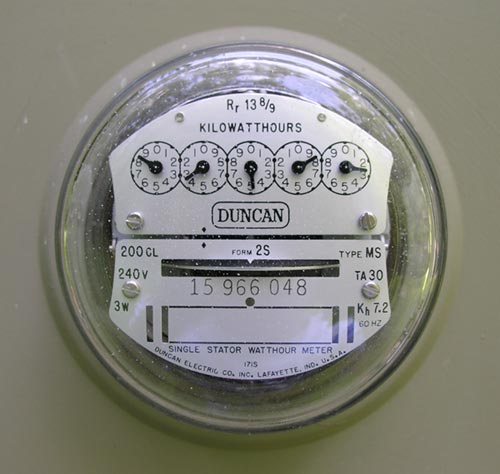 Once a month, a person from the electric company drives out in a truck and records the settings on the meter. I suppose a person could just learn to read one of these meters themselves… or NOT! ;o) The Kill-A-Watt is much more convenient and easy to use… trust me. How about a closer look at the hardware?
Hardware Specs
Operating Voltage: 115 VAC
Max Voltage: 125 VAC
Max Current: 15 A
Max Power: 1875 VA
Weight: 5 oz.
Dimensions: 5.125 x 2.5 x 1.5 inches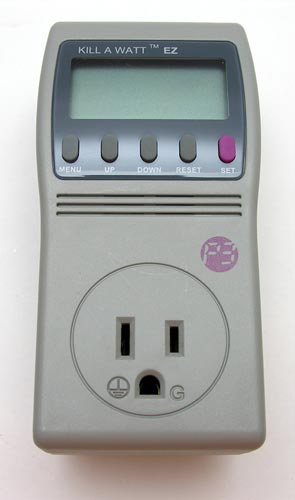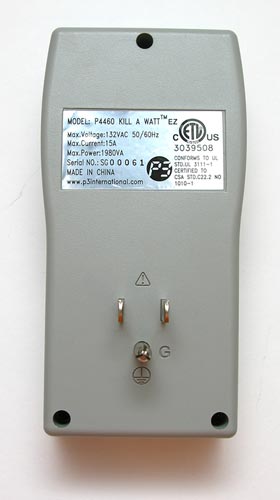 The Kill-A-Watt EZ is made of Beige plastic with a monochrome LCD, 5 rubber buttons and a 3 prong female outlet on the front.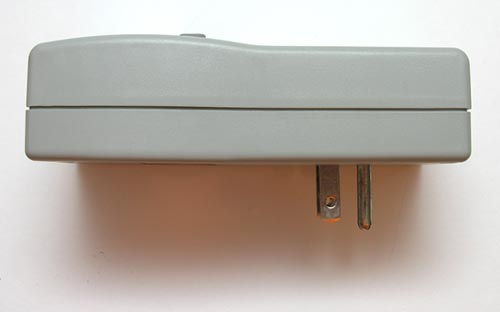 On the back you will find a male 3 prong plug.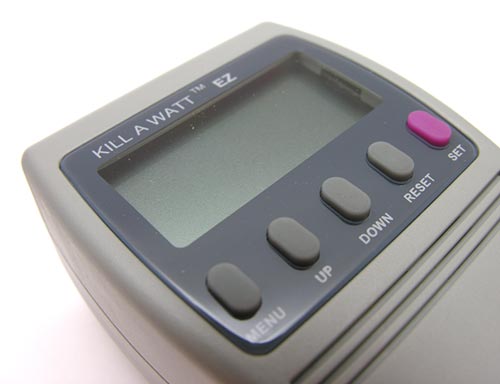 The LCD is not backlit, but it is fairly easy to read in most lighting conditions. I did have to use a flashlight to view it though while I had it plugged into the wall under my desk.
The labeled buttons are adequately spaced and easy to press.
How to use the Kill-A-Watt EZ Electricity Usage Monitor
The Kill-A-Watt comes with an 8 page user guide. Don't be scared, it's not difficult to use. The first thing you will need though is your last electric bill. Scan your bill to find what your electric company is charging you per kWh (kilowatt-hour). For example, my electric company here in Columbus, Indiana is Duke Energy. At the bottom of my bill, it says: Average Cost: $0.0825 per kWh. We will need to plug this information into the Kill-A-Watt so that it can correctly figure what an appliance is costing per hour, day, week, month or year. Be aware that your rates can change from month to month based on if you have budget billing or just that the company changes rates often.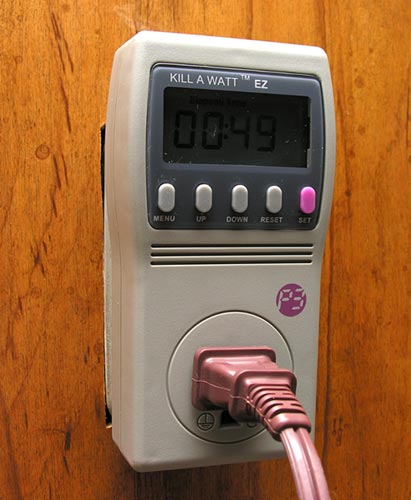 The next step is to plug the Kill-A-Watt into a 3 prong wall outlet. It will power on automatically as soon as you plug it in.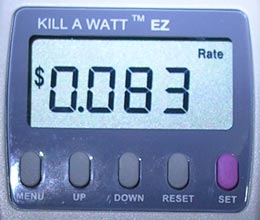 The only setup you need to do is to set the kWh rate that you found by looking at your electric bill. To set this rate, you just hold down the RESET button for a few seconds till you see rESt on the LCD. This action zeros out all previous measurements of elapsed time, kWh and total cost. Then you press the SET button till Rate appears on the display. Then it's just a matter of pressing the UP and DOWN buttons till the correct rate appears. For me, I had to set it to 0.083 because you're only allowed 3 decimal places.
After the rate is set, the only thing left to do is to plug in the appliance / device that you wish to monitor.
How I tested the Kill-A-Watt
I looked around the house and decided to test the Kill-A-Watt with 3 different devices.
1. A Craftsman rechargeable flashlight battery charger
2. My 24″ iMac
3. A 4 bulb floor lamp
My first test was with the Craftsman battery charger, which is always plugged in, with a battery in the socket. This is because the flashlight also has a battery. I keep one battery always juiced up and ready to go. So I plugged the Kill-A-Watt into the wall, then inserted the charger's plug into the Kill-A-Watt.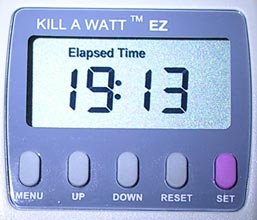 As soon as you plug the Kill-A-Watt into a wall socket, it will start accumulating time. You can view the elapsed time by pressing the Menu button until you come to that screen.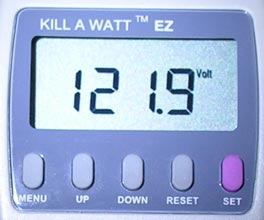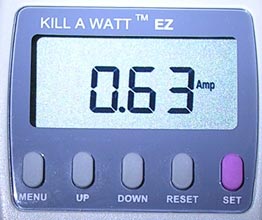 In addition to the time and cost screens (which we will get to in a minute), there are screens that let you see power information for the device that is plugged into the Kill-A-Watt monitor. It will show you how many volts and amps (current) the device is pulling.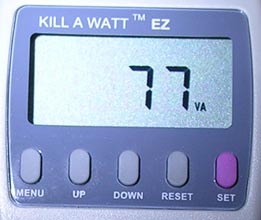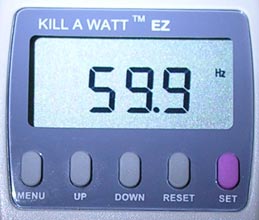 Other measurements shown are VA and Hz. VA is displayed in apparent power VA (VA=Vrms*Arms). Hz is the frequency.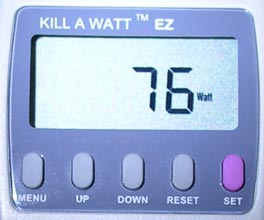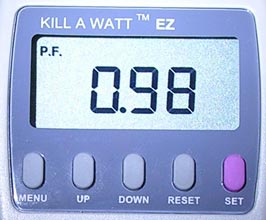 Watts are displayed in active power Watts and the Power Factor (P.F.) is displayed as (Watts/Vrms*Arms).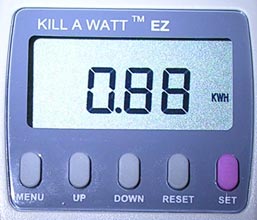 Total consumed power in Kilowatt-hours is another display. This display goes from 0.01 KWH to 9999 KWH. As the KWH accumulate, the decimal point in the display will shift to accommodate a full reading.
Have I lost you yet? Personally, the power unit displays are not that interesting or helpful to me. I just want to know how much a device is going to cost me to leave it turned on and plugged in. So let's get to the good stuff…
Tests, tests and more tests…
About 30 minutes after I initially plugged in the Craftsman battery charger, I went back to the Kill-A-Watt and cycled through the cost info. I learned that leaving this device plugged in 24hrs a day, 7 days a week and 365 days year will only cost me approximately $0.00 an hour, $0.01 a day, $0.08 a week, $0.35 a month and $4.36 a year. Not bad for the convenience of always having a flashlight that is ready to shine. I checked the cost reports again after 1hr and they remained the same.
Next up was the 24″ iMac. Like the battery charger, I pretty much keep the iMac powered on all the time. The only time I might power it down is if I'm going to be gone on vacation or something for several days.
For this test, I recorded the results after 1hr, 19hrs and again at 115hrs. At 1hr, the Kill-A-Watt told me that my iMac would be costing me $0.00 per hour, $0.11 per day, $0.79 per week, $3.40 per month and $41.44 per year.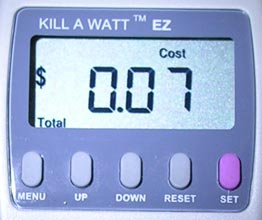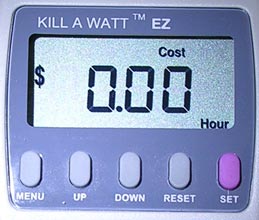 But at 19hrs, the findings were different. I now had a total cost of more than $0, but the cost per hour was still $0.00.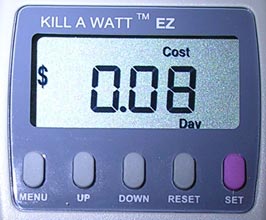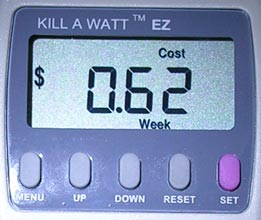 Now instead of $0.11 per day, it shows that the iMac is only costing me $0.08 a day. The price per week went down from $0.79 to $0.62.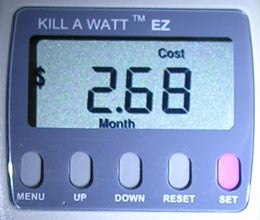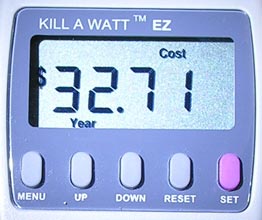 The monthly cost changed from $3.40 to $2.68 and lastly, the yearly estimate charge went down from $41.44 to $32.71.
Several days (115hrs) later, I recorded that the iMac would be costing me $0.00 per hour, $0.09 per day, $0.68 per week, $2.92 per month and $35.62 per year. Why the differences? I guess this is because power consumption varies with some appliances / devices depending on if they are idle or active. This is especially true of an appliance such as a refrigerator. That's why if you want an accurate estimate of cost information, you're best bet is to leave the kill-a-watt plugged in for at least a 24hr cycle.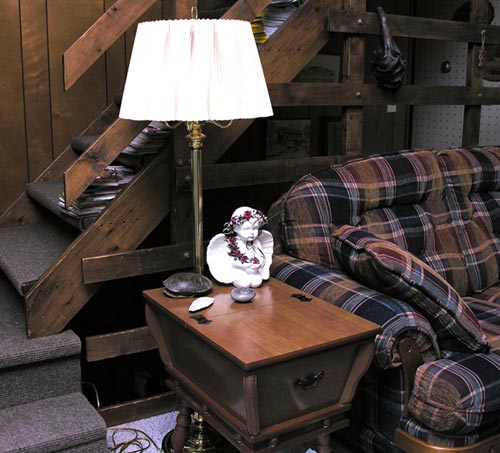 My last test was with a 4 bulb floor lamp. The lamp has 3 60W bulbs and 1 3-way 150 watt bulb that I turned to the 2nd setting (100W). I was pretty surprised to learn how much it costs to power that lamp with all 4 bulbs turned on at once. Turns out that it costs $0.02 per hour, $0.56 per day, $3.95 per week, $16.85 per month and a whopping $205.00 per year! I understand that no one would leave a 4 bulb lamp powered on 24/7 for a whole year, but wow! Just seeing those numbers made me start thinking back to those words again… green power, carbon neutral…
So I decided to do one last test… All this year, I've actually been slowly swapping out all my regular incandescent bulbs for the new swirly style compact fluorescent ones.
Do compact fluorescent light bulbs really save you money?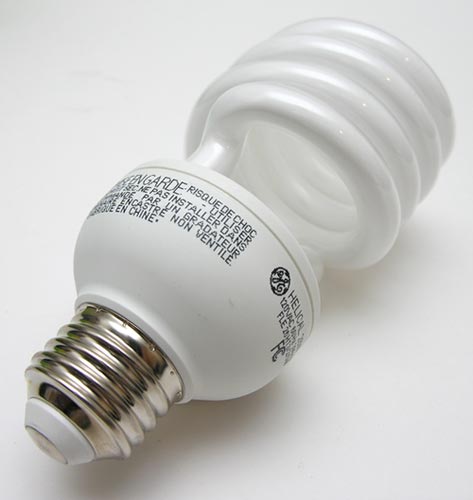 It's true that the CFL bulbs cost more than incandescent bulbs, but they also last longer (typically 5yrs.) and are supposed to save you enough money to recover that cost. I wanted to find out if that was true. So I switched the three 60W incandescent bulbs in the floor lamp with 13W CFL bulbs and I switched the 3-way bulb with a 26W CFL. FYI: a 13W CFL is the equivalent to a 60W incandescent. Same goes for the 26W CFL and 100W incandescent.
The results of an hour long Kill-A-Watt test showed that the same floor lamp with CFL bulbs costs $0.00 per hour, $0.11 per day, $0.78 per week, $3.34 per month and $40.71 per year. Big difference from the $205.00 per year that the same lamp with incandescent bulbs would cost! Yes, I know those prices are for running the lamp 24/7, but if you think about all the time you have lights on in your house, you'll soon realize how much money you could be saving if you decide to switch to CFL bulbs. Wow, Al Gore would be proud of me ;o)
This review of the Kill-A-Watt really hit home the fact that with a little knowledge, we can greatly effect what we pay every month / year for our electric usage. Now I make sure I don't leave the lights on in my office when I'm not in the room. That was a BAD habit of mine. I've also been unplugging devices that I only use once a week or once a month. Things like my DVD player. Even while it's not playing a DVD, it is still using some power when it is plugged in. The Kill-A-Watt easily showed me the prices I can expect to pay for powering a device. It's up to me what I do with that information. Regardless, this product an easy to use tool that can help save you money.
Product Information
Price:
54.95
Manufacturer:
P3 International
Retailer:
Convenient Gadgets
Pros:

Easy to use
Shows you what your appliances cost you per hour, day, week and year
Can save you money

Cons: