We use affiliate links. If you buy something through the links on this page, we may earn a commission at no cost to you. Learn more.
Gadgeteer Spotlight articles are short informal interviews with some of this industry's most influential and interesting people. Gain some insight and learn some interesting facts about the people behind some of our favorite gadgets, gizmos and gear.
Today we sit down (virtually) with Michael Hess of RoadWired.com…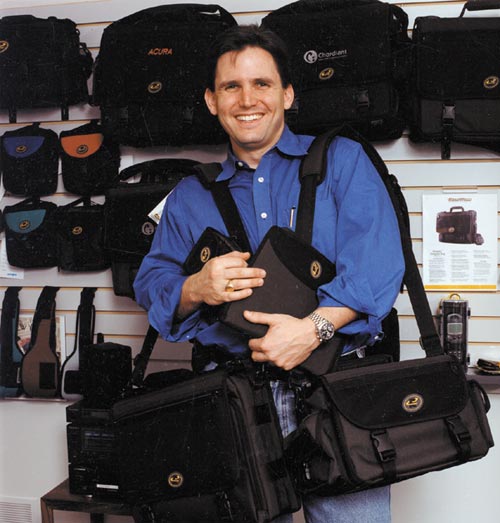 Michael with gear bags galore!
When was RoadWired first started?
December, 1999, but we officially launched the business on January 1st, 2000 and the website in June/July of the same year. This year, we are going through a major transition, changing the name of the company to "Skooba Design," to reflect the evolution and design/marketing direction of the company.
What prompted you to start the company?
My family had a well-known, 50 year-old business manufacturing professional photographic equipment and accessories–everything from darkroom equipment (anyone remember that?) to flash accessories, tripods, camera bags and much more. We were also the largest publisher of photographic "how-to" books in the industry. When we sold the business in 1998, I worked for the new owners for a little while but then got the itch to do something new. Laptop computers and certainly handhelds–there was pretty much just the Palm Pilot back then– were still relatively small markets then compared to now, but the coming wave was pretty obvious. I had already sketched and filed lots of "napkin and back-of-envelope" drawings of bags and accessories for that emerging market, so I decided to stay in the soft goods end of things and start an upscale carrying case company that went beyond photography into many other areas of portable technology.
What was the first product that you put on the market?
The 36-pocket "MegaMedia" Bag–still being sold successfully seven years later. It has its own mini cult-following among the ultra-tech-organized set. We even have one customer in our "hall of fame" who has taken the bag to something like 100 countries and sends us pictures and stories of him with his MegaMedia from all over the world. We posted one of his bag-travelogues to our "customer hall of fame"
Never miss one of our posts again. Sent MON, WED, and FRI with the latest gadget reviews and news!
The first RoadWired product that I reviewed on The Gadgeteer was The Pod Bag back in 2002. I believe you still sell this exact bag! How have things changed at RoadWired since 2002?
We do indeed still sell The Pod, as well as its bigger cousin the "Podzilla" and other products in that product family, and they remain popular. But for sure, things have changed a lot in those 5 years. Aside from just the growth of the business in general—both domestically and internationally—our product portfolio and design direction has evolved quite a bit, as mentioned above. Most notably, the introduction of our "Skooba®" collection a few years ago really sent things into high gear. The combination of ultra-light weight without compromising protection, unique shapes and colors, and other features clearly hit the mark, and the Skooba collection has dominated our business ever since (sorry, I really did not mean for that to sound so much like a product plug). As I mentioned in my answer to your first question, we are changing the name of the business to reflect the success of Skooba, and our new website at www.skoobadesign.com will go live within a few weeks (right now it forwards to our current site, but all info on the current site is still up-to-date).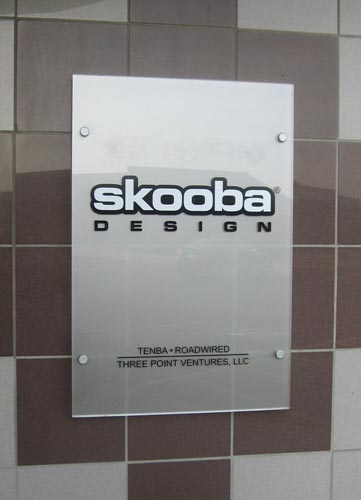 The other major development is that we are in our third year of a very exciting joint-venture with the 30-year old Tenba® camera bag brand. Tenba (ironically a former competitor from our earlier camera bag days) is largely credited with inventing the modern, soft-sided camera bag, and has been a hallmark of top-level professional photographers. We now do all of the product development, manufacturing (both offshore and domestically) and warehousing for Tenba, while our partners in the venture concentrate on sales and marketing to a base of several hundred photo stores in the US and distributors in about 35 countries. That business is growing dramatically.
How many different products does RoadWired currently sell?
Going by catalog number (which means counting all color, size, and fabric variations), we have about 100 different items, with a bunch more on the way in the second half of this year. And that does not include the Tenba brand, which adds about another 300 items.
How many employees do you have?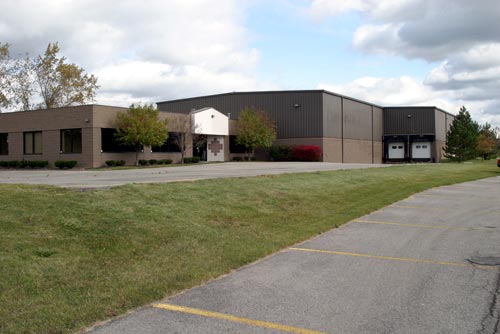 We have 10 direct/full-time employees at our Rochester, New York office, where we focus on product development (all done in-house), marketing and warehousing. Our joint-venture partners in the Tenba camera bag business have around 80 employees plus 25 or 30 salespeople "on the road".
Any hints you want to give the readers on new products coming down
the pike?
Where do I start? Our product development schedule this year is "insane" (in a good way). We have set the bar higher for ourselves than ever before, as we are in an extraordinarily competitive category and our goal is to always be innovating and avoiding the "me-too" product trap. In the very near term (this summer), we'll be rolling out some products that we are very excited about. One is the Skooba Skin "DIY," a new version of our popular convertible laptop sleeve/tote. The "DIY" version is made of blank canvas, so that the owner can draw, paint, or otherwise decorate it him- or herself. The people who have seen them so far have gone nuts for the idea, and we'll be having decorating contests and other events around the product.
Also coming soon, new laptop bags with the most amazing shoulder straps we think anyone has ever seen (in our humble opinion), a new backpack collection, and some very unique surprises. It is going to be a very exciting second half.
Where do you call home?
I grew up in New York City but moved in 1980 to Rochester (about 350 miles upstate). Rochester is best known as the home of Kodak, but a city with a tremendous high-tech innovation and small business/startup base (most people are surprised when they learn about some of the companies which started and/or are based here). The area also has some really great cultural, sports and other quality-of-life offerings. We have Lake Ontario, the Erie Canal, the Finger Lakes (spectacular recreational, nature and wine country), and even the highest vertical elevation ski mountain between The Adirondacks and the Rockies, all within 15 – 30 minutes from anywhere. I won't try to compete with Scott Jordan from ScotteVest for best ski area, but ours ain't bad, and it's close. So we're very happy here.
What mobile phone do you currently use?
Motorola RAZR. Although I love gadgets, I am so over-connected already (3 computers, etc.) that when it comes to phones, I just want, well, a phone. That's it. Camera, web access and other popular phone/smartphone features are unimportant to me. I like the RAZR for its truly pocket-sized form factor, and I have always been loyal to Motorola because their phones are high quality and—compared to many—virtually indestructible. Drop 'em, sit on 'em, you name it, and they keep on working (and no, Motorola doesn't pay me to say that, I'm not a shareholder, and I don't have any family members who work there).
What PDA (if you use one) do you currently use?
See above… other than calendar and contacts, which are sync'd among my 2 desktops and my laptop, I go seriously low-tech when it comes to keeping daily notes and similar info. Yellow lined paper pads, sticky notes and a Moleskine notebook… if it is important, or I have an idea or a product sketch in my head, I write it down the old-fashioned way. It just works for me. I have actually read and heard of many "tech"-related executives and managers who share this somewhat ironic attachment to pen and paper. I might be sitting in a hotel room having a Skype video conference on my laptop, with XM playing in the background and my digital camera recharging on the desk, but you can bet there will be a pen and pad in my hand. When I get back from a trip to the Far East and unpack, it looks like there was an explosion in a Post-It factory. But as I said, paper just works for me… and the batteries last a really, really long time.
What is your primary computer?
Much like Motorola, I am very IBM/Lenovo loyal, as I think they make the best quality machines to this day, and their service is—at least relative to the state of the PC business—far better than most. They are not the most exciting machines to look at, but that's not what I use them for. Our office is nearly all IBM, I have an IBM desktop system at home and at work, and a super-light IBM X-series laptop (I can't stand trackpads, and to me, the "eraser-head" is still the best laptop pointing device ever). My wife, as well as many of my colleagues and friends, are Mac-heads, and I must admit that nobody touches Apple from a pure design and elegance standpoint—not too many people would argue that. But I am a PC guy (not the dorky one in the commercials, though).
What is your favorite gadget right now?
Tough question. I guess since you specifically said "right now," I'd have to say the Suunto M3 wristwatch, since I just got it recently. It's a multi-function watch/computer specifically designed for sailboat racing, which (aside from family) is my biggest outside-work obsession. I have yet to figure out all of the features of this watch, but I love knowing that they are in there somewhere. Suunto makes a huge range of amazing "wrist computers" for many sports and activities, and the price and value are really impressive. It's 2:15 pm EST right now, by the way… is that a great watch, or what?
What is your all time favorite gadget?
Oooh, an even tougher question. Come on… could *you* answer that one, Julie? Seriously, though, I guess I'd have to say, if it counts as a gadget, it would be my aforementioned X-series laptop. Best I have ever owned, a pleasure to travel with, and I don't know how I would survive without it on the road. A very close second choice–maybe even a tie—is probably XM radio, and third may or may not be Coleco electronic football (the one with the LED "players"), circa 1978. And I'd be remiss if I did not mention Airzooka, one of the most addictive toys ever, and a favorite around the office. Did you really think I could name just one gadget?
What car do you drive?
Lexus IS. I just traded in a BMW that I drove and loved for 8 years, since I am a "car guy" and was jonesing for something new. I am frankly disappointed with the design and value direction that BMW has taken in recent years, so I tried something different. I like the Lexus a lot, but I have to say that as a true "driver's car," in my opinion nothing compares to a BMW.
Which gear bag do you use and what is in it right now?
That's a sort-of funny question, because even though I have a relatively tiny laptop, I am primarily using one of our larger bags, the "Skooba Seventeen+". I bounce around from bag to bag, and have used all of our products (as you might expect), but I just love the design and capacity of the Skooba Seventeen. Right now in my bag I have my laptop, Canon Powershot digital camera, iGo multi-adapter system, Logitech mini-webcam (fantastic for Skype calls when overseas or otherwise far away from home), Plane Quiet noise-cancelling headphones, cards, adapters, cords, tons of papers, etc. When I travel, especially to trade shows or long trips overseas, I sometimes switch to a rolling case, like our Roadster Convertible.
Thanks Michael!
Thank you, Julie, for inviting me. We are all fans and it's an honor to have been asked.