We use affiliate links. If you buy something through the links on this page, we may earn a commission at no cost to you. Learn more.
Patriotic Gadgeteers are going to get a kick out of the gadget that appeared on my doorstep tonight. It's The Wave Flag. Made by SRM Entertainment Ltd. out of Philadelphia, PA. (where else right?), this American flag stands 17 inches tall. As is, this flag would be a fun decoration for any office worker's cube or even just around the house. But The Wave does something that no other flag does… it waves by itself! Well, not really by itself, it's powered by 3 AA batteries (which are included). It also plays 3 patriotic songs: The Star Spangled Banner, My Country 'Tis of Thee' and Stars and Stripes Forever, when you press the button on the base. Check out the picture and the See It In Action video…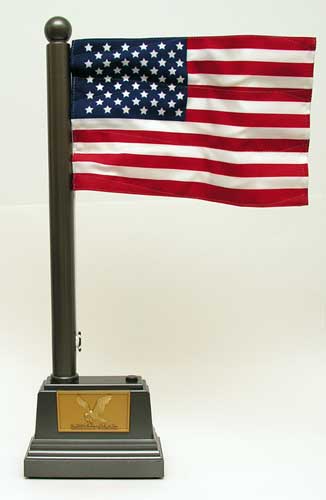 In addition to the button on the base which initiates the music and waving action, there is a volume control wheel on the back of the base which allows you to turn the music entirely off if you desire.
See it in action…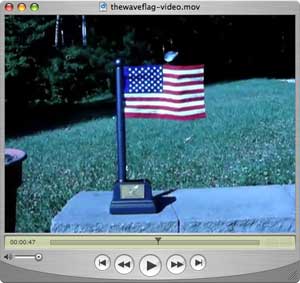 Click on image to play the QuickTime video (2min 33sec,
8.8mb). The video is encoded in the H.264 codec. You will need the latest version of
Quicktime to view it.
VLC is another free viewer.

Great realistic waving motion! Makes you want to stand up and pledge allegiance doesn't it? :o)
Very reasonably priced at $19.99, The Wave is currently available at Walmart stores and online through Amazon.com.