We use affiliate links. If you buy something through the links on this page, we may earn a commission at no cost to you. Learn more.
Today I'm going to take a look at the SX 3000R iPod speaker system from Kensington. This particular system is a good solution for those of you that can't or don't want to devote a lot of space for a 3 piece speaker setup.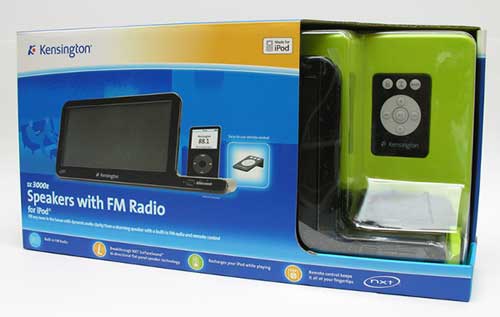 Package Contents
SX 3000R speaker system
IR remote control
AC adapter
User guide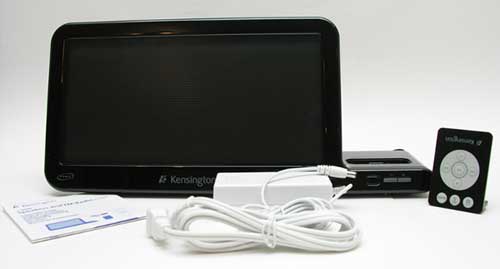 The SX 3000R has a foot print of 16.00 inches wide, 8.00 inches tall and 4.00 inches deep. Yes, that's it. It uses NXT SurfaceSound speaker technology to provide rich, balanced, natural sound using a 11.00 x 5.50 inch flat speaker.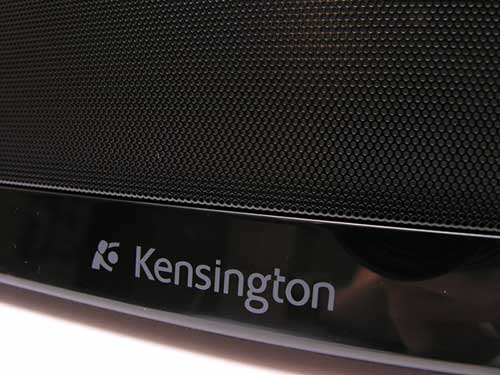 The speaker system is constructed of shiny Black plastic with a Black metal mesh covering over the speaker.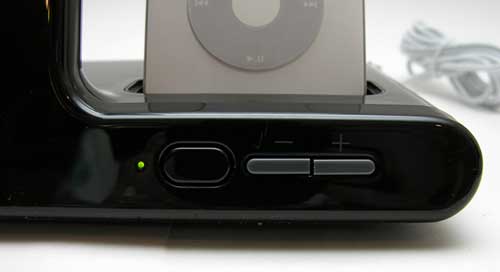 The design is pretty basic and hasn't been complicated with lots of buttons and switches. The front just has individual volume adjustment buttons and an IR lens to the Left of it. A small LED next to the IR lens glows Green when the speakers are powered on and an iPod is in the dock. It glows Red when the iPod is not connected but power is on.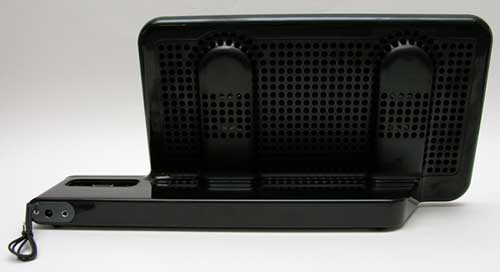 On the back of the set, you'll find the FM antenna wire, the AC adapter connector and a n Auxiliary audio input so that you can connect other audio devices to this speaker. You'll also notice that the back panel has a mesh-like construction. It's not for heat dispersion, but for sound dispersion. The SX 3000R projects sound out the front and back of the speaker unlike most speakers that just project sound forward.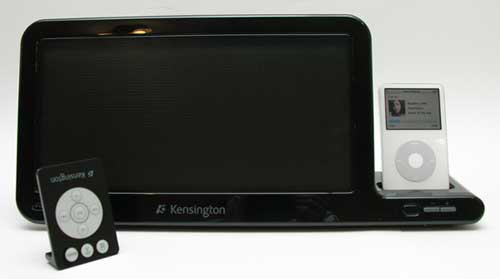 You might notice that there isn't a Power button on the speakers. To use the speakers, you just pop in your iPod (it must have a docking connector) into the universal dock, navigate to a song and press play on the included remote.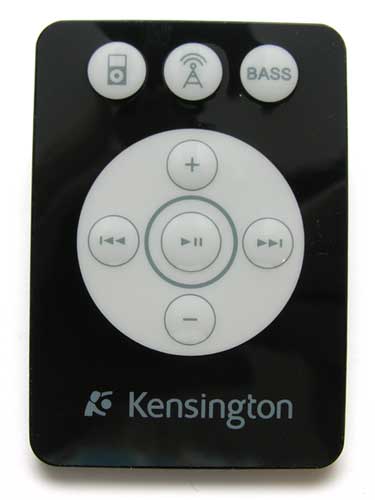 The remote runs on a CR2032 coin cell battery (included) and has buttons for volume adjustment, play / pause, next / prev track, iPod mode, FM radio mode, and Bass. The buttons are plastic membrane type, but do have pretty good tactile feedback.
One thing I noticed about the remote is that pressing the Bass button seems to have absolutely no effect on the music, that I can tell. I tried with several songs and could not discern a difference.
Regardless of the Bass feature, this speaker system does have a nice clear full sound. It actually surprised me with how good it sounded. It can easily fill a small / medium sized room with music. Of course, it can't compare with my current favorite speaker system, the AudioEngine 5's. But hey, they cost about 3x as much as the SX 3000R system and you get what you pay for :o)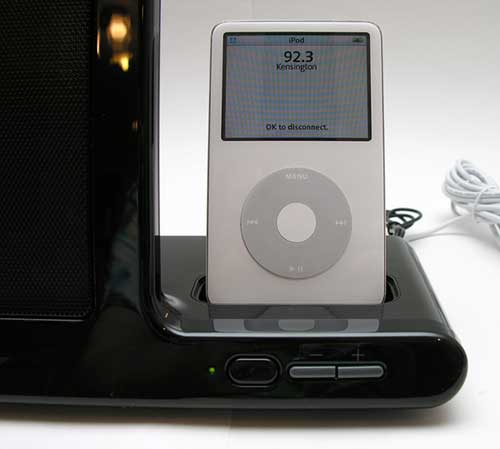 Pressing the button on the remote that looks like a radio tower will switch the speaker / iPod into FM radio mode. Your iPod display with change to reflect the currently tuned channel. You also can program 3 channel pre-sets. FM reception is decent using the included wire antenna. (The FM Radio feature not compatible with 3G iPods.)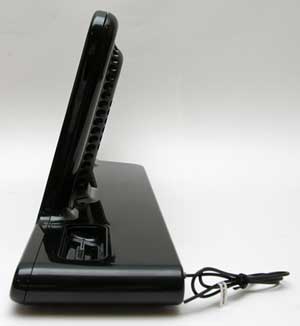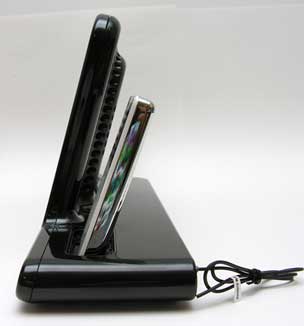 The Kensington SX 3000R speaker system has very good sound considering its size and fact that it's just one flat speaker. It requires little space on your shelf or desktop, has a built in FM radio, charges the iPod while it's docked and won't completely wreck your bank account.
Product Information
Price:
169.99
Manufacturer:
Kensington
Requirements:

iPod with docking connector

Pros:

Small footprint
Good sound
Built in FM radio

Cons:

Bass feature seems to have no effect