We use affiliate links. If you buy something through the links on this page, we may earn a commission at no cost to you. Learn more.
Discount LED Lights and Knives recently sent me several really nice Coast flashlights to test and review. I reviewed the V6 Stainless Steel 6 Chip (LL7732) earlier this week and now the one I'm going to introduce to you today is the Coast LED Lenser V2 Power Chip (model: LL7461).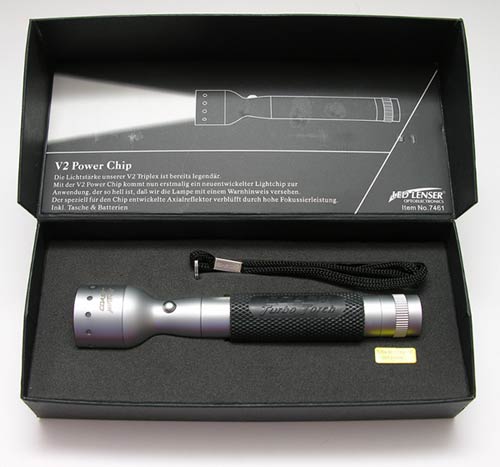 Flashlight Specs
Light type: LED
Bulb: High-intensity 1.25-watt LED
Lens: Plastic?
Reflector: Prism Reflector System
Beam type: Spot
Case type: Stainless Steel
Powered by: 3 x LR1-N 1.5 V Alkaline batteries included
Water resistant?: Yes
Size: 5.625 x 1.125 in
Weight (with batteries): 6oz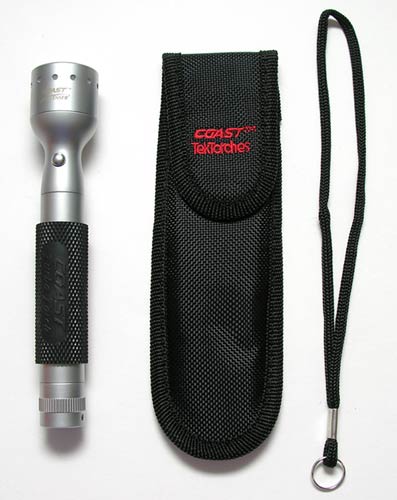 This torch comes with batteries, a handy little mesh belt pouch and a hand strap.

The LL7461 is made of stainless steel with a smooth brushed finish. The design is simple, with a small click power button and decorative holes drilled around the head.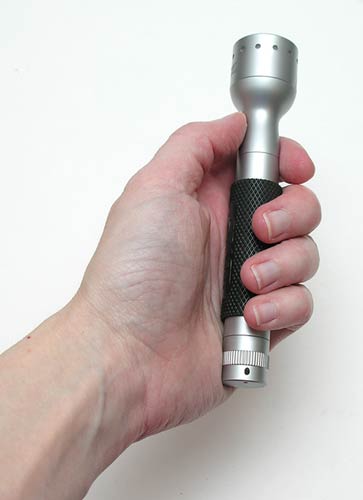 Never miss one of our posts again. Sent MON, WED, and FRI with the latest gadget reviews and news!
The shape is different than a lot of flashlights on the market. In hand it has a nice heft and balance that makes it comfortable to hold. The size seems perfect for medium sized hands and the rubber grip around the barrel makes you confident that the light won't slip from your grasp.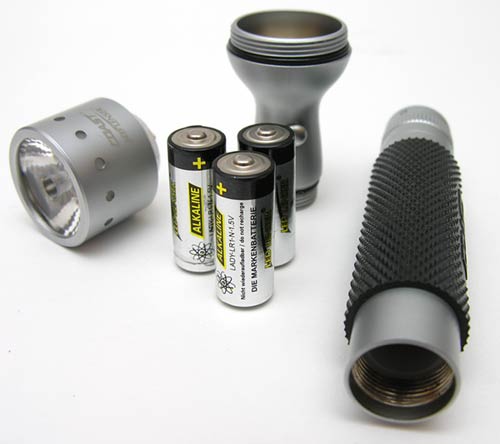 The head can unscrew from the neck, the neck can unscrew from the barrel and the end can can unscrew from the opposite end of the barrel (not shown). All of the connections have a rubber O ring to keep moisture from entering the LED and battery compartments. Regarding the batteries, the LL7461 is powered by 3 1.5V LR1-N cells. I wish AA's were used instead, but oh well…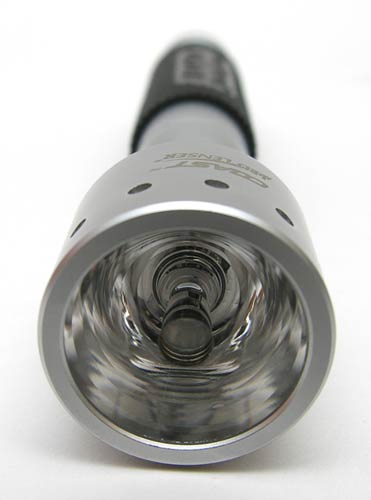 I think the lens is made of plastic, but I'm not for sure. I do know that it's pretty thick. Let's check out how well it helps illuminate an area. Here is a picture of my office with no lights on, at night, with the door closed. You can only make out the glowing LEDs from some of my electronics. I'm standing in the corner of the room focusing on the opposite corner approximately 16 feet away.
Now let's power on the LL7461 and see what it can do…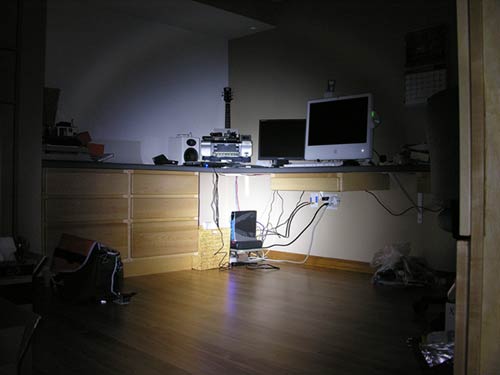 As you can see, this flashlight illuminates the corner of the room in a noticeably circular pattern. I looked all over the net trying to find out how many lumens this light puts out, but was unable to find the answer as there appears to be different versions of this same model #. Some say the light runs on 1 AA battery and then others say they run on Lithium batteries. I do know that if you compare it with the same shot taken with the LL7732 that I previously reviewed, you'll probably decide to buy that torch instead. Actually I would too as it's $12 cheaper than the LL7461.
I like the Coast LED Lenser V2 Power Chip (model: LL7461) as far as size and design, but the fact that it uses less common batteries and doesn't illuminate as well as a less expensive flashlight that runs on AAA's, keeps me from wholeheartedly recommending it.