We use affiliate links. If you buy something through the links on this page, we may earn a commission at no cost to you. Learn more.
Does your mobile phone double as your audio player? If so, do you fumble to remove your stereo earbuds when a call comes in through your phone while you're listening to music? A possible solution to that problem is the Pulsar 260 Stereo Bluetooth Headset from Plantronics. Let's take a closer look.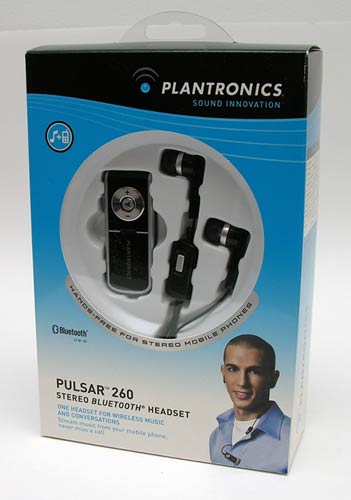 Hardware Specs
Listen Time: Up to 7hrs
Talk Time: Up to 9hrs
Standby Time: Up to 200hrs
Range: Bluetooth standard 10 meters
Headset and Pendant Weight: 25 grams
Battery Type: Lithium Ion Polymer
Speaker Frequency Response: Telephony 300Hz to 36000 Hz (CVSD), Stereo Audio 20 Hz to 20kHz(16-bit 48kHz SBC Coding)
Impedance: 32+-4 Ohms x 1 kHz
Distortion: Version: Bluetooth 2.0
Supports Bluetooth hands-free headset A2DP, AVRCP and GAVDP profiles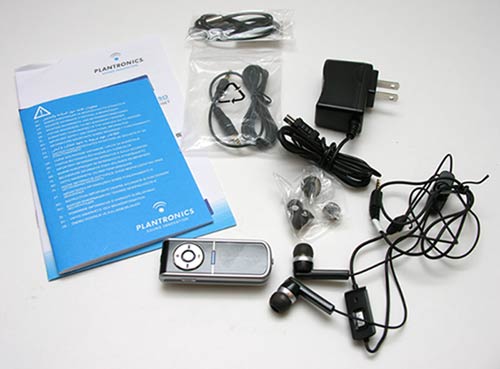 Package Contents
Pulsar 260 Headset
Stereo Bluetooth Pendant
Audio-out cable
AC Charger
Lanyard
2 extra sets of ear tips
This product is comprised of 2 main parts: the Bluetooth pendant and the stereo headset / microphone.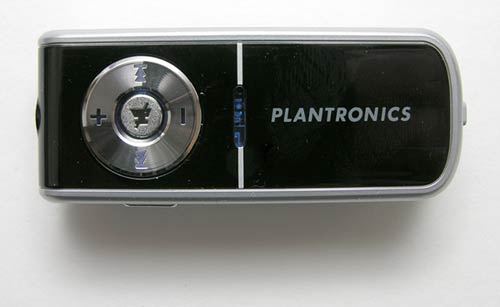 The pendant resembles a small MP3 player given that it has a familiar button configuration that includes volume up/down and prev / next track options. The middle of the 4-way button is a mute button. A vertical LED next to the button blinks Blue while powered on, Blue/Red during pairing and Red while charging.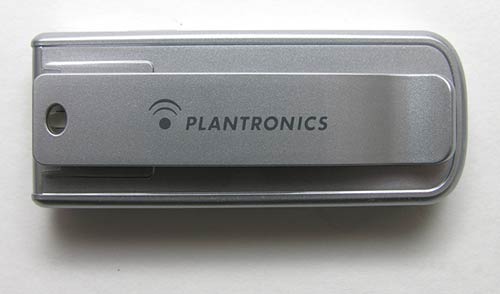 On the back of the pendant, you will find a removable plastic clip. The clip has a hole on one end to accommodate the included neck lanyard. A small reset switch can be found under the clip.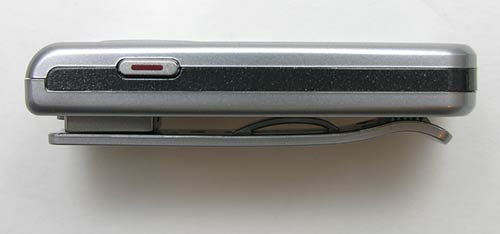 The Left side of the pendant has the power switch.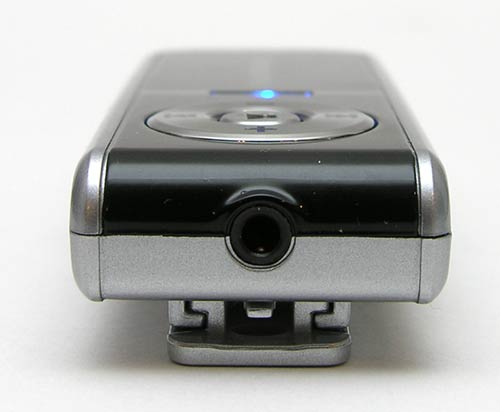 A 2.5mm earphone jack is located on one end…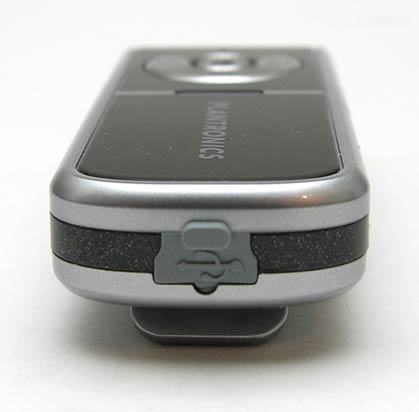 And a rubber protective cover over the mini USB charge connector is located on the opposite end. Charging the pendant can be accomplished using the included AC adapter, or a regular mini USB cable. Recharging can be completed in two hours or less.
After the pendant has been charged, you can pair it with your mobile phone by holding the power and mute buttons until the LED alternately blinks Red and Blue. Type in the standard pass code of 0000, put the noise isolating earbuds in your ears and you're ready to go.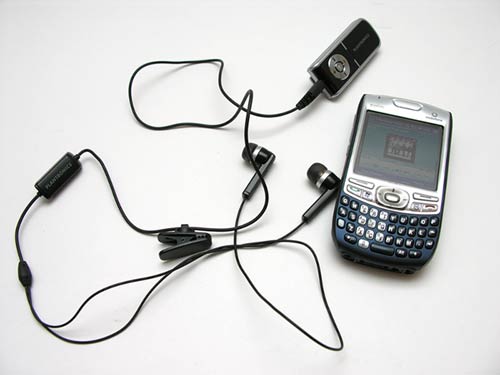 I tested the Plantronics Pulsar 206 headset with 3 different phones. First I tried it with my Treo 680. It paired just fine, but refused to stream music to the headset. Next I tried the BlackBerry Pearl 8100. Same results as the 680. At this point I was wondering if I had a phone that would be compatible with this headset. Luckily, when I tried my Treo 750v, I finally found success. (The product page for the Pulsar 260 includes a phone capability lookup feature).
Using the Windows Media player which is part of Windows Mobile, I listened to an entire album using the Pulsar 260. If you've read many of my headset reviews, you'll know that I don't particularly like in-ear style earbuds as they hurt my delicate little ears ;o) These earbuds didn't really hurt my ears, but they seemed to be harder to keep inserted in my ears. I tried all three ear tips and didn't have the best luck getting a good seal with any of the 3 sizes.
Sound quality through the headset is good, but white noise was noticeable in the background when music volume was low or in the gaps between tracks.
The whole idea of Bluetooth headsets is the fact that they are wireless. I was pretty happy that I could leave the phone on my desk and walk around the other part of my basement and upstairs without the music cutting out.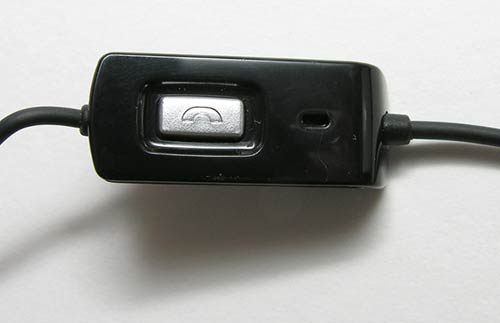 One of the main features of this product is the ability to answer and make calls without removing the earbuds from your ears. A small microphone and call button is built into the headset cable. The button answers calls, initiates a call, ends calls, redials, rejects calls, and transfers calls from headset to handset.
I wasn't sure how well the microphone would pick up my voice considering that it hangs down in the middle of my torso. Below are two audio clips of the Pulsar 260 headset in action. This will give you an idea of what it sounds like to receive a call from someone using this headset. I used the free voicemail / fax service from K7.net for these tests. I signed up for a free account, got a phone number and called it using a Treo 750v while using the Pulsar 260 headset. The resulting voicemails are then emailed to you. Pretty nifty! At test time, the phone had full signal strength. Click to listen.
Inside Test 1 (164k .WAV file)
Inside Test 2 (344k .WAV file)
People that I called commented that they could hear some buzzing in the background while I talked. This is also evident in the audio clips. Other than the buzzing though, they told me that the volume level and clarity seemed fine to them. Of course you SHOULD NOT be using this noise isolating headset while driving a vehicle, hence no driving audio sample is included.
Since noise isolating earbuds are not my favorite, I thought I would be clever and plug in a different set of earbuds into the Bluetooth pendant using a 2.5mm to 3.5mm adapter. My plan didn't work out though as the music only played through one earbud. I even tried a set of retractable JavoEdge 2.5mm earbuds and had the same issue. Not sure why though…
Although I like the idea of having a stereo Bluetooth headset that doubles as a handsfree headset, the design of the Pulsar 260 isn't really wireless when you come right down to it. Yes, there isn't a wire connecting from the headset to the phone, but the headset itself has a 28 inch long cable connected to it. This cable gets in the way just like regular wired headsets. You also need to clip the Bluetooth pendant to your shirt or belt loop so it doesn't flop around while you walk. It just seems a little clunky to me. Personally, I'd rather spend my money on a solution more like the Bluetake i-PHONO mini BT450Rx Bluetooth Stereo Headset.
Product Information
Price:
109.95
Manufacturer:
Plantronics
Retailer:
Plantronics
Pros:

Easy to use
Next / Prev track controls on pendant
Good range

Cons:

Background hiss
Long wires defeat the purpose
Minor buzzing in the background while in a call