The Gadgeteer is supported by readers like you! If you buy something through links on our site, we may earn an affiliate commission at no cost to you. Thank you! Learn more.
From an early age, I wanted to learn to play the guitar. I took a few lessons here and there through the years, but for the most part taught myself from books and tapes. I never was a very good player, but that hasn't stopped my love of the instrument and music. I've had several guitars, from electric to acoustic, to even a mini electric that I built myself using a kit. I even had a dial up BBS back in the day completely devoted to TAB (tablature files) that was named CrossRoads BBS.
I haven't made time to play for years and years, but just recently decided to try to revive the desire. What better way to do that, then to buy a new guitar! I didn't want or need another regular acoustic since I already have a very nice small bodied Collings. I didn't want an electric because I don't have an amp. That doesn't seem to leave any other choices does it? Wrong… I decided to buy a travel guitar! I've had a thing for little guitars probably since I began loving the instrument.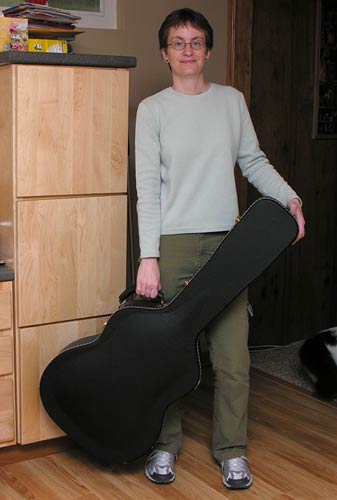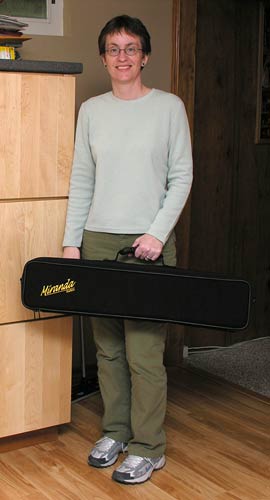 Which would you rather lug around with you? The guitar on the left, or the guitar on the right? What guitar on the right you ask? Would you believe that they both cases contain a guitars that are basically the same size?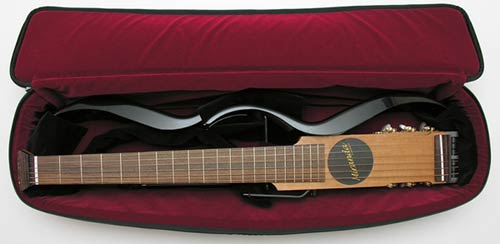 Open the small zippered case (4 in x 6 in x 30 in) and you will find the Miranda S-250 steel stringed guitar. Yes, it comes in pieces. Seven pieces (if you include the 3 thumb screws) to be exact.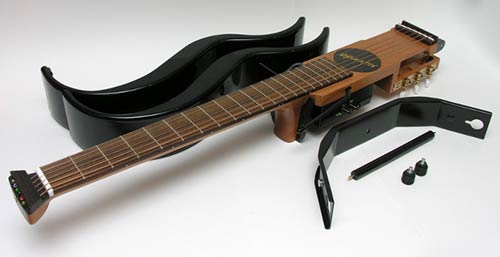 The main body of the S-250 is made of Mahogany, with a Rosewood fretboard. The sides are made of high-impact, scratch-resistant acrylic and the center brace is made of Aluminum.
The assembly of the guitar requires no tools, no skills and no time.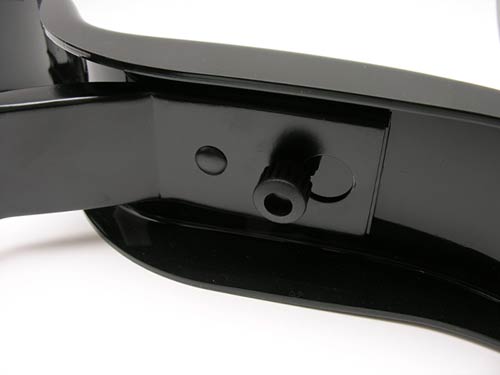 All you do is attach the center brace between the two sides with 2 thumb screws.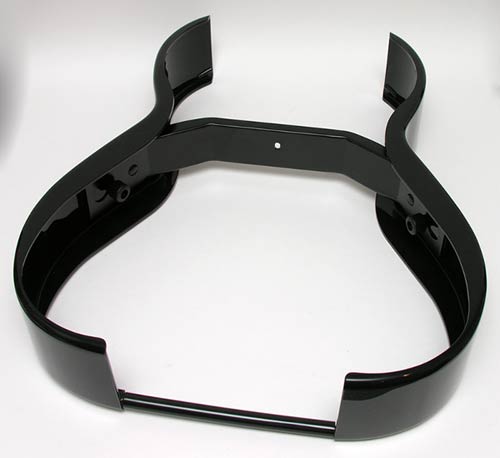 Next you insert the bottom post between the two sides.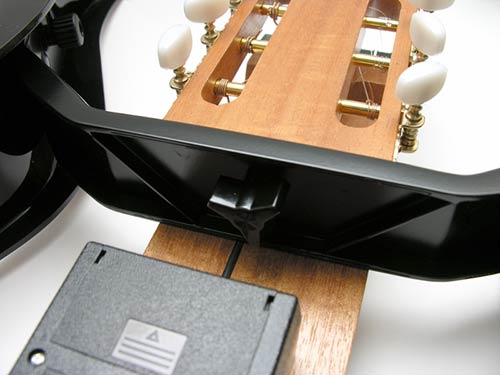 Then attach the assembled frame to the main body using another thumb screw.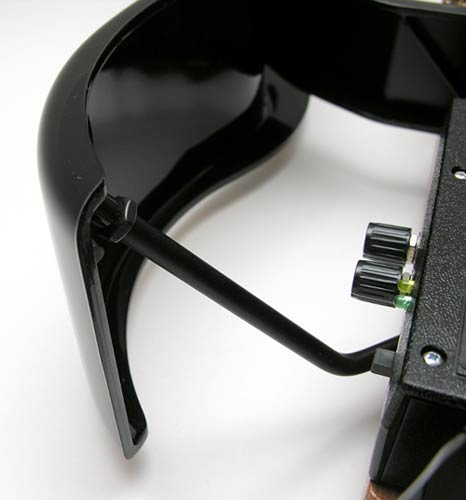 Last but not least, you rotate the attached struts into slots on either side of the 'shoulders'. That's it! It's a very easy procedure that takes less than 3 minutes.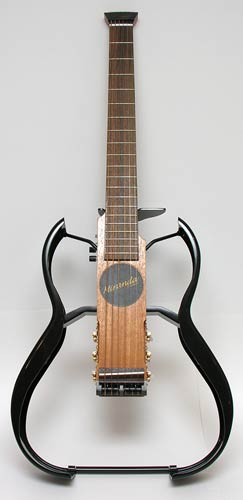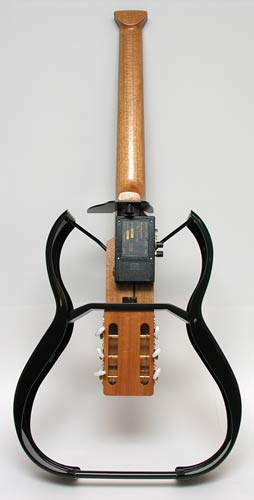 The fully assembled guitar looks like this. Pretty wild huh?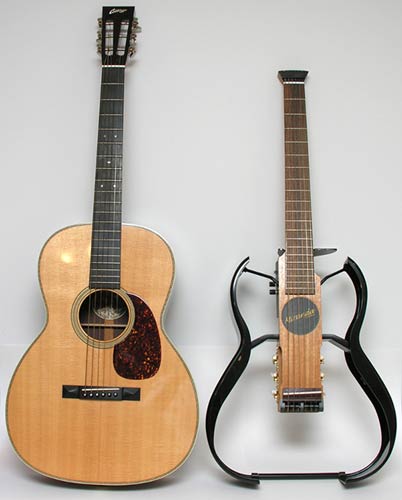 To give you a size comparison, here it is next to my Collings 0002H. The S-250 has a scale length of 25.6 inches with an overall length of 33.9 inches. Upper bout width is 10.7 inches, waist width is 9.3 inches and lower bout is 15.0 inches.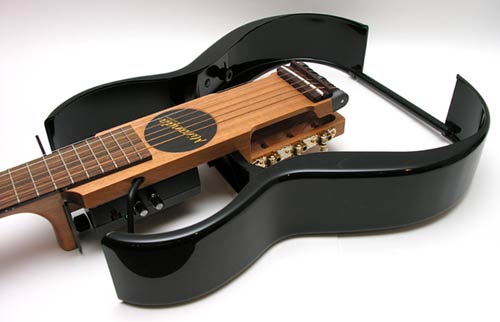 Even though the S-250 looks like an acoustic guitar, it doesn't have an enclosed sound box, so it doesn't really project sound like an acoustic guitar. In order to hear sound from the strings, the guitar has to be amplified like an electric guitar.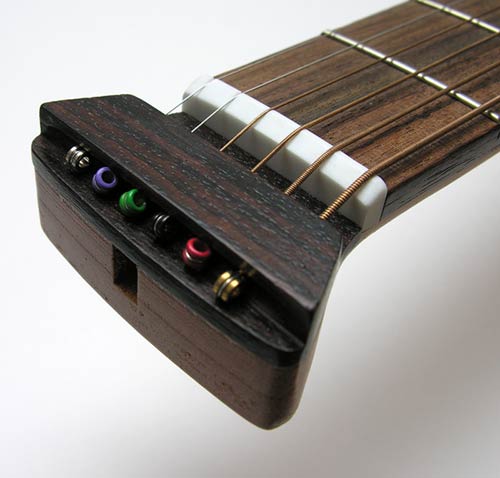 Speaking of strings, the S-250 has a an interesting neck / headstock design. The strings feed through slots at the top of the neck where you would normally find the headstock.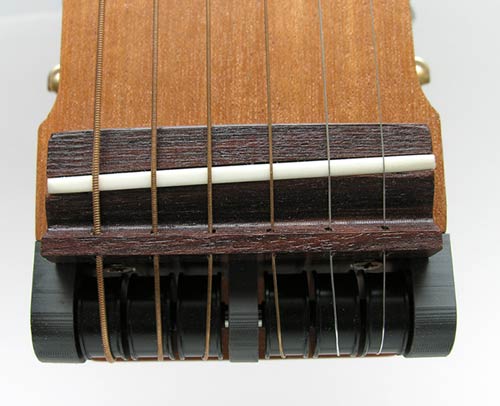 The strings then wind around a unique pulley system at the bottom of the fretboard and finally into individual tuning posts in the headstock.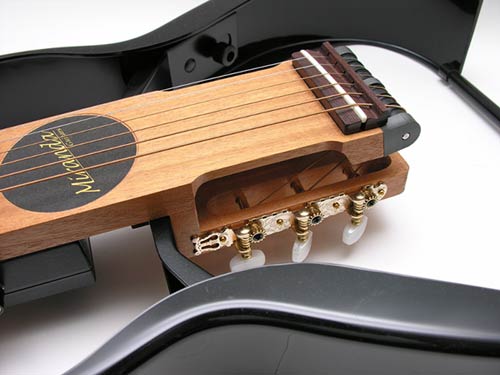 Instead of having the headstock at the top of the neck, it's located behind the fretboard. This design helps keep the guitar compact by decreasing the physical length. Gotoh tuners are attached to the headstock.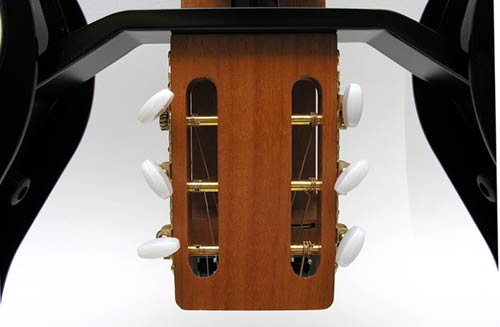 The location of the headstock does it make it a bit awkward to tune this guitar. Instead of being able to strum a string with your right hand while adjusting a tuner with your left hand, you have to strum a string with your right hand, stop and adjust the tuner with that same hand. You can stand the guitar upright on your lap and strum with one hand while tuning with the other. Luckily this guitar does seem to stay in tune pretty well.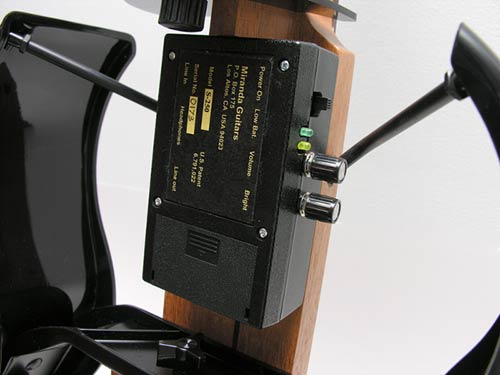 Like I mentioned before, the S-250 doesn't have a sound-box, so it can't project sound like a normal acoustic guitar. You can hear some sound when you play, but not enough to really enjoy the instrument. For that, you'll either need an amplifier or headphones.
The electronics are housed in a small box on the back of the neck. Powered by a 9v battery, you can either plug a standard 1/4 inch cable, or a standard 3.5mm set of headphones (a set of headphones are included). There is also a 3.5mm line in jack that you can use to plug in another sound source so that you can play along with music. There's an on/off slider switch, volume level knob and a brightness knob.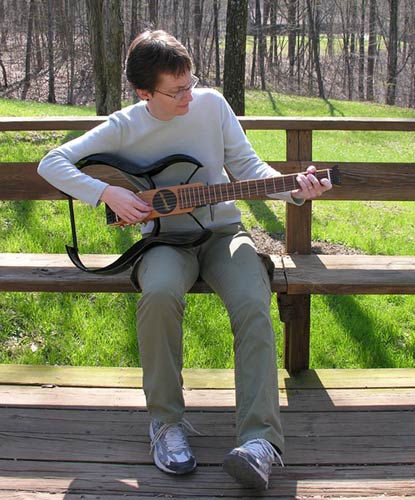 The S-250 is easy to play. The action is good and sound through headphones is good although to my ears it sounds a little too much like an electric guitar instead of an acoustic. Not surprising though. I'm always going to prefer a real acoustic guitar over an electric because my favorite style of music to play is finger-style Irish fiddle tunes. And no, I didn't record me playing this guitar because I'm quite rusty still. Don't worry though, Miranda's website has sound bites for both the S-250 and the CFX-200 nylon stringed model.
The Miranda S-250 is an extremely well made musical instrument that should put a smile on guitar playing travelers faces.
Product Information
Price:
1195.0
Manufacturer:
Miranda Guitars
Pros:

A full size guitar breaks down to a much smaller travel size
Easy to assemble
Well made
Good sound

Cons: