The Gadgeteer is supported by readers like you! If you buy something through links on our site, we may earn an affiliate commission. Thank you! Learn more.
Even though the iPod is the most popular MP3 player, each person's iPod is unique on the inside. The iPod's clean exterior design makes it another perfect canvas for customization.
Recently, there has been a trend towards technology accessories that are made with more exotic fabrics and designs. When I saw Northshore International's Kaftan line of iPod and Nano cases, woven using classic Turkish motifs, I decided to get a closer look.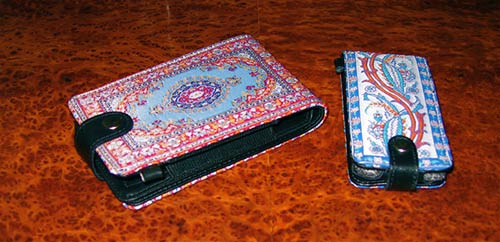 Initial impressions
Northshore International named this line "Kaftan" after the precious garment worn by Sultans and other dignitaries during the Ottoman Empire. From the moment I opened the package, I was impressed with the detail and quality of the cases.
Detailed in one of seven traditional patterns, the Kaftan's outside fabric is custom woven in Turkey using a richly colored senetic (a washable cotton/nylon blend).
For my review, I tested two cases: The NR1 Nano case, which is adorned with a delicate floral embroidery pattern reminiscent of an illuminated manuscript. In contrast, the V030 iPod case is a classical "oriental rug" pattern that is whimsical, yet still professional.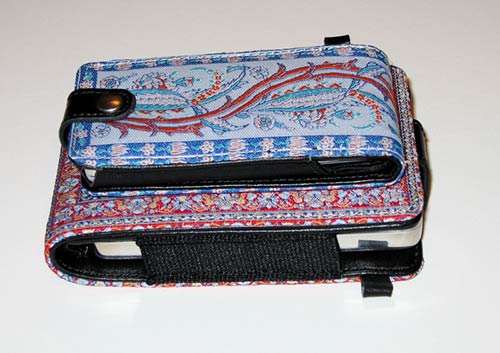 The interior of both cases are lined with a semi-ridged black leather with cutouts for the screen and click wheel. On the V030 case, the Kaftan's sides are made of black elastic so that it can accommodate a variety of widths. The NR1 has leather-trimmed sides as Nanos do not have much width variance.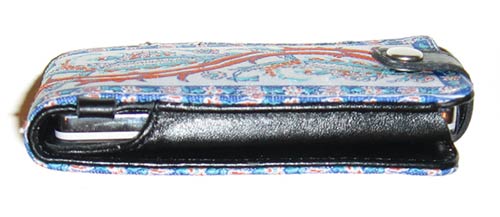 The cutouts on the full-sized case are shaped so that the case can be used with the click wheels for either 4th and 5th generation iPods.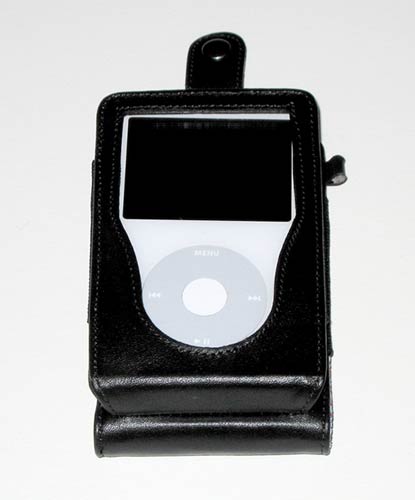 Both cases also have a loops on the outside for a removable leather wrist strap.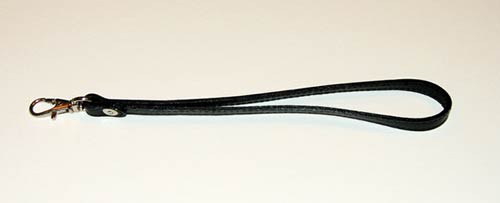 Product Testing
One of the first things I noticed is each size case is designed differently to the individual aspects of each iPod. The full-size V030 case latches at the top with an opening for headphones, the NR1 case snaps together on the bottom, the location of the headphone jack.
The first time I put my 5g iPod into the case, I noticed a small amount of resistance, but the leather quickly loosened into a firm, but not tight fit around my iPod.
The Kaftan is not only beautiful it also provides moderate protection for the iPod, a bonus for someone as clumsy as myself. While carrying the Kaftan about by the wrist strap, I bumped into a few things. Each time, my iPod sustained no damage.
I've never owned a flip style iPod case for any length of time and this a great introduction. I love the designs available and the construction of the product is solid. Marco Polo would be glad to know there is still a market for eastern imports.
Price: $12.95 for the Nano case, $15.95 for the iPod case
Product Information
Price:
Manufacturer:
Northshore International
Retailer:
Northshore International
Requirements:

Apple iPod Video and Nano models

Pros:

Inexpensive
Compatible with 4th and 5th generation iPods as well as both generations of Nanos

Cons:

Cannot sync or charge while in case