We use affiliate links. If you buy something through the links on this page, we may earn a commission at no cost to you. Learn more.
I've been playing Astraware's Cake Mania, and the sweet, sugary, fun to play game was getting on my nerves. I turned to another Astraware game- My Little Tank (MLT). This shoot-em-up has been out for about a year but somehow slipped under my radar.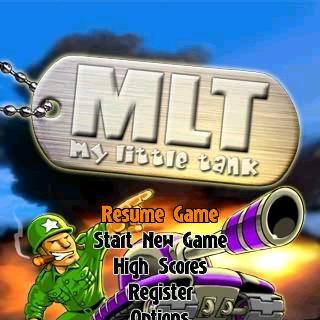 My Little Tank from Astraware title screen.
My Little Tank is a good example of truth in advertising. This game is exactly what it claims; you drive a little tank around and blow stuff up. The plot is not complicated, you have a mission goal and you carry it out. Not a lot of backstory but some good on-screen tutorials. You look at the battlefield from high overhead and move your tank around a relatively small field and blow stuff up. Other tanks, buildings, you know, pretty much anything in sight!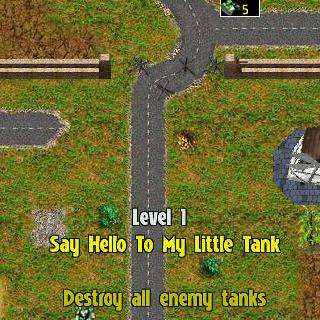 Mission 1- Shoot EVERYTHING!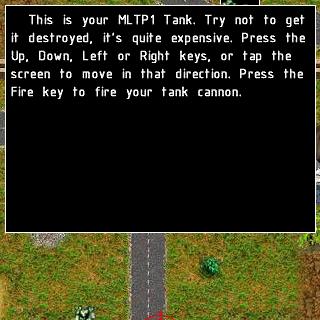 Some on-screen instructions…
The game is moderately resource intensive and needs a 320×320 screen. If you have a 320×480 or 480×320, it will use the whole thing automatically. It requires Palm OS 5 and generally takes a few seconds to load. Personally, I find the intensive detailed graphics a bit much sometimes. As with many other programs, I often think a 'cartoonier' layout with less detail would reduce my eyestrain (and before you ask, I already know I need new glasses!)
Many scrolling shooters and related games are a bit… 'simplistic' in my mind. You shoot and move. As you progress in levels you have to shoot and move more and better, but other than capturing some form of power stone, about all you do is shoot and move. My Little Tank offers the usual bells and whistles- better and better weapons, extra lives, invulnerability, and great backgrounds with a peppy little song. 60 levels worth of tougher and tougher enemies and more challenging scenarios, but still basically 'shoot and move'.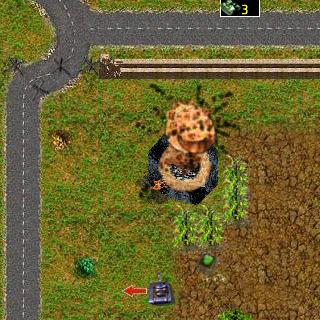 KaBOOOOM! (and arrow showing nearby enemy).
It's a fun game, and one that would be wonderful if my Palm Tx had a joystick! This is a well-designed game for the small Palm screens. Most of the maps are about two screens wide and two screens high or so, so you don't get lost in an endless landscape. There is no real sense of blood and gore or violence- it feels more like you are playing with remote control toys than anything else. My poor thumb gets tired moving the tiny tanks and I am a bit annoyed at the driving/shooting set-up that forces you to only move or shoot in four directions, but it is a good game nonetheless. Oh, about my thumb- you can use the stylus to move and aim as well, but even so you are limited by four directions. I just prefer the 4-way controller!