The Gadgeteer is supported by readers like you! If you buy something through links on our site, we may earn an affiliate commission. Thank you! Learn more.
Happy lazy Sunday afternoon. What's The Gadgeteer to do when it's 16 degrees (Fahrenheit) outside and there's nothing good to watch on TV? How about a quick sift through my basket of goodies from the past few weeks. From the looks of things, I seem to have accumulated a nice collection of iPod nano and iPod Video cases from 3 different companies.
First case out of the basket is from, Das Blau of New York City, New York. They sent in their handmade Versa case for 5th generation iPod Video models.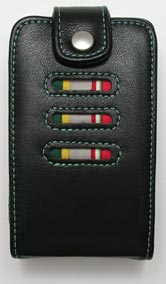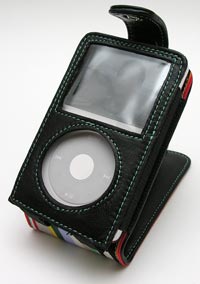 This particular case is nicely padded and has a fun striped interior design. A snap loop on the back of the case can be used as a belt clip or a stand so that you can prop the iPod on your desk at a convenient viewing angle.
Upon looking at Das Blau's website, I see that they have recently modified the style of the holster that holds the iPod in this case. The new style is $59.99 for a case very similar to the one shown above. Nice case, but a little over priced if you ask me.
Speck Products sent me 2 1G/2G iPod nano cases. One case is a rubber skin and the other looks like a classic canvas sneaker with a belt clip on the back.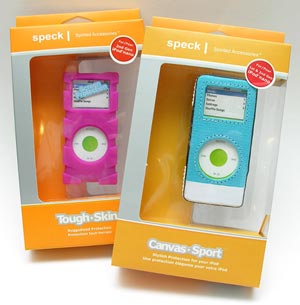 The ToughSkin is $29.95 and comes in 5 colors, while the Canvas Sport is $24.95 and also is available in 5 colors.
My favorite iPod nano case of the week is the Alu-Crystal case from Proporta.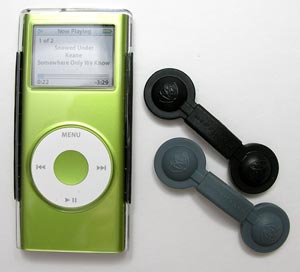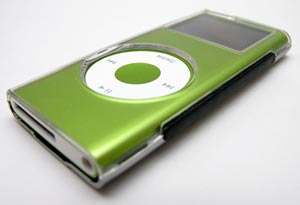 It's made of scratch resistant polycarbonate plastic and aircraft grade aluminum. There are no clasps or snaps, you just slide the nano in from the bottom. Friction and a neoprene pad hold it in place. My favorite part is that you don't have to remove the nano in order to sync / charge with a dock because the bottom of the case is completely open. Price is $28.95.
Oh, the little bar bell shaped thingies next to the iPod in the picture above are Proporta's Cable Tidy's. You get two of these little magnetic clips for $4.95. I use them all the time to keep my earbud cables wrapped up when I'm not using them.
Ok, I think I'm going to go take a nap now. See you tomorrow…