We use affiliate links. If you buy something through the links on this page, we may earn a commission at no cost to you. Learn more.
Although I've personally travelled outside the United States only once so far, I can totally see the value of the gadget I'm going to tell you about today. The Universal AC Travel Adapter from USB Geek, is a nifty little module that will allow you to use your favorite electrical devices in other countries.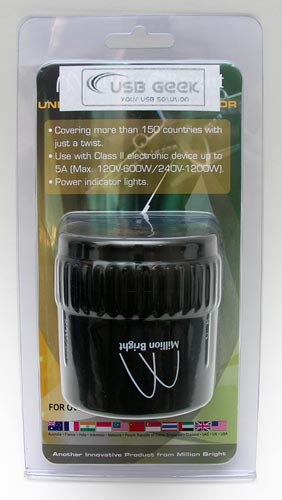 I'm sure you're aware that the shape and configuration of plugs are different in other countries. As such, if you take your US based hair dryer or Treo charger to the UK, it won't fit in the wall outlet.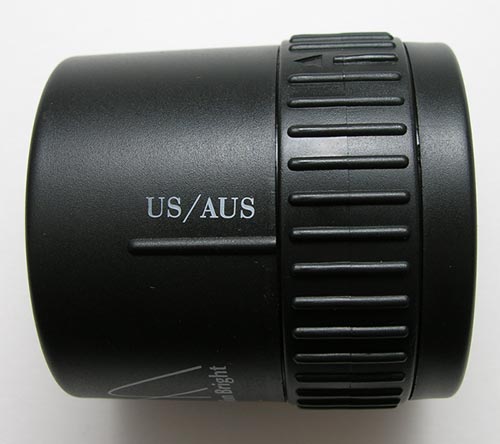 This barrel shaped adapter is made of Black plastic and stands 2.625 inches tall and is 2.375 inches in diameter.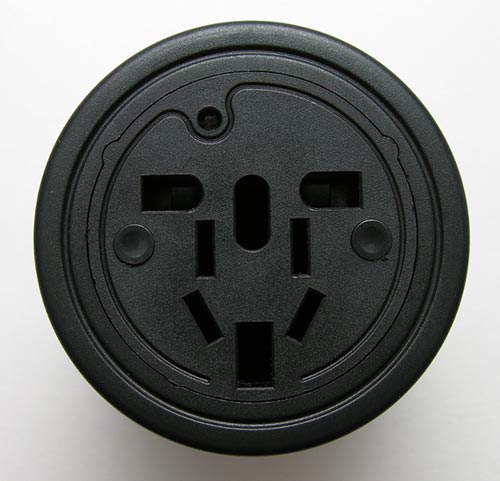 One end of the adapter is the female side, which accepts plugs. This end also has a small Red LED (seen at the 11 o'clock position in the image above) that is used as a power indicator. It glows when it receives power from an outlet.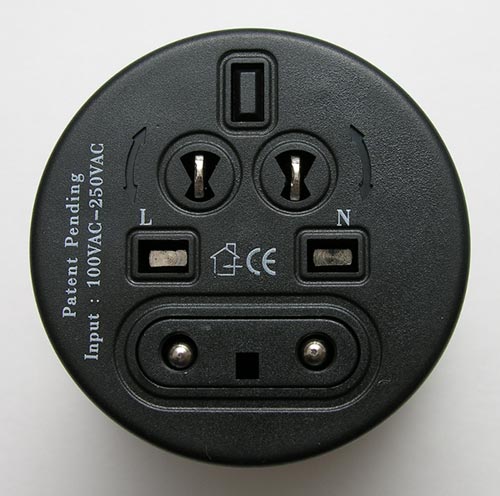 The other end is the male end of the adapter.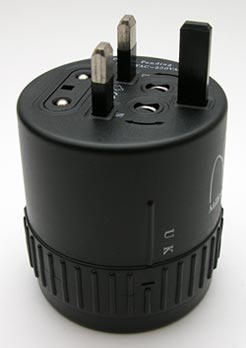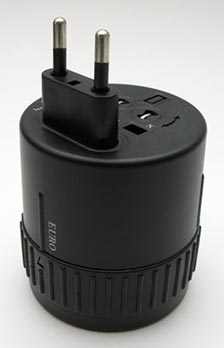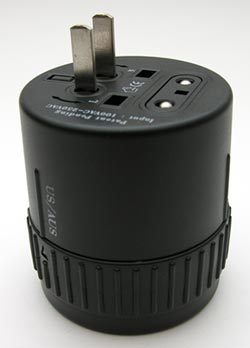 You will notice a ridged ring on one end of the adapter. This ring has an arrow and when turned it will line up with labels for UK, EURO and US/AUS (these three settings cover outlet configurations for more than 150 different countries). Each label represents a different plug configuration. As you turn the ring, the desired plug will extend from the male end of the adapter and snap in place. Although I don't show it, the Australian plug configuration is the same as the US plug (right most picture above), but the plug blades can be rotated inwards or outwards.
Since I'm not currently in the UK, Australia or anywhere else besides Columbus, Indiana USA right now, I can't truly test this adapter. Yeah, I love you guys, but I can't afford to take off from my day job and spend a bunch of money just to go overseas to review this adapter. ;o) So, I had to improvise…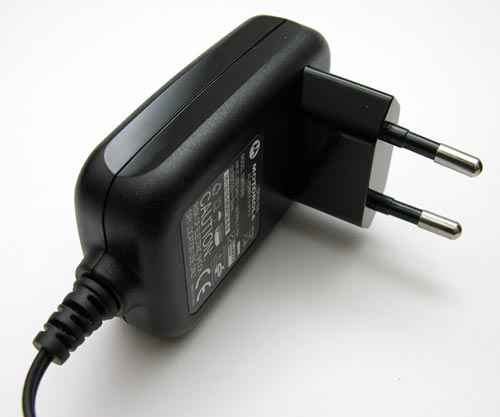 I scrounged around in my drawers and found 2 products that happened to come with non-US power adapters. I'm showing one of them above. To test the adapter, I plugged this Euro AC adapter into the female side of the adapter and then dialed the ring on the adapter to the US/AUS selection.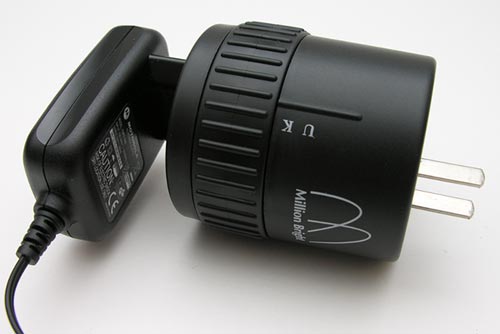 What results from this combination is what you see above. Then I plugged everything into an empty wall outlet and verified that the LED on the adapter glowed Red. It did. Then I plugged the end of the AC adapter cable into the mobile phone that it came with. Yay, charging started just fine; the Universal Adapter worked as advertised.
There are a couple of things to keep in mind when using this adapter. First of all, the documentation that comes with it is says that it is to be used with class II electronic devices up to 5A (max. 120V-600W / 240V-1200W). I should also make it known that this adapter does NOT convert electrical current. If the device you wish to use it with does not match local voltage, you will need a separate converter or adapter. The only other issue I can see with using this product is the fact that it is so wide that it might block a more than 1 outlet in a power strip or wall outlet. Other than those issues, this is an easy to use adapter that you can toss in your gear bag the next time you plan a trip to another country.
Product Information
Price:
17.0
Retailer:
USB Geek
Pros:

Easy to use
Settings for over 150 countries
Compact

Cons:

Width may cause clearance problems with adjacent outlets