We use affiliate links. If you buy something through the links on this page, we may earn a commission at no cost to you. Learn more.
Here's a review that I have been looking forward to doing…an application with some real life uses for my PocketPC! Being a "gadget junkie", I am always looking for smart ways to use my device, something that is actually needed, not made up. That is the case with my review of Resco's Audio Recorder.
One of the things that I have done for the past three years is volunteer work for a local leadership organization in southern Indiana called Leadership Southern Indiana. As part of my Board of Director's duties, I chair an annual series of events that we call the "LSI Breakfast Series". At these three events, we invite distinguished speakers in the Louisville, KY region and from all walks of life: leaders of businesses, non-profits and government. This year we had the top newspaper columnist from the Louisville newspapers, a well-known CEO/entrepreneur, president of the nationally renowned seminary and an extra event with the Governor of Indiana stopping by for a special visit. In previous years, someone from the local newspaper placed a recorder on the podium and he would give me a copy but this time, I wanted to do that myself with the Resco Audio Recorder!
Let me state up front that I've always been a big fan of the entire line of Resco's products for as long as I can remember, including their File Explorer and Photo Viewer programs. In the past year, I purchased their Radio product which basically turns my PDA into a radio so now I can listen to streaming talk radio (or music radio for that matter) during my lunch at a local eatery with free WIFI access. So when it came time to look for a recording program for my JasJar, my first instinct was to check out Resco's highly rated Audio Recorder and Julie was kind enough of to get the folks at Resco to supply me an evaluation copy.
Reasons for a better recorder…
If you have read any of my previous reviews on software, you will find that one constant thing that I gripe about is the lack of functionality in some of Microsoft's basic OS applications. In this case, the voice recorder found in the built-in Notes applications is not real user friendly, takes up lots of storage memory with it's WAV format and lacks many of the nicer functions you get in a standalone digital recorder. The only good thing is that what Microsoft doesn't provide, there are plenty of good developers eager to fill the niche!
As I said before, I chose to go with Resco's Audio Recorder because of my familiarity with their products for many years and this particular application is always a winner or finalist in PocketPC Magazine's "Best of." lists for many years running. First off, the install was very smooth and it also allows you to set some file associations like MP3 or WAV as well as other formats that I didn't know even existed! With a little exploring and a glance at the the Help files installed on my JasJar, I was quickly on my way to recording my first Breakfast Series event with only 15 minutes effort.
Audio Recorder Features
Just so I don't miss anything, here's what the folks at Resco say about the Audio Recorder product on their web site…
Product Info
For recording and playback of sound tracks
A useful tool for recording of business meetings, voice memos, dialogues or concerts
A high quality single track and playlist player
A simple sound editor
Key Features
Exporting – allows you to export any existing recording into any format
Tags – easy and powerful audio editing
Playlists – full support for using, creating and editing M3U playlists
Files managing – rename/move/delete recordings easily
Display control – spares battery energy
Advanced protection – protects your device from unwanted pressing of buttons or touch screen
PDAudio
Favorites – list of favorite locations for fast access
Supported audio formats (* – requires XScale devices only):
WAV – For highest quality (8, 11, 12, 16, 22, 24, 32, 44 kHz sampling rates, 8/16 bits, stereo/mono)
MP3 – For good compression (all sampling rates, 8, 24, 32, 48, 56, 96, 160, 320 kbps)
Ogg Vorbis* – Higher quality than MP3 (all sampling rates, wide range of bitrates)
Speex* – Designed especially for speech, unbelievable long recording time — more than 278 hours on common 256 MB SD card
RAF – Format created by Resco, based on ADPCM technology, very reliable with good compression ratio
Product Modules include:
Sound Recorder – recorder uses your device's microphone to record speech as well as music. Your choice of format and bit quality options are endless
Music Player – this application not only records but it lets you play back any supported file format
Sound Editor – a basic editor where you can tag, modify, erase and export
Voice Activated System (VAS) and Gain Control – VAS is useful when you have long gaps in recording when the sound drops below a preset level while Gain Control can help out when the sound needs a little extra help in pickup
Desktop Audio Recorder – This module basically allows you to export a file between PC and PDA as well as change the format export from one version to another (i.e. WAV to MP3)
Audio Recorder Screenshots:
As I mentioned earlier, Resco's Audio Recorder was very easy to operate and I was running in no time! Let's look at the screenshots as I walk the product through all its paces.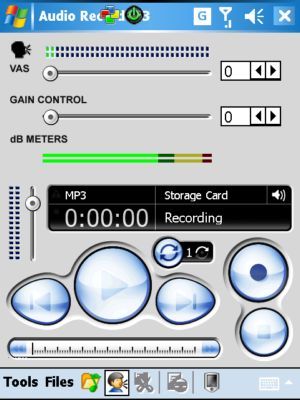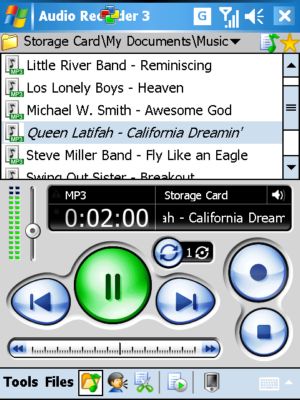 Audio Recorder & the VAS/GC Modules, Audio Recorder with a Playlist Module above.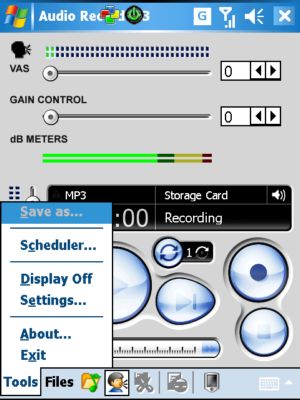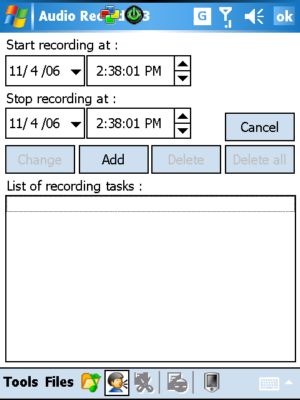 Audio Recorder's "Tools" menu selections… note the "Scheduler" function. I haven't figured out where in real life I could use this feature but hey if need to schedule an unattended recording…now you can.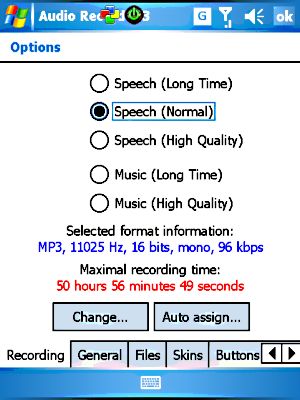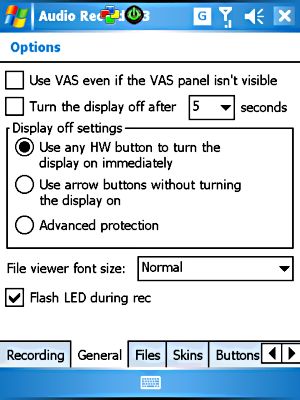 This is a great option page that keeps it easy for the novice user like myself since I do not need to know what format to use or what bit size to choose. It will also please the expert to modify the recording with the hundreds, if not thousands of different combinations.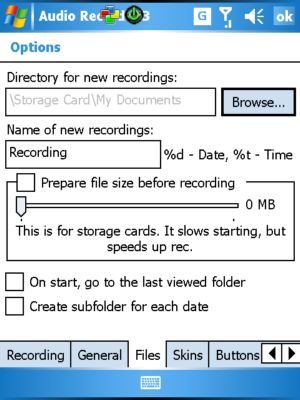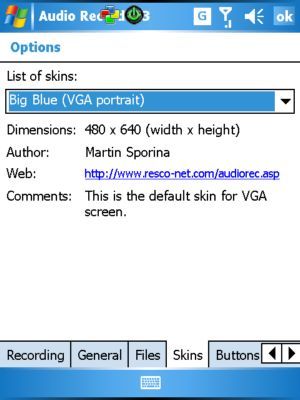 This is the place to handle where the files will be stored and other aspects of your recording file management. I did not mention it before but this app is skinnable?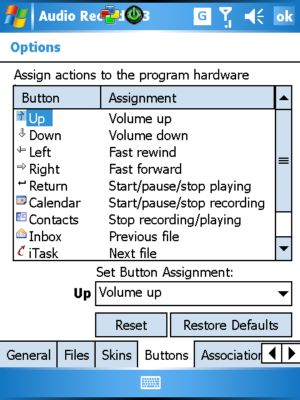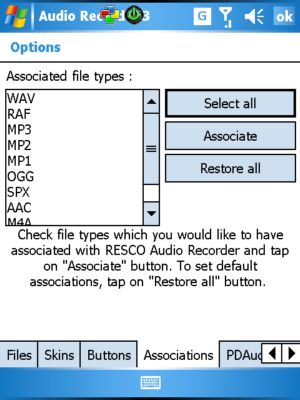 Button assignment tab…set it up the way you like it. There's also a tab with all the file associations available for Audio Recorder.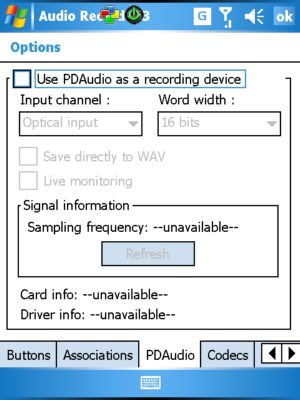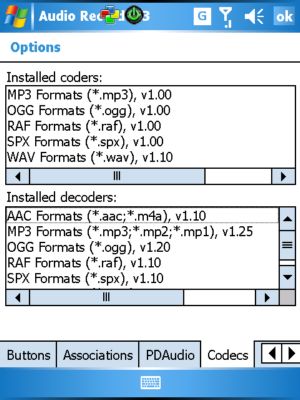 Not sure about the whole PDAudio thing but evidently this software will link up with Core Sound's PDAudio System hardware. Go to www.core-sournd.com for more information on this feature enhancement.
The heart of any player/recorder is the codex (Coder/Decoder) software. As you can see, Audio Recorder covers quite a few codex formats, more than enough for the average user!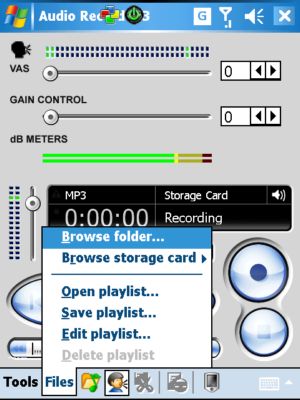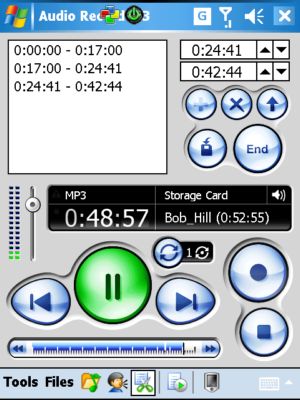 Back to the main screen, the "Files" section….pretty straight forward but it can import M3U playlists. There's also a basic edit module. You can create time-based tags, delete or export pieces of the file. The key word is basic as it will do some editing work but more on this feature later in the review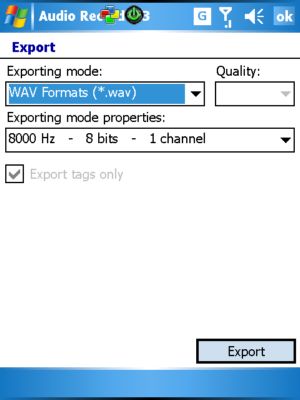 This screen shows the export functionality in the edit module along with the ability to change the format itself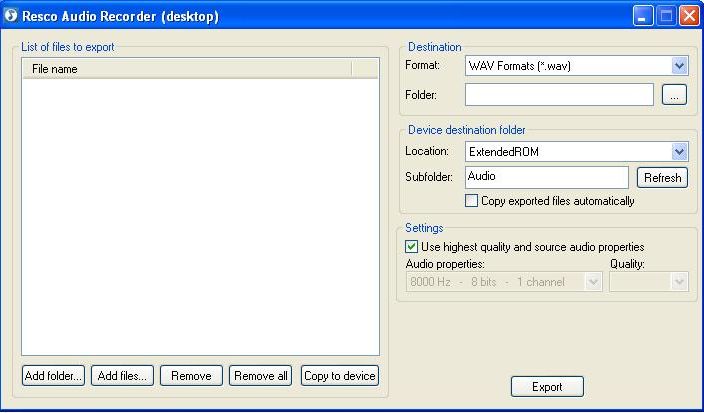 Here's the Desktop Component. You can take an audio file on your PC and copy it to your PDA with this utility. There's also the ability convert a file's format whether the destination is your PocketPC or PC.
Program Performance
Now let us talk about Audio Recorders usability in the real world…I have to say that the software did a great job of recording all three of my events thus far, each one averaging more than 55 minutes. I choose the MP3 – 8 bit format for my recordings and the clarity with less than 2 feet from PocketPC to the speaker was very clear. We also take questions from the crowd in these events, for the most part without a microphone and in a large room setting of 150+ people, all the sounds came through just fine. I probably could have adjusted the gain some but with the closeness of the speaker, I didn't want to take a chance in distorting the main presentation just to bump up the reception of the crowd's questions a notch.
When it comes to editor module, there was not a lot of documentation in the built-in help pages. After some playing around with it, I found it cumbersome to operate. On several of the MP3 files recorded with Audio Recorder, the program stated the elapsed time to be much shorter than it actually was so I didn't have much confidence in the tag feature. In looking at Resco's support forum , it could be the MP3 recording format I had chosen but figuring out those issues was well beyond the scope of this review and an "average" user like myself. I eventually found it to be easier to edit the files on my PC instead with a program designed specifically for editing audio files. A little off-subject but I found a great open-source program called Audacity and I would highly recommend that for your editing needs versus relying solely the Audio Recorder's editing module.
Installation
The Resco Audio Recorder installation setup .exe file (1.72MB) is easy to use and they also have installation CAB files for ARM and XSCALE versions of handhelds (both weighing in at 3.38MB). The program will take up approximately 2.3MB in storage under the Resco product directory, which is where it stores all such Resco programs. The RAM used while this program is running was 1.86MB on my device and can be installed both internal or external storage. In my testing, Audio Recorder was installed on both internal memory and on my 4GB SD card, neither setup presented any problems.
Conclusion
Having put this program through its paces, I believe that Resco's Audio Recorder does pretty much as advertised. I found it to be an excellent recorder that took some of the complexity of choosing a format and bit quality down a notch for an average user (like me) but I could also see if you were a power-user, you would find all the necessary options to make you satisfied too. The sound quality was very clear and the application well worth the price. Resco offers a 31-day trial so be sure to try it before you buy it!
I was a little disappointed in the operation of the editing module of the program. In my judgment, the editing module is only meant to be a basic audio editor in functionality despite the developer's claim of Audio Recorder possessing a "powerful editor" and "a simple editor". Then again, I did not expect Audio Recorder to be such a program based on my initial research and testing since its main goal as a product is to be a recorder first. I also would not recommend using Audio Recorder for a standalone audio file player of MP3 files as I found the implementation and operation of the player and playlists to be a little cumbersome in comparison to some of the "pure" MP3 audio player programs on the market.
As I said early on, I am a big fan of Resco's products and would recommend this program for anyone looking for a good recorder add-on to their PDA experience. If you decide to purchase this or any other program from Resco, please be sure you understand their upgrade policy. Purchasing their programs entitles the buyer to one year's worth of upgrades but the programs you load are not time-out based so you can use them from now until the end of days. After the first year, the cost for the upgrade renewal is 50% of the application's current retail price. Being a repeat user of their products, I am accustomed to paying for Resco upgrades when needed because to me…all of Resco's products seem to be worth it!
Product Information
Price:
19.95
Manufacturer:
Resco
Retailer:
Resco
Requirements:

Pocket PC, Pocket PC 2003 and WM 5.0
Approximately 2.3MB of storage memory and 1.8MB of RAM when running
Supports VGA screens including square screens (240 x 240)
Installable on either internal or card storage

Pros:

Audio Recorder is a great recorder with lots of user selected variables in both file format and bit-rate for the pro yet easy enough for the novice user
Really good sound quality and the format conversion tools for file conversion to different formats on both the PC and the PocketPC was a nice feature to have
The Voice Activated System on the Audio Recorder was a nice feature particularly in saving both power consumption and file space
Resco's Audio Recorder is well worth the money I paid in comparison to purchasing a standalone digital recorder

Cons:

I had issues with Audio Recorder's editing module which limited my confidence in its ability beyond the editing basics. I'd highly recommend some other PC software application that is specifically designed to do this task like Audacity if that's is your main software need.
Using Audio Recorder as an MP3 or other audio file format player, I found the implementation/operation as a standalone player to be lacking. Here too, I would recommend looking to the dozens of free and commercial audio player-only applications on the market where their ease of operation may be more towards your liking.