We use affiliate links. If you buy something through the links on this page, we may earn a commission at no cost to you. Learn more.
During Julie's last Garage sale, I picked up the Ducti High Voltage Messenger bag she had. I loved the bag's unique style when I first read her review, although I didn't think it was worth the $50, so I didn't buy it from Ducti. That turned out to be a wise decision, since I got it from Julie for less than half the price! I really liked the bag when I first got it; it holds my 13″ MacBook with room for my cell phone, iPod, and keys. However, the bag has no padding for the laptop, so I knew if I wanted to keep the bag I would need a slipcover for my laptop. The problem was, since the MacBook fits so snugly, there's no room for the added bulk a slipcover would add. So, I learned to be very careful while walking with my bag and setting it down as I arrived in class.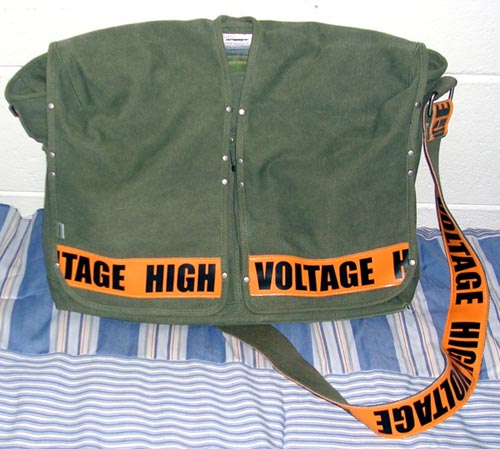 About 2 months after I bought the messenger bag, Julie contacted me saying Ducti had released a laptop version of the bag, and I was chosen to review it. I eagerly accepted the chance, since I knew I loved my current bag, and I hoped the newer version would take care of my misgivings.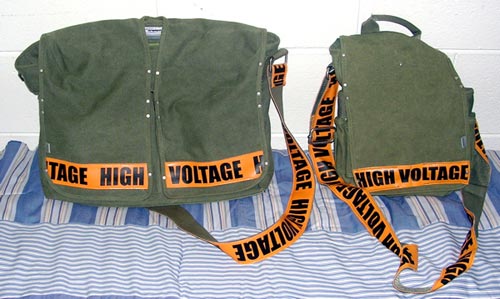 The laptop version is 20″ wide by 15″ tall, versus 10″ wide by 13″ tall for the messenger version. It looks very similar to the messenger version; both are made of green canvas and have "HIGH VOLTAGE" Police-style tape emblazoned on the front and strap. The bag has a double-flap, and I wish it didn't. I would rather it have only one flap, but I suppose they split it to make it more manageable. As it is, the split flap makes it pretty easy to let rain into the bag, and possibly on your laptop.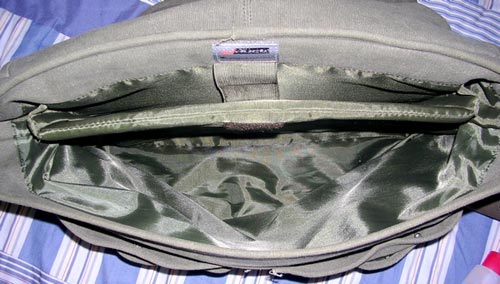 Inside, the bag has two large pockets: one which is padded and has an elastic closure with velcro (eeww). This is to hold your laptop, and is big enough to hold a 15″ (perhaps even a 17″) laptop. There is padding all around, so I feel relatively safe with my laptop in the pouch. The other large pocket is unpadded and open, to hold your various chargers and papers. I found this pocket great for holding clothes; I was able to carry only this bag for an entire 2-day getaway. It held 2 changes of clothes, necessary toiletries, and all the electronic goodies I need. The bag definitely has a lot of storage, and I found that even when full it doesn't really feel overly heavy. I do wish the strap had padding, though.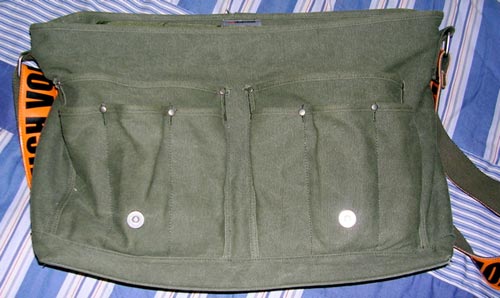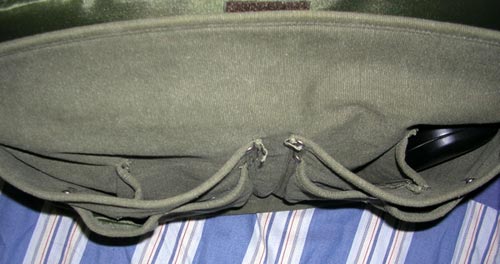 There are two other pockets along the front of the bag, which are in turn separated into two small pockets. These pockets work great for holding cell phones, MP3 players, phone chargers, or eyeglass cases. Finally, there are six small but deep pockets along the extreme front of the bag, which can hold pens or sync cables. It's worth noting the back of the bag does not have velcro like the messenger version, and it also forgoes the grab handle. I didn't snap a pic, because it's just an expanse of army green canvas.
Ignoring the bag's overly loud styling, it is really handy on short getaways when you don't need everything, and want to pack light. I think the bag, at 20″ wide, is just too wide to serve as an everyday bag, however. I still use my messenger bag for class-to-class walking, and I use my laptop bag on those college road trips.
Product Information
Price:
65.0
Manufacturer:
Ducti
Retailer:
FractalSpin
Pros:

Can hold a lot of stuff
Durable canvas construction
Adequately padded laptop compartment
Unique styling (screams COLLEGE) :)

Cons:

No grab handle
Two flaps
Too wide
Strap isn't padded