Remember my iFish review? I'm amazed that the video in that particular review continues to be one of the most viewed videos on this site. If you are a fan of novelty toys like the iFish, you should enjoy this review of Sega Toys latest offering: the idog mini. My friends at AudioCubes.com recently sent me the Blue version of this plastic dog.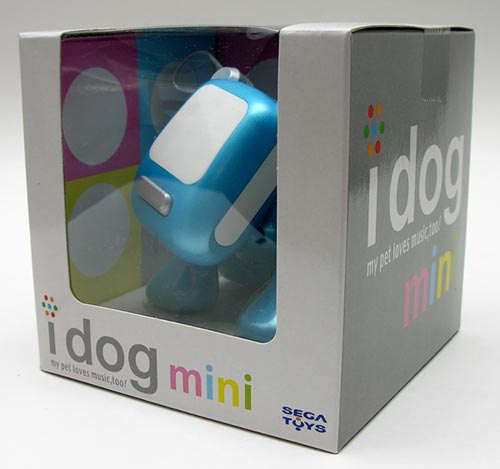 The idog mini is a smaller and simpler version of Sega's original idog. I've never played with the original version, so I can't really compare the two. I can tell you that the mini version stands about 3.5 inches high and wide.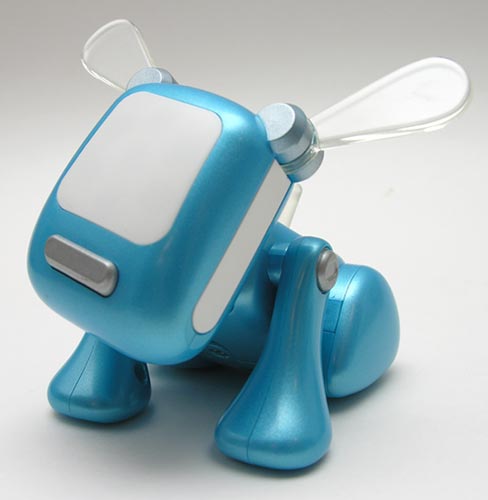 This little guy is cute and comes in Blue, Silver and Pink. Although the idog remains pretty much stationary, it does have a few movable parts.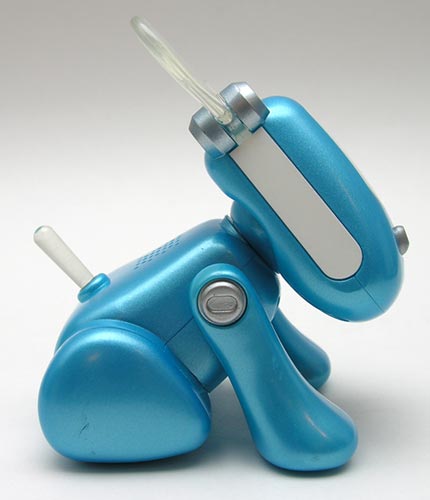 The head will swivel automatically when the idog is powered on and reacting to music. The ears can be moved up and down and the front legs can be clicked forwards and backwards.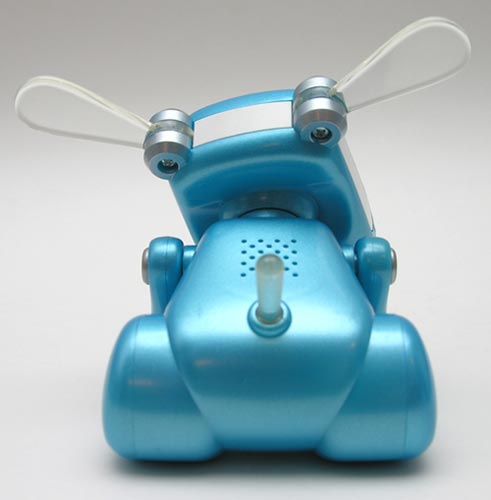 If you're not familiar with the idog, you're probably wondering just what the heck it does. Well, it uses a built in microphone to listen to the rhythm of music and then recreates it with 7 colored blinking LEDs on it's face.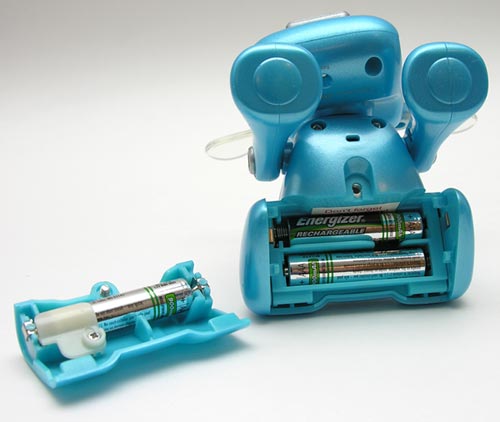 It is powered by 3 AAA batteries (not included) that can be accessed in its belly. After the batteries are installed, you press the idog's nose to wake it up. Doing so will cause him to bark, shake his head back and forth, and blink the different colored LEDs on his face.
If you ignore the idog for a few minutes, it will bark at you to get your attention. It will also play little tunes (it supposedly has 12 different tunes stored in memory) every so often.
The fun part comes when you turn up some music and set the idog near the speaker. After a few seconds, the LEDs on his head will start to blink in different patterns to the rhythm of the music.
And that's about all the idog mini does… The English version of the instructions (only Japanese instructions are included in the box) say that you can play with the idog by pressing his tail or moving his ears. It also says that you can have it record your voice and play it back to you. I think AudioCubes inadvertently linked to the full-size iDog instructions though… The mini version doesn't have any of these advanced features. It basically just reacts to the beat of the music and will also bark at you if you press his nose. If you hold down his button nose, he will power down.
See it in action…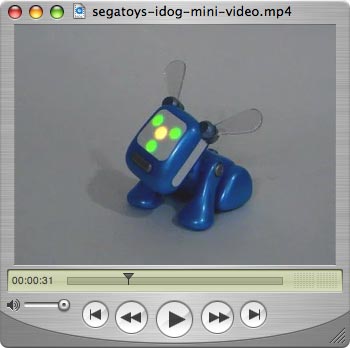 Click on image to play the QuickTime video (1min 51sec,
3.6mb). The video is encoded in the H.264 codec. You will need the latest version of
Quicktime to view it.
VLC is another free viewer.

The idog mini is a cute little toy that will probably appeal to children and teens way more than adults. It adds a little bit of extra pizazz to your music. It's just too bad that the mini version lacks all the features of the full size version. That said, this is a dog that you don't have to take to the vet, feed or brush. ;o)
Product Information
Price:
32.0
Manufacturer:
Sega Toys
Retailer:
AudioCubes
Pros:

Cute
You don't have to feed it
You don't have to take it to the vet
Doesn't shed

Cons:

Doesn't have all the features of the full size version