We use affiliate links. If you buy something through the links on this page, we may earn a commission at no cost to you. Learn more.
Would you believe me if I told you that a plastic device the size of a deck of cards could improve your life? The folks at HeartMath claim that this is possible with their emWave personal stress reliever unit. The emWave is a hardware version of their emWavePC software product that uses a form of biofeedback to help you learn to breath and think your stress away. I don't know about all of you, but I'm all for finding a way to alleviate some of my day to day stress.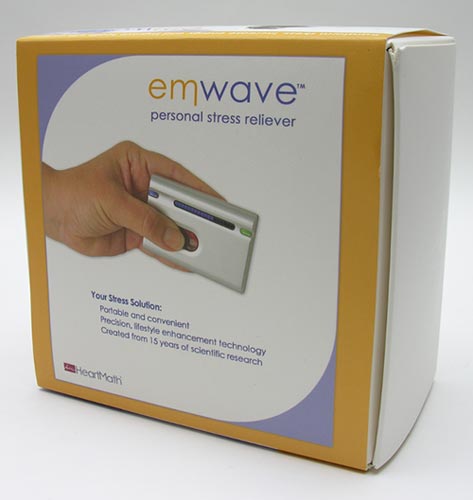 Package Contents
emWave Personal Stress Reliever Unit
Ear Sensor
Carrying Case
Battery Re-charger (AC Adapter)
Coherence Coach CD
emWave Owners Manual
Quick Start Guide
Jump Start Card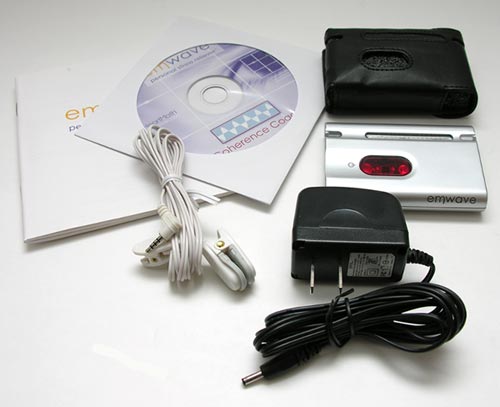 The emWave module is 3.37 x 2.25 x .7in (85 x 55 x 14mm) and weighs in at 2 ounces. It's very small and light weight and can easily fit into a pocket, purse or bag. It even comes with a small case that has a belt clip.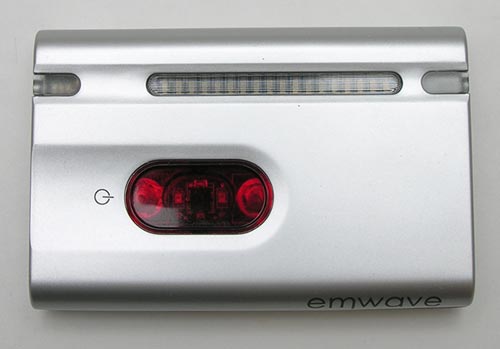 Available in Silver or Blue, the unit is constructed of plastic with one multifunction sensor button on the top (the Red oval) and a grouping of status LEDs above it. The leftmost LED is the pulse indicator. The middle row of LEDs is the heart action strip. The rightmost LED is the coherence level indicator. More on coherence in a second.

The AC adapter port and connector for the ear sensor are located along the Left edge of the device.
First of all, let me tell you what the emWave claims to do. In a nutshell, it monitor the intervals between heart beats. This is called heart rate variability (HRV). The beat-to-beat changes are what creates your heart rhythm pattern. When a person is stressed, their heart rhythm pattern becomes irregular and incoherent. This can affect health, brain function, performance and overall sense of well being. When you are not stressed and are feeling great, you're in a coherent state. The emWave helps you to quickly and easily reach a state of high coherence. Coherence is a highly efficient physiological state in which the nervous system, cardiovascular system, hormonal and immune systems are all working in harmony. So, the more coherence you have, the less stress you have. Sounds logical right? But how can a little block of plastic do all that?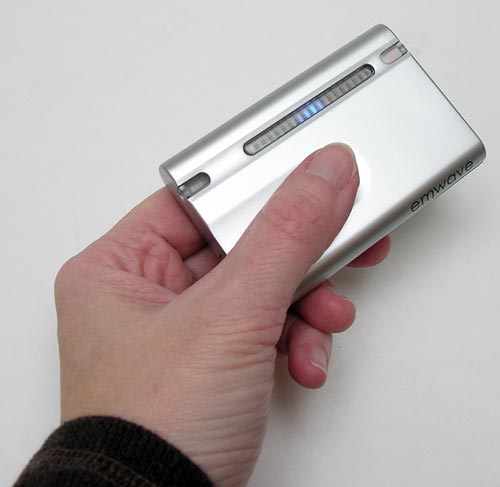 First of all, you have to charge the batteries by plugging in the AC adapter (the emWave can run for approximately 6hrs on one charge). Once the batteries are charged, you press the left side of the multifunction button to turn on the emWave. You'll then hear a tone and the status LEDs will light up. The next step is to use either the ear sensor or the thumb sensor to have the emWave monitor your heart rhythm. I find that using the thumb sensor is easier and more convenient than the ear clip. All you have to do is just press your thumb over the button. You don't have to press really hard or anything, just firmly. You'll know you are doing it correctly when the leftmost LED starts blinking in the rhythm of your heart beat. If it isn't recording correctly, the LED will turn Red. When the heart rate LED starts blinking steadily, the middle row of LEDs will start to run back and forth across the heart action strip. As the LEDs travel to the right, you breath in. Then when they flow to the left, you breath out. As you do this over and over, the rightmost LED will turn from Red, to Blue, and finally to Green. Green means you have reached the highest level of coherence. The longer you can keep the LED at Green, the more relaxed you should be.
Deep breathing really isn't anything new, it's long been suggested as a way to calm frazzled nerves. The instructions for the emWave go a step further than just helping you breath though. While you breath, you're supposed to focus on your heart (the center of your chest) and think of your breaths flowing in and out of your heart. You're also supposed to concentrate on positive feelings by thinking about a favorite place, person or event. They claim that shifting from negative feelings to positive ones while using the emWave is an important step in relieving your stress.
Included with the device is a CD with Coherence Coach software for the PC and Mac. This software gives you another method to help with breathing by using animations and new age style music.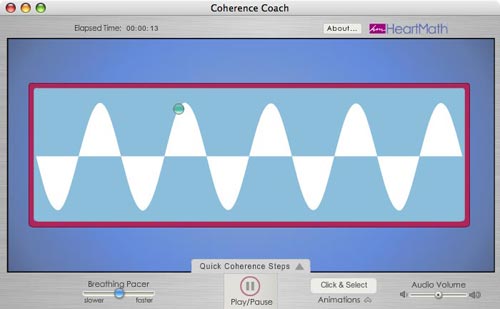 The breathing pacer animation shows a ball that travels up and down through a sine wave.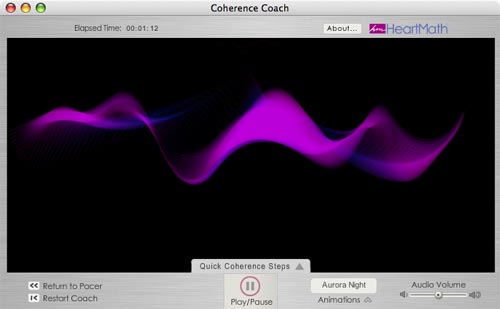 There are several other animations and audio tracks that can help too.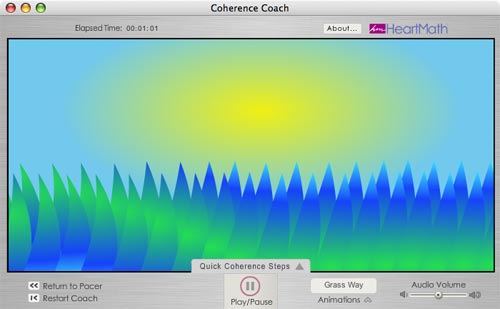 This may sound like a lot of hocus pocus, but the people that created this device have 15yrs of research to back it up. They have had their research published in journals such as Harvard Business Review, Wall Street Journal, American Journal of Cardiology, Stress Medicine, and the Journal of Preventive Cardiology. Some of their clients include BlueCross BlueShield of Tennessee, Stanford Business School, Cisco Systems, University of North Carolina Hospitals, Scripps Center for Integrative Medicine, Sutter Health, Shell, DuPont, Sony, Redken, and Liz Claiborne.
See it in action…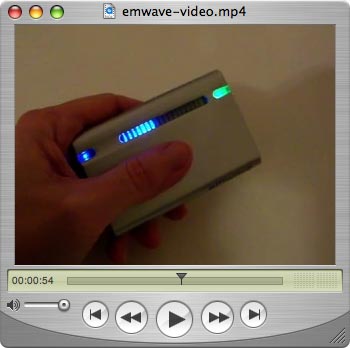 Click on image to play the QuickTime video (1min 51sec, 3.6mb). The video is encoded in the H.264 codec. You will need the latest version of Quicktime to view it. VLC is another free viewer.

I found the emWave to be very easy to use and within a few seconds, I was able to turn the coherence indicator from Red to Blue, to Green. If you watch the video clip, you can also see that in the middle of the session, the indicator turns Red again. This is because I started breathing rapidly to see what would happen. I then began trying to relax again and the indicator quickly turned Blue and then Green. Ask you keep the indicator Blue or Green, bars will start to accumulate on the left side of the Heart Strip. This turns relaxing almost into a game as you see how long you can keep collecting the bars. If you don't relax and the indicator goes back to Red, the bars will start to disappear.
Did this product help me feel less stressed? Yes, it really did. I should tell you, that I've practiced deep breathing to help with stress *before* I ever heard of the emWave. So, being able to calm myself down tends to come easy to me. That said, I like all the visual indicators that the emWave possesses. Seeing that Green LED has a positive effect that just closing your eyes and breathing deeply does not. On the other hand, I can't see myself pulling the emWave out of my gear bag at work and using it during the day when everyday work stresses start to take a toll on my sanity. I'm more likely to revert back to my old method of closing my eyes and taking a few deep breaths. This is mostly true because no hardware is required, I can do it anywhere, nosy people won't ask me what the heck I'm doing and I don't have to worry about batteries running low. So even though I can say that the emWave does help, I think it might be better suited for someone that doesn't already have their own established method of de-stressing. For those people, the emWave could be come a valuable tool.