We use affiliate links. If you buy something through the links on this page, we may earn a commission at no cost to you. Learn more.
Here's a handy gadget to have around if you're constantly getting your knees smashed by the seat in front of you on an airline- the aptly named "Knee Defender" from Gadget Duck. What is it? What you get for your hard earned $14.95 money are two small clamp/wedge looking pieces of plastic that are very easy to throw in a carry on bag or jacket pocket. They're solid, well made blocks of plastic designed to fit between the bar of your seat tray and the back of the seat in front of you. There's no moveable parts or buttons or anything complicated. You just lower your tray table, slide the Knee Defender down the bar until it rests against the seat back. Viola! You can also rest it halfway up or where you feel your knees will not be encroached upon. The Knee Defender will rest on the bar.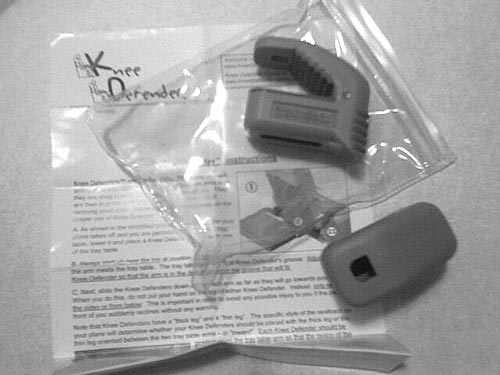 Did it work? Yes! The seat wouldn't recline. Not much more to say there so lets move on to the things you might not have thought about before you placed your order. First, you must realize that this only works with your tray table down! I guess if you prefer to fly this way, that won't be an issue, until you have to get up or someone needs to get passed you. This also means you have to be Johnny on the spot with it as soon as the Captain gives the "all clear" once takeoff is over. I know one of the first things I go for as soon as I hear the "ding" is that recline button, so if you're sitting behind me with Knee Defenders, you better be quick to deploy them.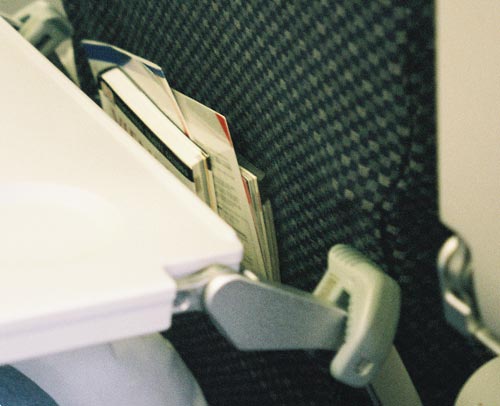 Of course, there are social implications. This product has designed for folks with long legs or are otherwise encumbered by the seat in front of them. I should disclose that I'm neither. Therefore, I politely informed the person in front of me what I was doing and asked them to help me test it out. They graciously agreed… as long as it was only for a minute or two.
Another thought I had that I didn't see on the Gadget Duck website was regarding in-flight entertainment. I flew on an Airbus 330 that had the LCD screens in the back of the headrests. I've found that whenever the person in front of me reclines their seat, I couldn't see the screen clearly anymore. I'm only 5'6″ and even with the screen tilted/angled as high as it can go it's just barely visible to me (the way some LCDs get when you look at them other than straight on). If you could stop the seat an inch or two up with the Knee Defender, you might be able to see the screen without having to crane your neck, the person in front of you might not even notice.
The Knee Defender FAQ is littered with warnings about when you should and shouldn't use it. Of course, common sense applies. If you need to protect your knees and feel comfortable with having the tray down and potential "social" problems that might arise, then give the Knee Defender a try. I would think though if you're going through the trouble to ask the person if it's alright to use the knee defender, you might as well just have them stop at a certain, mutually agreeable position.

Product Information
Price:
14.95
Manufacturer:
Gadget Duck
Retailer:
Gadget Duck
Pros:

Simple to use
Easy to pack

Cons:

Could annoy the passenger in front of you