We use affiliate links. If you buy something through the links on this page, we may earn a commission at no cost to you. Learn more.
Are you the type of person that wants a great PDA that happens to also have a good phone built into it? Or would you rather have a great phone that just happens to also function as a good PDA? That's almost always the question you have to ask yourself when you're in the market for a smartphone. It seems that no matter which brand of phone/PDA that you look at, you can't find a device that is both an excellent PDA and an excellent phone. Trade offs, gotta luv em…
For that very reason, this review is going to be approached by two different perspectives. I'm the type of person that wants a great phone first, and a great PDA second. Since Rob is the opposite, I thought he'd be the perfect person to help me out with this review. As a result, I got him a TyTN at the same time that I bought mine. So, let's get this tag team review of HTC's TyTN rolling!
Julie's comments are in BLACK, Rob's are in italicized BLUE.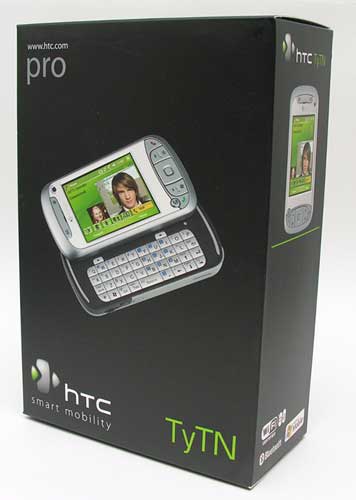 In case you didn't already know, HTC is the maker of a lot of phones / PDAs on the market today. From the original Compaq iPAQ to the current Palm Treo 750v, HTC has been around since 1997 and seems to really know what they are doing as far as creating devices with great hardware design. The TyTN is one of their latest Windows Mobile 5.0 Pocket PC phones. With a slide out keyboard, WiFi, Bluetooth and a Quad band GSM radio, this device has a lot going for it.
Hardware Specs
Operating System: Windows Mobile 5.0
Memory: ROM 128MB / RAM 64MB SDRAM
Processor: 400MHz Samsung 2442 processor
Display: 240 X 320 2.8in TFT-LCD 65,536 colors
Radio: GSM/GPRS/EDGE/UMTS radio, GSM bands: 850/900/1800/1900, UMTS bands: 850/1900/2100
Connectivity: Bluetooth 2.0, WiFi 802.11b/g, Infrared (IR)
Expansion: MicroSD card slot
Camera: 2.0 megapixel with 8x digital zoom
Battery: Removable 1350 mAH Lithium-ion
Talk time: up to 4-5 hours GSM / 2-4 hours UMTS, Standby time: 120-250 hours
Power: AC adapter (Input 100-240AC, 50/60Hz 0.2A / Output 5V and 1A)
Size: 112.5 x 58 x 21.95 mm
Weight: 176 grams
One thing not mentioned in the official specs is that the TyTn also has an ATI media accelerator in it. I'm not sure how much it helps in practice, but this should allow video playback to be smoother and more battery-friendly than on PDAs which use the CPU for media decoding. Also worthy of special note is the support for the 850 and 1900 MHz UMTS bands; this is one of the first phones to support UMTS and HSDPA in North America.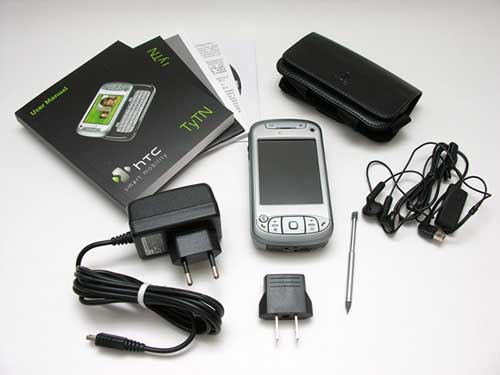 Package Contents
HTC TyTN
Leather Belt case
Extra stylus
Li-ion battery
USB sync cable
AC charger with 2 country adapters (US and Asian)
Stereo headset / mic
Getting Started CD
Quick Start Guide
User Manual
Hardware Design
Front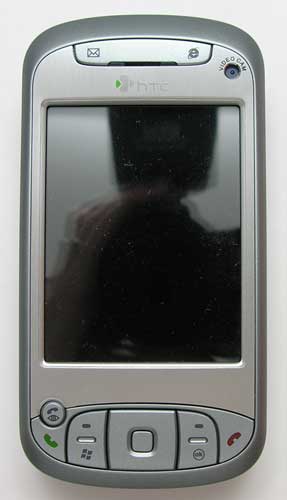 The TyTN is shaped like a little rectangular rounded corner brick. Constructed almost entirely of grey plastic (except for a brushed aluminum inset on the front), this device feels solid and substantial in hand. It had no troubles passing my legendary gadgeteer squeeze test without rattling or flexing.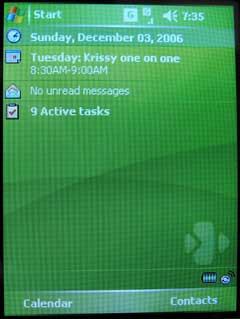 The 2.8 inch diagonal display is easy to read, with vivid colors and crisp text. But like almost every color PDA/Phone that I've tested over the years, the screen is almost unreadable in bright sunlight.

Along the top there are 2 buttons, a status LED bar and a front facing camera. The two buttons are mapped to the messaging application and Pocket IE web browser. The LED bar (you can see it right above the HTC logo in the image above) shows the status for battery charging, radio reception, Bluetooth and WiFi.
Regarding the front facing video camera, I'm not sure what it's for because I don't see anything in the software that references it.
I haven't tried it yet, but apparently CoolCamera by Ateksoft supports it for taking pictures. Also of note is that Cingular's 8525, their branded version of the TyTn, doesn't have the front camera at all due to the lack of video calling support on their network.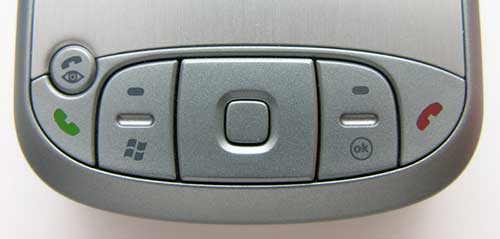 At the bottom of the front, you will find the main button layout. There are buttons to Start a call, End a call, OK (exit applications), Windows Start Menu, Left softkey, Right softkey, 5-way navigation and the Video Call button.
Video calling doesn't work in the United States, and probably won't any time soon. If you're on a UMTS network elsewhere, you can probably press the Video Call button (which is duplicated on the touch screen user interface) to turn on the front camera and videoconference with the person you're talking to, provided, of course, that they have a video-capable phone on their end as well.
All of the buttons are flat and sit flush with the casing around it. Even so, they have great tactile feedback and are easy to press. The only issue that I have is trying to feel for a specific button with gloves on.
Since I'm a Treo user, I've grown very accustomed to having a thumbboard built into my PDA/Phone. This caused me a bit of frustration when I first started using the HTC. It almost felt like I was trying to use this device with one hand tied behind my back. That might sound strange since the TyTN does have a built in keyboard…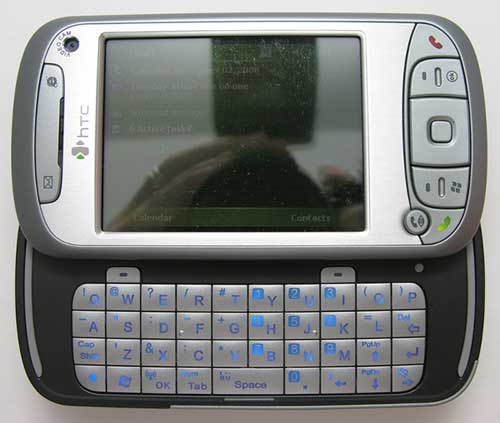 To access the keyboard you have to slide the screen to the right. I usually do this by rotating the device in my hands and then use my thumbs to slide the display up to expose the keyboard. The display will click in place securely and the onscreen image will automatically rotate to match the new orientation. When you slide the display back in place to hide the keyboard, the screen will rotate back into portrait mode automatically.
This reminds me a bit of the HP200LX and other keyboard-based handhelds of its day; landscape mode is nice for web browsing, email, and other text-oriented activities, and the TyTn's automatic switching is seamless in most modern PocketPC applications.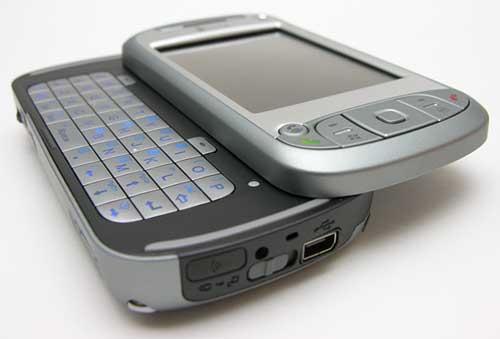 Holding and using the PDA when the keyboard is exposed feels very comfortable and not awkward at all.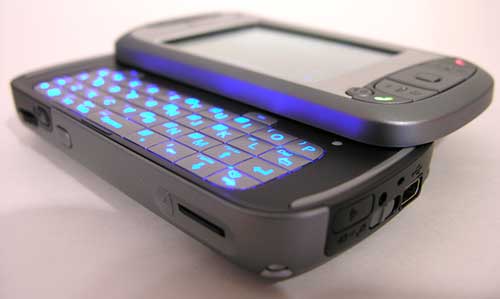 The keyboard itself has a cool blue backlight that is activated when you press one of its 41 keys.
See the spot above the 'P' key? That's a light sensor, so that the backlight will not activate if you are, for example, outdoors in the middle of the day. I wonder if this actually saves battery life, or if it's just one of those things that sounds cooler than it actually is.
Ha! I'm so glad you mentioned that, because I didn't know what it was for. I actually tried pressing it with my stylus thinking it was a reset switch!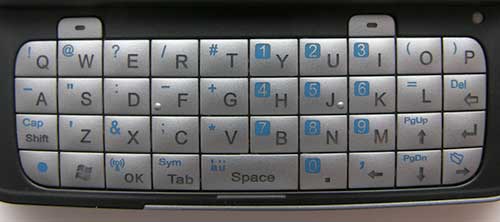 The keys are large and slightly dome shaped which makes typing for even long periods of time a pleasure. The Left and Right soft keys are even duplicated on the keyboard so that stylus use isn't necessary.
Back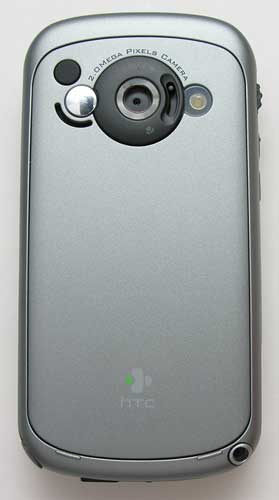 On the back of the TyTN you will find the camera lens, LED flash and speaker. There is also a little toggle slider switch to change the camera from macro to normal mode. In the very bottom right corner there is a small eyelet for a hand strap.
The built in camera is 2 megapixel, which is a better resolution than the majority of camera phones. I was hoping to be impressed by the camera due to the fact that it has an LED flash and a switch to toggle between macro and normal mode. Unfortunately, I am not impressed at all… The pictures (both macro and normal) are blurry. :o(
Indeed, the TyTn follows in the grand tradition of mediocre-at-best phone cameras. Oh well, I guess it can't have everything, or else there would be nothing to improve in the next model.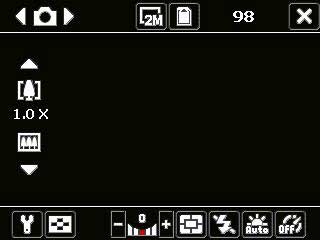 This is the camera interface
There's also the problem with the side button placement. When you turn the phone in landscape orientation to take a picture, your left thumb naturally rests along the button left edge of the phone where the jog wheel and OK button are located. These buttons are pretty sensitive, so it doesn't take much effort to accidently activate them while you're trying to take a picture.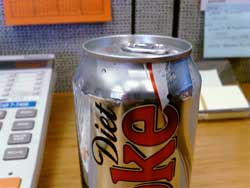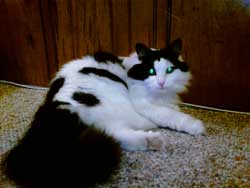 Left to right: macro shot, normal shot. Click on thumbnail to see full size image
Left Side

The left side of the device has a jog dial, OK button, Voice command button and MicroSD slot. The jog dial allows you to scroll through various lists, menus and while in a call, it will allow you to adjust the volume level up and down. If you press the Voice command button, it will launch the Voice Speed Dial application. Pressing and holding the Voice command button will allow you to record a voice note.
On the Cingular version, this button apparently is hard-coded to activate a future Push To Talk service, and can't be reassigned without additional software.
Regarding Voice Speed dialing… You actually have to set up an entry for each person that you want to dial. You do this by recording a command like "Call Rob's TyTN", and then link it to the appropriate contact phone number. It's not surprising that I like the voice command app on the Treo 750v a lot better than the one on the TyTN. There's nothing to setup on it. You can just hold the button and say "Call Julie at Home" or "Call Julie at Work" and it will verify what you asked and then if you say Yes, it will dial the number. You can also use it to interact with other applications.
The voice dialing software Julie mentioned is Microsoft Voice Command, which comes bundled with the Treo 750v but can be purchased separately for $40.
Right Side

On the right side of the TyTN you will find the Power button, Communications Manager launcher and Camera button. It's no surprise that pressing the power button will toggle the power on and off. But, this actually just puts the phone into sleep mode. If you hold the power button for more than 5 seconds, it will completely shut down the device. This means that you will not receive calls or notifications until you turn the phone back on.
Top
There are no buttons or special features located on the top edge of the phone.
Bottom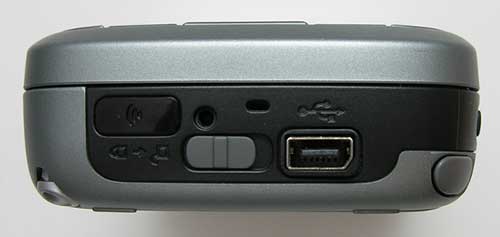 If you look on the bottom edge of the TyTN, you will see the IR port, Battery cover lock, reset switch, microphone, USB sync / charge port and stylus silo. The USB connector doesn't appear to be the normal shape for a mini USB plug, but never fear, plugging one in will work just fine. You can either charge using the supplied AC adapter, or via a standard USB mini cable. I use the last method.
If you've been paying attention, you might be wondering where the earphone jack is. Well, you have to use the earphone / mic that comes with the phone. It uses the special USB connector. I find this to be a little annoying. Not that I use my phone as a media player that often, but if I did, I'd want to use my own earbuds… even if I had to use a 2.5mm to 3.5mm adapter.
If you're willing to poke around a bit with a registry editor, it will apparently work with Bluetooth A2DP stereo headsets. Until that is better supported, however, I agree that the lack of a proper headset jack is an annoyance. A lot of recent phones are guilty of this, but that's no excuse.
Battery life has been pretty good for me. I'm not a heavy user of both the phone or PDA features. I mainly make a couple short calls each day, check email once or twice, look up appointments, text notes, and maybe play a game for a few minutes. With that type of usage, I have been able to get away with charging every other day and sometimes every 3rd day.
I also don't have any complaints about battery life. I'm pretty diligent about plugging things in every night, or at least once every couple of days and I don't think I've seen the TyTn dip below 50% charge. And that includes some days of heavy WiFi and Bluetooth use, installing and trying out software, and the like.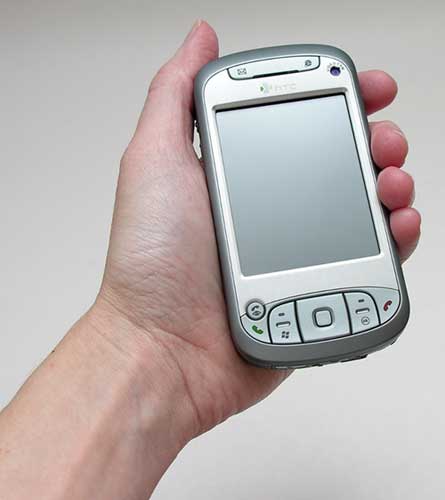 Let's talk a little more about the size of the TyTN. In hand it feels a little bulky because it is pretty thick. It doesn't feel HUGE, but it does feel somewhat unphone-like to me. That said, it does feel way more like a phone than the HP hw6945!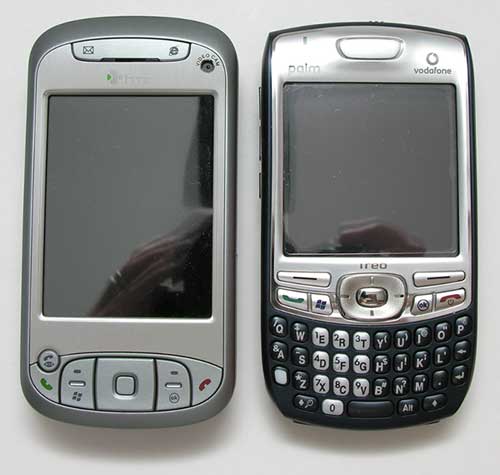 Compared to the Treo 750v, it doesn't look that much different in overall size does it?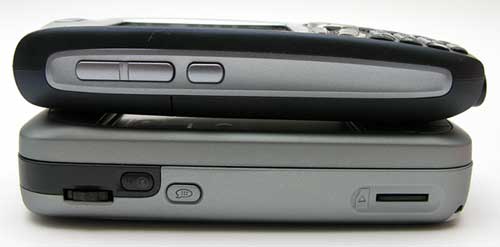 The Treo is a little thinner which does make a big difference in how the device feels in your hand.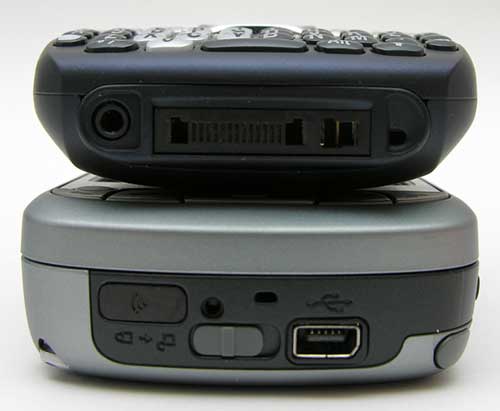 You can really see the thickness difference in the picture above…
As far as overall phone experience, this is where the TyTN falls a bit flat for me. As a PDA, I love the screen and built in WiFi. It's a great little Pocket PC. But as a phone, the lack of the always accessible keyboard has made it feel just a little awkward for me. Although I have gotten used to it in the weeks since I've been reviewing this phone, I still find myself really missing the Treo keyboard. The Treo is a great one handed device; the TyTN requires the use of two hands for true text operation.
I was looking for more of a PDA with phone functionality, rather than the other way around, so I'm happy to trade the front keyboard for a rectangular screen. I still haven't fully conquered my fear of directly touching a PDA display, but the between the finger-sized buttons on the dialer application, the jog wheel, and the front face buttons I don't find it any harder to use one-handed than any other keyboard-less phone. One thing that helps a little with this is to get a phone pad input method, such as the one HTC provided for some of its other PDA phones, which gives you a thumb-friendly on-screen T9 predictive text input pad that works in all Windows Mobile applications. I don't know why HTC didn't include this in the TyTn's ROM; it can be downloaded from a few places on the web, and while it wasn't created for the TyTn it works just fine on it.
Besides keyboard use, the TyTN has very good reception. I don't think I had one dropped call while using this phone. I've not had any issues with audio volume on either side of the conversation. The only thing I have noticed is that sometimes I can hear some static in the background of my calls. Have you noticed that Rob?
I can't honestly say if I've noticed static, because I'm used to marginal quality on a lot of my calls regardless of what phone I'm using. I live in a semi-rural area and even the best phone suffers from a lot of audio glitches, if not completely dropped calls, if I try to use it indoors at home. (And that's on Cingular 850 MHz; T-Mobile 1900 MHz is a lost cause.) The fact that the TyTn works here at all is a sign that it has reasonably good RF performance. I can walk around the house with it without finding any obvious dead spots, which is more than I can say for some phones I've tried. When I'm out and about I have had nothing to complain about.
The TyTN runs on a 400MHz processor. I haven't had any real issues with application speed, but it isn't unusual to see the little spinning wheel for a second or two when you launch some applications.
Now let's talk a little bit about the software that powers the TyTN. This particular device uses Windows Mobile 5.0. Below you can see a list of all the applications that are included in ROM.
Software Installed On Device
ActiveSync
Alarm Clock
Bubble Breaker
Calculator
Camera
Communications Manager
Internet Explorer Mobile
File Explorer
Microsoft Office Outlook Mobile
– Email
– Calendar
– Contacts
– Tasks
– Notes
Microsoft Office Mobile
– Word Mobile
– Excel Mobile
– PowerPoint Mobile
Phone
Pictures and Video
ClearVue PDF Viewer
Download Agent
Pocket MSN
SAPSettings
Search
SIM Manager
SMS / MMS Messaging with chat view
Solitaire
Terminal Services Client
Voice Speed Dial
Windows Media Player 10 Mobile
Wireless Modem
Zip
Software on CD
ActiveSync 4.1 (for your desktop)
Outlook 2002 (for your desktop)
As you can see, this device doesn't come with a typical software bundle that includes extra full and trial applications. I'm wondering what type of bundle the Cingular version (8525) comes with…
From what I understand, the Cingular version doesn't add a lot to the basic bundle. The main additions are the clients for MobiTV and TeleNav, which take advantage of Cingular's high speed network, but otherwise the software load is the same.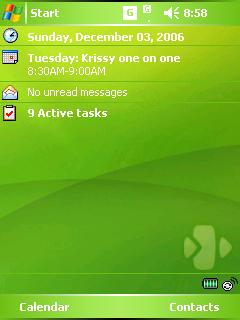 The TyTN doesn't come with a bunch of today plug-ins that can slow down the device. However, there are two little additions to the bottom of the today screen. A battery level indicator, and a small icon that you can click on to launch the communications manager.
If you're handy with a registry editor, you can also enable a hidden today plugin, apparently a standard part of Windows Mobile, which shows the name of your GSM carrier and the status of Bluetooth and WiFi. (You could also get this information by tapping the status icons up top, of course.) Why this isn't available by default I don't know.
I don't really think the tray icons are all that useful. The communication manager has its own hardware button, while the battery icon is easily replaced (and improved upon) by one of the many task managers or today screen plugins out there. You can turn them off, but it requires poking around in the registry.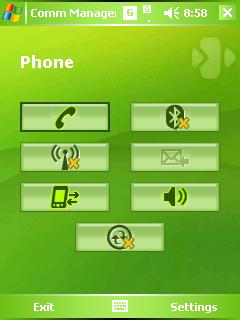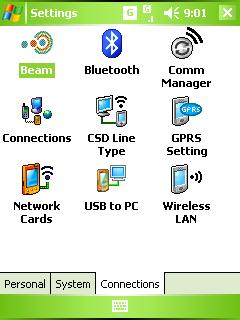 The communications manager can be accessed by the icon at the bottom of the today screen or by the button on the right side of the device. I like to use to this app to mute the speaker. It will remember the last cursor location, so I just leave it on the little speaker icon so that can easily toggle the status.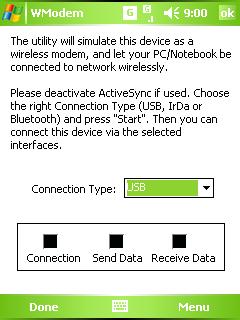 You are supposed to be able to use the TyTN as a modem for a PC or Notebook via USB, IR or Bluetooth. I tried this with my Powerbook and although I was able to pair the two devices, the Powerbook kept asking me for a user name, password and phone number. I'm not sure what settings are required to use the existing data plan on the phone though…
Surfing webpages using the phone itself is very comfortable. There are several zoom levels in Pocket Internet Explorer to enable a good chunk of text to be displayed. See some examples below.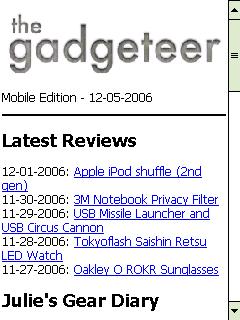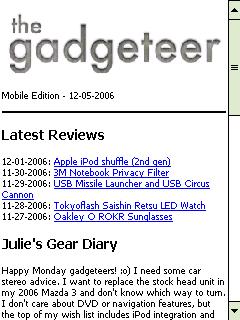 Medium zoom setting on left, smallest zoom on right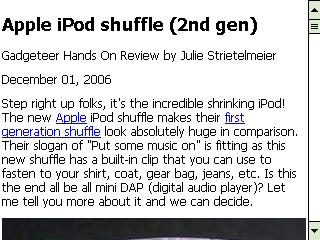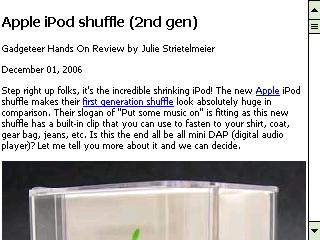 Landscape mode: medium zoom setting on left, smallest zoom on right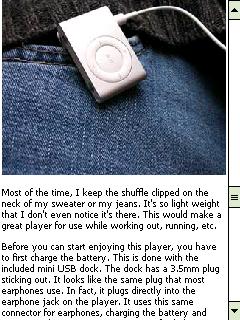 Images in webpages look pretty nice too.
The TyTN would make a great little web surfing device if you happen to live in an area with 3G coverage. Unfortunately for me, I just have Edge right now. Even so, surfing felt relatively snappy. I did use http://text.dslreports.com/mspeed to test my connection a couple of times, and came up with results of:
200k test:

133 kbit/sec, 0.893s latency
159 kbit/sec, 0.916s latency
Not too horrible :o)
I tried the same mobile speed test on my home WiFi network, it came up with a result that was pretty close to the speed of my DSL. I tried copying a large file to the storage card with Total Commander and the results were not as good; while it is nice to have 802.11g in a PDA, the rest of the hardware isn't really capable of using that much bandwidth. For surfing and streaming, it works well both at home and at public hotspots.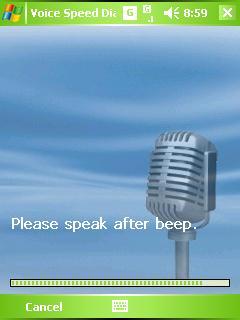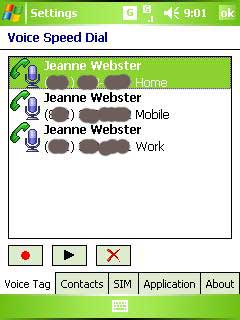 This is the interface for the Voice Speed Dial app.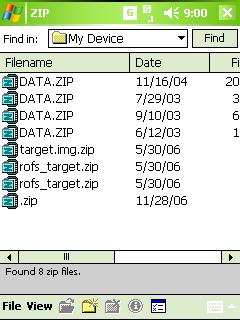 And last but not least, here is the Zip application that is also included with the TyTN. It's a simple interface to allow you to zip up files to save storage space.
I have to say that the HTC TyTN is a great little device. With its nice display, Quad band GSM, WiFi, Bluetooth, and keyboard, it's really hard to find many faults. Of course you know I have to complain about something, so here goes. The camera is less than stellar and for me, the phone experience just isn't as good as… yes, you know what I'm going to type… the Treo. I can't help it. I think I'm forever spoiled. Seriously, if you want a device that's a little bit more PDA than Phone, this one is a great choice. If you're the other way around then it might not be the perfect device for you. What do you think Rob?
I really like it. As I mentioned earlier, I was interested in something which was a PDA first and foremost. I was a bit wary of switching to the Windows Mobile platform, since I've had PocketPCs before and always found myself underwhelmed. But as a Windows PDA, the TyTn lacks for very little; about the only significant thing I could wish for is a bigger screen, and that would be impossible without making it less portable. I've switched completely over to the TyTn from my Palm TX, and I don't think I'm going back.
I can't yet say the same for myself. I am having a hard time deciding if I want to go back to Palm or stick with Windows Mobile. There are things that I like about both software platforms. As for the hardware, I'm still looking for my perfect Phone/PDA combo. The TyTN is close in some aspects, but not quite the one for me at this point. The quest continues…