We use affiliate links. If you buy something through the links on this page, we may earn a commission at no cost to you. Learn more.
Intro
Wifi and Bluetooth-capable devices and peripherals are everywhere nowadays, and "going wireless", or having a "wireless lifestyle" seems to be on a lot of our minds. It is not uncommon to see people on the commute, or people in their cars going hands-free throughout the day wearing their Bluetooth headsets being tethered invisibly/almost magically to their cellphones. Whatever your reason for needing Bluetooth in your daily life, Oakley brings you a full dose of it in their $249 O ROKR sunglasses.
History
Oakley started out in the late '70s making rubber grips for motorcycles. (Folklore has it that Oakley was the name of the owner's dog) Throughout the last 30 years, they have carved a niche in the cool-shades market for athletes and wannabe athletes through sponsorship and word of mouth. Many think Oakleys are tacky and ugly (including my wife), but others think they are a cutting edge and forward thinking company (like me). A couple years ago, Oakley decided to foray into the "wearable electronics" arena with their THUMP sunglasses. If you ever watched DOG the Bounty Hunter, you know the sunglasses I'm talking about. Tho, I don't think Oakley ever intended to get that kind of publicity.
O ROKR is the 3rd incarnation of wearable electronics from Oakley. There was the THUMP, then THUMP 2 (sunglasses with MP3 players). The difference with O ROKR, was that Oakley decided to remove the built in mp3 player, but smartly paired with Motorola and collaborated to develop a pair of sunglasses with Bluetooth technology. So instead of accessing the limited tracks on-board, you can wirelessly receive calls from your Bluetooth enabled phone, or effortlessly stream music from your iPod. Motorola is no stranger to producing excellent Bluetooth headsets and cellphones, so this partnership is ideal for compatibility between the O ROKR and cellphones.
The Setup
After the initial unboxing, I realized that several items were not included. One, there was no manual included – but it was easy enough to download a PDF'ed one from oakley.com, and second, in order to stream music to the O ROKR, I needed a Bluetooth adapter/attachment for my iPod(s). So while perusing oakley.com, I realized that oakley sells the iCombi and recommends it for use with the O ROKR. In order to get the iCombi asap (and also cheapout on $15 shipping fees),I decided to forego the online route and just gun down to the Oakley flagship store in downtown Toronto. Convenient indeed. While there, I felt obligated to purchase a protective hard case as well to protect my new toy. And the O ROKR definitely warrants a case – this thing is a creaking banshee. For those faint of heart, stay away from the O ROKR. (I can just picture Julie giving the O ROKR a failing grade for the gadgeteer creak-test) From the hinges, to the gazillion pivot points on the speakers' arm-structures, all the moving points either squeak or creak.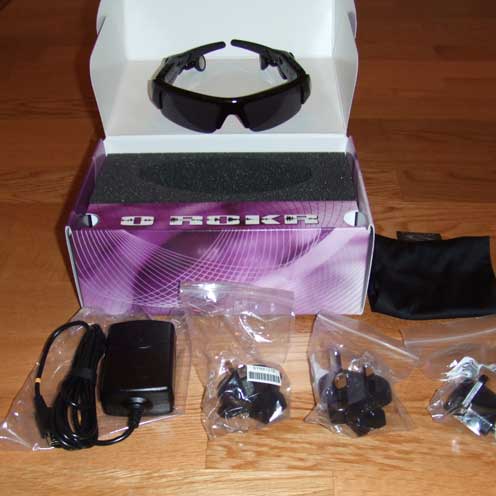 Box includes O ROKR, micro-fiber cleaning bag, mini-USB wall charger, and 3 outlet adapters.
I was very impressed with how small the iCombi adapter was. I have seen other Bluetooth adapters for the iPod, but this one takes the cake. The thickness is just a tad more than the nano…so about the same as my nano snuggled inside its c6mfg carbon fiber case.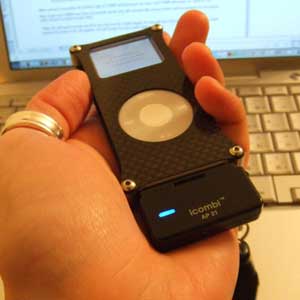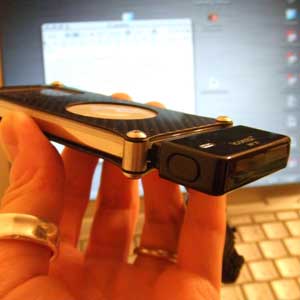 The Controls
There are 3 buttons on left arm to control (from back to front) volume down, on/off or pickup/hang-up and volume up. Three buttons on right arm control (from back to front) track back, play/pause and track forward.
First things first, out of the box, the O ROKR is first and foremost advertised as an excellent Bluetooth headset. I have 2 cellphones available for pairing/testing. As per instructions, the O ROKR defaults to "0000" when pairing. Easy as pie. O ROKR was recognized by my motorola RAZR and Sony Ericsson Z800 without a hitch.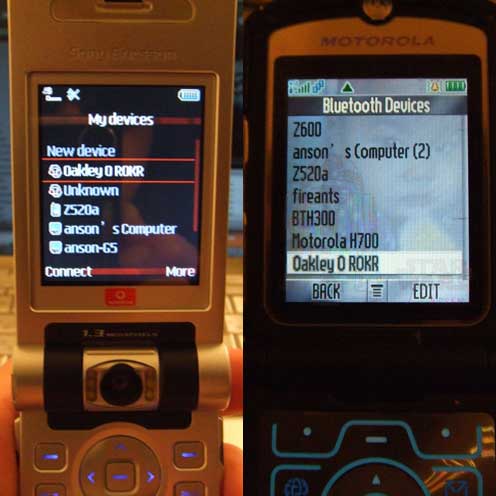 Now for the pi-ece-de-resistance (excuse my french)…4-gig Nano is first up. The setup with iCombi is a little more tricky.
1) Plug in the iCombi to iPod.
2) Wait for rapidly blinky light
3) Power up the O ROKR, and keep the power button pressed for about 9 seconds until you hear a secondary beep
4) Let the dancing begin
The first time I did such a dance was about 4 years ago when I first connected to wifi at my house with my new titanium 15″ powerbook. Some people jump up and down…I dance. But you all know the feeling I'm talking about. (it's the "oh what a feeling…toyota" feeling)
Since that went so smoothly, I decided to plug the iCombi into my 30gig-iPod (that can also play video). The feeling of joy dropped a notch. Seems that for every different iPod I plug the iCombi into, I needed to redo the 3-step pairing process. Not a deal-breaker here, but just an inconvenience to someone who owns more than one iPod.
Ok, what else do I have around that is Bluetooth enabled….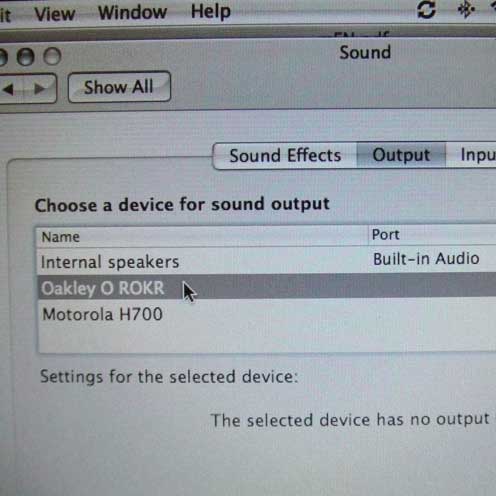 Apple 12″ 1.5ghz powerbook
The laptop found the O ROKR, but when trying to listen to the music streamed through iTunes…the quality was less than stellar. I did some research and found out that OS X 10.4.8 does not support A2DP. (Advanced Audio Distribution Profile). Hence the lack of streaming "stereo" support. Here's looking forward to the next 10.5 upgrade 😉
Clie UX50 PDA: No workie. I'm assuming that this PDA model is too old and discontinued. If someone is aware of any homebrew drivers, I am listening.
Battery Test
I had the O ROKR streaming mp3s from the time I left the house at 7:15am, and left it ON throughout my workday. Around 11:15am, my nano got drained of its battery. The iCombi claims minimal battery drain on the iPod. My nano lasted 4 hours of use (from a full-charge)…is this considered "minimal"? You be the judge. Good thing I came prepared…so in comes my 30-gig iPod. Oakley claims 5 hours of use on the O ROKR, so as 12:15pm (lunch time) rolls along, the O ROKR is still pumping tunes. NICE. At 1pm, I get my first and only low-battery warning beep from the O ROKR, because shortly after that, it shut off. It is always nice when a product exceeds battery claims. So for music streaming, a hair shy of 6 hours playback is excellent.
On the Train/Commute
For this test, the iCombi was in play, but Bluetooth functionality on my phone was turned off. This was done in fear of looking like a weirdo, by getting caught talking to myself…but more importantly because it is always rude when people talk on their phones loudly in a public environment. I'm not an expert audio engineer when it comes to audio quality, but I do know what I like. Since these are not classified as in-ear-monitors (canal), open-air headphones, or ear-muff type…lets compare apples to apples. After about 2 minutes of fidgeting and finessing the "adjustable Mylar" speakers in place, I can tell you they sit in your ear much like any other iPod-like generic pack-ins you may find included with your portable audio player. 70% of mp3 player owners (iPod users) are familiar with how the white headphones sound, so I can safely tell you that the speakers on the O ROKR sound better than those. Not by much, but definitely better. I actually prefer the sound produced by the O ROKR over that of my B&O A8 (…another form over function luxury item). In fact, the sound itself isn't what sets the O ROKR apart from other players, but it is the functionality of its overall package that makes me smile. Gone are the cords that often got snagged by my courier bag. I can safely run from my bus, to the train without fear that the earphone will get rudely jarred from my ear. With all the bonuses come drawbacks as well. You can definitely feel the added heft of all this technology. On the digital scale the O ROKR weighs in at 55grams, more than twice as much as my other biking Oakley O-Matter (plastic) sunglass at 22grams.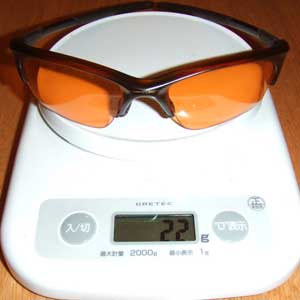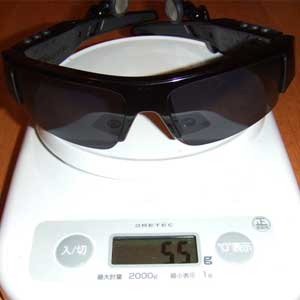 Tho after a while, you become immersed into your music and you forget that you are wearing the O ROKR brick. The other drawback is that the O ROKR came with dark lenses. I find myself wearing the O ROKR to the office, but on the way home (when it is already dark out) I go back to my wired headphones. So unless you want to look like Roy Orbison/Stevie Wonder/a "perv" night and day on your commute, you may want to invest in an optional lens colour. Oakley offers 5 additional lens colours to choose from ($40-60usd). I am planning to buy the Titanium Clear tint lens, to give myself more versatility/wearability out of the O ROKR.
The control buttons on both arms are quite usable. I find on occasion a slight lag from the time I press a button to a track change. I am not sure if that is the nature of Bluetooth technology, or the iCombi, or both. Also, since the buttons are raised rubber nubbies, I wasn't getting solid pushes because of a slight wiggle when I depress, so I would have to press it a second time for the O ROKR to recognize the command. But being on the bleeding-edge of coolness, I put up with these minor hiccups 🙂
In the Car
My drive into the office takes about the same time as my commute (traffic sucks in toronto), so this was a great opportunity to put the O ROKR thru its telephony paces. Before the O ROKR, I was primarily using the Motorola H700 Bluetooth headset. When the first call from my wife came thru, it knocked my socks off. You need to hear this clarity yourself. Traditional headsets pipe sound through either your left or your right ear depending on which side you choose to wear your headset on. The O ROKR gives you full volume in both ears. You will never be able to use that "sorry, I can't hear ya honey" excuse ever again 🙁
The microphone is situated behind the right hinge on the underside of the arm.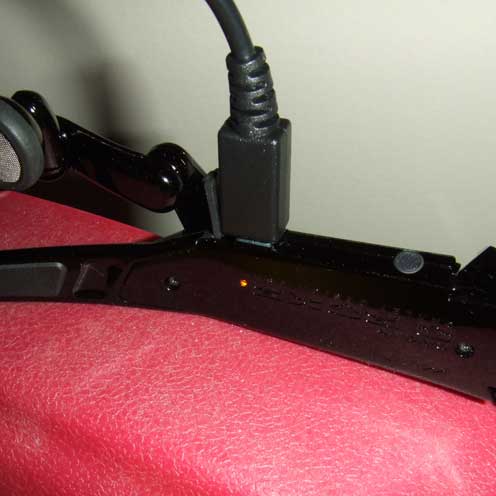 Mini-USB charging port and microphone
My wife said "wow" when she heard my voice coming thru. A zillion times better than the top of the line H700 I used. But the same problem persists here. With the dark lenses, I am limited to driving with the O ROKR during the daytime. Driving at night meant having to revert to my lowly H700.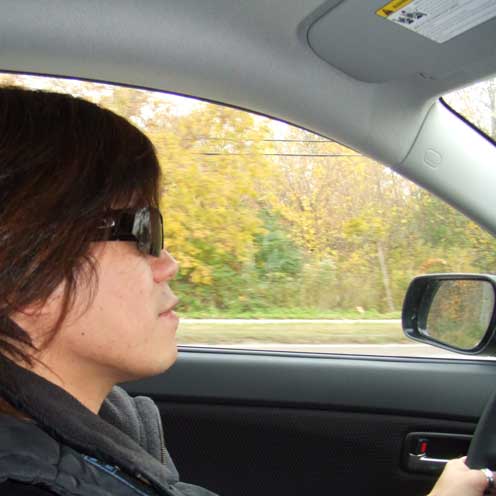 On the Bike
"GEARED UP…Leave no device behind. Take everything you need to rock, talk and roll." That quote was taken from oakley.com and pretty much sums up my experience today during my 2-hour long mountain bike trek though the woods. The O ROKR would be ideal for the solo rider, needing motivational tunes, or just a bit of company sweating through the woods. I brought my friend Rob along for today's test to be photographer and ambulance driver (incase something goes wrong, and Rob can attest to that – having driven me to the hospital twice due to off-road crashes within the last 15 years of us mountain biking together) Riding with a buddy is not the ideal situation when pimpin' O ROKRs, because when the tunes are rockin' it is almost impossible to communicate due to the excellent seal between the headphones (when seated properly). Surprisingly, there was minimal wind-noise while blasting through the trails. During the excursion, a call even came in for me to test the O ROKR's capabilities. As advertised, when I clicked on the ON/OFF/Answer button (center button on the left arm) the tunes paused, and the call came through. Wrong number. Argh!!!!. (At least I didn't have to stop and get off my bike to answer that) When I hung up, the tunes faded back in from where it last paused. NEAT.
All was not well though. My main problem here is that 1) with gloved hands, it is almost impossible to find the proper buttons. 2) the gap from the top of the glasses to the bottom-edge of the helmet can barely fit a gloveless finger.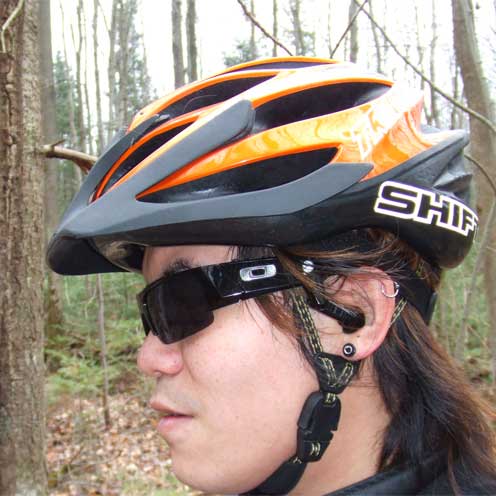 Note the lack of space above the O ROKR to the bottom of the helmet.
Also, there is no mention anywhere of whether the O ROKR is water/sweat resistant, so I am hesitant to using them in wet or sloppy weather.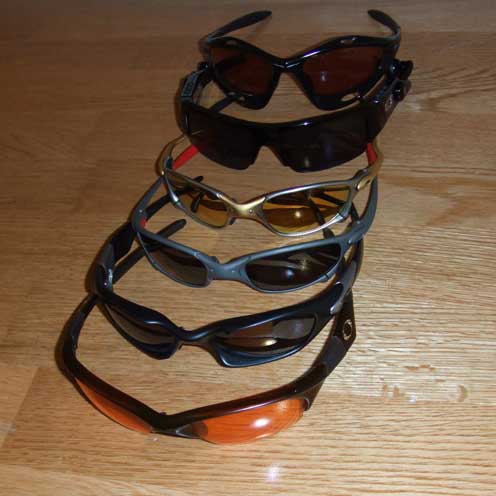 Size comparison from bottom to top: Half-Jacket, Valve, Juliet-Ducati, XX-24karat, O ROKR and Racing-Jacket.
The extra heft of the O ROKR was not an issue at all when biking. I'm assuming the fear of death, or the pain in my legs and back had something to do with keeping my mind off a bit of extra weight on my face 🙂
See it in action…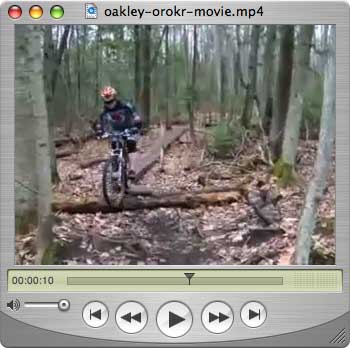 Click on image to play the QuickTime video (19sec,
672kb). The video is encoded in the H.264 codec. You will need the latest version of
Quicktime to view it.
VLC is another free viewer.

Conclusion
Admittedly there were some minor gripes, but as a complete package, Oakley achieved all their goals when producing the O ROKR.
Is there any other product that sets out to do what Oakley did here? No.
Is it too much "technology" for the majority of humans here on planet Earth? Definitely.

Am I a happy camper? Yes.
Will that stop me from buying the O ROKR-2 if it ever came out? A Gearhead never sleeps.
End Note
Being an avid mountain biker, I discovered Oakleys 20 years ago, and have gone thru about 15 pairs (and still own around 6 pairs) So it was an honour to review and add the O ROKR to my collection.
Product Information
Price:
249.0
Manufacturer:
Oakley
Retailer:
Oakley
Pros:

Pairs easily with iPod and cellphones
Excellent sound quality when using phone functions
Streaming music quality is above average
iCombi Bluetooth adapter is very compact
Perfect riding/driving companion
Battery-life as advertised
Ah, wireless freedom!!!

Cons:

Must initiate set up every time you switch iPods
Buttons don't always work solidly
Doesn't pass gadgeteer creak-test
Takes quite a bit of fiddling to get the ear pieces in a position to achieve a proper seal
Dark tint lenses limit the use of the O ROKR to daytime activities
Hard to press the buttons with gloved hands