We use affiliate links. If you buy something through the links on this page, we may earn a commission at no cost to you. Learn more.
Name: Richard Raborn MD
Location: Boynton Beach, Florida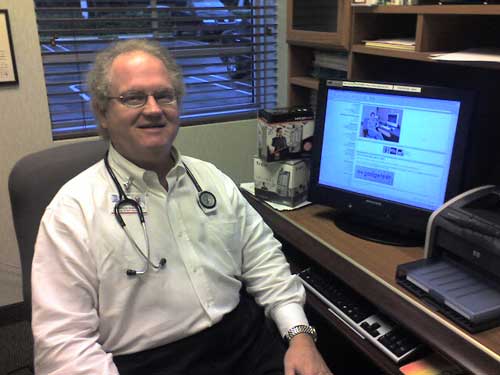 I am a 55 year old Internist in Boynton Beach Florida, a volunteer Medical Director at Caridad Center, and am in private practice with MDVIP, and am Chief of Staff at Bethesda Memorial Hospital
I have had a longtime interest in computers in medicine. My first business computer was by Bas-Med which was put out of business by Medic+. After all that hassle, I thought there must be better and easier ways to get information about patients to doctors and insurance companies. I wanted to use a device that made sense. I am a Star Trek fan. Handheld devices make sense! I have always been an early adopter of technology. I started using an early Palm to send prescrptions directly to phamacies that were legible thru Ephysician (now out of business). I have used phones such as the Samsung Que which was also Palm based. Later I purchased a Clio running Win CE and with wireless technology to use in the office. Now I have a Treo 700p and a Fujitsu tablet PC to run mdtablet software.
I lead the medical staff efforts to improve PDA use in the hospital, to improve patient safety, improve physician / nurse communication and save everyone time. The Seimens PDA access works fine with a Treo 700w. We gave out 10 Palm T/X devices as attendance rewards for meetings which came loaded with all the local info to work well in the Bethesda Hospital System. Now we are teaching medical students from the University of Miami and Nova Southeastern University. PDA club meetings have been held. These activities have restored some of the joy in medicine for me. I own an IQue GPS that I have barely used. JAMA Tyler Chin interviewed me for two articles. One on PDA use and another on Holter monitors and computers.

Read other featured gadgeteer stories, and send in YOUR story / pictures
for posting! If your story is posted, you'll receive a Gadgeteer Tshirt.